#StayAtHome For Airsofters: Start Becoming An Airsoft Tech AEG Edition
Gungho Cowboy
18 Mar 2020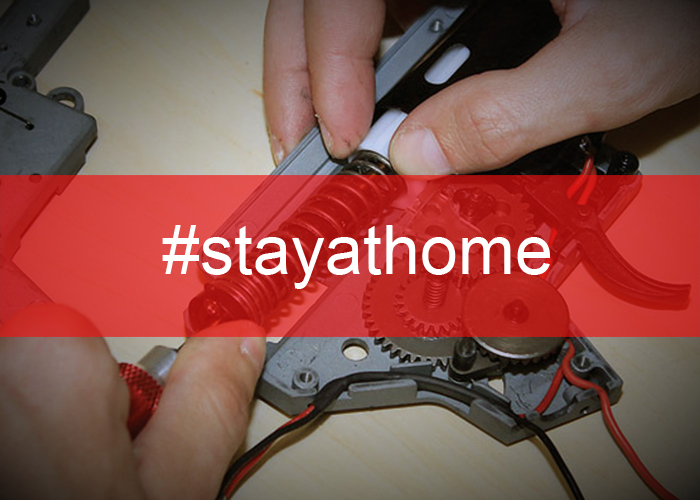 You are stuck at home due to your government's implementation of "social distancing" to mitigate the spread of the Covid-19 virus. As an airsofter, this being unable to get to the airsoft field and have fun shooting plastic BBs at friends will surely test yourself and perhaps you are unable to control the urge to run to the nearest field and play. However, the local airsoft fields are closed as gatherings and events are not allowed or the owners themselves decided to shut down operations for everybody's safety.
So what do you do an airsofter getting bored with no airsoft-related thing to do apart from going online and talk about airsoft in Facebook groups and airsoft fora? Perhaps you might go over your collection of airsoft guns since you cannot go to your local airsoft shop to do some maintenance on repair on them as they are closed for on-site sales and just doing everything online and maintain them. If you already got some airsoft tech skills, just order the parts and accessories online to finally start that airsoft custom project of you have been putting off since you were either busy at work or at school.
But if you are a beginner, you might want to learn doing airsoft maintenance yourself. The good thing these days is that there is this online thing called "YouTube" and it is awash with videos that can get you going to become a competent airsoft tech (or gunsmith if you prefer it to be called that way). Even better is that we have curated the videos to help you save time searching and browsing the largest video sharing platform so you can get going.
This airsoft teching will be using examples of the AEG gearbox, which mainly will be the Version 2 gearbox used by AR-style AEGs and also the G3, MP5, and HK416 AEGs as it is the most used AEG gearbox in the market. There are some variations to these gearboxes depending on the manufacturer, but they are mainly based on the design by Tokyo Marui.
It is essential that you learn first how a gearbox works and here is w4stedspace explain how it works:
Now that you have an idea how an AEG gearbox works, the next thing you'll need to have are the tools so you can start doing some disassembly and assembly of an AEG rifle. Storm Riders explain the basic tools for an airsoft tech:
Ready to start breaking apart an airsoft gun? If you think you are brave enough to, then by all means, start doing so by following this tutorial by EKB showing you how to disassemble an M4 AEG:
With the heart of an AEG, meaning the gearbox, remaining to be opened and inspected, Chupacabra Outdoor will gently guide you on how to become an airsoft heart surgeon:
Now that the gearbox is open, there are some things that you want to do with it --- grease the gears, shim, managing piston resistance, fine-tuning an airsoft hop-up unit, etc. TheAirsoftTech got you covered in these areas:
With the gearbox clean and greased until the next maintenance schedule, you might want to pay attention to your inner barrel. Any sane airsofter would always keep the inner barrel clean before and after a game since there will be some residue or dirt from the constant firing of BBs during an airsoft game that can result into jamming. Here is a video from Airsoft GI showing you how to properly clean the inner barrel:
After putting back together the airsoft gun and mounting the accessories, an important accessory, which is the optics whether a scope, holo sight, or a red dot sight, you may want to "Zero In" so the BBs will go where you want them to go when using your optic, which basically is how to fire accurately. Here are two videos on zeroing your optics from the Recon Brothers and AATV:
Learning the basics of airsoft teching is always a good foundation to start being a competent airsoft gunsmith. From there you can start doing custom airsoft guns as a hobby or even as a business, fixing and customizing airsoft guns for your team mates. You can always go online to see different approaches at airsoft teching and pick which suits your style. If you want more tips, here is Airsoftology with more:
Better go and open up all your AEGs. Learn their insides, their designs, and experiment on ways on how to make them perform and last longer. You can do upgrades as there many parts available from different vendors that you can get to do these upgrades. Being able to do this yourself already gives you an advantage over other airsoft players who rely on airsoft shops to do this for them, you can save more if you can do it yourself.