#StayAtHome For Airsofters: 5 Free To Play Online Shooter Games To Kill Time
Gungho Cowboy
27 Mar 2020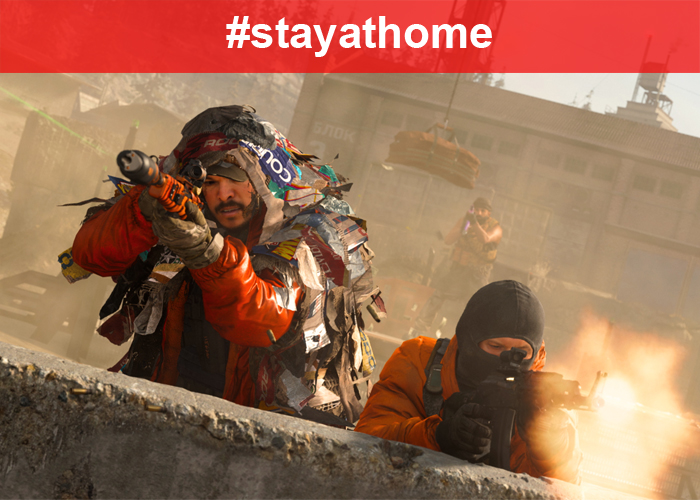 We all try to make ourselves busy at home if unable to go out during the Covid-19 pandemic due to social distancing measures and lockdowns imposed by authorities to stop the spread of the virus. For airsofters, we have suggested doing maintenance and teching on airsoft guns, donating spare eyewear and gear that are needed by the frontliners, allotting computer time to [email protected] to help in finding a cure, and there are more suggested by others just for us to #stayathome.
Other suggestions are watching streaming movies and shows, but for airsofters, there should always be some trigger time and there are lots of online and offline shooter games to do that. But if you don't want to spend your money and still be able to play multiplayer shooter games, then there are some excellent games for you that are free to play.
Whilst they are indeed free to play games, they still earn from in-game purchases for players who to do some custom on their guns, gear, killstreaks, and other abilities. But if you are saving your money since you are unable to get income since your day job has shutdown during the pandemic, then better keep it that way and just work your way up on unlocking or earning some in-game currency, you need the real world money to pay for essentials needed at home during these times.
The latest entry on the Battle Royale gaming front, this is the first free to play Battle Royale Game of Call of Duty but not the first. The first Battle Royale game was in the Call of Duty: Black Ops 4 but you will need to purchase the game first to play. Warzone can accommodate 150 players set in the fictional city of Verdansk and features both cross-platform play and cross-platform progression between both games.
There is no need to purchase Call of Duty: Modern Warfare to play the game. It has three game modes: Battle Royale, Battle Royale Solos and Plunder. It is playable on Microsoft Windows, PlayStation 4 and Xbox One.
Released in 2017, Fortnite is the king of Battle Royale games after dislodging PUBG from the top slot. When launched this game was able to garner over 125 million players in less than a year. It has three different game modes: Save the World, Battle Royale, and Creative. Depending on the game mode, it can be played on the Windows, macOS, Nintendo Switch, PlayStation 4, Xbox One, iOS, and Android.
Perhaps you may want to call Apex Legends as the Battle Royale version of the Titan Fall. Developed by Respawn Entertainment, players are grouped in 3-person squads with up to 20 squads playing at the same time on the map wherein search for weapons and supplies whilst trying to eliminate the other squads. Just like other Battle Royale games, players must keep on moving and not get caught outside of the game area with the final squad alive being the winner of the game.
Released in February 2019, it is playable on Windows, PlayStation 4 and Xbox One.
Developed by iD Software with Bethesda Softworks as a publisher, Quake Champions was announced during the Electronic Entertainment Expo (E3) 2016 and was the first Quake title since Quake 4 that was introduced in 2005. This has a lot playable characters with their own unique abilities. It was then announced to be a free to play first person shooter when it was released in August 2018.
This is playable on Microsoft Windows only (sorry console gamers).
Released in June 2017, Argo is a first person shooter from Bohemia Interactive. Whilst it looks similar to ARMA 3, it is more limited. Players will find themselves in a fictional island called Malden and will fight over the remains of a crashed space station. There are four game modes: Combat Patrol, Link, Raid, and Clash.
It is only available for Microsoft Windows.
There are other free to play games online to mention and perhaps you already have a preferred game. Feel free to suggest to other players. As many of us in the airsoft world hunker down and wait until the pandemic blows over, we need all the activities that can keep us busy at home to keep our sanity and video games can keep us occupied to the point that we get to forget that there's a very real crisis outside.