Matrix Tactical Systems Protective Goggles
Moondog
16 Jan 2021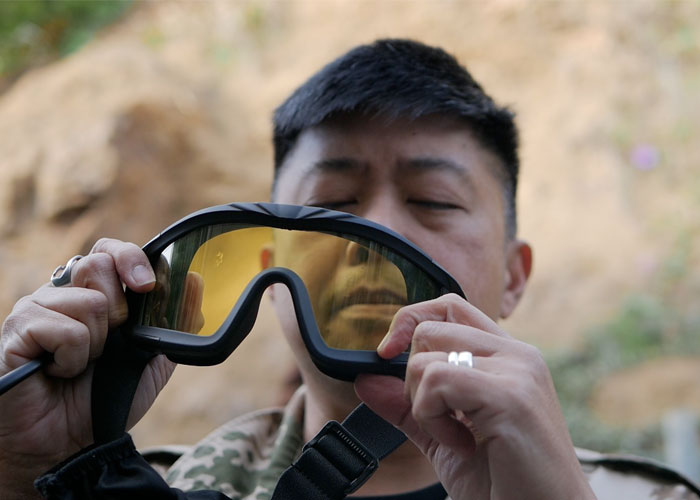 These Matrix Tactical Systems Airsoft Goggles were sent to me by Evike.com and today I'm going to shoot them with a full-auto burst from 1ft away with an AEG firing 0.25g BBs at 340fps (1.34 Joules). But before we destroy them, we'll take a closer look. I review it's build quality and eye-glass compatibility.
---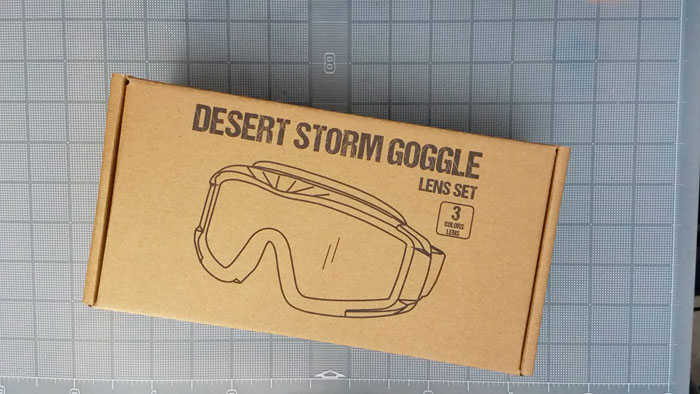 ---
Features
Shatter-proof, ANSI Z87.1 rated lenses in three shades: Yellow, Tinted, and Clear
Single pane lens with anti-fog coating
Foam dust seal to keep dust out and air flowing
Comfortable rubber eye surround provides full-seal protection
Wide, adjustable elastic strap
Meets and exceeds ANSI/ISEA Z87.1 impact requirements
Package includes a soft carrying case
---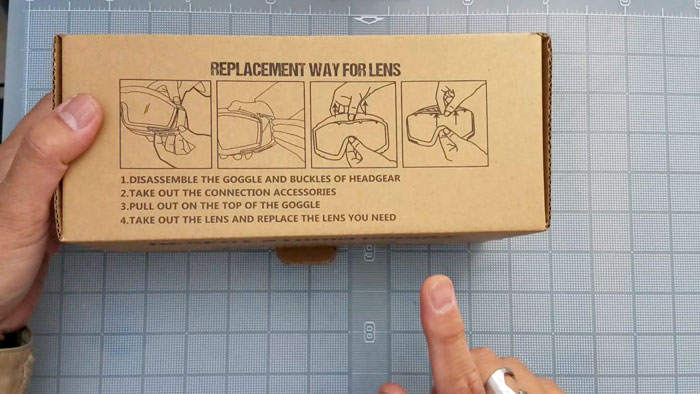 ---
So here's what you get, inside the box, we find the goggles inside a carrying case/pouch. 2 replacement lenses (clear and amber tint). And a protective cloth sock/sleeve attached to the straps reminiscent of military-issued ESS goggles. The strap is easily adjustable and is detachable from the frame but with a proprietary clipping system.
---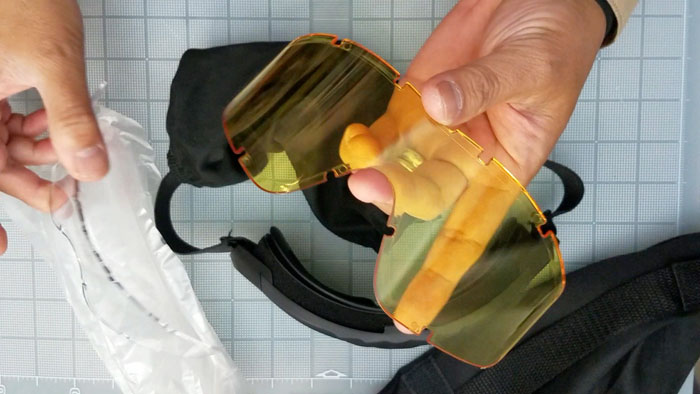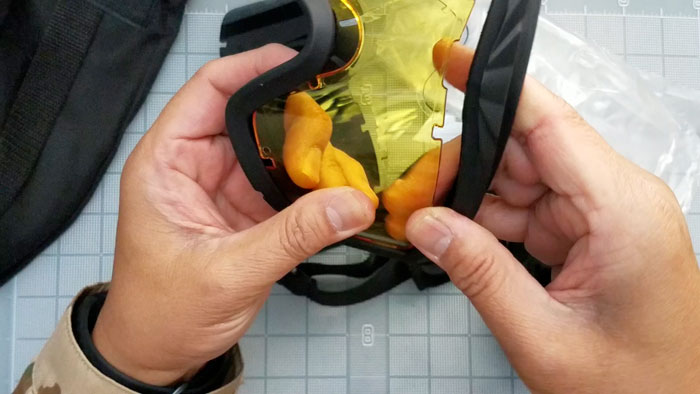 ---
The frame lacks a foam lining which can leave some gaps depending on your face shape. This is the main shortfall in the product. They should have included a small roll or strip of foam tape. I recomend using insulating weather stripping tape to both fill in gaps and improve comfort.
---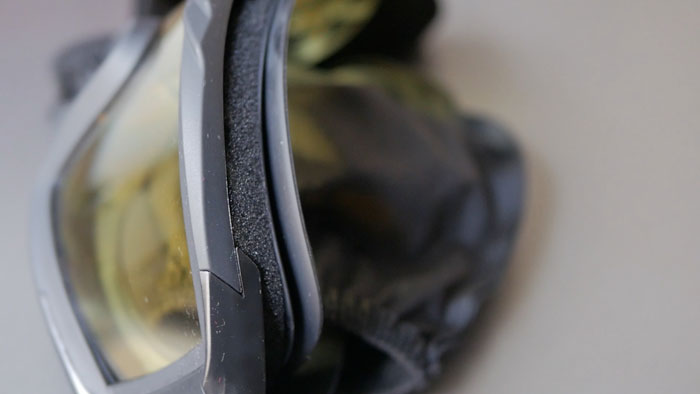 ---
The lenses have an anti-fog coating. But in my testing, they did not perform remarkably better than any other single-pain goggle I've used. It fogs up and quickly if you are wearing any type of cloth mouth covering. Not worse, just average. Meh.
---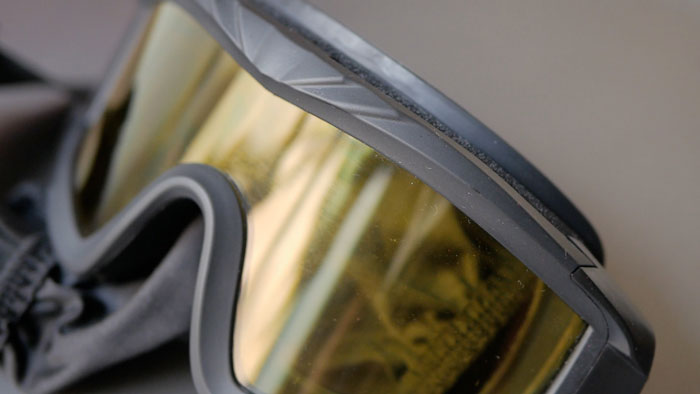 ---
For our BB impact the test I used .25g Matrix BioBBs fired at 340fps from an AEG. I set up a firing position with slightly less than 1ft distance between the muzzle and the goggles. On the first semi-auto shot to lense face, I thought the lens had shattered because there was some particles spraying from it. It turns out that it was just spray from left-over soapy water trapped in the frame under the lens.
---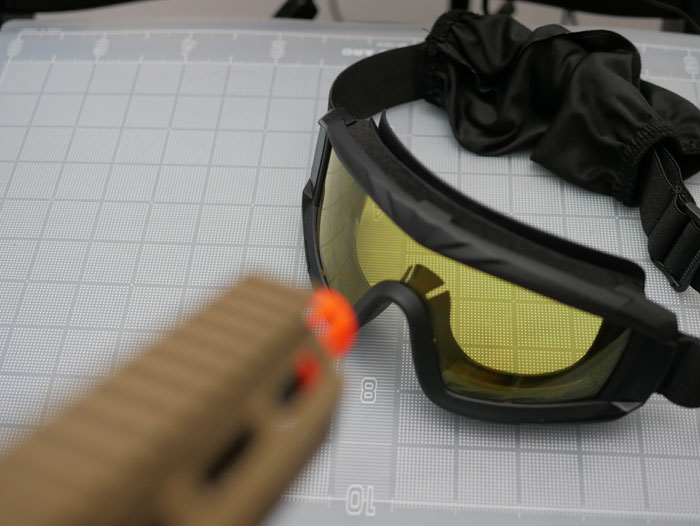 ---
I next proceeded with a full-auto burst which I was sure would crack the lens. I was frankly surprised that it survived with just a few scuff marks on the lens. I was able to wipe off the white marks but small BB shaped distortions were permanent. But the goggles were still usable and clear enough to play.
Overall I would recommend these goggles for their durability. If they would have included foam insulating trim in the frame these would be 100%. If you're interested in picking up a pair, they are available in a variety of camo colors at Evike.com.