JJ Airsoft 551 Red Dot Sight Replica
Operator7
09 Apr 2015
On my tireless pursuit for the perfect Airsoft EOTech Red Dot Sight replica, I was able to try out the JJ Airsoft 551 Red Dot Sight and using it during several skirmishes was the best way to see how this red dot performs.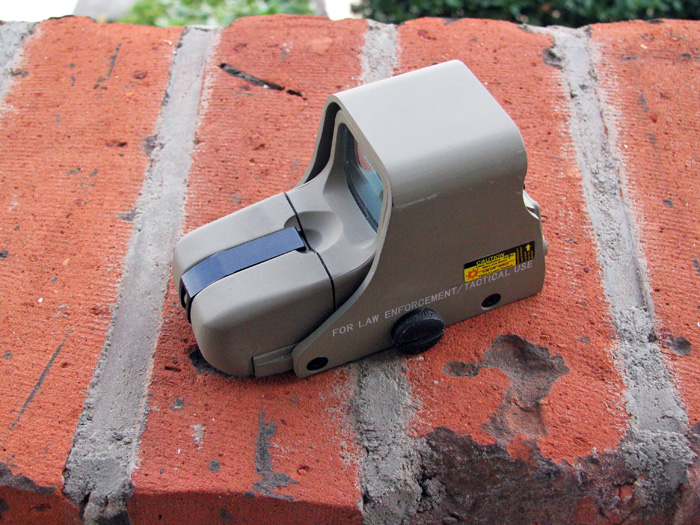 DESIGN, CONSTRUCTION AND OPERATION
As always, when I opened the box, I saw a quality replica with all the fine details and construction that I am familiar with all JJ Airsoft products I reviewed so far. The 551 uses two materials: polymer for the main body and battery casing and a very rock solid housing made of strong metal. At the same time it is very lightweight weighing a mere 200 grams! All this coated in a very lasting a quite scratch resistant matte tan finish. This red dot also comes in black, but I really like the tan version.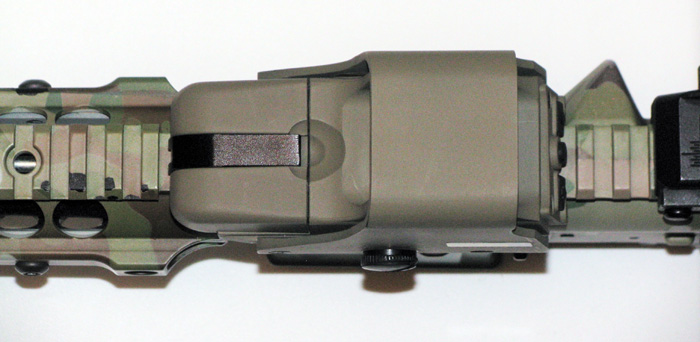 The mounting method is a huge thumb screw that couldn't be nicer and easier to use. It is really user friendly and also very quick to mount.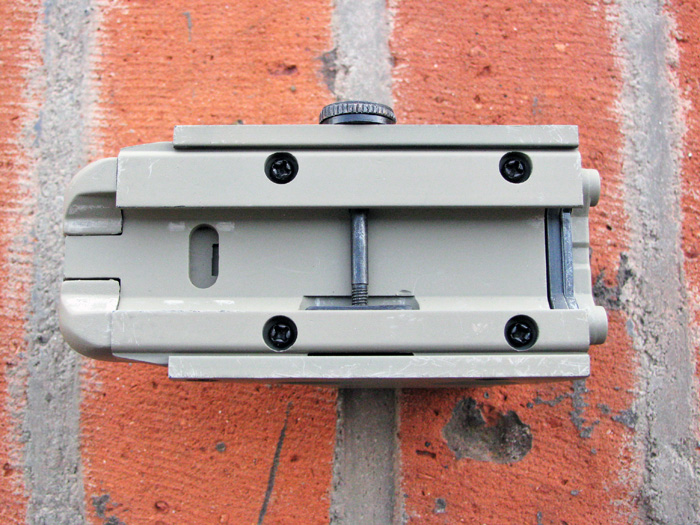 The battery compartment is easily accessed at the front black latch system and requires four AG13 batteries which are slightly fiddly to hold together when closing the case. But man up! You can do it!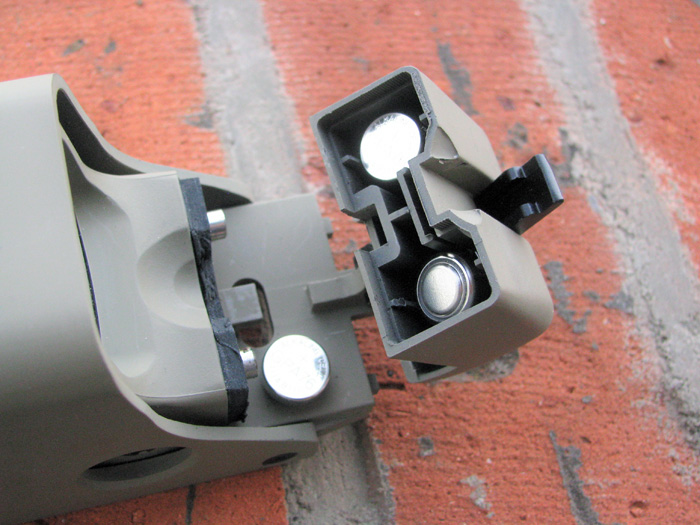 The control panel is pretty much what you can find on most 551 replicas, but the rubber buttons have a nice and positive feedback and are quite rugged. As usual the NV or "Night Vision" button will change the colour of the reticle from red to green.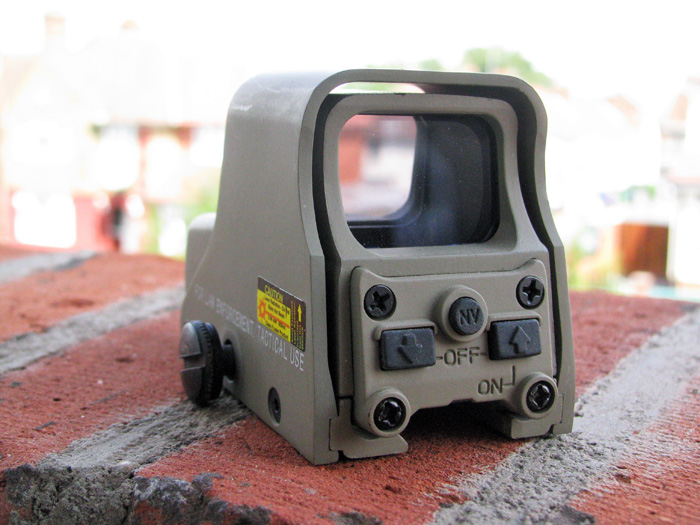 In order to turn on the red dot all you need to do is press one of the up or down buttons, which are also used to control the brightness. Again pretty standard with any EOTech replicas out there today.
RETICLE AND LENSES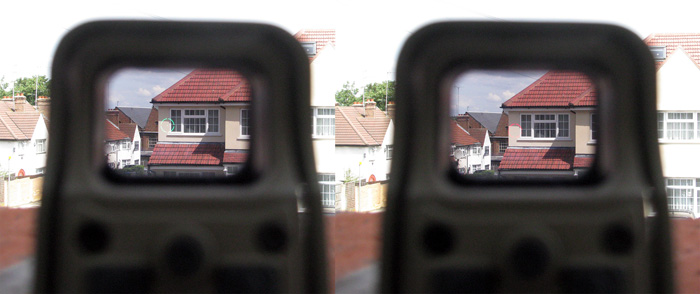 This is where I'm still to find the "perfect" EOTech replica, and the JJ Airsoft 551 Red Dot is almost there, but not quite yet. If only they had the same clear lenses that their SRS replica has.
This is one of the clearest 551s I've ever tried, however it still features a significant amount of tinting in order to show the reticle. While outdoors this has no influence whatsoever, it's when you're transitioning into indoors scenarios or even cloudier outdoor situations that the tinting works against you, making it harder to see all the details with clarity.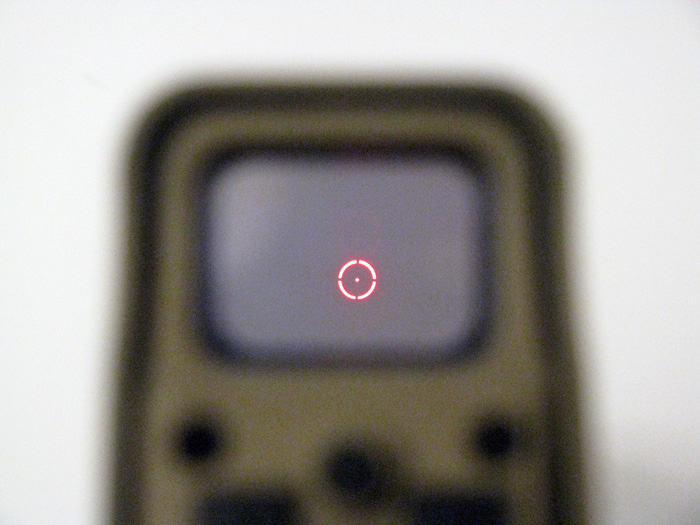 There is a significant reflexion on the front lens, but it's not as bad as those red lens that have a lot of flash.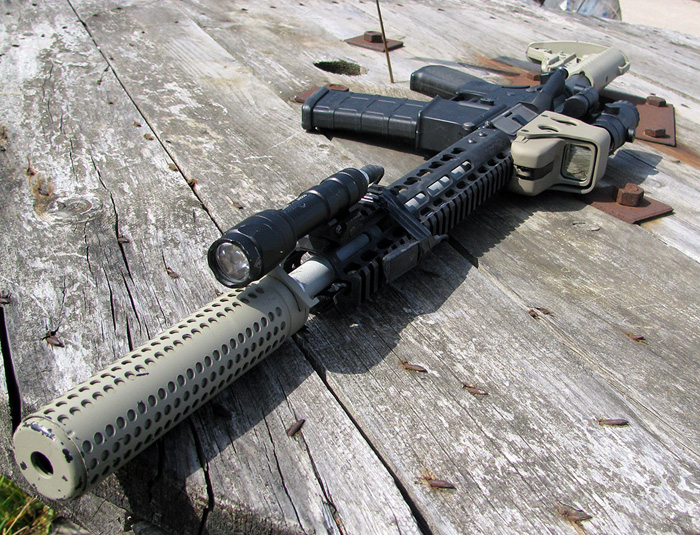 The reticle which is shown red or green, is bright but on very sunny days, even the brightest setting might not be bright enough. Especially if you're pointing at a bright background.
Apart from that, the reticle seems like the correct size, and the graphic is according to the real ones, especially when it comes to later models.
Also, the reticle is very sharp and well defined, making it quite easy to lock on a target with speed and precision, making it quite effective for close to medium range engagements.
Parallax wise, this has what I consider as a normal parallax, that is mostly perceptive at closer distances, just like the real steel one. And once you get more and more distant from the target the amount of parallax decreases.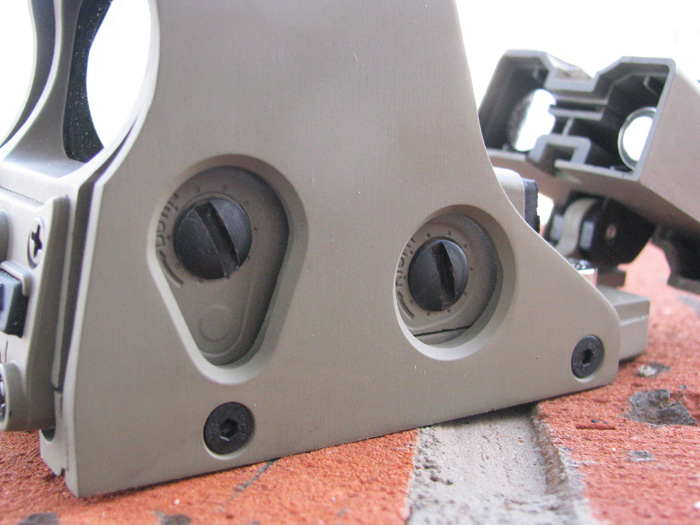 Adjusting the reticle in terms of windage an elevation is also easy and just like the real one, it requires the use of a screw driver. The adjustments are made in clear increments and decrements which help achieve the most precise zero on the sight. Well, at least as precise as an Airsoft gun can be!
CONCLUSION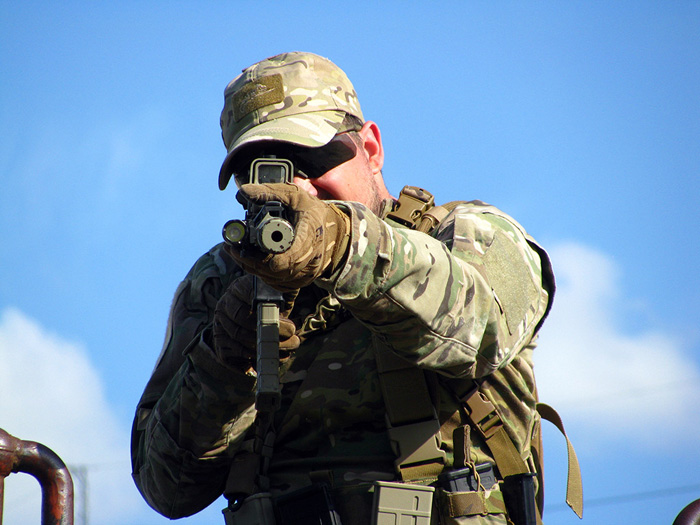 An excellent construction 551 replica, with a clear and well defined reticle. Easy to use and especially to setup by its very user friendly thumb screw, only lacks a bit more of brightness and slightly clearer lenses to be perfect.
You can get a hold of one of these at Airsoft Cart for $51.99, around £35 making them quite and affordable option.
Pros
Quality of construction
Tan finish
Clear and crisp realistic reticle
Easy to mount
Good quality buttons
Price
Very lightweight
Cons
Tinting on lenses
Brightness level