ASG Scorpion EVO 3 A1 AEG
Operator7
28 Jan 2015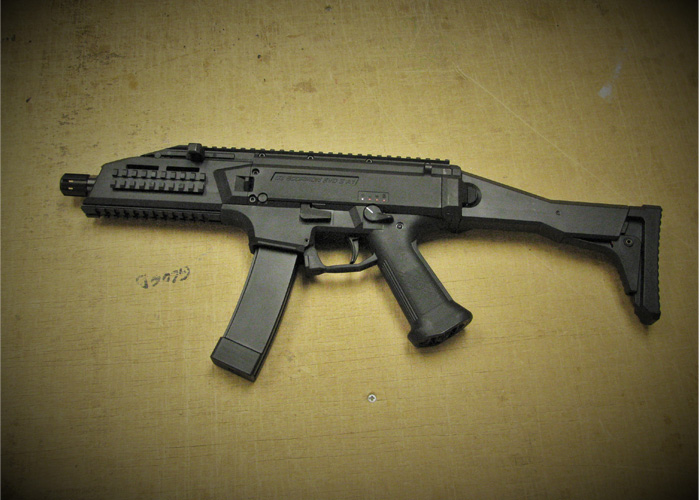 First launched in 2009 by gun manufacturer Česká Zbrojovka from Czech Republic to replace the original Scorpion CZ, it is now licensed and produced in its Airsoft version by ASG (Action Sport Games), the CZ Scorpion EVO 3 A1 is a modern submachine gun with fully polymer frame.
The new design means there are no traces of the old Scorpion. This results in a completely different and futuristic design, but more importantly an unmatched ergonomics.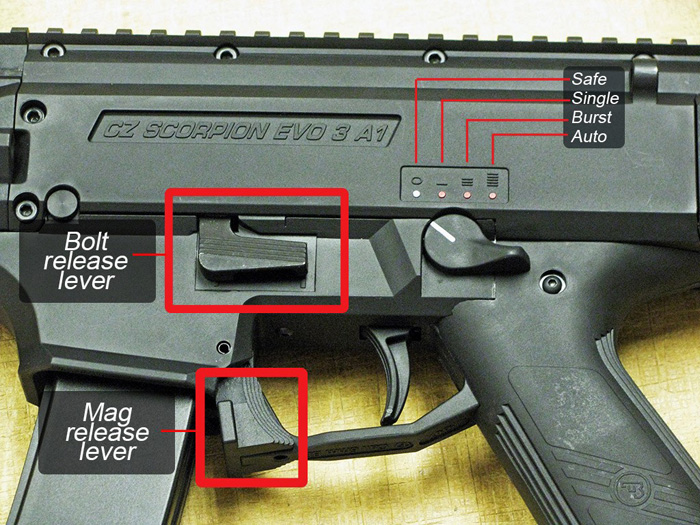 This means the gun is quite easy to operate and most of the controls are ambidextrous, such as the fire selector, charging handle and magazine release button. However, there is one exception, and that is the bolt release lever which is placed on the left hand side of the gun. The sling hook can be positioned on any side and you can even get another one to have it on both sides.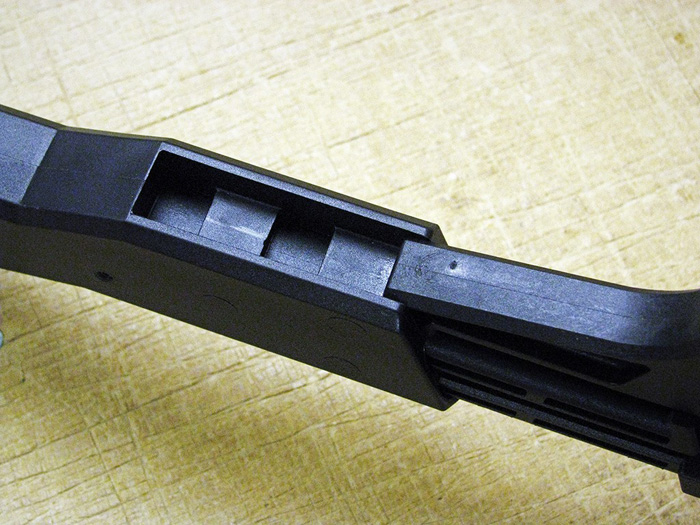 The stock is not only retractable with 3 positions, but it also collapses and hooks into the body when in the first position, making it great for most scenarios and operator sizes.
ASG has kept the exact same look and feel of the real steel gun with those straight and futuristic lines which are so well known to the wider audience thanks to video games such as Call of Duty and Battlefield.
Being a 1:1 reproduction, it becomes really hard to see any differences between the Airsoft version and the real Scorpion EVO 3 A1. So you have to look very closely to the grip where you'll see the motor base. The other tell-tale sign is the ejection port which is quite plain when compared to the one on the real steel one which bears some markings and isn't flat.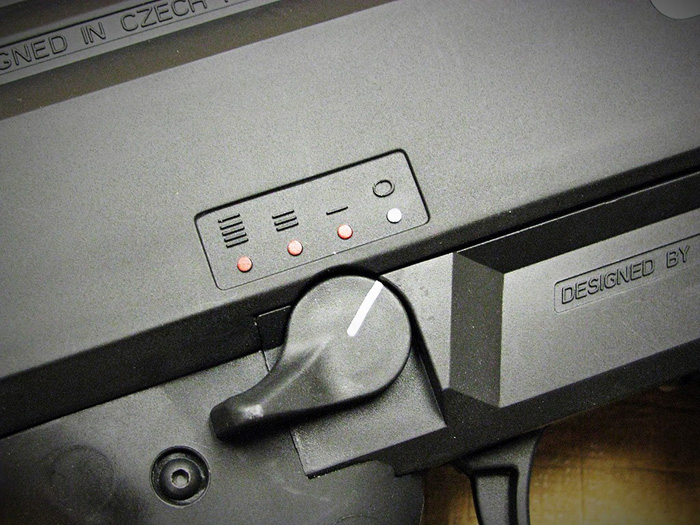 Speaking about markings, there are all over the polymer body of the Airsoft EVO and in perfect match to the real one. Good use of that CZ license by ASG!
ASG takes great pride in saying that this gun is their very first gun to be fully produced in Europe, in an effort to show how it's possible to produce Airsoft guns with unparalleled quality within the "Old World".
Since it was firstly introduced, this has been one of the most anticipated and wanted AEGs of modern days Airsoft and a lot has been promised by ASG.
We will now find out if all the promises made were indeed delivered or not.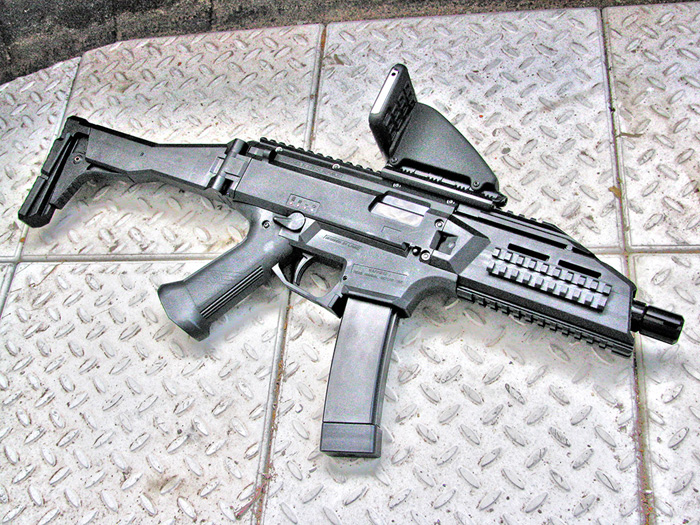 CONSTRUCTION AND MATERIALS
I can only start of by saying that the ASG Scorpion EVO is the most well-built polymer (plastic) AEG I've ever laid my hands on, and I dare to say that it's perhaps the most well-built of all the current polymer Airsoft guns out there today.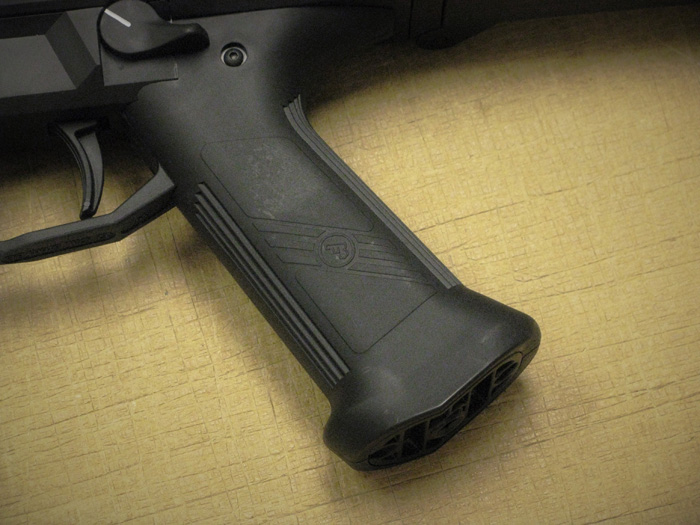 Why? The answer is simple: ASG has used the same exact polymer present in the real steel gun, no more no less. This allows the ASG Scorpion EVO to outlast and outclass most polymer airsoft replicas since we are talking about a compound that needs to live up to military specifications.
And this is quite noticeable since as soon as you pick up the gun and start to grip and it and handle it the feeling that you have is of a sturdiness and solidness that you're simply just not used to see and feel in Airsoft. It even feels special.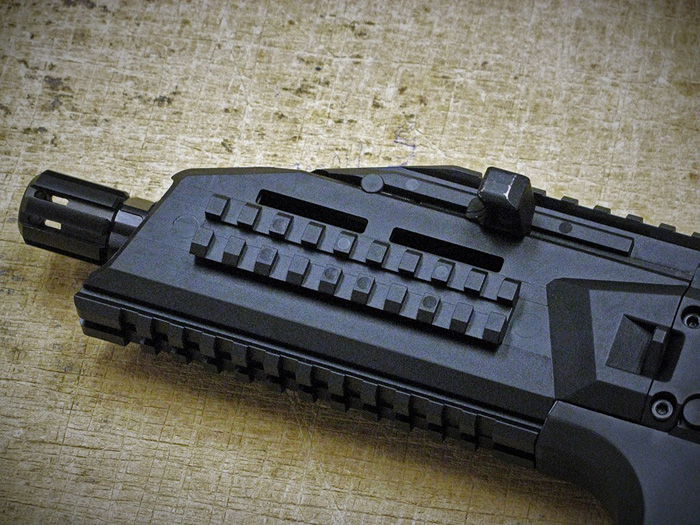 The polymer is shaped and moulded to such perfection you don't see any irregularities or rough edges. Nothing. Just inches of rock solid well-formed and lasting polymer.
Believe me I could go on and on finding adjectives for the quality of the polymer, but fortunately the construction quality doesn't end there as most components, even the metal ones, are noticeably quality components. For instance the outer barrel, charging handle, bolt cover, bolt release, sling hook and flash hider and barrel nut are all made out of very solid and high quality metal.
If anything I would improve is the trigger which seems too light to squeeze. Perhaps it's just me…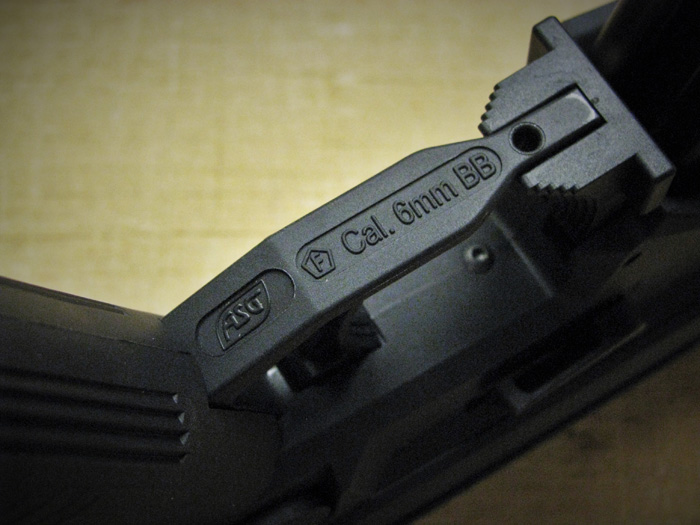 OPERATION AND FEATURES
This bit is where ASG wanted to nail it and make the gun as realistic as possible in terms of operation as the real deal. And it's my opinion that they did achieve this: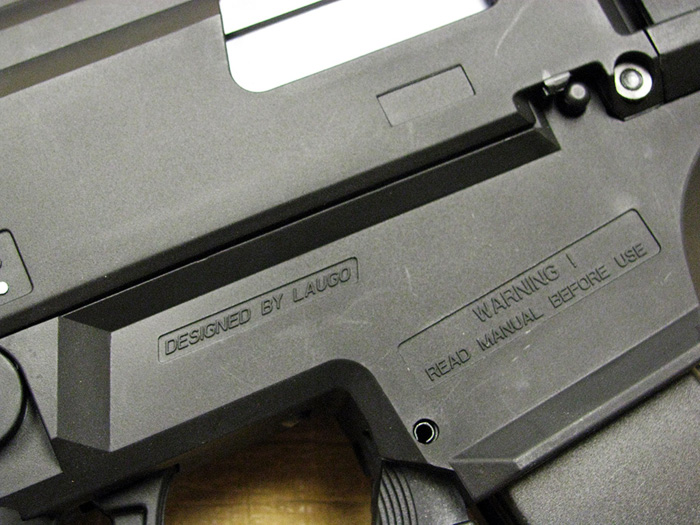 The gearbox electronic control is responsible for the 3-round burst which is flawless, the fire selector is ambidextrous and well synchronized, although it does dig a bit into my trigger finger.
During my first game with the EVO I also learned to work with the empty magazine detection system which is extremely useful but does require some time to get used to it and some training too. Unlike a normal AEG that keeps on firing and dry fires when the magazine runs out of BBs, the ASG Scorpion EVO has a small lever on the magazine that is pushed up against another lever connected to the brains in that control the gearbox. Once this lever is activated, the brains cut out the power to the gearbox.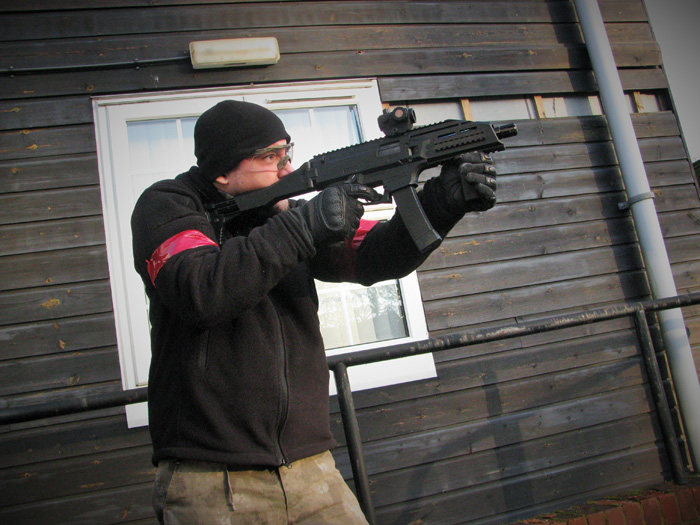 In order to be able to shoot again, you need to load a fresh mag and then, don't forget to push the bolt release, which is that extra step you'll have to get used to! Then it will fire again. If you don't do this nothing will happen. Pure genius!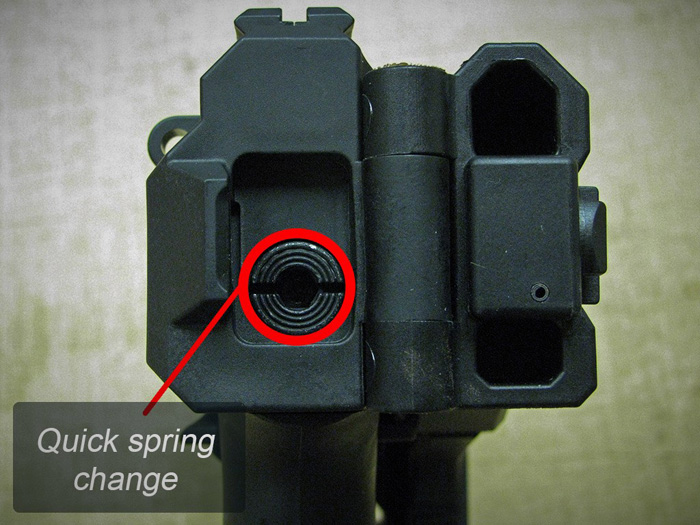 Another feature I really loved and was extremely useful during my first game was the quick spring change system. This allowed me to buy a new M90 spring from the shop at the skirmish site I was in, once I learned it was too hot in terms of FPS to play there, and quickly swapped it with the stock M100 which was pulling around 400fps, way above the legal limit here in the UK. So in just a matter of minutes I was legal and playing, no worries!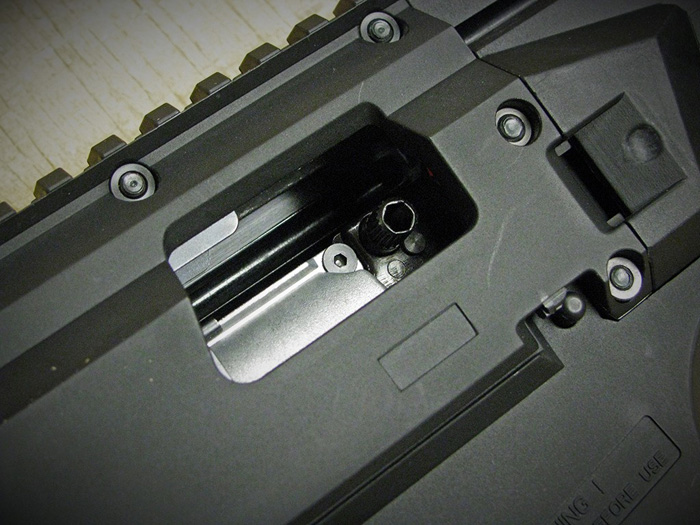 The Hop up unit is a breeze to use, since it progresses in small clicks, it makes adjustment a lot more refined than the usual M4 hop up units. Accessing the hop up unit is also simple and a pleasure to do since once you rack the ejection port using the very sturdy bolt catch, the ejection port windows stays open until you've made all your hop-up adjustments. Once you're done, just push down the bolt release lever and you'll hear a rewarding metallic noise. Oh yes!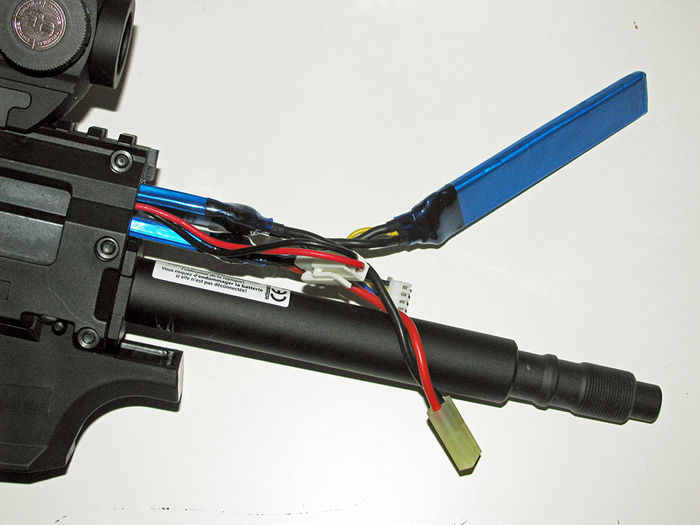 Battery installation can be a bit fiddly, at least until you have installed it for about 20 times. By then you'll know all the tricks to do it right! But the main thing you have to remember is to use a 3 cell 11.1v Lipo (recommended by ASG) and stick two cells into the compartment near the gearbox and one will stay flat on the outer barrel. I've been using a 9.9v LiFe and so far so good.
Perhaps in order to make it even more real the bolt could cycle just like in the real steel version and we could have a little blowback. Who knows what ASG could be cooking in the next version of the EVO?
Internally there is an ECU unit with active breaking, but ASG are not very open about what has been done internally and in their website there isn't much information about this. All they say is that the EVO comes with an ECU (Electronic Controlled Unit).
But this is not all, and having a failure detection system or a low battery detection system that simply stops the gearbox and motor from spinning when something is not quite right is indeed a luxury and will help avoid major issues with your AEG.
The reality is that the trigger response is extremely snappy and the gearbox works flawlessly, with a crisp sound coming from it of very high precision machinery like and a pleasure to fire!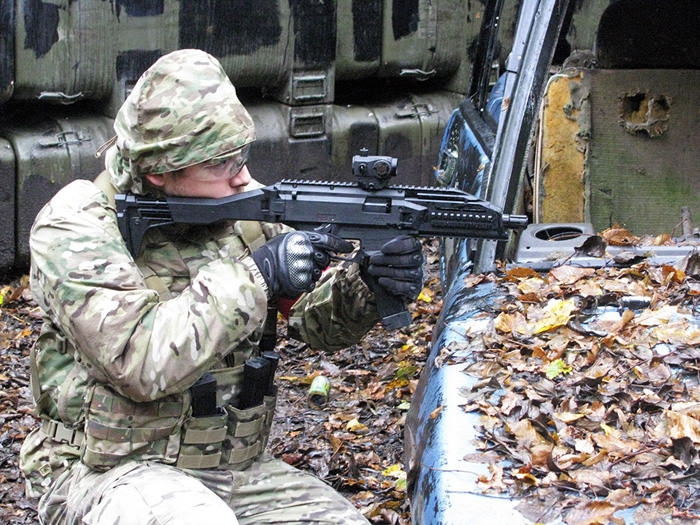 Oh! One last thing: it is a pleasure to fire, but just like the real one, it will eat through the 78 rounds that the magazine can take in a breeze. So I would recommend some trigger discipline and at least 7 magazines. The limited round capacity of the magazines make the gun more realistic, but getting extra mags is slightly pricey but a must. On the bright side I did find out that most of my M4 mag pouches will take the EVO mags and although it's not a perfect fit, they worked great with them!
RANGE, ACCURACY AND PERFORMANCE
With only 208mm of inner barrel it's quite a surprise for me how the gun actually reaches so far in terms of range. Of course, after downgrading the spring it slightly lost range, but it is quite comparable to a full length barrel carbine AEG with around 300mm with the stock spring fitted.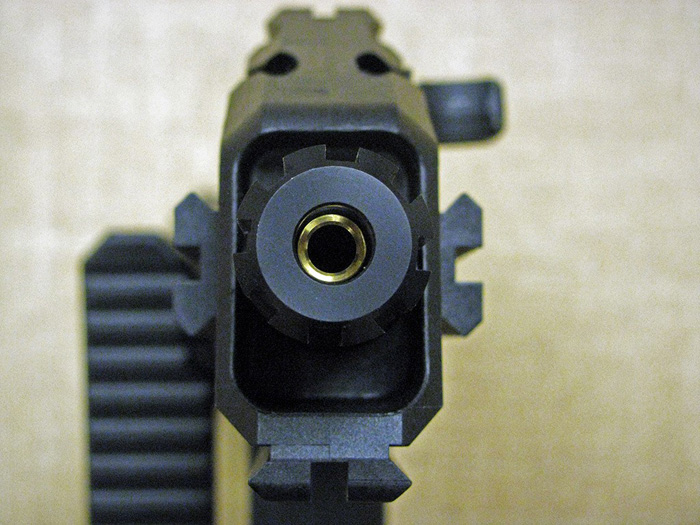 Also, the accuracy is extremely good and the consistency of FPS helps a lot with making a tight grouping which you would usually see on a full carbine length AEG.
At 32 feet, you can see a very tight grouping and as we progress to 100-110 feet it is still amazingly accurate when equipped with the stock spring and 0.20 gram BBs. When it comes to using the M90 spring the figures change slightly of course, being that the maximum range is of around 90-100 feet but the accuracy is still quite good.
FPS wise, with the stock spring, the gun shoots at around 400-405fps, going down to some more acceptable 335-340fps (at least here in the UK), with an M90 spring. Notice how this AEG has no more than 5fps difference between each shot. This is extremely important when it comes to accuracy and being confident enough that the rounds will always land where you are expecting them to land.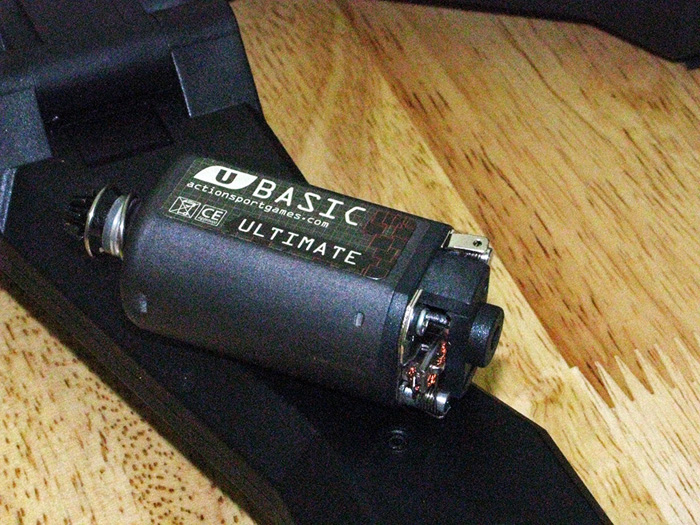 Internally I only got as far as the motor and replacing the spring as I'm no gearbox expert and I only feel comfortable opening V2 gearboxes. So I would point you out to this outstanding video from Patrol Base where a proper Airsoft gun technician takes the gun apart and shows how most of the internals are quality internals and talks about how all the mechanic and also electronic setup is done.
ACCESSORIES
Another great thing about owning the EVO is the fact that there is already a wide variety of accessories created by ASG that allow you to take the experience of the gun even further. From the thread adapter which allows you to attach any counter clockwise 18mm airsoft suppressor, the EVO mag clips which allow you to clip on two mags making the reloading and carrying experience a lot better, the front and rear metal sights which allow you to add even more realism to the gun, the one point sling, the field case and the soft case, the front support set or hand stop, the sling hook, the magazine pouches, and finally to the magazines complete the whole ecosystem created around this iconic Airsoft replica.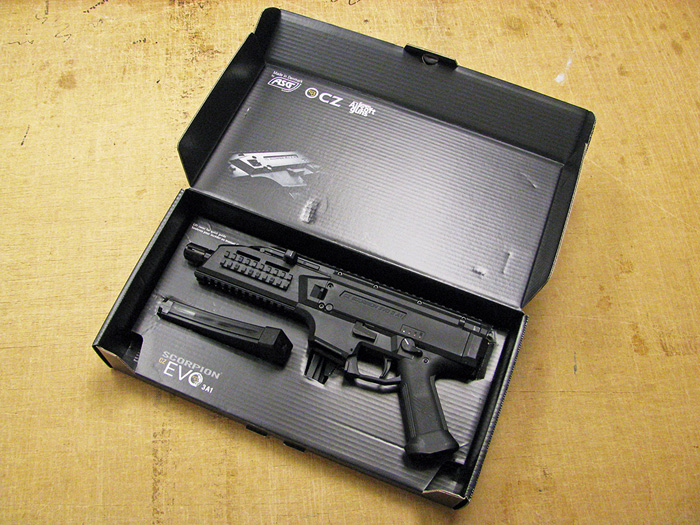 CONCLUSION
Although pricey (around €400 or £350) this is one of the finest airsoft guns I've had the privilege to skirmish with and the features and high end materials more than justify the price.
This is in fact a gun built to last, both externally and internally. A marvel when it comes to realism, both in terms of operation and build.
The ASG Scorpion CEZ EVO has proven that in Airsoft technical and construction boundaries need to be pushed and risks need to be taken so the sport can progress. And with the EVO it has progressed to whole new level.
I honestly loved this refined and robust AEG that keeps on surprising me, not just by its looks and specs but also by the way it performs every time I took it to the field.
Finally I would like to say thanks to Christian from ASG for making this review possible.
Pros
Best quality construction ever on a fiber reinforced Polymer Airsoft gun
Very realistic in terms of operation and design
Quick spring change system
Snappy trigger response
Great range and accuracy for an SMG
Variety of EVO products and accessories from ASG
Cons
Battery installation could be simpler