Oakley Announces The Shield Your Eyes With The Clear Collection
Logan
13 Aug 2020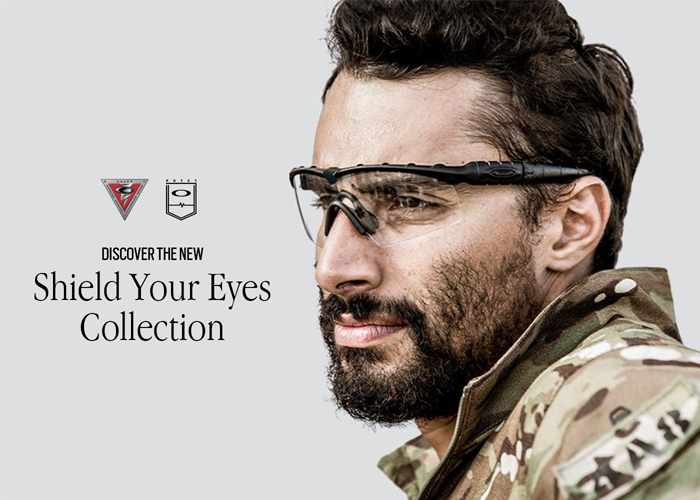 Oakley SI are coming up with eye pro that can be used as PPEs, given the need of first responders nowadays for more than just eye protection. While we get your eyepro as against projectiles, first responders, which also include those in the medical community, will need something that is invisible to the human eye, such as the Covid-19 virus that has plunged the world into a pandemic.
It has released two eye wear products that are classified as PPE as part of Clear Collection. The Clear Collection is basically new and existing eyewear that OSI has that come with Clear and Photochromic lenses. These feature Oakley's patented High Definition Optics (HDO) that eliminates distortion to give clearer, sharper, and more accurate vision. With the base lens color being clear, it is easier to see in low light conditions and contrast being neutral.
The first one is the SI M Frame 3.0 with Gasket PPE which is a lightweight and chemical-resistant O-Matter frame that features the Plutonite lenses with HDO Optics for high-mass and high-velocity impact protection with the highest level of optical clarity. It comes with rubberized gasket to help block wind and dust. I think this is recommended for use in higher risk conditions and areas such as ICUs.
The second one is the Det Cord PPE which has anti-fog coating, over-ear protection, comms compatible stems, and an Unobtanium nosepiece. This is recommended for use in any situation.

Other products of the Clear Lens also include some of the previously released products such as the M-Frame 2.0, Ballistic Goggles 2.0, MX Goggles, Tombstone, and the M-Frame. Learn more with the press release from Oakley SI (via Soldier Systems):
Shield Your Eyes With The Oakley Clear Collection

Tuesday, August 11, 2020 — For over 20 years, Oakley Standard Issue has developed lenses for our nation's Military and First Responders, with the highest standard in clarity and protection. The Oakley Clear Collection expands years of development into an assortment of sport performance and lifestyle frames with clear and photochromic lenses. We understand the importance of safety equipment and appreciate the considerations of our essential workers.

In recent months, the wellbeing of frontline essential workers has become paramount. Terms such as Personal Protection Equipment (PPE), and Body Substance Isolation (BSI) are now commonplace. Oakley Standard Issue (OSI) has been providing protection eyewear for Military, Law Enforcement, and First Responders for well over 20 years. With numerous products on the certified lists for conventional military and Special Operations Forces, now is the time to expand this collection to offer a more diverse assortment of eyewear to those that need it most.

Legacy products such as the Oakley SI Ballistic M Frame are within the collection. With an anti-fog coating, M Frame meets both high impact and high velocity impact requirements for ANSI Z87.1 and MIL SPEC. Another feature included in the M Frame is the Gasket. The Gasket is a small rubber insert that is ideal for keeping out dust or debris.

Additionally, the assortment includes a variety of Photochromic lens options. Ideal for anyone transition between light environments, Photochromic changes rapidly and even adjusts to the surrounding light. These lenses are supported with a variety of sport frames to include Radar, Jawbreaker, and EV Zero.

Lastly, OSI offers select frames with Prizm Low Light lenses. Prizm Lens Technology, now authorized for wear on the Special Operations Eyewear Program (SOEP), maintains a low visual light transmission while enhancing select colors. These lenses are perfect for anyone working in a health care setting where you might experience significant fluorescent lighting.