The Nomination Period Of The 13th Airsoft Players' Choice Awards Is Now Open!
OptimusPrime
21 Nov 2022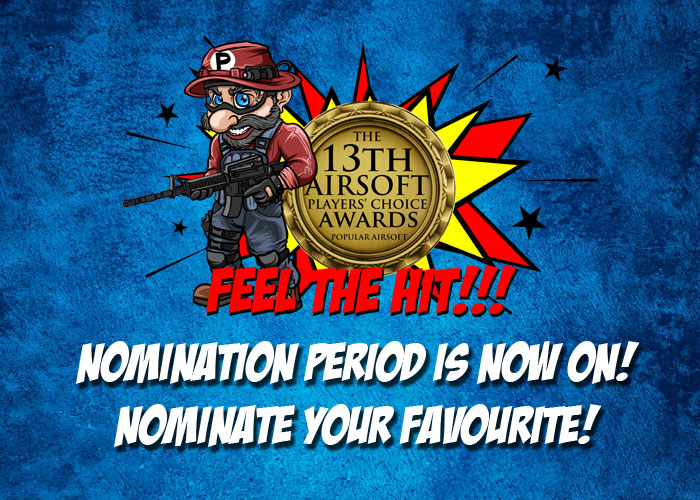 Here we go! The biggest online event in airsoft has finally started. The 13th Airsoft Players' Choice Awards is now on and it is now taking nominations. If you haven't prepared your list of nominees, better do so now so your favourites can have the chance to bag an award as recognition of their contributions to airsoft.
To help you out make your list, here are the 26 awards categories covering business, media, community, product development, and player recognition:
Best Airsoft Retailer for North America
Best Airsoft Retailer For Central & South America
Best Airsoft Retailer for Europe
Best Airsoft Retailer for Asia
Best Gear Retailer for North America
Best Gear Retailer for Europe
Best Gear Retailer for Asia
Best Airsoft Magazine (Print or Digital)
Best English Language Airsoft News Website
Best Non-English Language Airsoft News Website
Best Airsoft Blog (Regardless of Language)
Best Airsoft Community/Forum
Best Airsoft Video Posted Online in 2022
Best Airsoft Event (Over 500 Players)
Best Airsoft Podcast or Video Channel
Best Airsoft Upgrade/Parts Maker
Best Airsoft KABOOM (Grenade/Mine/Mortar/Rocket/Pyro) Maker
Best HPA Airsoft Engine
Best Airsoft Pistol
Best Airsoft Gas Blowback Rifle
Best Airsoft Shotgun
Best Airsoft Sniper Rifle
Best Airsoft Automatic Electric Gun (AEG)
Best Airsoft Manufacturer
Special Airsoft Player Award (Male)
Special Airsoft Player Award (Female)
You don't have to fill submit nominees in all categories but we highly encourage you to take time and nominate someone in each of the 26 categories to make your time nominating worthwhile.
Read to nominate now? Click on the button below to start:
---

---
The Nomination Period runs from today, the 21st of November until the 19th of December 2022 at 2400H PST. There is enough time to nominate, but the earlier that you nominate the better and encourage to do so.
The 13th Airsoft Players' Choice Awards is our opportunity as players to give appreciation and recognition who worked hard for the sport and hobby by innovating on products; creating content to spread the word around to make the community and the general public aware of what is happening in airsoft; giving good service in selling airsoft guns and gear; organising the events that players will always talk about; enhancing cooperation through teams, groups, and communities; and being outstanding airsoft players.
As we go on with awards process of the 13th Airsoft Players' Choice Awards, we invite you to visit our sponsors' websites to show your appreciation for their support to the event as their support is invaluable. Please do click on their logos below to visit their websites and learn more about them:
---
MAIN PRESENTERS
---
GOLD SPONSORS
---
BRONZE SPONSORS
---
Nominate your favourites now!