Black Friday Sale Is Now On At Anareus
OptimusPrime
25 Nov 2021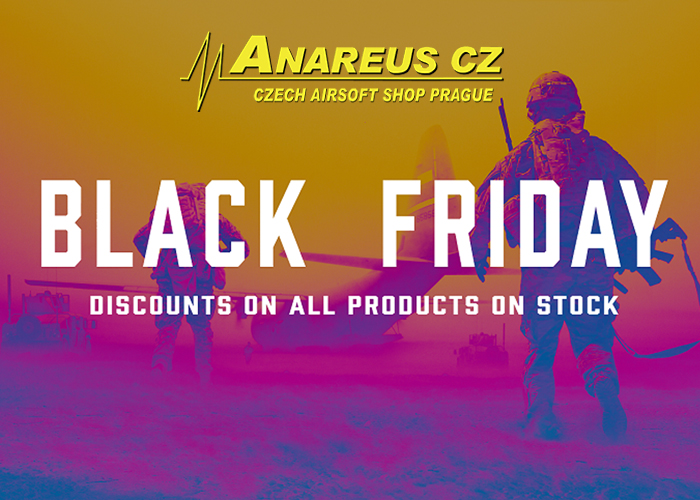 Anareus, the popular retailer of airsoft guns and tactical gear based in the Prague, Czech Republic, are having their Black Friday Sale... "There is no better time to get everything you wanted this year than now! As every year, this year we have prepared a Black Friday event for you, our customers. Discounted prices are applied only to products that are in stock and this applies only to orders created and paid from 24.11. 2021 from 18:00 UTC+1 until 28.11. 2021 at 23:59 UTC+1 (except cash on delivery orders). Orders can be made via the Internet or in person at the store. Discounted prices cannot be combined with other discounts, promotions or special offers.
Due to this event, the Anareus Airsoft shop is open on Saturday, November 27th, 2021 from 10:00 till 16:00.
Thanks to our 20-year market position and more than 10,000 products in stock, we are the largest airsoft store in our country.
In addition to the physical shop which is in Prague in Czech republic, we also run a web shop. We also run a wholesale department.
We process orders as soon as possible and if the goods are in stock, we send them no later than the next working day.
We are direct representatives of many world-famous brands. We are a platinum partner of Action Sport Games (ASG)  and Tokyo Marui, so you will find a wide range of weapons and accessories from these two well-known brands. We import goods for you mainly from Japan, Hong Kong, Taiwan, Denmark and China, but also from the USA and Canada.
Feel free to contact us via email [email protected] or [email protected].
For more information visit our site https://www.anareus.cz/gb/."