Airsoft Plantation 2021 Halloween Shoot & Fireworks Event
OptimusPrime
26 Oct 2021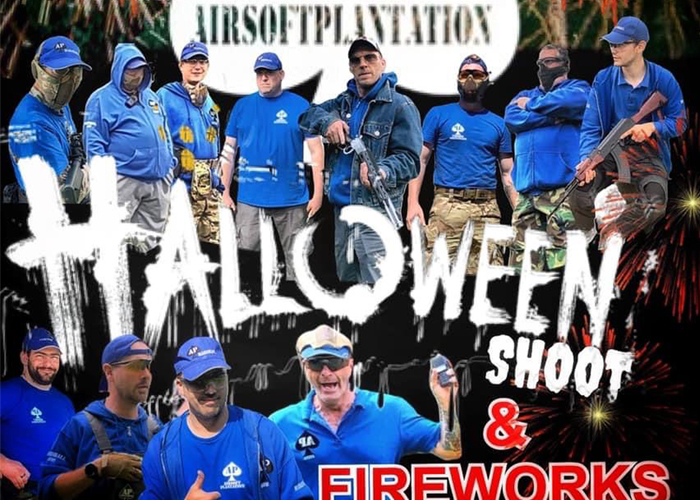 Airsoft Plantation are inviting friends and customers to join for a thoroughly packed airsoft event on the 30th of October 2021 with their 2021 Halloween Shoot & Fireworks Event. The games start at 1000H and ends at 2000H followed by fireworks at 2030H and wrapped up by 2130H. Sounds fun, isn't it? Book your slots now as it's coming up fast!
"Come and join a day of Action packed Skirmishes and Games. Definitely a day to remember and will literally end with a Big BANG!!! This year to make up for us all missing out last year, AP will be going all out to bring you the best Halloween/Fireworks event we can.
We've got a whole day of action packed all new games to play with bonus night games and fireworks aswell, this is set to be one of our best Halloween events yet. Full day of skirmishes with all new games as well as a short retake on our legendary Purge game. followed by evening/night themed games.
Special themed night games: For Halloween this year we have put together APs all new murder mystery night game, then for Fireworks celebrations we will be playing another all new Guy Fawkes game, and we all know how that's going to end 💣💣💣. Finishing the night with an awesome fireworks spectacular with a few surprises thrown in for good measure.🔥🔥🔥.
Halloween + Fireworks themed games
Night games
Extended game time
Fireworks spectacular + added AP entertainment
Competitions and prizes
Fancy dress welcome
Themed food menu.
Our favourite night game.
Walk on fee: £35.00 per player Pre-book only, Limited spaces. The Catering van will be serving a standard or themed, Breakfast, Lunch and Dinner menu.
**PRE BOOK ONLY. To book on to this event, simply text full names across to John on 07534636289. We will reply with a confirmation of your booking. (Please make sure you can attend before booking spaces).
Address:
Airsoft Plantation
S&J Action Sports LTD
Goatsmoor Lane,
Billericay, Essex,
CM4 9RS"