New Magpul DAKA Grid: Foam Lego Bricks For Your Hard Case
Moondog
02 Feb 2023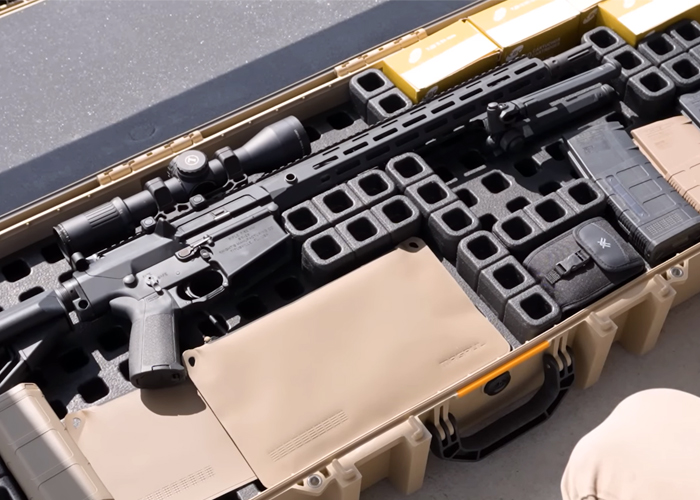 I was asked what was the most interesting thing I saw at Shot Show this year and I replied, "Its not a gun." Sometimes you see a product that is so simple and obvious that it's brilliant. That's what I saw at the Magpul booth their new DAKA Grid System.
DAKA is the brand name of Magpul's non-firearms brand which puts out products for camping, organizing, and outdoors. At Shot Show 2023, they introduced their DAKA Grid System and their new hard shell travel cases and their patented new internal storage GRID blocks. These are foam plastic blocks which can be assembled and connected to customize storage for rifles, camera gear, or whatever you want to protect inside their hard-cases or any box, case, or luggage.
They are in two simple words: foam LEGO bricks.
---
---
It was one of those face-palm palm, "Why didn't I think of that" moments when I saw a bin of black foam bricks. Unlike the soft foam that is the current industry standard that requires you to either pluck-and-pull pieces or use a hot knife to custom cut spaces for your gear, one simply needs to rearrange the blocks to fit your gear. This is one product that is useful not just for rifle shooters, not just for pistol shooters, but for anybody who wants to store and travel with any fragile item: photography, astronomy, scientific instruments, art, etc.
---
---
Like Camelbak was to canteens, Yeti was to coolers, the DAKA Grid is a game changer in protected transport. But like those other brands, if the DAKA Grid proves to be as successful as I think, I'm sure it will be copied. It all depends on how the patent is written but clever companies will likely find a way. I'm sure CCP Chinese companies will do so regardless of any U.S. patent.
I gave Jonathan of Magpul a suggestion for the next block they design: a block with 50 holes for ammo cartridges. If they introduce that next year, you'll know it was my idea.

This was originally posted on Moondog Industries.