Mossberg Adds The Patriot LR Tactical To Its Bolt-Action Line
Logan
25 Jan 2023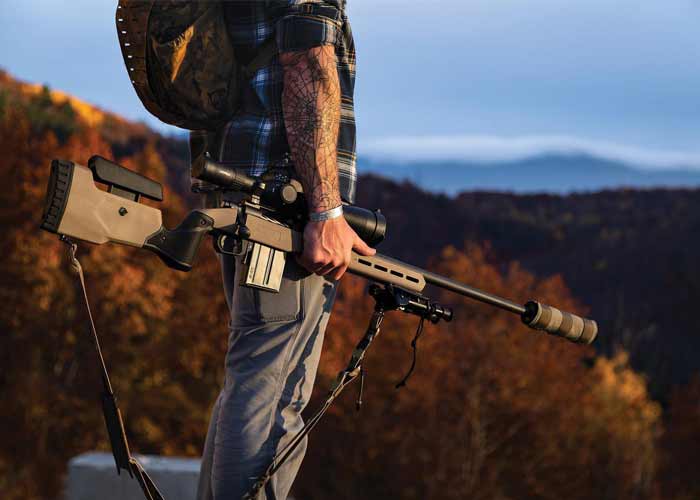 Another bolt action rifle that we assume many airsoft snipers would want to see in an airsoft form. Announced a week before the SHOT Show 2023 was the Mossberg Patriot LR Tactical that is available in three flavors. It uses an MDT chassis that allows for multiple adjustments.
The rifle uses AICS-style magazines with 7 or 10 round capacity and when I mentioned three flavors, I mean there are versions that can fire 6.5mm Creedmoor, 6.5 PC, and 308 Win which will make shooters happy that they their favored rounds for long range precision shooting are covered by the Patriot LR Tactical.
The Patriot LR Tactical has a twin-lug push-feed machined-stee action with a medium bull, carbon steel barrel. This features an 11-degree match crown and matte blue finish. The barrel lengths are in 24" or 22" depending on the model. The MDT chassis has V-Block aluminum bedding as well s a Magpul M-LOK compatible forend. The buttstock is adjustable using the three provided spacers with a length of pull from 13.5- to 14.25-inches. The comb/cheekrest is adjustable with the built-in tension knob for the shooter to find the height to be able to shoot comfortably and accurately. It also comes with a factory-installed 20 MOA Picatinny rail.
---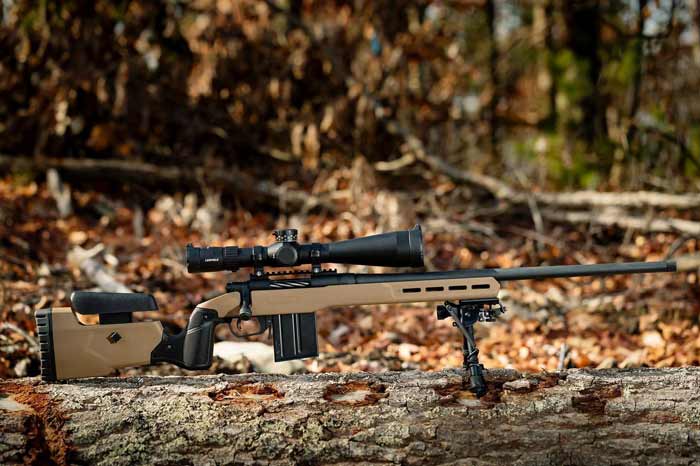 ---
The LR Tactical features the patented "Lightning Bolt Action" trigger which is seen in Patriot rifles and it is adjustable from2 to 7 pounds. It also has an oversized trigger guard for hands with gloves and it has an integrated magazine release lever. The bolt handle is easy to grip when operating the smooth-cycling fluted bolt.
---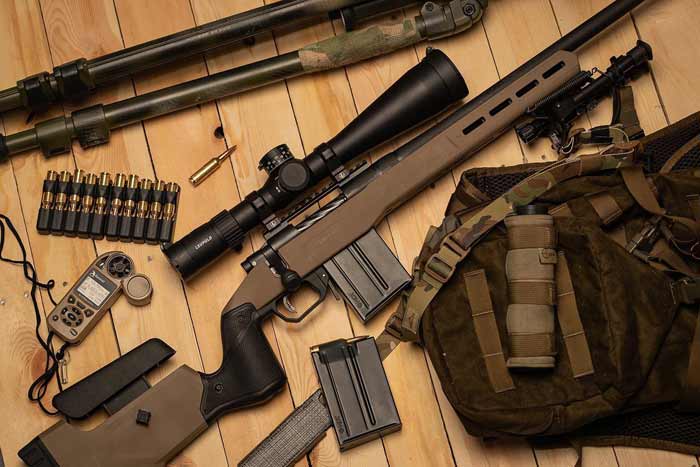 ---
All the three versions are available to order from authorized firearms dealers. As for pricing, they are all priced the same at an MSRP of US$1,085. As for color choice, the Patriot LR Tactical is available in Flat Dark Earth finish.
Press release below:
---
Patriot™ LR Tactical Joins Mossberg® Bolt-Action Line

North Haven, CT – Known for their performance on game and down range, Mossberg introduces the newest member of the family: the Patriot LR (Long Range) Tactical bolt-action rifle. Housed in an adjustable, customizable chassis system and fed from AICS-style magazine, this Patriot rifle is designed to enhance your long-range performance and accuracy. Available now in three of the most popular, flat-shooting chamberings:

6.5mm Creedmoor and 308 Win with 22-inch barrel length and 6.5 PRC with 24-inch barrel.

Based on the proven Patriot bolt-action platform, the Patriot LR Tactical has a twin-lug push-feed machined-steel action with medium bull, carbon steel barrel featuring an 11-degree match crown and matte blue finish. For ease of adding a suppressor, the barrel is threaded (5/8"-24 threads per inch) and includes a protective thread cap. The factory-installed 20 MOA Picatinny rail provides for added elevation adjustment with most optics. And like all Patriot rifles, this tack driver has Mossberg's patented LBA™ (Lightning Bolt Action™) user-adjustable trigger with a 2 to 7-pound range of adjustment. Rounding out the standard features are an oversized, easy-grip bolt handle and smooth-cycling fluted bolt.

Setting this Patriot apart is the MDT® Field Stock chassis system that features V-Block aluminum bedding for stability on long-range shots; Magpul® M-LOK®-compatible forend with slots at the 3, 6 and 9 o'clock positions for accessory customization; and buttstock that is adjustable for length-of-pull (LOP) from 13.5 – 14.25 inches with the use of spacers (three .75-inch spacers included). The comb height is also adjustable, up to 2 inches, with the tension knob. Simply loosen the knob, adjust the cheekrest to the desired height and re-tighten the knob. The trigger guard is oversized and is equipped with an integrated magazine release lever located forward of the trigger guard. Completing the design of this functional stock is an ergonomic, straight-wrist grip with texturing; front and rear sling swivel studs; and flat dark earth finish. The Patriot LR Tactical is fed from a metal AICS-style detachable magazine with 7-round or 10-round capacity and will accept aftermarket AICS-style mags (caliber- specific).

When extending your down-range performance and accuracy is your goal, the newly-designed Patriot LR Tactical rifle delivers with functionality, precision and consistency – shot-after-shot. For more information on the complete line of Mossberg Patriot bolt-action rifles, please visit www.mossberg.com.
---