The Mass Driver: Strike Industries' Compensator For Glock Pistols
Gungho Cowboy
22 Nov 2019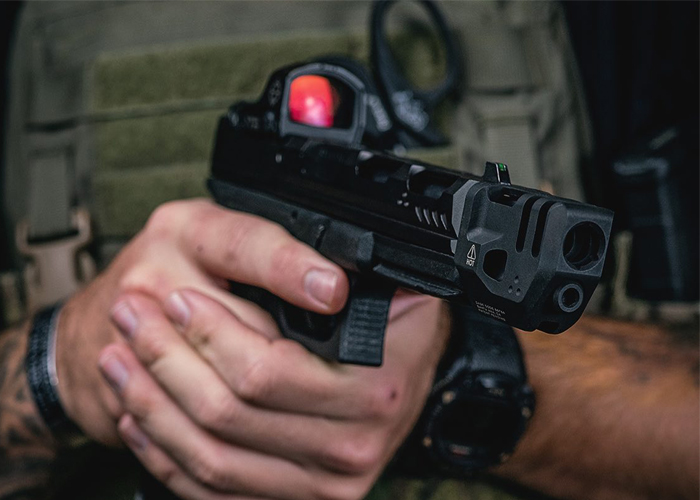 Compensators are cool to look. Cosmetically, they give the pistol a meaner look, but it's not the looks that compensators are sought after for, but for the practical function they provide. More known as muzzle brakes in rifles, in pistols they are called compensators in which a portion of the propellant gas is redirected to counter recoil and minimize muzzle climb. For practical pistol shooters, a compensator is essential to maintain accuracy.
Glocks are not usually known to be equipped with compensators but there are compensators made for them. The latest is the Strike Industries Mass Driver Compensator designed for Glock 17 and 31 pistols with a more compact version for Glock 19 and 32 pistols and it can be installed without the barrel threads. Instead it uses the guide rod which for firearm owners in the U.S., makes it 50 state legal.
As explained by the company:
The Strike Industries Mass Driver compensator represents a quantum leap in compensator design. Current designs have largely been unchanged since the 1930s. It's about time for something revolutionary. The Mass Driver name is inspired by the idea of theoretical mass driver engines in space travel. By ejecting mass, an equal and opposite reaction is generated propelling the space vehicle forward. The Mass Driver Compensator is driven by the hot gasses expelled through the barrel after the round is discharged, and acts as a counter balance system to attenuate mechanical recoil. Barrel mounted compensators add reciprocating mass and increase the moment of inertia to the operating system, which can have a negative effect on reliable cycling of recoil operated handguns. By separating the compensator from the operating components after ignition, the MD comp allows for close to stock cyclic speeds, and reduces reciprocating mass.
When fired, the gases that are exiting out of the gun move the Mass Driver forward ("forward moving") and then it returns by using the spring it is installed with. Since it is not attached to any moving parts of the pistol, it does not compromise its reliability.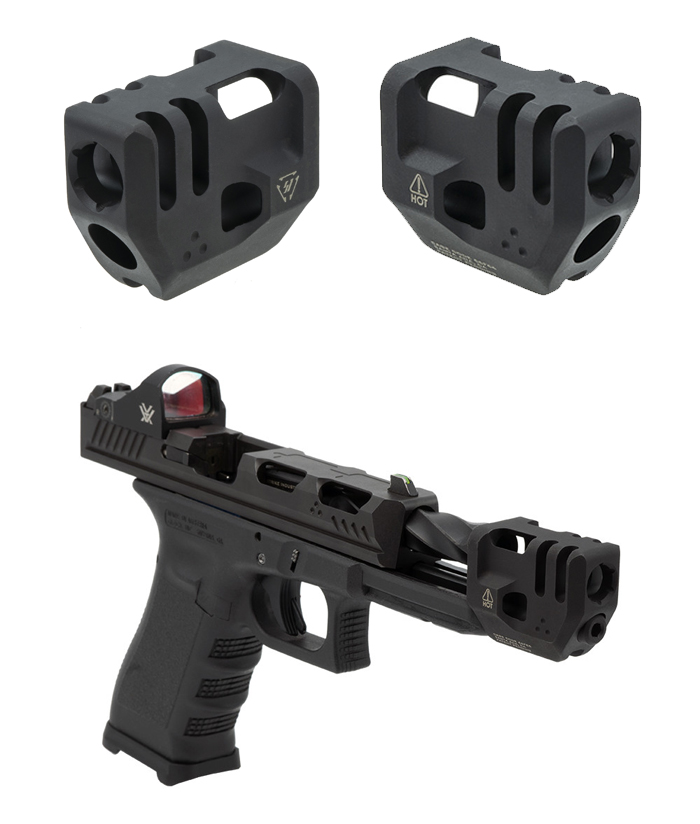 Here is more information:
Product Features:
No threaded barrel needed
Matches with width of the slide, it can be used with open holsters, no special holster needed
Counter recoil design, as the slide moves back the comp moves forward to reduce felt recoil
Eliminates the need for threaded barrels. 50 State Legal
Blended, no snag profile
Precision CNC machined
No permanent modification of weapon required
Contours with slide dimensions to be compatible with most open-bottom holsters
Package Includes:
1 Comp Main Body
1 Recoil Spring
1 Guide Rod
1 Guide Rod Fitment Washer
1 Guide Rod Head
1 Internal Spring
Priced at US$89.95, it is available exclusively through Primary Arms. We wonder if it will work gas blowback pistols, especially with those made by VFC for Umarex and Tokyo Marui. Will the GBB propellants such as Green Gas or CO2 be able to push forward the Mass Driver? Will there be a performance difference? If you are based in the U.S., you might try want to give it a go if you own any of the compatible models.