It's A 10! Get Ready For The 10th Airsoft Players' Choice Awards!
OptimusPrime
05 Oct 2019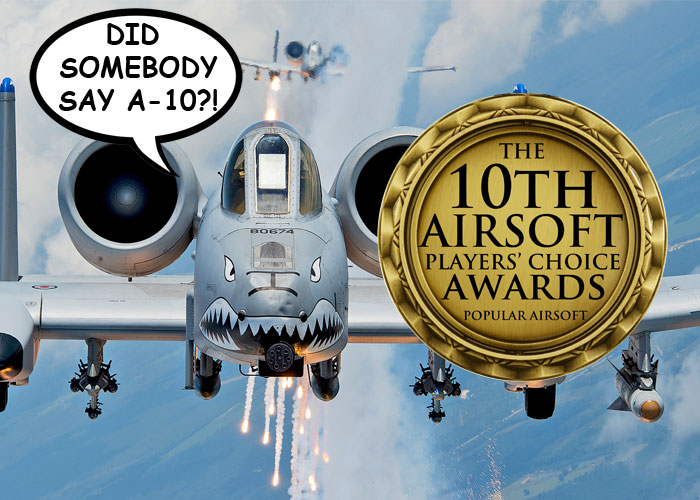 In recent weeks we have been getting queries about the next Airsoft Players' Choice Awards either from curious readers, airsoft companies, and groups who dreamed of having their named etched for posterity as awards winners. For the next awards, it's going to be more exciting as companies will try to achieve awards records for the 10th Airsoft Players' Choice Awards, and there will be those who will be standing along the way ready to take their crowns away.
The Airsoft Players' Choice Awards is the largest online event in the airsoft world. For two months, tens of thousands of readers of Popular Airsoft and airsoft players around the world will nominate and vote for deserving companies, persons, websites, publications, and products in the various categories for the awards. Starting humbly as a small awards event by Popular Airsoft, over the years, it has become a competitive event as the gold and silver salver became coveted.
There are companies that have been winning the awards consistently ever since it started and they intend not to break their streak and win their categories for the 10th time. Will it be tough again for them as their competitors improve their products and services to airsoft players?
As to the number of awards available, there are 25 awards categories:
Best Airsoft Retailer for North America
Best Airsoft Retailer for Europe
Best Airsoft Retailer for Asia
Best Gear Retailer for North America
Best Gear Retailer for Europe
Best Gear Retailer for Asia
Best Airsoft Magazine (Print or Digital)
Best English Language Airsoft News Website
Best Non-English Language Airsoft News Website
Best Airsoft Blog (Regardless of Language)
Best Airsoft Community/Forum
Best Airsoft Video Posted Online in 2017
Best Airsoft Event (Over 500 Players)
Best Airsoft Podcast or Video Channel
Best Airsoft Upgrade/Parts Maker
Best Airsoft KABOOM (Grenade/Mine/Mortar/Rocket/Pyro) Maker
Best HPA Airsoft Engine
Best Airsoft Pistol
Best Airsoft Gas Blowback Rifle
Best Airsoft Shotgun
Best Airsoft Sniper Rifle
Best Airsoft Automatic Electric Gun (AEG)
Best Airsoft Manufacturer
Special Airsoft Player Award (Male)
Special Airsoft Player Award (Female)
There might be another category that will be added pending further study. We will announce this category in another post once we approve its inclusion.
Now, for the schedules, for those who intend to be nominated they better write them down:
Nomination Period
25 November - 29 December 2019
Voting Period
6 January - 3 February 2020
Winner Announcement
10 February 2020
Awarding
Airsoft Meetup
IWA Outdoor Classics 2020
8 March 2020

There are still less than two months to prepare for the Nominations Period which is a crucial period. Only the top 5 nominees (those who get the most number of nominations) in their categories will move to the Voting Period in which it's a winner takes all in each category.
Better get ready and let's try to get a perfect 10 for the Awards on its 10th year.
Interested sponsors can contact us for sponsorship details.