"The Outpost" Starring Orlando Bloom & Scott Eastwood To Premiere On 2 July
Gungho Cowboy
29 May 2020
"The Outpost" a movie about Battle of Kamdesh, in which a Combat Outpost (COP) established by the Americans in Afghanistan that is located near the border with Pakistan came under intense attack by the Taliban in what was the bloodiest encounter in 2009, is to premiere on 2 July. It was supposed to be premier at the South by Southwest Film Festival but was cancelled due to the Covid-19 pandemic. The movie stars Orlando Bloom, Scott Eastwood and Caleb Landry Jones.
The movie, which is based on the book "The Outpost: An Untold Story of American Valor" written by Jake Tapper of CNN, follows a group of soldiers manning Combat Outpost Keating. The outpost was established to cultivate cooperation with the locals and engage in community projects during Operation Enduring Freedom. The base was located in a valley surrounded by three steep mountains and was under constant threat by the Taliban.
When the Taliban found out that outpost was about to be closed, they decided to attack it to make a statement. Over 300 Taliban fighters were devoted to attack the COP Keating which was manned by 53 soldiers from the Bravo Troop 3-61 CAV.
At the aftermath of the battle showed the Outpost remained standing in the hands of the Coalition forces. The U.S. claimed that around 150 Taliban fighters were killed with 8 Americans killed and 27 wounded.
Bravo Troop 3-61 CAV became the most decorated after the battle. Two Medals of Honor, awarded to Staff Sgt. Clint Romesha and Spc. Ty Carter. Also awarded were 27 Purple Hearts, 37 Army Commendation Medals with "V" devices for valor, three Bronze Stars, 18 Bronze Stars with "V" devices, and nine Silver Stars as reported by Military.com.
Four U.S. Army officers who oversaw COP Keating were admonished or reprimanded for command failures as reported by Stars & Stripes in June 2011.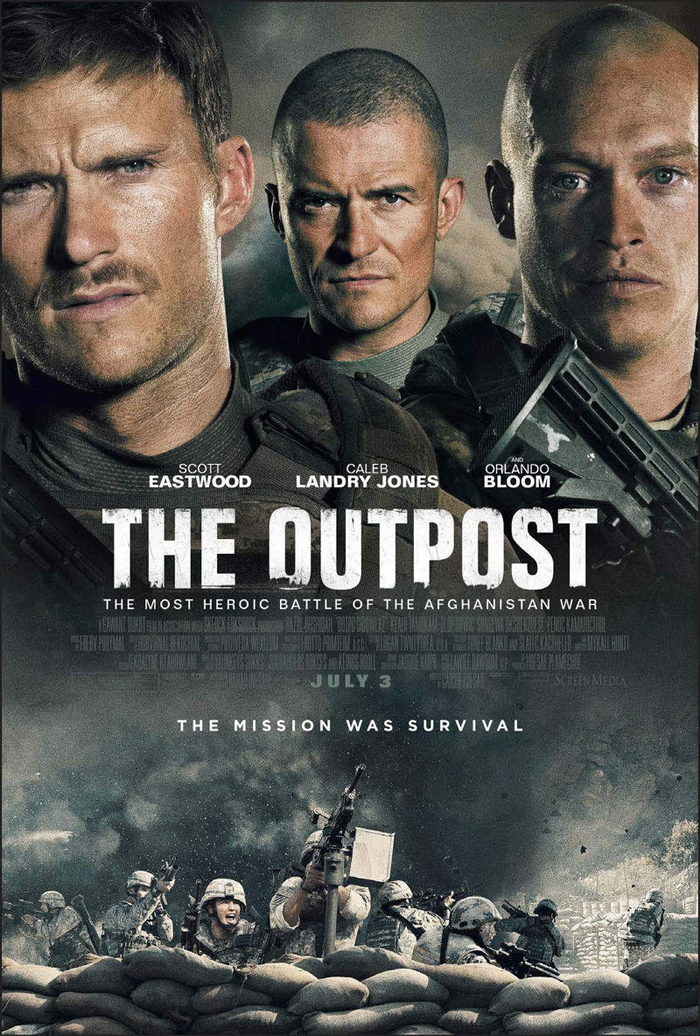 Scott Eastwood plays the role of Staff Sgt. Clint Romesha and Caleb Landry Jones as Spc. Carter. Orlando Bloom plays Capt. Ben Keating after whom the COP is named after. The real Ben Keating was a First Lieutenant who died in vehicle accident while returning an armored supply truck to the Naray FOB. The movie is directed by Army veteran Rod Lurie.
"The Outpost" will be released to theatres and on-demand on 3 July.