Here Is The New F3 Helmet Of The French Army
Logan
28 Jun 2022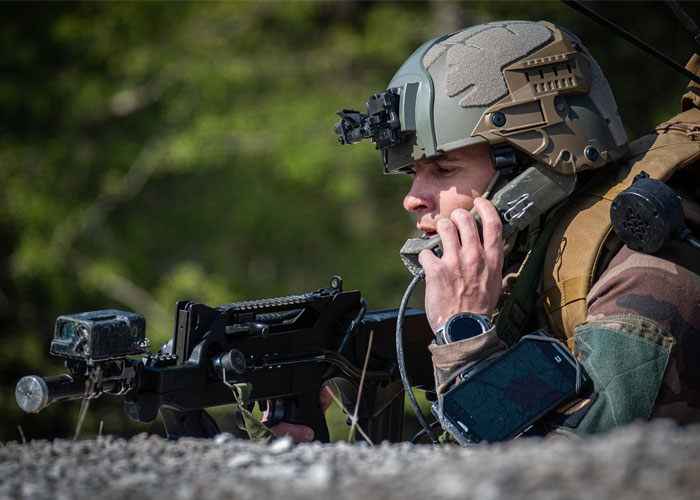 During the Eurosatory 2022 in Paris, the Ministère des Armées (Ministry of the Army) put on display the new F3 Helmet of the Armée de Terre or the French Army, which is part of the ongoing update in the uniform and gear of the service branch which has been ongoing since 2019.
According to Opex360.com, the distribution of the F3 helmet should have started in 2020, as part of Military Programming Law (LPM) 2019-2025. It was developed by the Service of the Commissariat of the Armed Forces (SCA), via via the CIEC (Inter-Army Center for Support Equipment Commissariat], with the Technical Section of the Army [STAT] of Versailles.
It is optimized version of the FELIN (Integrated infantry equipment and gear) helmet and it uses the Aramid (Kevlar) shell and it provides ballistic protection against splinters and 9mm rounds. It significantly increases the payload capacity and therefore the operational capacity of the combatant according to the Ministry of the Army with the following strong points (machine translated):
Increased attachment surface thanks to new side pieces and self-gripping supports
Installation of "function rails" connected by a hoop and allowing the attachment of accessories and "small tactical equipment" (eg night vision binoculars)
Visors and jaw protection retained
---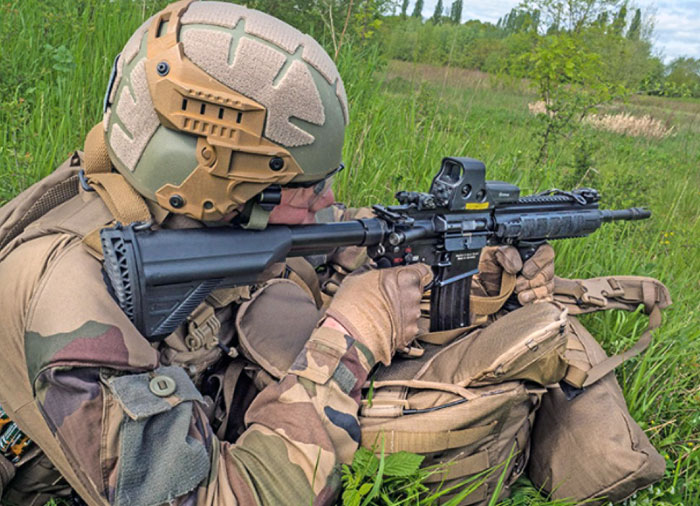 ---
The F3 Helmet will be matched with the new camouflage pattern announced last month and also displayed during the Eurosatory 2022. It's called the Multi-environmental Bariolage (BME), it will be ready in 2024 and will be replacing the Central Europe, the woodland type pattern, and Desert pattern in use since the 1990s. This new pattern will looks similar to the Multicam pattern that is now being used by U.S. allies such as the United Kingdom and Australia. But it is not exactly a Multicam pattern and uses the "Brun terre de France" color that which is now seen on French military vehicles.
The HK416F or the French variant of the Heckler & Koch HK416 rifle, will remain the integral service rifle in this program.