Heckler & Koch Announces The Civilian Version Of The MP5K – The SP5K-PDW
Logan
06 Aug 2020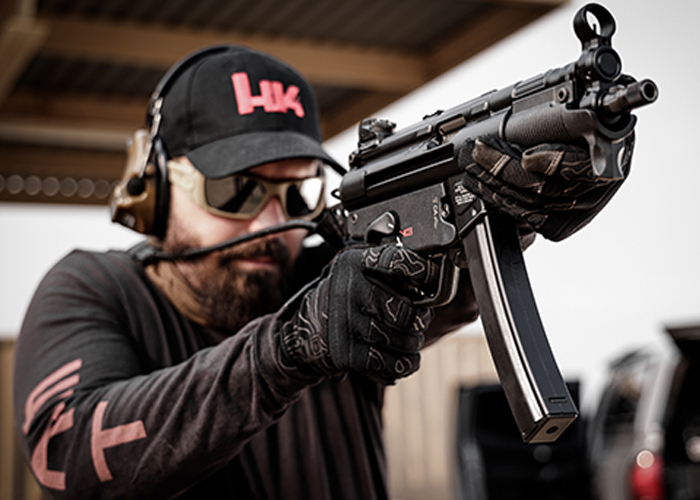 2020 is not all bad news for some people in the U.S.A. Yesterday, Heckler & Koch has unveiled the SP5K-PDW for the U.S. civilian market, allowing shooters to finally own a sporting (read: civilian) version of the MP5K. A compact pistol-style SMG, the MP5K is very ideal for close quarters and VIP protection given that it has a very small profile and easily concealable.
The HK SP5K-PDW is a follow through by Heckler & Koch in releasing a sporting version of the MP5 SMG, the SP5. In December 2019, the company's U.S.A office released the SP5 and this comes with the Navy barrel with threaded tri-lug adaptor, fluted chamber, chrome-lined bore and paddle magazine release.
The SP5K-PDW has all these features as it shares the same HK roller-delayed blowback operating system, which is legendary for its accuracy, reliability, and smooth shooting dynamic seen in the MP5. Since its for the civilian market, it does not have full auto or 3-round burst capability.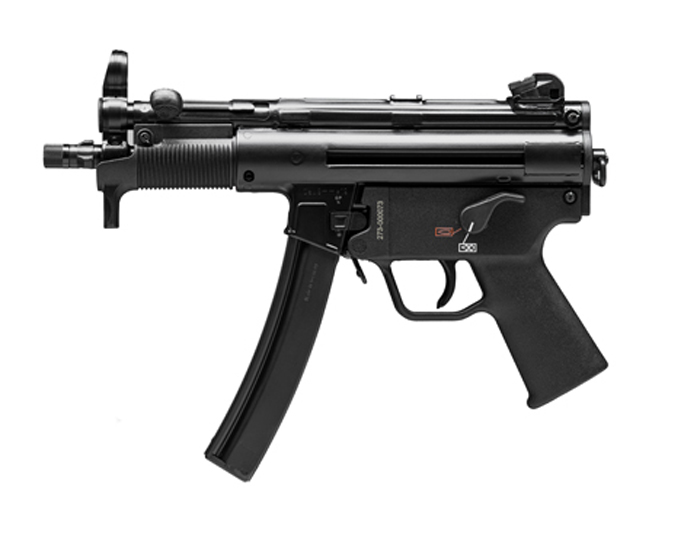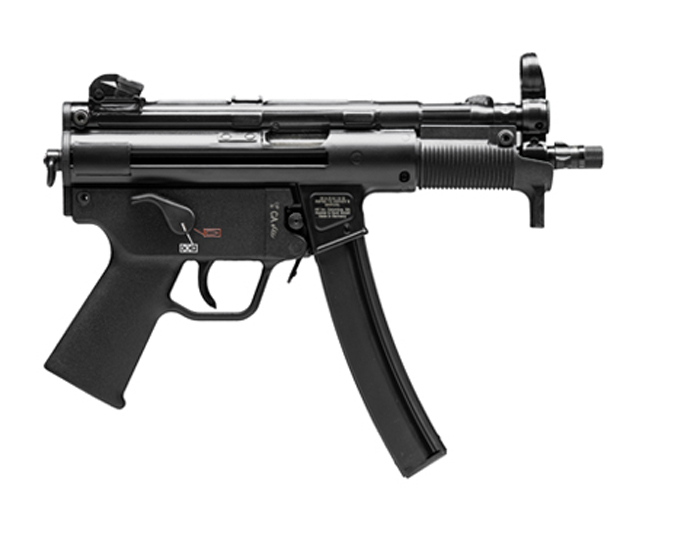 Heckler & Koch SP5K-PDW
Now, there are differences between the SP5K-PDW to the MP5K, especially at the front end. The MP5K handguard has a vertical grip with a finger protector while the SP5K PDW has a finger protector and a thumb rest at the muzzle area. The SP5K-PDW hanguard is also ribbed unlike the MP5K which is smoother. But overall, they still look very similar though we kinda like the foregrip on the MP5K which helps stabilize the machine pistol when shooting at full-auto.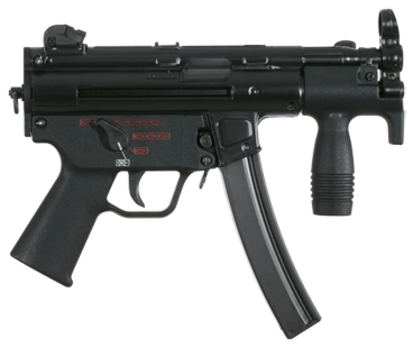 Heckler & Koch MP5K
The SP5K-PDW comes with a water resistance hard case that has cut-outs for the PDW, sighting tool, accessories and spare magazine. It does not come with brace and is sold in pistol configuration so might as well get used to the carry sling to attach to the sling mount on the backplate.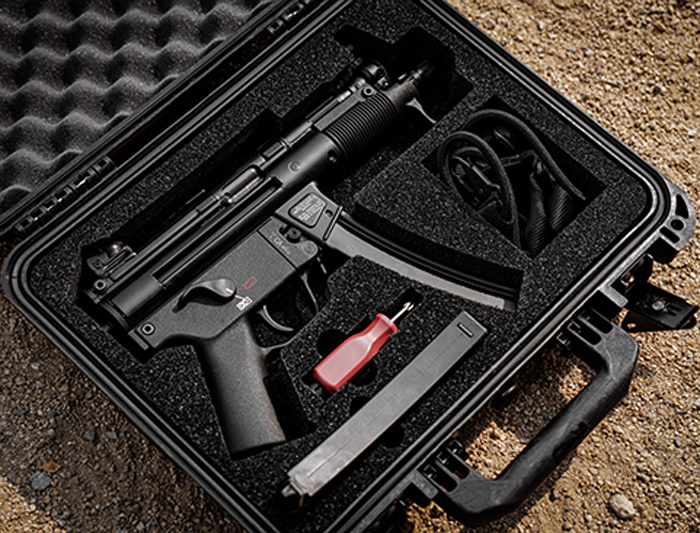 Heckler & Koch SP5K-PDW Case
When it gets released, the MSRP is at US$2,799. Airsoft players need not worry, there is already the MP5K and MP5K PDW based on the military version that are in the market for years now either as AEGs or GBBs.
More details on the SP5K-PDW with a video on the SP5 from Heckler & Koch USA below:
The SP5K-PDW is semi-automatic civilian sporting version of the ultimate close quarters weapon – The HK MP5K. The "K" designation is from the German word for short – kurtz; thus the K model's shorter barrel and receiver.

But no matter the size, all SP5 and MP5 models share the same HK roller-delayed blowback operating system, which is legendary for its accuracy, reliability, and smooth shooting dynamic. Originally perfected on the Heckler & Koch G3 rifle, this system has been used on many HK firearms still deployed around the world.

The SP5K-PDW was designed and manufactured to meet the definition of a civilian pistol. It is loaded with authentic features, like a 4.5" barrel with Navy-style threaded tri-lug adaptor, paddle magazine release, and fluted chamber.

The SP5K-PDW is manufactured in Heckler & Koch's factory in Oberndorf, Germany. It retains many of the critical elements of the MP5 and MP5K, including its precision-machined components and attention to detail. This high level of quality and workmanship is a result of making civilian SP5 variants in the same factory, on the same lines, and by the same workforce that has been making MP5s for years.

Configuration and Pricing

Part no. 81000481, (UPC 642230261815) SP5K-PDW 9mm with two 30rd magazines – MSRP $2799
Part no. 81000482, (UPC 642230261808) SP5K-PDW 9mm with two 10rd magazines – MSRP $2799
Part no. 206349S, (UPC 642230254336) Magazine, 9mm, 30 rounds – MSRP $80
Part no. 215610S, (UPC 642230251809) Magazine, 9mm, 15 rounds – MSRP $80
Part no. 239257S, (UPC 642230255210) Magazine, 9mm, 10 rounds – MSRP $80