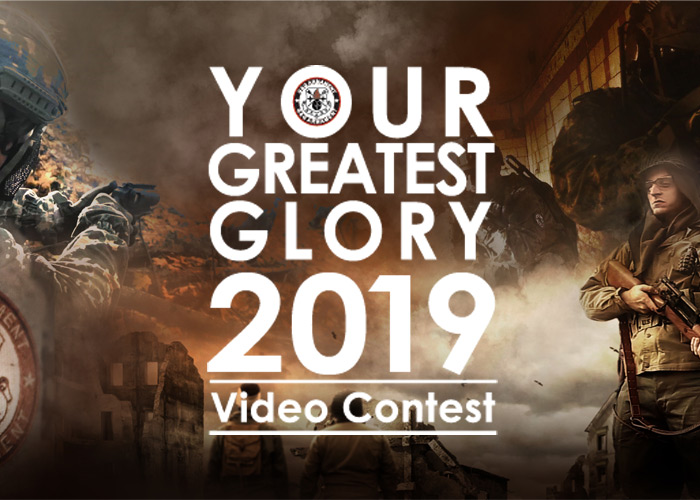 G&G Armament has two long running creative contests for airsoft players worldwide and both are ongoing right now. The first one and which we have already posted the story about last week is their "Show Yourself" photo contest, and the second one and more challenging contest, is their "Greatest Glory" video contest.
If you already have a video that is already uploaded on YouTube and meets all the requirements of the contest, you can submit it right now. But if you have not done yet and planning on making an entry to the contest, you need to be aware of the following requirements:
Create a video that has a duration of at least 30 seconds or up to 5 minutes at the most that is based on G&G products;
Sign in and Upload your video to YouTube (youtube.com). If not already a YouTube member, please sign up for a free membership;
For uploaded videos please add a title [ 2019 G&G Your Greatest Glory Video Contest ] in the front of your own title; and
For Video quality please follow YouTube's HQ format.
That's not so hard to remember. But be aware that the deadline of submission of entries is on the 12th if November 2019. If you have already uploaded your video, download the application form from the official contest website and email it to G&G. Also, you will have to abide by the contest's Terms and Conditions before your entry will be considered for judging.
As for the prizes, here are the eye popping prizes:
Best G&G Commercial Award
US$ 10,000 cash prize
1 free round trip for an economic class flight to Nurnberg, Germany.
1 free night stay at a hotel to be designated by G&G Armament.
1 day VIP visit to G&G Booth at international trade show " 2020 IWA & Outdoor Classics " for the award ceremony ( winning team must assign 1 representative to participate)
Best Video Award
Best Creative Video Award
Nominated Masterpiece Award
The prizes are not tax free so your actual take home prize depends on the tax rules of your country.
How are the entries judged or voted up? There are two process: Voting Method with the first one beinf the Internal Voting which accounts for 70% of the winning criteria entries are voted by G&G personnel, global G&G distributors and internationally well-known media specialists. The other one is via Online Voting which is 30% of the winning criteria and is based on the likes (or votes) by YouTube viewers (they should have accounts in order to vote).
Now, if you haven't yet written down the storyboard for your video entry and need inspiration, why not take a look at last year's winning entries? Here they are:
Best G&G Commercial Award
"Meet Us On The Field"
by Ilya Shugurin (Russia)
Best Video Award
"My Hero"
By Luca Moncalvo (Italy)
Best Creative Video Award
"GGLovers"
By Paolo Mastromauro (Italy)
"Big"
By Bartosz Bielicki (Poland)
Nominated Masterpiece Award
"Friends"
By Eduardo H. Garza (Spain)
"Are You Ready?"
By Mikhail Yuriev (Ukraine)
"Bang"
By Bartosz Bielicki (Poland)
"Challenge of Time"
By Balazs Stark (Hungary)
"The Difference"
By Adam Aijovich (Poland)
"With You"
By Michał Kociarz (Poland)
Will the videos be better this year with all these amazing and affordable technologies in making aweome airsoft videos? We'll find out when the winners get announced in November. Stay tuned.