French Army Picks Airsoft HK416 F-S As Training Weapon
Gungho Cowboy
15 Oct 2020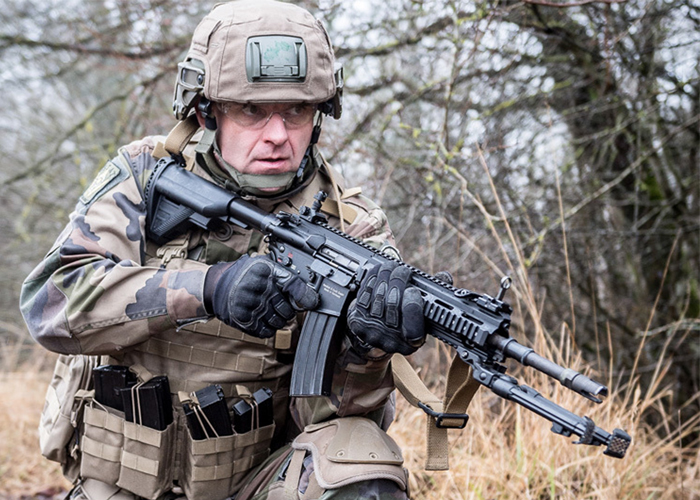 It's airsoft for the Armee De Terre (French Army) for training. The Firearm Blog spotted a post on Facebook by RETEX Mag, a French-language magazine for firearms and tactical gear enthusiasts. The designation for the training weapon is HK416 F-S which is an AEG as seen in one of the photos showing the package that comes with low/midcaps, cleaning rod, a speedloader, and charger. The sling is from Blue Force Gear whilst the optics is a Holosun HS510C open reflex optical sight.
The HK416 was selected in 2016 as the new rifle for the French Army under the Arme Individuelle du Futur (Future Individual Weapon) to replace the FAMAS rifle, designating it as the HK416 F.
It is interesting to read the reactions of French airsoft players after learning of this selection in the comments section of the post, which you can follow here (screenshot below).
---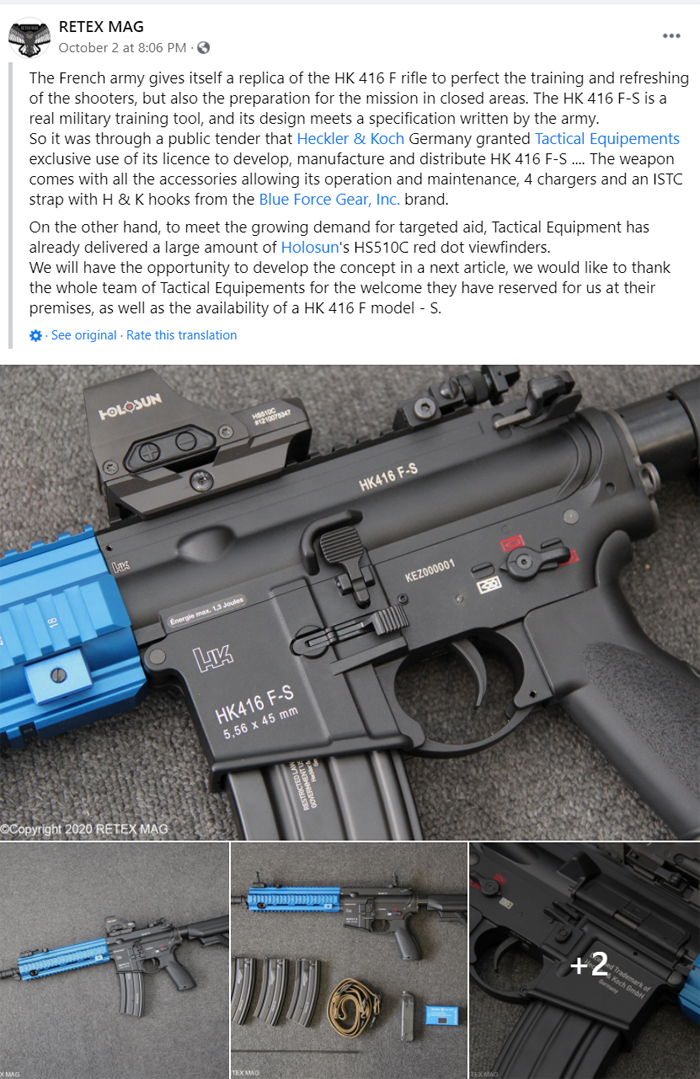 ---
The supplier of the HK416 F-S is Tactical Equipements through an agreement with Heckler & Koch. Whilst it is not mentioned who the actual manufacturer of these is, we assume that the supplier is Umarex (which means the OEM is VFC) as the supplier carries products of Umarex. The German company has the Heckler & Koch licence for the airsoft market.
Checking the website of the Tactical Equipements, they do not have the airsoft HK416 F-S in their online catalogue, but they do have Umarex T4E, and CO2-powered training rifle based on the HK416 design that fires .43 caliber precision paintballs.  So it's a wonder why the French Army did not go for the T4E, perhaps due to costs as firing plastic airsoft BBs for training purposes is cheaper than paintballs.
The HK416 F-S has blue paint on the handguard and flash hider to identify it as a training weapon lest one of the soldats mistakenly brings a real HK416 F for a force on force training. It's power is at 1.3joules max (or around 375fps on 0.20g BBs). It has all the necessary markings to identify it as a Heckler & Koch rifle including the licensing mark.
A debate on the Facebook post on the HK416 F-S being an AEG with some arguing for a gas blowback version or CO2 training rifle which the Umarex T4E is. Indeed, a gas blowback gives a more realistic operation for training but then there is an issue of gas blowbacks in cold weather conditions, they tend not to be reliable. Pretty sure those who wrote the requirements for the HK416 F-S got their own reasons to go for an AEG.
Top photo: French Soldier with the HK416 F (Credit: Armee de Terre)