FN Herstal Unveils The EVOLYS Ultralight Machine Guns
Gungho Cowboy
07 May 2021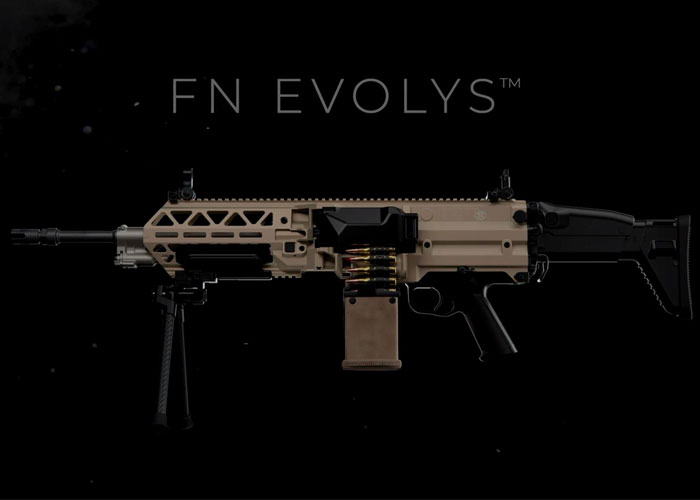 Support weapons are just getting more compact and we're fine with that. From being large fire spitting machines that are crew-served, support weapons are getting lighter and lighter that even one person can lay down suppressive fire without worrying for another member to help carry the weapon. Even in airsoft, we have now choices of light machine guns, and now, there is another category --- ultralight machine guns.
Belgian firearms maker FN Herstal has made history by revealing the Evolys Ultralight Machine Guns (UMGs). Available in 5.56 x 45 mm NATO and 7.62 x 51 mm NATO configurations, these UMGs  are gas operated, open bolt and short stroke piston weapons. They are belt-fed and have has a monolithic housing which is lightweight. To make it more lightweight, the company used additive processes via 3D printing and polymer that depending on the version, the weight is between 5.5 and 6.2 kilograms.
---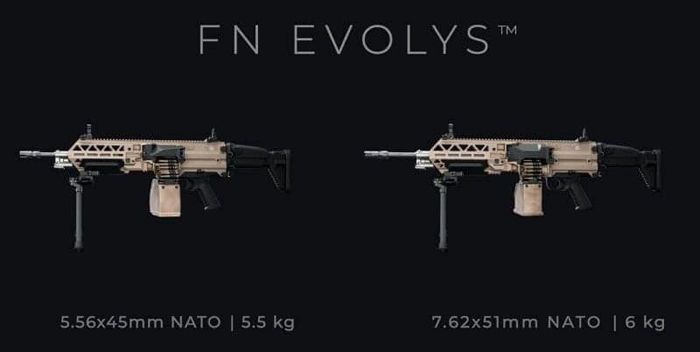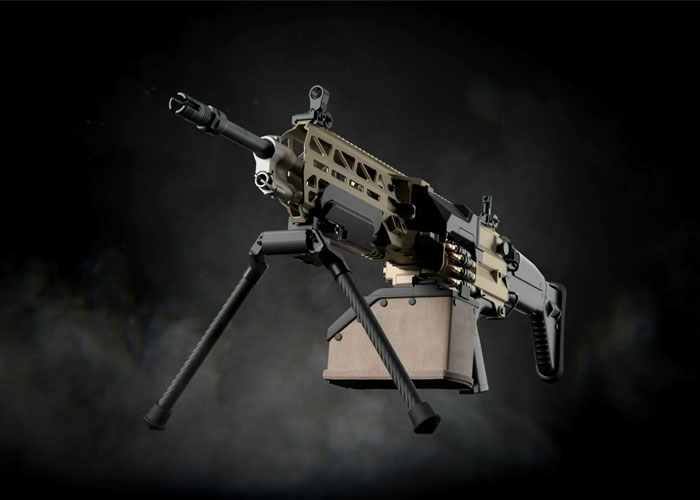 ---
The maximum length is 1,025 mm with the retractable stock fully extended when fully retracted; it becomes more compact at 850 mm and the stock reminds us that the Evolys is part of the revolution of the SCAR series since the FNH SCAR-L and SCAR-H also have similar retractable and folding stocks. The bipod that can be used with it is made of carbon fibre, which everybody knows to be an ultrastrong and ultralight material. A one-piece top rail allows one to mount various aiming devices without the need to remove the flip-up iron sights.
---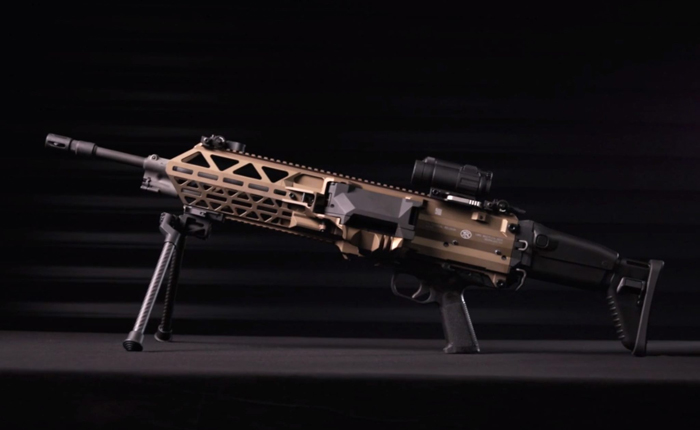 ---
With the integrated hydraulic buffer system, the recoil is reduced and according to the company, this prevents reduction in performance when a suppressor is installed as well as excessive fouling and debris projected towards users. This makes the handing of the Evolys is like handling an assault rifle that spits out like a machine gun. This makes it a very handy and manoeuvrable support weapon, which us hard to apply to other machine guns with the para version of the M249, which FN Herstal also makes, being closest to be a compact LMG.
The rate of fire of the Evolys is 750 rounds per minute with an effective range of 800 metres for the 5.56 version and 1,000 metres for the 7.62 version. They can be fired in semi and full auto modes.
---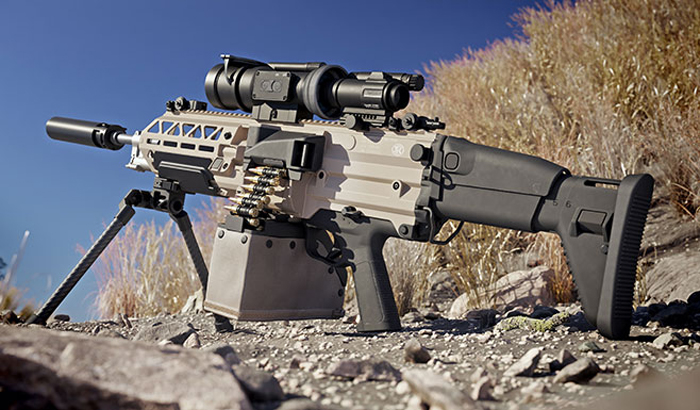 FN EVOLYS 5.56 x 45mm NATO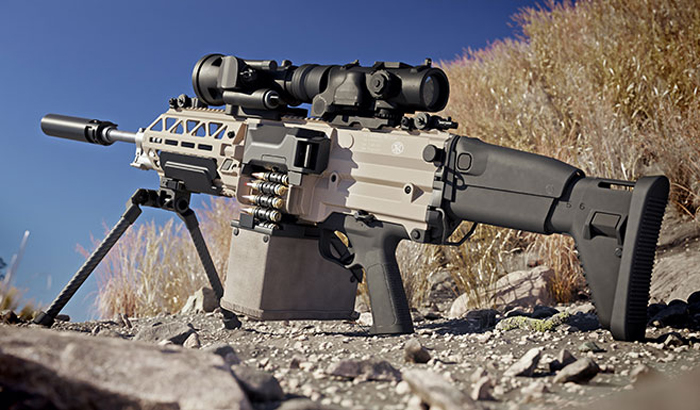 FN EVOLYS 7.62 x 51mm NATO
---
The patented lateral feed mechanism allows for one handed control and since it is ambidextrous in operation, it can handled with ease by both left and right-handed shooters. It also features automatic repositioning of the belt onto the feed tray and automatic last link ejection.
---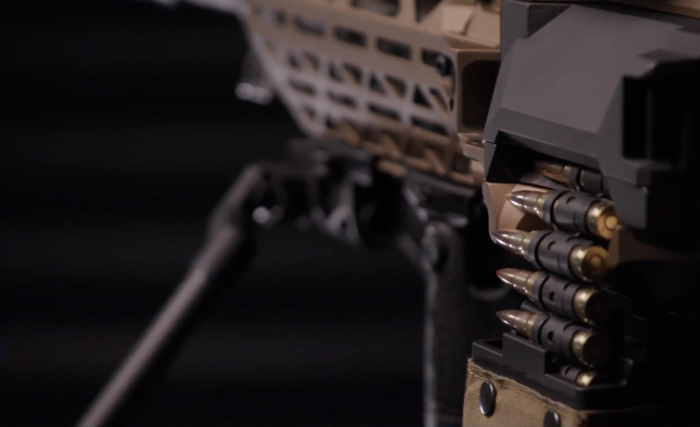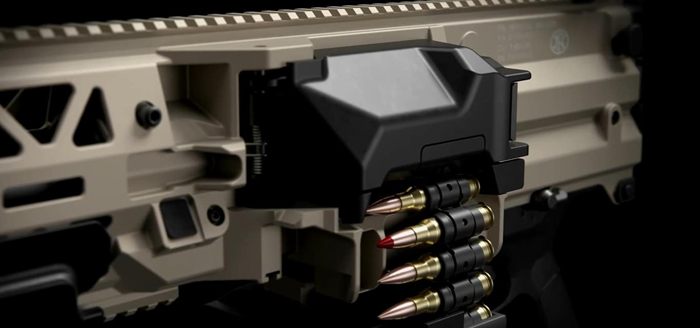 ---
FN Herstal has a history of developing some of the world's most widely used support weapons. With the addition of the Evolys, they are addressing  the concerns of militaries around the world about the need to reduce the load of warfighters as a reduced load would allow to be move faster and fight better.
Below is the video of the World Premiere of the FN Evolysts which Greek defense blog, Proelasi, managed to upload to YouTube.