FLUX Defense Introduces The FLUX MP17 Chassis For The M17 Pistol
Gungho Cowboy
11 Sep 2019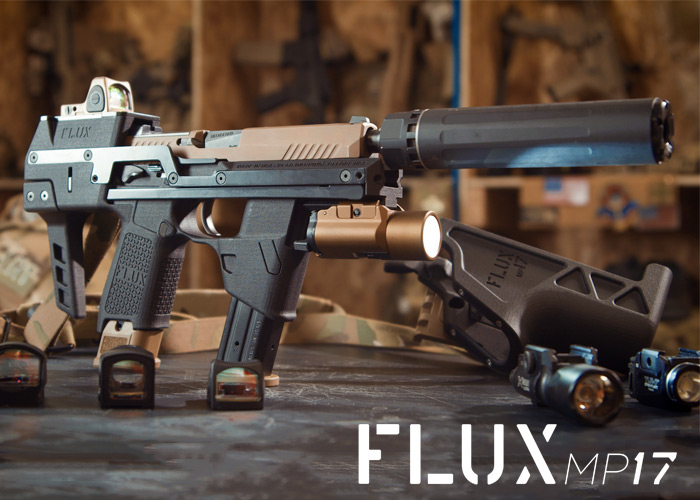 Airsoft players already familiar with the Flux Glock Pistol Brace from Flux Defense would welcome the latest product from the company as they announce the new FLUX MP17. Designed for use with the SIG Sauer P320 and the U.S. Military's M17 pistol (SIG P320 designed for the MHS), it gives the shooter a stable platform when shooting the P320/M17 Pistol.
The FLUX MP17 is available in stock-equipped SBR and Pistol Brace versions, it is a chassis where the P320/M17 can be installed, accepting the Fire Control Unit and slide assembly from P320 variants with the compatible variants being the Sig M17/18, Sig P320 Full size, X-Five full size, and Tacops Full Size.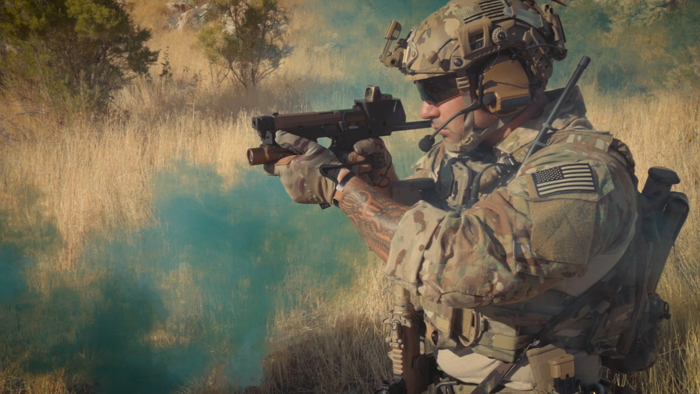 The Brace version is mainly a pistol stabilising brace and not to be designed with a stock or a stock can be installed with it. The SBR version comes with the stock, turning into to a PDW-style weapon that is lighter than most PDWs in market when the P320/M17 pistol is installed. What we like is the mag holder which also acts like a foregrip making 43 rounds available to the shooter, It has an optic mount that works with most micro sights such as the RMR, Holosun, Deltapoint, etc. For larger optics such as those from Aimpoint and EOTech it has a pic rail for mounting them. They thoughtfully included a QD sling mount to allow you to use it with a sling.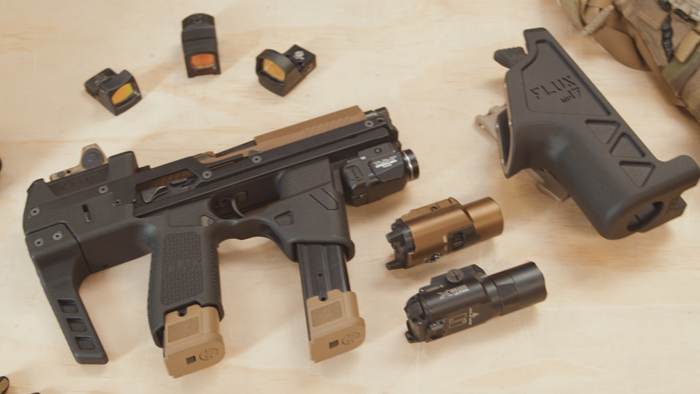 Just like the Flux Glock Pistol Brace, the MP17 can be holstered with optional the MP17 Duty Holster which is Level 2 Thumb button-release duty holster. It is compatible with weaponlights from Streamlight, Surefire and Inforce. What's even better with this holster is that is suppressor compatible.
Prices start at US$399.00 for both the Brace and SBR versions with the latter already sold out.  If you want to include the MP17 holster, you will have to shell an extra US$199.00. Only residents in the U.S.A. are able to purchase this.
(Click the "Play Allow Once" button to watch the video if your browser has Privacy Badger installed)
Airsoft players who have purchased the SIG AIR Proforce M17 Gas Blowback Pistols, can check with Flux Defense (or purchase these) to find out if FLUX MP17 versions are compatible with the official airsoft versions of the M17. The official one is a VFC OEM, and there is an unlicensed version from Asia Electric Gun called the F17 that uses the WE Airsoft design.