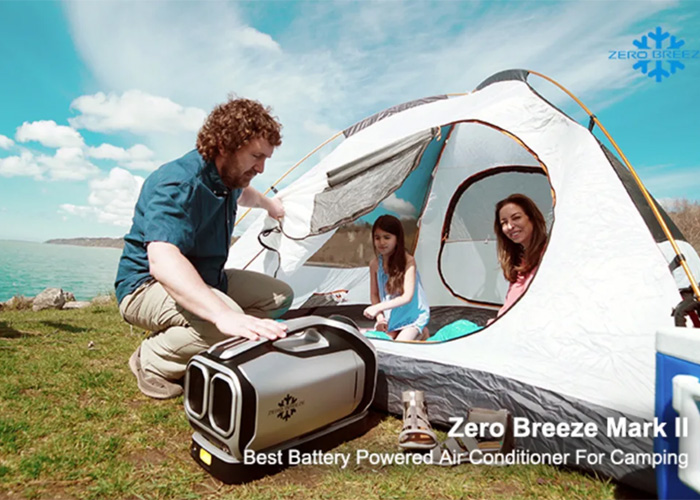 Summer is just getting hotter and hotter and we need something to cool us down quick after a game of airsoft especially in the outdoors. Or if we need to keep our tents cool for a long weekend of Milsim or airsoft events, then having a portable AC that is battery powered is heaven sent provided that its designers will be able to raise funds and ship the product out.
The Zero Breeze Mark II battery power portable AC is on Indiegogo, raising funds for the product and the backers have already smashed the funding target by 456% as of this writing with less than 30 days left before the crowdfunding campaign ends.
Here is an overview of what the Zero Breeze Mark II AC is all about:
The world's first battery-powered AC by Zero Breeze for camping cooling needs. The most essential portable air conditioner in the tent, RV, and truck. A real air conditioner that helps to cool the surrounding fast to combat summer hotness.

30ºF/16.7°C - Maximum Cooling
mins - Fast Cooling Effect
Battery Powered for Camping
5-hour Running Time
Portable & Lightweight
USB-C port
LED Light
Minimum Noise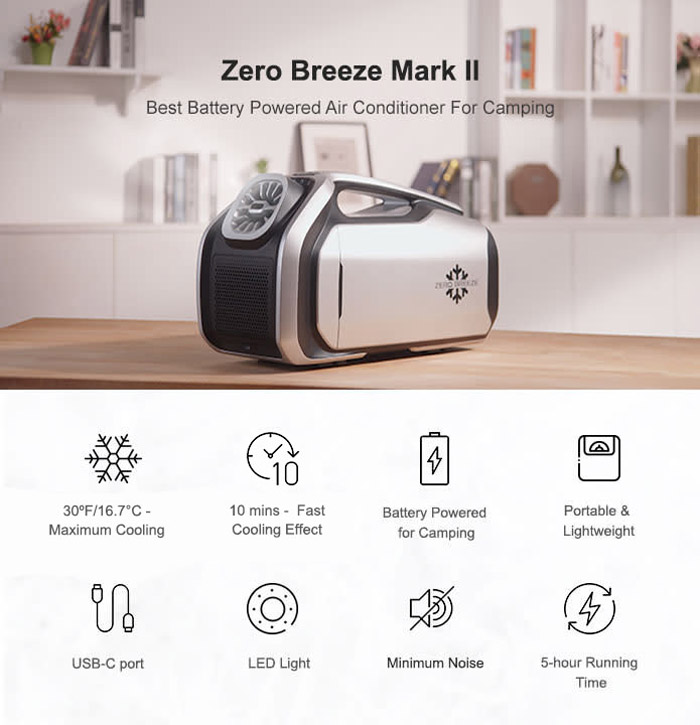 Well, the battery is just about five hours, though that is impressive enough for a portable AC. The best really is to use this AC in your tent or room by the time you go to bed so the cool will last longer in the morning even if the battery has run out. But if you need a quick cool down, then having a blast it with should do the trick.
AC is heavy to carry due to the compressor. The designers have spent five years of research and development to shrink it to the size of the Coke can results to a more compact, portable, and lightweight AC.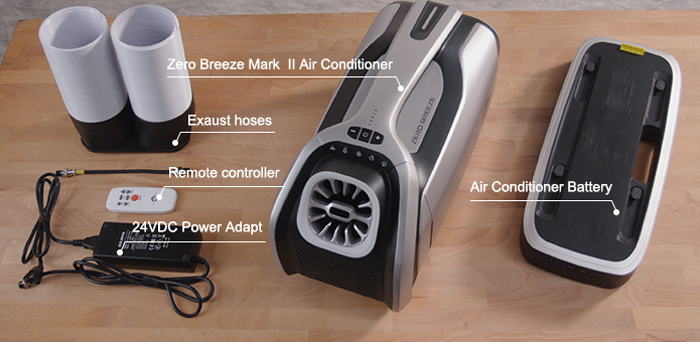 If you are worried about the noise that Acs generated, they have a patented noise cancellation technology that puts the noise level fo the Zero Breeze Mark II at 40-50 dba, good for use in small places such a tent. With four working modes such sleep mode and dehumidification mode, the makers promise that their product can make you stay cool and remain undisturbed in your sleep.
The battery can also be used as a powerbank for your mobile devices as it can charge using the two USB-A ports and one USB-C port. But I'd rather suggest that you bring a separate powerbank(s) to charge your mobile devices and devote the charge for the full use of the AC unless you need to charge in case of emergencies.
Another feature is the LED light for illumination when inside your tent. For cooling efficiency, they made an improvement by adding a dual hose system that allows it to generated twice stronger cooling power.
If this delivers the features as promised and more, it may become an essential part of the things to pack for the long weekend airsoft event in summer. Just imagine cooler evenings inside the tent for a more comfortable sleep.