5.11 Tactical Teams Up With SEGA For A Company Of Heroes 3 Sweepstakes Prize Package
Phoebe
28 Jan 2023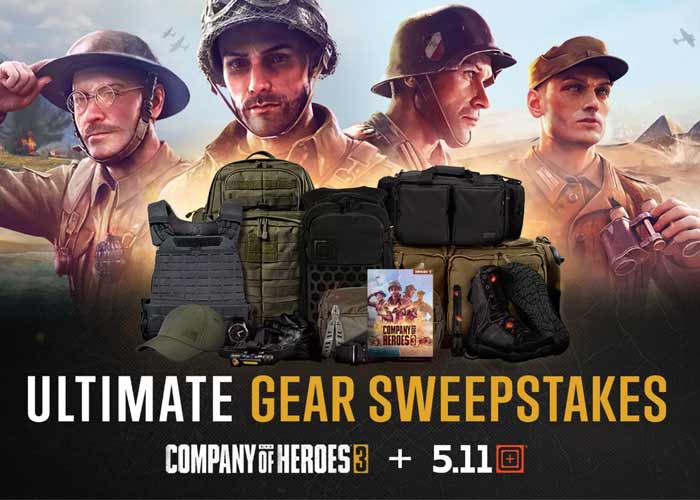 5.11 Tactical is appreciated by the gaming community for its openness in collaborating with the video game industry. One of its long time collaboration is with Ubisoft with the Tom Clancy's Ghost Recon series which of course helps in product placement as the clothing and gear seen in the game characters are based on the actual 5.11 products.
The company continues the tradition with collaboration arrangement with SEGA Entertainment to celebrate the imminent release of the Company of Heroes 3 next month. 5.11 will be giving away a copy of the game along with US$2,500 worth of 5.11 gear. Tempting, isn't it?
Company Of Heroes 3 is set in the Italian and North African Campaign of World War II. Factions are the British Forces, American Forces, Wehrmacht, and the Deutches Afrikakorps. The last one is the feared African Expeditonary force of Germany commanded by the Field Marshall Erwin Rommel. There are also international units such as Italian, Canadian and Indian forces that will be playable in the game.
Relic Entertainment, the lead developer, unveiled new features that the fans of the real time strategy game such as infantry being able to catch a ride on armoured vehicles, advantage of high ground, side armor profiles, multiplayer coop, and enhanced battle group system for greater depth of tactics and strategies.
Company of Heroes 3 will have a "Full Tactical Pause" allowing the player to pause the game to "read the situation, queue commands, and unleash devastating precision plays." This is available in Single Player Campaigns and vs AI Skirmish modes.
The game will be playable on PS5, Xbox Series X/S 2023 and Windows PC. For those participating in the 5.11 Sweepstakes Prize Package, there will be one winner of the US$2,100 5.11 gear and game code. Additionally, there will be 25 winners that will get game code.
The Sweepstakes Prize Package promo has started on the 26th of January and will end of the 23rd of February 2023, the release date of Company of Heroes 3 for the PC. There is no purchase necessary and participants must be 18 years and above and should U.S. residents.
Press release below:
---
5.11 Collaborates with Sega to Celebrate the Release of Company of Heroes 3 with a Sweepstakes Prize Package

Fans of the legendary strategy franchise can enter to win 5.11 gear and digital game codes

Costa Mesa, Calif. (Jan. 27, 2023) – 5.11 Tactical, the global innovator of Purpose-Built Gear™, has teamed up with leading video game publisher Sega and developer Relic Entertainment to celebrate the release of the highly anticipated video game Company of Heroes 3 with a special sweepstakes prize package featuring 5.11 gear and digital game codes.

The enter-to-win sweepstakes will offer fans of the legendary strategic video game franchise a chance to win a robust 5.11 prize package valued at more than $2,500 and comprised of some of the latest 5.11 gear and technical apparel in addition to digital game codes for Company of Heroes 3.

Entries will be accepted from Thursday, Jan. 26, 2023, to Thursday, Feb. 23, 2023. To enter, or for more information, customers and players can visit www.511tactical.com/companyofheroes. No purchase is necessary, multiple entries are possible, must be 18 years or older and a U.S. resident to enter.

"We're thrilled to team up with Sega and Relic Entertainment to celebrate the launch of such a great video game," said 5.11 Tactical's CMO, Debra Radcliff. "We can't wait for the game to launch and to send this outstanding prize package to the lucky winner of the sweepstakes."

The latest installment of the fan-favorite franchise, Company of Heroes 3 is set in the Italian and North African theaters of World War II and offers players a dynamic strategy campaign, historic RTS missions, classic multiplayer action, and much more. It will be available for PC on Thursday, Feb. 23, 2023, and is due to be released on PlayStation 5 and Xbox Series S and X later this year.

"Company of Heroes 3 is the perfect blend of action, tactics and strategy. That's why we are very excited to partner with 5.11 Tactical, a fantastic producer of sleek and incredibly robust tactical gear and apparel. We're looking forward to seeing fans of both brands get involved with this awesome sweepstakes giveaway!" said Sega's Brand Manager, Andy Bergin.

To learn more about a 5.11, its product offering or its latest events and sweepstakes, visit www.511tactical.com.