ITW Military FastMag Gen. III Review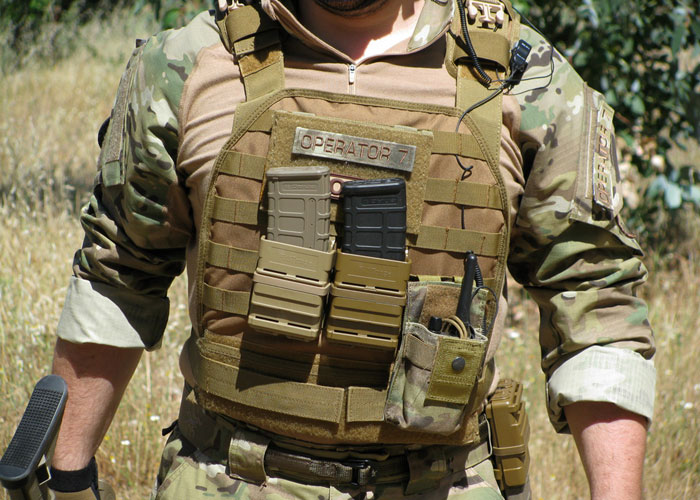 You might have noticed that in my previous reviews as posted here at Popular Airsoft, I've been trying out the ITW Military FastMags, to see how they cut it in Airsoft. These plastic magazine carriers are a great and innovative concept that holds the mags safely and allows faster access and reload.
Being one of the main selling points of these FastMags --- that you will be able to reduce your loading cycle time, I wanted to give it a go and see if Airsoft mags are compatible and if my reload times would really improve.
I'm also well aware that some of you might do a full game with a single high capacity magazine, but I guess the majority of Airsoft players often empty more than one magazine during a game. Also, for the milsim players and in some games where organizations prohibit the use of hi-caps, fast reloading is just as important as in real steel.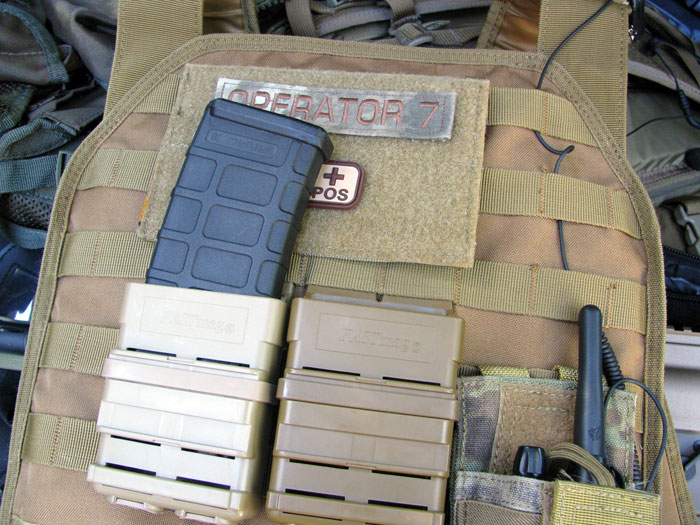 QUALITY AND FEATURES
The FatsMags are made out of high impact polymer that won't shatter, so they'll surely withstand a beating, and they are incredibly hard to break too.
Each FastMag is made out of two main polymer pieces united at the bottom. This V shape system holds the magazine with the help of the pressure created by a urethane tension strap. This strap can be configured in two positions, and during the hours of game I've run them, even on the inverted position, the mags never fell out.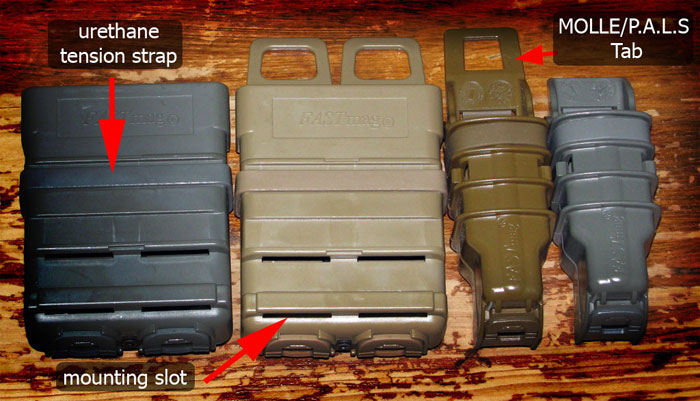 The first position was a bit too tight, but the second (lowest position) was very easy to insert and remove mags once I have set-up the strap. If you think that you have to make too much force to remove the mag, all you have to do is change the position of the strap down to the next ridge. They all have two positions and I liked the lower one better. This way it will become easier to remove and insert mags, but they will never ever fall out!
Also every FastMag features GhillieTEX™ IR Signature Reduction Technology, so in case you play Airsoft at night or are going to use this in real life scenarios where low infrared signature is important, ITW has got you covered.
CONFIGURATIONS
Here's where these FastMags won me over: you can have multiple configurations with these: you can use them inverted; you can stack them; and you can use them on a belt or on a vest. You name it, if it's got MOLLE or PALS, you can setup them up and run them!
You'll find that there are two main types of FastMags: the FastMag™ Duty Belt, which is designed to be worn on a belt, and the FastMag™ MOLLE/P.A.L.S, which is designed to be used on vests via MOLLE or PALS systems.
The FastMag™ MOLLE/P.A.L.S has two visible tabs on backside which will slide into the MOLLE system, and then you would run the straps to the rest of the MOLLE for a secure fit. And believe me it won't get out of place or bend over like nylon pouches, it'll stay in place like a rock.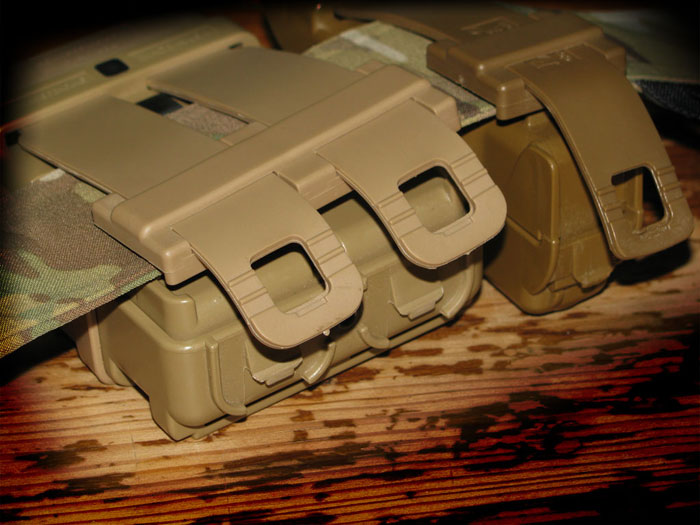 The FastMag™ Duty Belt has an adjustable/removable belt slide which allows the user to best fit the FastMag on a Riggers or Duty Belt. In my case, I've used them on my Arcteryx H150 Riggers Belt, which I had already reviewed here.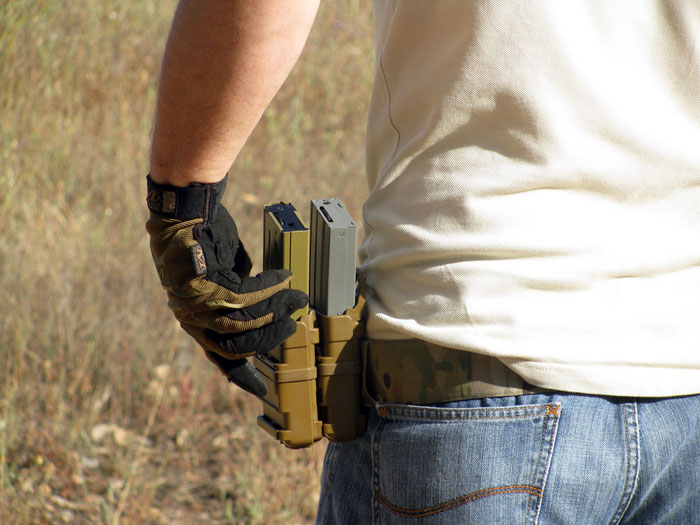 You'll also find FastMags for pistol clips that can also be used on a belt or on a vest.
And for those of you running SCAR-H that takes heavier 7.62x51mm ammunition, there's a heavy version.
The adjustment is quite straightforward, however, it's not as easy to do it if you are going to use the belt to hold your pants, so my suggestion is to set it up before you get your trousers on.
If you are going to use the FastMag on your secondary belt (the belt you won't be running through the loops), then my advice is to use the FastMags inverted, because if you use them on the upwards position you will see that the belt is pulled along with the FastMag making it harder to remove the mag.
By the way, my favorite setup for the belt is inverted on my weak side. This makes my reloading much, much faster than with any mag pouches I had ever used.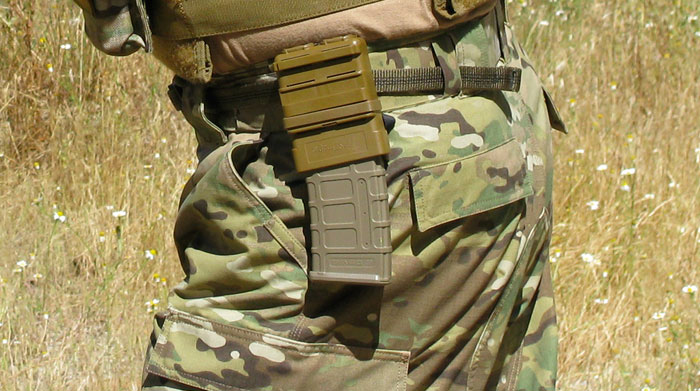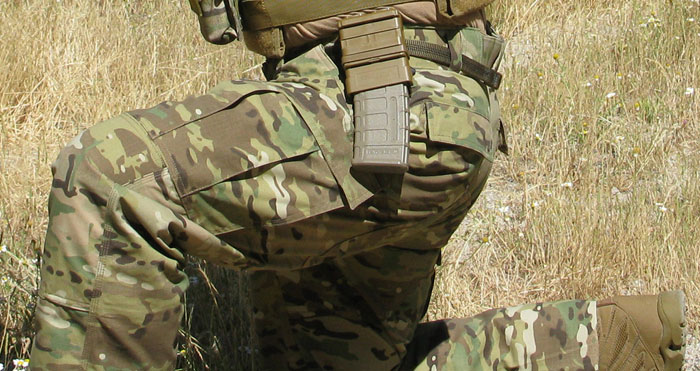 I found that if I positioned the mag inverted and facing forward, as soon as I removed it from the FastMag, all I had to do was slide it into the magwell, and I didn't have to make any unnecessary movements to position the mag so it would go into the magwell.
This resulted in really fast reloading times: around 1-2 seconds if you just drop the mag, and around 4 to 5 seconds if you place the empty mag back on the FastMag.

Another great aspect of these FastMags is modularity: if you look closely, each FastMag has holes on the front, called mounting slots to loop the strap that you would usually place on the belt or on the vest and this is what allows you to double stack, being that these can be regular FastMag™ MOLLE/P.A.L.S or pistol FastMags. So this turns out just great to optimize your load bearing.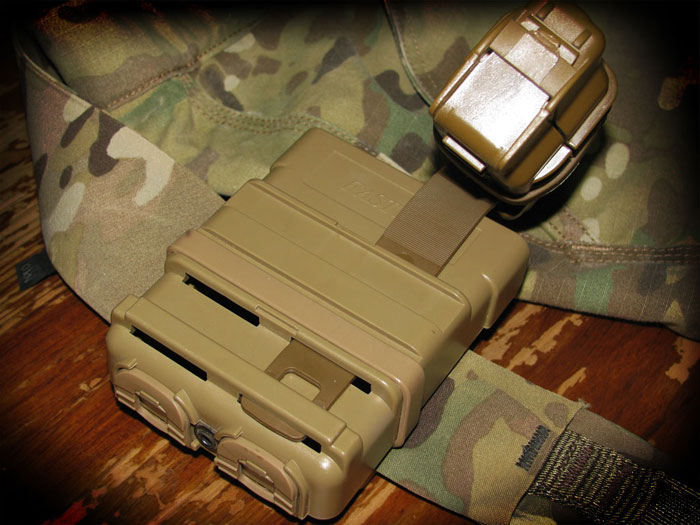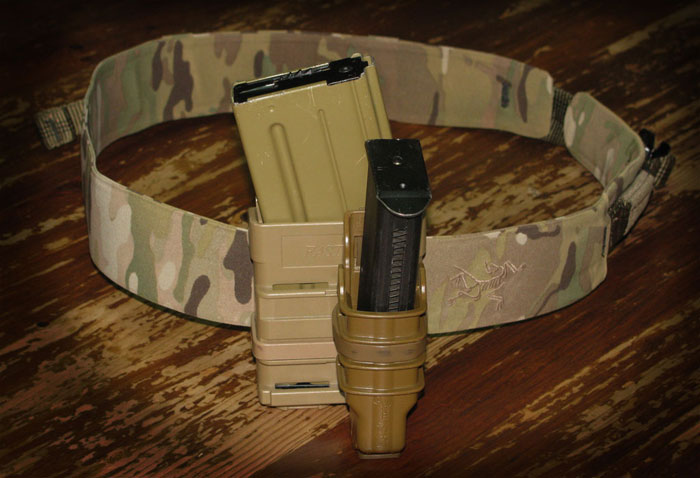 Another thing you can do is grab some MALICE clips and add nylon pouches, and this opens a whole new world of possibilities!
When using them on the field I soon understood I preferred to use them inverted, whether on the vest or on the belt. The reloading process gets much simpler and more fluid this way, plus I didn't have to make any awkward movements.
They are very lightweight and don't add much bulk, and the only time I found these to get in the way was when sitting down with the FastMag inverted on the belt with a magazine. Since the mag sits out of the FastMag, it makes sitting down in certain circumstances when you sit down on the side you have your FastMag on, somewhat uncomfortable. I suppose nothing that can't be solved with some sort of a swivel system.
Apart from this, all I could ask from ITW Military was to make these in the popular camos such as Multicam or A-TACS.
CONCLUSION
I really, really liked the FastMags, because of the flexibility and customization they offer; because they are safe and will retain the mags securely in place, and especially because they do speed up my reload times.
They worked great with Airsoft magazines. I've tried them with metal M4 magazines, Magpul M4 magazines and SCAR-L mags. I must say I prefer using plastic mags, which often tend to be thinner and slide easier into place.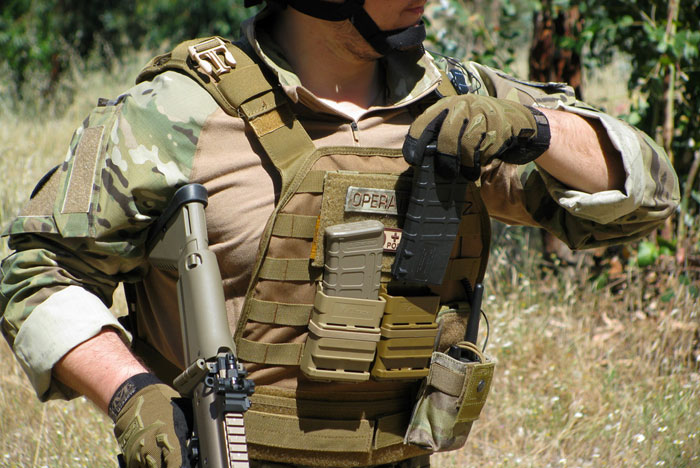 As for the pistol version they worked great with my ASG CZ75 GBB and surely look cool stacked!
So the ITW Military FastMags are definitely part of my loadout from now on!
If you're interested purchasing the FastMags, you can get these through any of the ITW Miltary distributors listed here, they come in tan, foliage green, coyote brown and black, and retail around 30$.
---
---
LATEST NEWS
............................................

............................................

............................................

............................................

............................................

............................................
LATEST REVIEWS
............................................

............................................

............................................

............................................

............................................

............................................