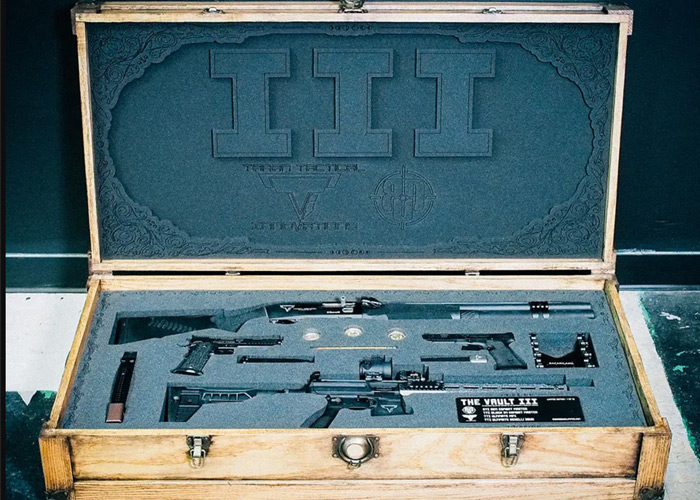 The photo is enough to make us salivate. For fans of John Wick, having the guns he used in John Wick Chapter 3: Parabellum in one trunk would surely be a dream to own. Big Daddy Unlimited did just that and in cooperation with Taran Tactical, released the The Vault III Limited Edition Trunk Set.
The set costs US$17,999.99 with only 10 sets built that were immediately sold out. So if you've got that amount lying around and you are allowed own real steel weapons in your locality, it's too late to get one unless popular demand would make them do another very limited release.
Since there is no airsoft version of The Vault III, it's expected that some airsoft players would be enterprising enough to build their own since there already some parts made for airsoft that is based or licensed Taran Tactical designs. If you have the time and money to build this, here is the list of the guns included in the set and their various components as taken from the Big Daddy Unlimited website:
STI Combat Master - 9mm Pistol
5.4 Inch Match Grade Bull Barrel
FDE/Bronze BLC coated Barrel
Combat Master Slide Cuts
Extreme Engineering Fire Control Group
Fiber optic front sight and adjustable rear sight
New Extended Slide Release
New extended Mag release
1.75-2.5 LBS trigger pull
Stainless Steel Guide Rod
Grip job
Glock 34 Combat Master - 9mm Pistol
Tactical Matte Black Slide Finish
Ionbonded Bronze Barrel
Competition Trigger Job
Full Wrap Stipple - Right Handed
Scallop Cut Magazine Release
Single Undercut
TTI Competition Magwell for Gen 3/4 Glock
TTI Fiberoptic Sights Green
Flat Black Base Pads
Laser Engraved TTI Logo
Carbon Fiber Handguard w/Grandmaster Silicon Carbide Treatment
Trijicon MRO
Geissele Super Precision Lower 1/3 Mount
Streamlight TLR-8
TTI Magwell
Hogue Grip
TTI +10 Base Pad
Custom Bolt Carrier
TTI Custom Lifter/Shell Carrier
Forearm Stippling
Straight Stock Stippling
TTI Ultimate Safety
TTI Oversized Bolt Release
TTI Springs Package
TTI Ultimate Charging Handle
The links will lead you to more details at the Taran Tactical website where there you can make a list of what can be made or purchased for airsoft use.
As for the trunk, it is made of solid red oak with brass hardware and the foam inserts made by Carolina Custom foam. There are also "Continental" 24-kara gold coins and a Number 2 pencil with blood.
The trunk set-up makes it a good 3-gun case. But if you want to impress our team mates, such work put into creating an airsoft version of the Vault III Trunk would surely do it. It would probably a set that we want to see some of the airsoft finest gunsmiths such as the Airsoft Surgeon might try to do.
It's a dream to have an airsoft version. Luckily, it is not an impossible dream.