U.S. Marines Test Explosive Drones Launched From 40mm Grenade Launchers
Gungho Cowboy
21 Jul 2021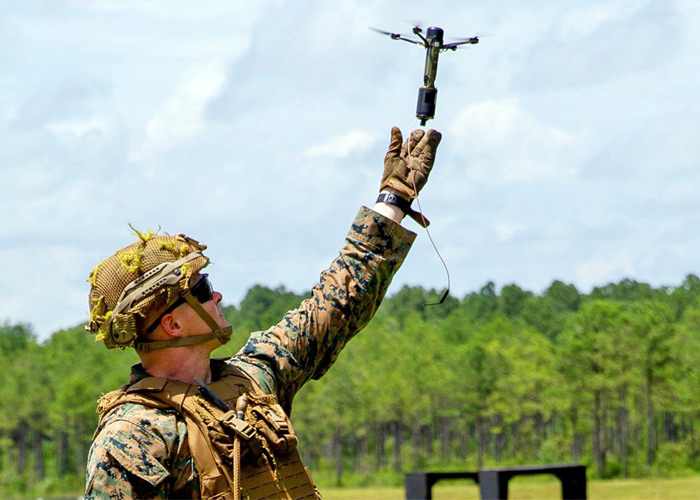 There's a new use for the 40mm grenade launchers seen slung under rifles or as standalone ones --- launching drones. In this case, it is about drones that can carry explosive warheads or even sensors. The U.S. Marines of the 2nd Marine Division are testing the Drone40 developed by an Australian company, DefendTex, at Camp Lejeune in North Carolina.
According to the company, the Drone40 can either be launched with the 40mm launcher or by hand. Since it's a drone, it can loiter around with its deadly paypload until determined by the ground control station to unload it via an encrypted communications link and it has a GPS-based autopilot system. With the 40mm launcher, multiple munitions can utilised with the Drone40. If used in a non-kinetic scenario, the Drone40 can be reused.
When launched, the Drone40 has a a flight time of 30-60 minutes with a range of up to 19 kilometers, depending on the payload. As for the payload options it can be ISR, EW, Kinetic, Smoke/Flash, or Laser Designator. With those options, it's no wonder the Marines are interested in the Drone40, it's not a single purpose drone that can be used at the squad level.
---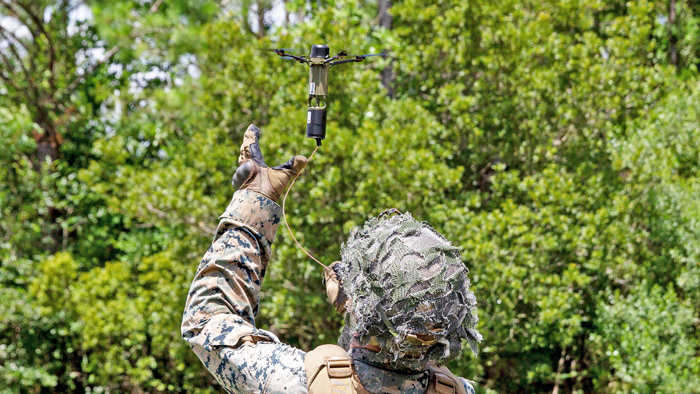 ---
In a way, it is a force multiplier for the Marines as the Drone40 gives them an advantage on how to go about with a mission, starting with the reconnaissance, and to actually making an assault and with its loitering capabilities will surely make the enemy keep their heads down until it's too late.
According to Popsci.com, DefendTex explained that the drone was designed to address a predicament that Australian soldiers encountered during their deployment in Afghanistan and Iraq. They have been fighting against enemies with weapons that have longer range and using a drone launched from their launchers and can detonate with precision over the target can close the gap.
The British Army used the hand-launched version of the Drone40 during peacekeeping operations in Mali and were mainly for surveillance and reconnaissance missions as reported by The Drive.
You can watch a video below of the exercise by the U.S. Marines at Camp Lejeune which also includes another drone called the Switchblade that carries munitions:
All photos by Pfc. Sarah Pysher / US Marines.