The U.S. Marines Are Interested In The U.S. Army's Next Generation Squad Weapon
Logan
25 May 2020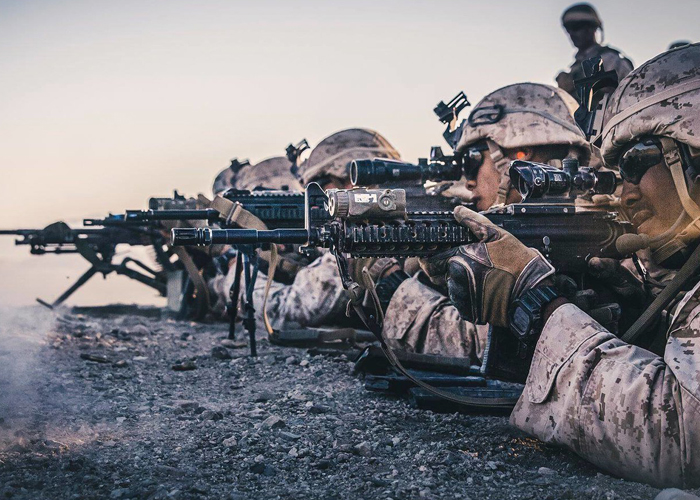 Even if the U.S. Marines are still fielding the M27 IAR to its infantry, they are looking forward to see the results of the U.S. Army's Next Generation Squad Weapon (NGSW) competition which aims to replace the M4 and M249 rifles. Adaptation of new weapons system by the Army may compel the Marines to adopt the NGSW and replace the M27 IAR.
Matthew Cox of Military.com writes that while the Marines deliberate over committing to NGSW, they are working to complete the issuance of the M27 IAR to the infantry by the end of the fiscal year in an announcement issued by USMC officials.
The officials also said that they would "partner with the Army to procure the Next-Generation Squad Weapon system," that will then be primary rifle for the infantry marines to replace the M27 IAR, which is being produced by Heckler & Koch and is based on the HK416 rifle that has been modified to meet the USMC requirements.
As of the moment, the U.S. Army is in the final stage evaluating the entries for the NGSW with prototypes narrowed down from General Dynamics Ordnance and Tactical Systems Inc., Textron Systems and Sig Sauer Inc. The NGSW uses the 6.8mm round rather than the 5.56mm NATO round for more range and penetrating power as near peer enemies are already equipped with body armor that can defeat the 5.56mm round.
Another part of the NGSW program is the selection of a Next Generation Fire Control System which of course will be mounted on whichever finalist is selected. This fire control system will include a laser range finder, ballistics calculator and environmental sensors. All these features increase better target acquisition and accuracy and when combined with the NGSW, will contribute to enhanced soldier lethality in the field.
While it may still be a while before the U.S. Army settles on the prototype that will be the official NGSW, which is seen to be in 2022, the USMC will "continue to participate in and assess NGSW solutions for maturity, suitability and affordability to meet our operational requirements in order to inform a decision on if and when to begin procurement of these improved capabilities" as said in the announcement.
Top photo: US Marines at the MAGTF Training Command/Marine Corps Air Ground Combat Center in 2018 (U.S. Marine Corps photo by Lance Cpl. Dalton S. Swanbeck)