U.S. Army eSports Pauses Activity On Twitch Due To First Amendment Criticisms
Logan
24 Jul 2020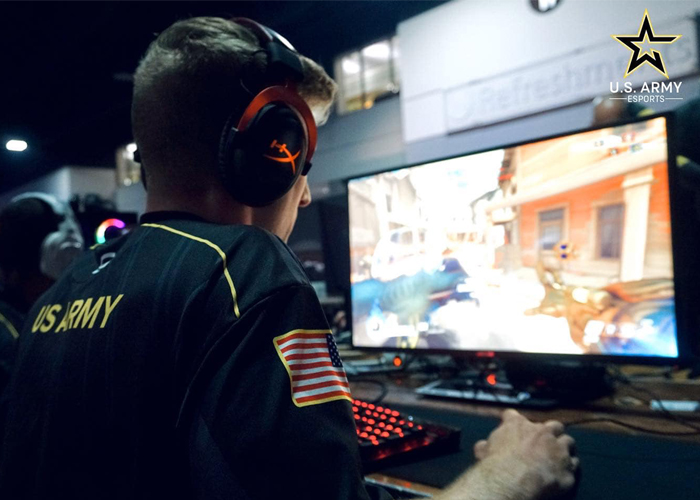 The U.S. Army eSports was created as part of its recruitment drive and also as an outreach to young people interested in having a career in the Army. With young people more active in gaming and social media, which probably overlap each other, having its own eSports wing looks like a good way to do recruitment.
Founded in November 2018, the U.S. Army eSports have active and and reservists going up some of the best video gamers in the world, especially in games such as Call of Duty, Counter-Strike: Global Offensive, Fortnite, League of Legends, Overwatch, and Magic the Gathering.
With eSports now a global phenomenon being broadcasted lived to thousands if not millions, seeing the U.S. Army brand on the screens presents an opportunity for young people to join the Army and still being able to pursue their passion in video games.
But, it's no easy sailing for the program. While it is active in the leading streaming media platform for video games, Twitch, which can also be considered a social media platform as well, it will have interactions from followers and other users via comments or chats. It also includes criticisms as well.
In this case, their Twitch account received questions about war crimes during a livestream. The activist, Jordan Uhl, wrote of his account of what happened on The Nation, having been banned by "Strontium" the Green Beret member of the U.S. Army eSports when he started criticizing them spending time chatting with Twitch users as young as 13 years as potential recruits and also asking about their favorite war crimes linking a list posted on Wikipedia.
eSports consultant Rod Breslau, has a record of the interaction on Twitter.
However, banning of users is a violation of their First Amendment Rights. The Knight First Amendment Institute at Columbia University sent a letter to the U.S. Army and U.S. Navy Recruiting Commands demanding that they stop banning individuals from their Twitch channels. "Once the government opens up a space for expressive activity to the public at large, the First Amendment prohibits it from excluding speakers from that space on the basis of viewpoint," said Katie Fallow, Senior Staff Attorney at the Knight First Amendment Institute. "The Army and Navy can't constitutionally delete comments or ban people from these Twitch channels simply for asking questions about issues they would rather not address."
Also, the U.S. Army eSports has been criticised for giving fake giveaways such as Xbox controllers that when users click on the links to learn more, they are led to a recruitment form rather than mechanics for the giveaways. Twitch then asked them to remove the links.
The U.S. Army then stopped its activities on Twitch after the First Amendment criticisms according to Rod Breslau and reported by Gamespot. A spokesman from the U.S. Army told the gaming news website that, "The team has paused streaming to review internal policies and procedures, as well as all platform-specific policies, to ensure those participating in the space are clear before streaming resumes."
To add to the woes of the U.S. Army and other branches of the U.S. military that have their own eSports teams, U.S. Representative Alexandria Ocasio-Cortez (D-NY) has recently introduced a measure in the U.S. Congress that would prevent the military from using video games, esports, and live streaming platforms like Twitch for recruitment purposes.
Top photo: US Army eSports (via Facebook page)