US Air Force Airmen Start Receiving The New M18 Service Pistol
Gungho Cowboy
24 Jun 2020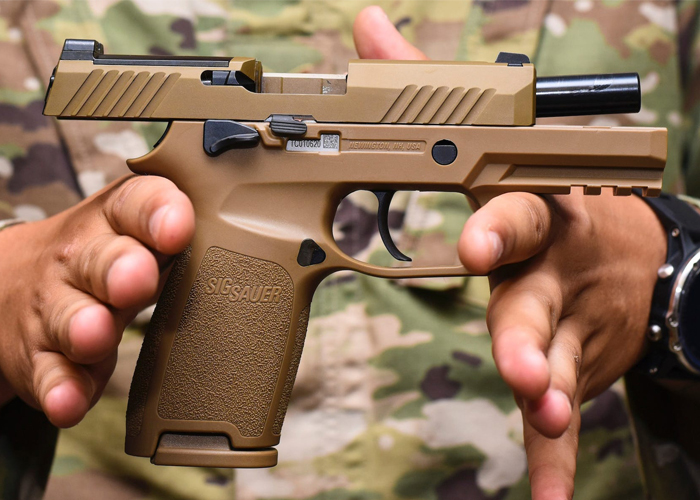 Whilst it is true that all the major branches of the U.S. Military are adopting the M17/M18 MHS which is based on the SIG Sauer P320 that the U.S. Army selected amongst worthy contenders, it is only recently that other branches are issuing theirs on a bigger scale.  The USAF Airmen are finally getting theirs after being armed with the M9 pistol since 1985.
This is not the first time the M18, which is a more compact version of the M17, to be issued to the USAF. Over a year ago, the Air Force Security Forces Center (AFSFC) in partnership with the Air Force Small Arms Program Office, began issuing the new M18 to security forces units as part of the Reconstitute Defender Initiative.
For this batch, the Air Force Life Cycle Management Center's Small Arms Program Office acquisitioned around 125,000 M18s in a contract with SIG Sauer US$22.1 million. These are being made available to Air Force organizations that have a handgun requirement. This also includes ammunition and engineering services.
Merrill Adkison, Small Arms Program Office senior logistics manager said in an Air Force news article, "The Air Force bought the M9s back in the 1980s, and the design has not really changed since then. M9s are larger, heavier, all-metal pistols; whereas M18s are lighter polymer pistols with a more consistent trigger pull and adjustable grips for large and small hands."
Photo: USAF Tech. Sgt. Brady Craddock, with the M18 (U.S. Air Force photo by Vicki Stein)
Another reason that Adkison mentioned in issuing a new pistol to Airmen is the increasing difficulty in replacing and sustainining older technology in the M9 pistol. It is also one-third of the costs in acquiring an M9 pistol these days.
"The USAF Small Arms Program Office has worked with the Army to get these new weapons on contract and in the hands of the warfighters. We are a small team with a lot going on as we work to procure and sustain all small arms from pistols to .50 caliber ground-mounted machine guns. We have a great professional team that understands the importance of assisting the field to meet their needs," said Brian Lautzenheiser, lead program manager in the office.
The delivery of the M18 handguns is expected to be completed by August 2022.
Top photo: USAF Staff Sgt. Will Gonzales with the M18 (US Air Force/Airman 1st Class Michael S. Murphy)