Strike Industries Releases The Blast Shield For The Strike Modular Chassis
Gungho Cowboy
16 Jun 2023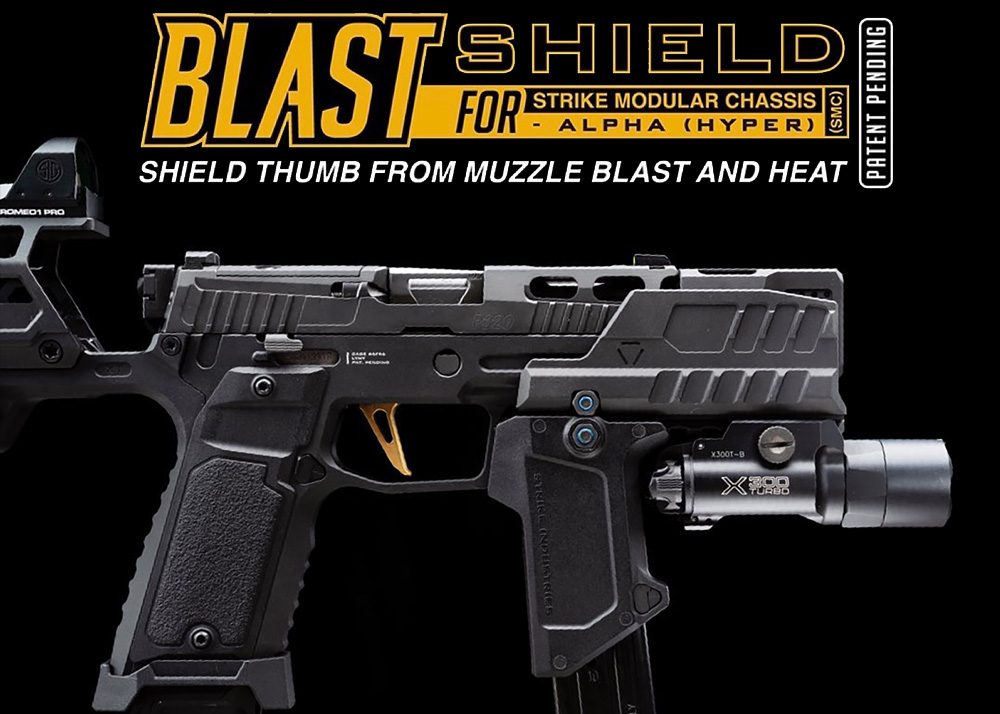 Strike Industries, the most prolific developer of weapons accessories in the firearms industry right now, just released a new accessory for its Strike Modular Chassis, a chassis that turns a SIG Sauer P320 and the U.S. Army's M17 and M18 handguns into very compact PDWs. The Blast Shield for Strike Modular Chassis (SMC) - ALPHA (Hyper) is a lightweight, high-strength accessory that protects the shooter from muzzle blast and heat.
Made from 6061-T6 aluminium, which is a strong and lightweight metal that is also a good conductor of heat. This helps to protect the shooter's thumb from the heat of the muzzle blast. The Blast Shield also redirects muzzle blast upward and forward, away from the shooter's face. This helps to reduce the risk of eye injury and to keep the shooter's face clear of debris. The Blast Shield also extends the available Picatinny rail, which allows the shooter to attach additional accessories, such as a spare magazine or a weapon light.
---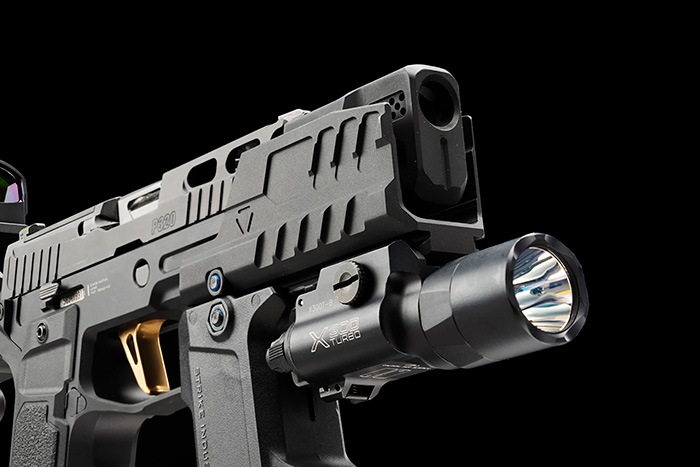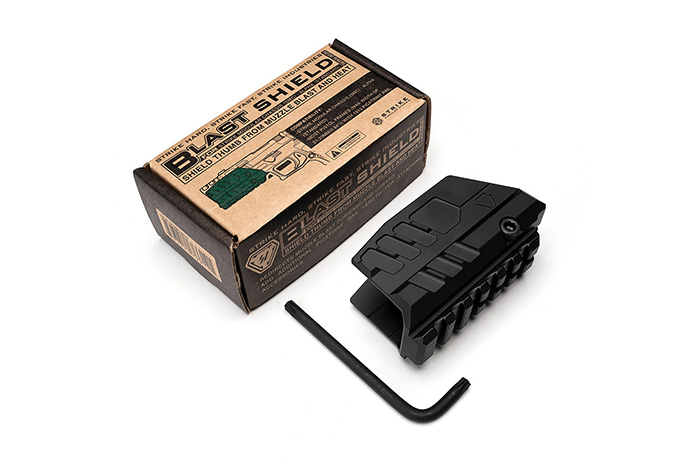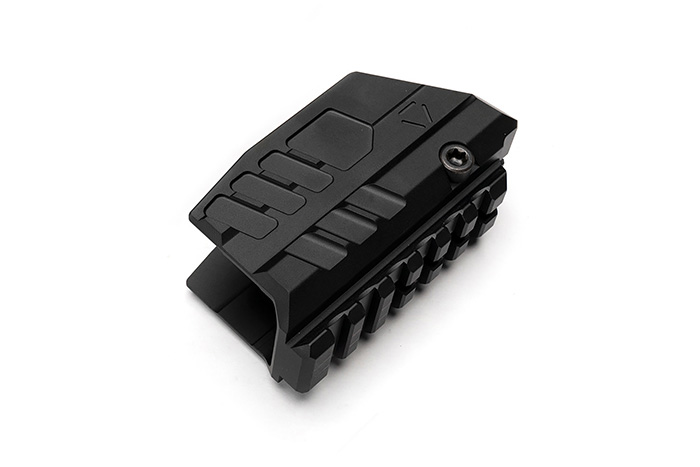 ---
The Blast Shield is compatible with most pistol frames with a maximum width of 21.20mm (0.84"). It is easy to install and remove, and it does not require any tools. For those looking for a valuable safety accessory for any shooter who uses a pistol with a muzzle brake or compensator this is a good option as it can help to protect the shooter from injury and improve accuracy as well.
---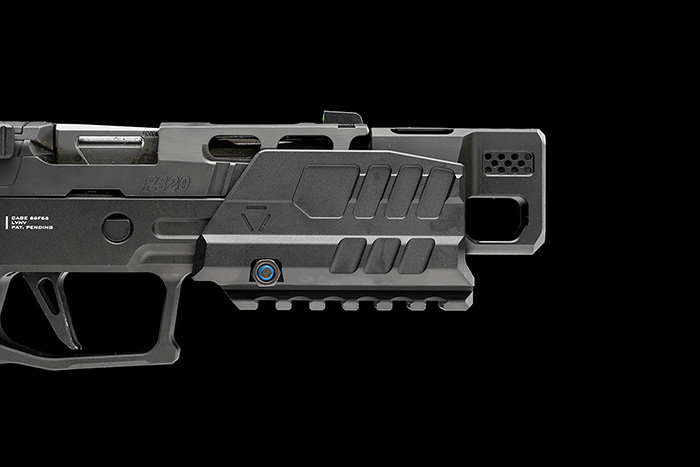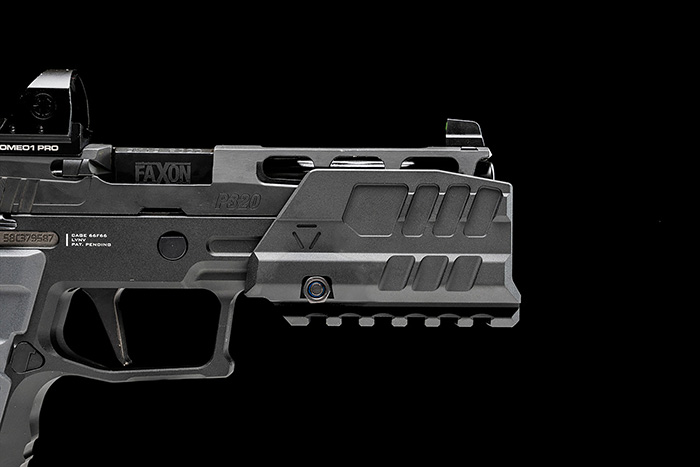 ---
In nutshell, here are the features of the Blast Shield:
Hyper Picatinny Rail length for more accessories: This gives more space to attach accessories such as sights, scopes, lasers, and flashlights.
Muzzle blast redirection: The rail redirects muzzle blast forward and upward, helping to protect you from debris and heat.
Quick heat dissipation: The rail is made of aluminium, which has good thermal conductivity. This means that heat from the barrel will dissipate quickly, preventing the rail from becoming too hot to touch.
For 1913 Picatinny rails: 1913 Picatinny rails are the most common type of rail used on firearms.
Lightweight and high-strength: The rail is made of lightweight, high-strength 6061-T6 aluminium. This makes it strong enough to withstand the recoil of powerful firearms, while still being lightweight and easy to carry.
Machined from billet aluminium: The rail is machined from billet aluminium, which is a high-quality type of aluminium that is known for its strength and durability. This ensures that the rail will last for many years of use.
---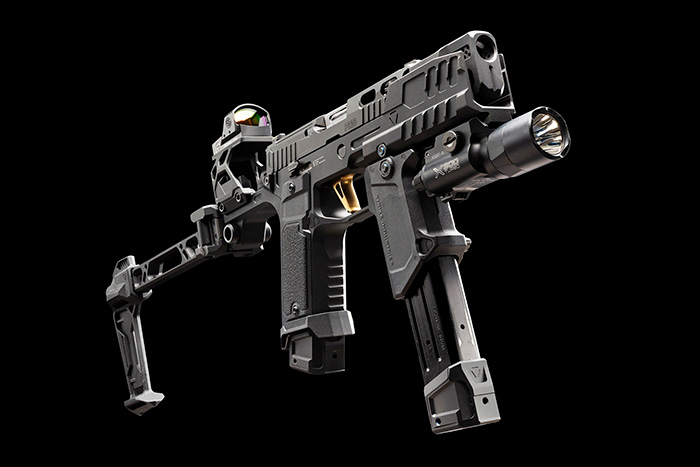 ---
It is now available at Strike Industries for US$39.95 and the package comes with the Blast Shield for Strike Modular Chassis (SMC) - ALPHA (Hyper), a Set screw (M5x30mm), and a Nut (M5). For airsoft players wanting one a version for the SMC – ALPHA (Standard) is in stock at Evike.com for the same price.