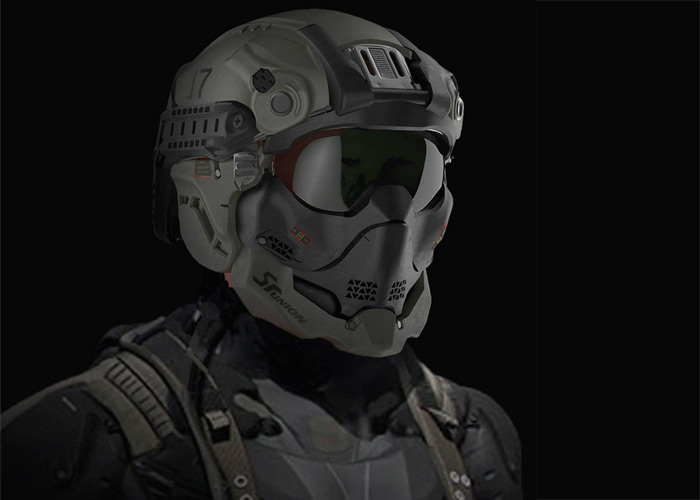 In just a few years, SRU, the Taiwan-based design shop, has established itself as the leading designer of futuristic conversion kits for airsoft guns. Utilising 3D printing technologies, it has designed bullpup kits and carbine conversion kits for many popular airsoft guns. All their designs are unique with no comparable offerings from the already established airsoft companies with the exception of those airsoft replicas of conversion kits made by real steel companies.
Now, the company is looking into designing some gear for use in airsoft. Early this month, it has released images of concept designs of some tactical helmets which just like their conversion kits are futuristic looking. They are soliciting comments from Facebook fans through a survey form that asks them which designs they like, functions they want, and the price that they are willing to pay for.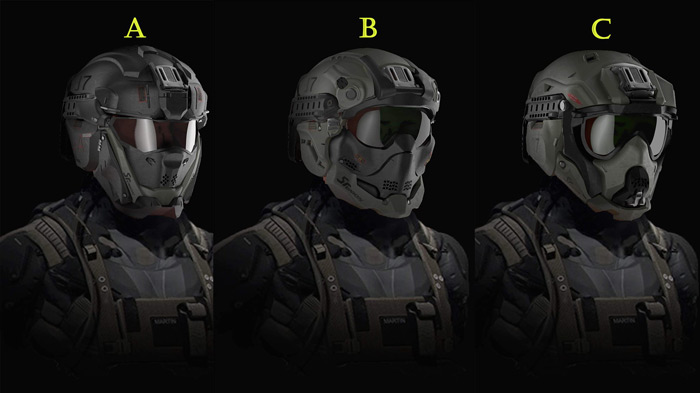 Obviously, the concept helmets come with full face masks and probably the ear protection are either with built-in comms or removable to allow one to mount existing headsets that can use the ARC rails of the concept helmets. The features they actually mentioned are anti-fog lenses and the face mask can be flipped with the hinge near the NVG mount.
But what does get our attention is their concept of ventilation system or what they call an "air flow" system. A double turbo fan which will come be attached to MOLLE loops of vests which will then push the air to the helmet which has vents to for humid air out. It can be a good anti-fog system as well apart from keeping the head comfortable inside. The question is if the motor of the fan is silent enough. No use being stealthy with the helmet and air flow system if the fan is noisy.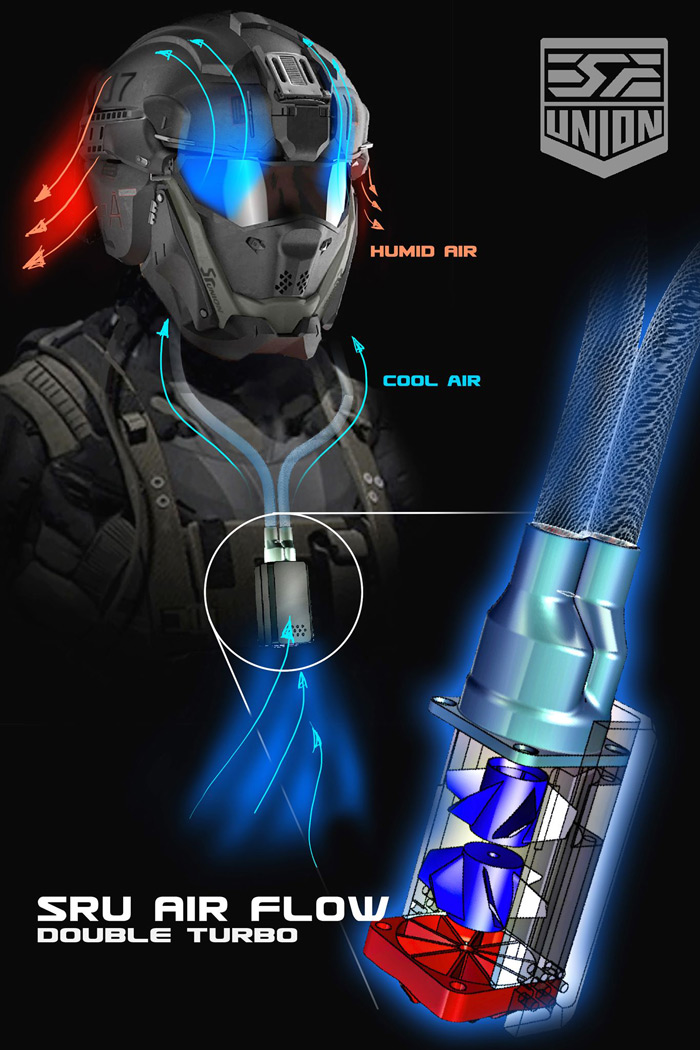 It's not a new concept as ESS has something similar called the Profile Turbofan Goggles and Tokyo Marui also has the Pro Goggle Full Face Mask With Fan and they work as effective anti-fog fans. Would it be possible for SRU to just redesign the Helmet to allow for the fan to be mounted in the helmet or goggles just like what ESS and Tokyo Marui did? This way, the ventilation/active anti-fog system is already integrated than having a separate component.
Well, what do you think? Is it something that you need or is it something that you want to make you look more tacticool? If you have some suggestions on what features you want, then make yourself be heard and fill-up the form.
But hold on! Apart from the helmet concept, it looks like that they are also designing a vest or armour system as well if you look at the images closely. Nothing is mentioned yet, though we suspect it will be a full gear system so there might reveal that in the future. For now, it's the helmet they're focused on.