SIG Sauer & Hogue Knives Announce The K320 AXG Knife Series
Gungho Cowboy
05 May 2022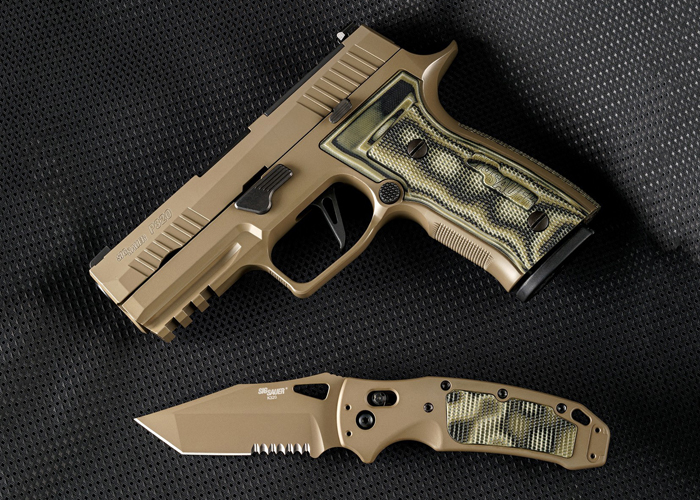 It's rather a slow week in the firearms and airsoft fronts as there are no major product announcements that airsoft players can be interested in. But let's take a look at one area which some airsoft players are interested in, especially those who love bladed stuff --- knives and can mix it with another brand they love --- SIG Sauer.
SIG Sauer and Hogue Knives announce a collaboration to produce the K320 AXG Knife Series which is a follow up on the K320 Series. As the product name indicates, it has been designed to match the P320 AXG pistol. The knives in the lineup have Cerakote finish, alloy scales, a deep carry pocket clip, the ambidextrous ABLE lock, hard anodized 6061-T6 aluminum frame, asymmetrical lanyard hole, and S30V steel.
---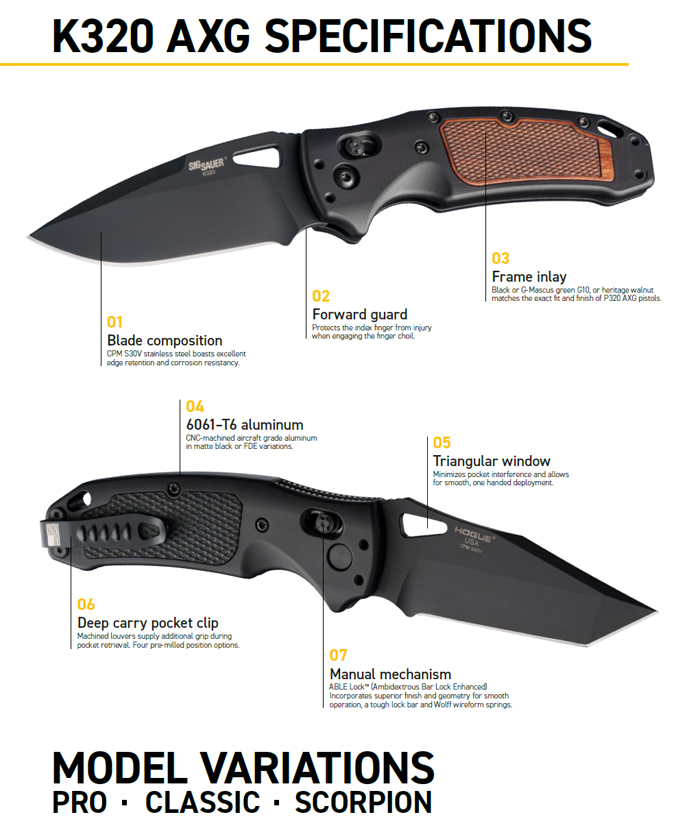 ---
There are three types available: Pro, Classic and Scorpion. The Pro has Solid Black G10 Insert; the Classic, Heritage Walnut Wood Insert; and G-Mascus Green G10 Insert. All of these were first revealed during the SHOT Show 2022.
---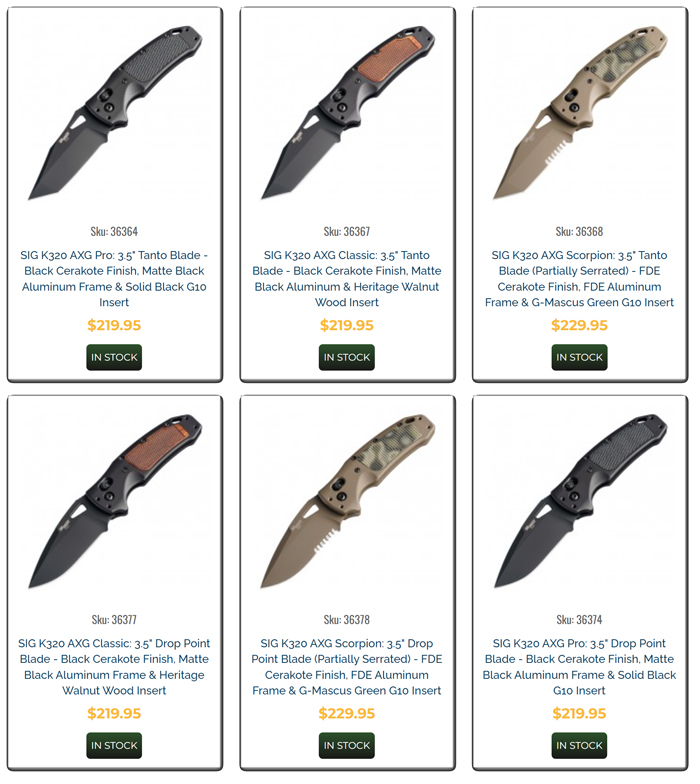 ---
All models are now available at the Hogue website and prices range from US$219.95 for the Pro and Classic whilst the Scorpion is US$229.95. Some more details in the press release from Hogue below:
Henderson, NV. Backing the continued success of SIG SAUER's P320 AXG line of pistols, Hogue Knives delivers the K320 AXG, prevailing as an elevated offering of the original K320. Designed by Jim Bruhns, master tool maker and president of Hogue Knives, the K320 AXG provides SIG® enthusiasts another esteemed opportunity to carry a precision built knife, identical to their AXG pistol.

The K320 AXG's blade is comprised of premium S30V stainless steel, holding excellent edge retention and leading corrosion resistant properties. Each blade is finished with the same exact Cerakote® as their matching SIG SAUER® firearm, in Black or FDE. The blade maintains a high grind profile and keen edge, leading to a forward choil that allows the index finger to travel incredibly close to the blade edge when performing delicate and precise cutting tasks.

The K320 AXG's frame encompasses the same favored ergonomics as the original K320, yet now boasts aircraft grade, 6061–T6 hard anodized aluminum. The frame also houses G10 or wood inlays to match the P320 AXG model specification. These same inlays are found on SIG's P320
AXG pistols and both are manufactured within Hogue's facilities, ensuring proper aesthetical correspondence. Hogue's renowned ABLE Lock® mechansim is slightly recessed into the frame's surface for minimal interference, while still offering swift, ambidextrous operation. A deep carry, louvered pocket clip completes the frame package and can be positioned in a tip up or down, right or left handed configuration.

The K320 AXG is available in a wide range of variations to match specific models within the SIG P320 AXG line, including the P320 AXG Pro, P320 AXG Classic, and P320 AXG Scorpion. Every Hogue knife is made in the USA and is backed by three generations of manufacturing expertise. For more information, please call Hogue directly at 1-800-438-4747 or visit www.hogueknives.com.