SHOT Show 2022 Day 4: Cybergun, B&T Station Six Bolt Action, Magpul + Maztech X4
Gungho Cowboy
21 Jan 2022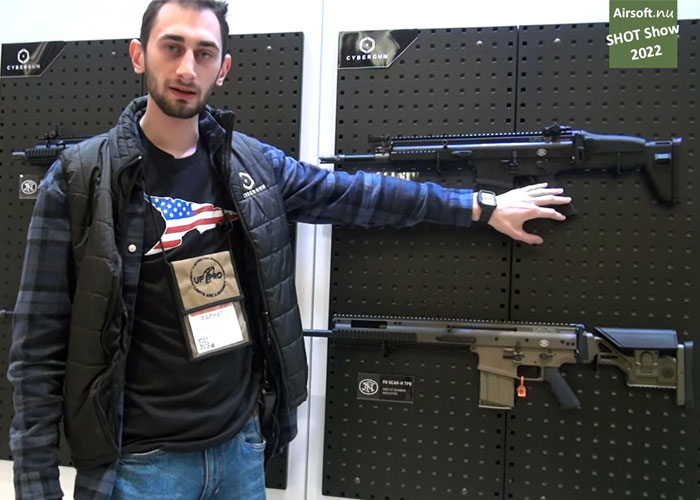 We're almost into the closing stages of the SHOT Show 2022 and many of you probably are disappointed about the sparse announcements about upcoming airsoft products from the exhibit floor. Still, there is an airsoft presence at the show such as Evike.com, PTS Syndicate, Elite Force, and Lancer Tactical.
Here are the SHOT Show 2022 Headlines for Day 3 as posted by the NSSF yesterday:
Cybergun is also there displaying their wares that are fully licensed from some of the well-known firearm brands in the world. Airsoft.nu did their work and visited the Cybergun booth where Raphael talks about the partnership with Turkish weapons maker CANiK and with the development of the CANiK TP9 Elite Combat handgun for the airsoft market. There will be upcoming FN SCAR variants from Cybergun for airsoft as well.
If there is still some airsoft-related stuff at the SHOT Show, we'll post them in the following days.
An interesting pistol from B&T got our interest. It's not exactly a new pistol, but with the AAP-01 and the WE Galaxy Series capturing the imagination of airsoft players, the B&T Station Six, a bolt-action pistol that can either fire the 9mm or .45ACP round, which traces its roots to the World War II-era Welrod pistol, and more modernized contract VP9, might be something airsoft players may want in the airsoft market. The Tactical Advisor went to the B&T booth to find out more about it.
One thing that we want to learn more is about the Magpul – Maztech X4 System which we featured here last weekend. The system starts as the round counter and X4 FCS but will then be developed to have more features such as wireless integration with the X4 laser rangefinder and other high-tech weapons accessories. The Firearm Blog devotes a feature on the system plus other reports covering the Bushmaster BA-30, Zastava M07 Sniper Rifle, Daniel Defense RIS III, Daniel Defense Shortened Delta 5 Bolt Gun, and the Kalashnikov USA KR-101.
The SHOT Show 2022 is not over yet. More to follow this weekend.