Ryan Reynolds Becomes A Self-Aware NPC & Saves His Video Game World In "Free Guy"
Gungho Cowboy
06 Oct 2020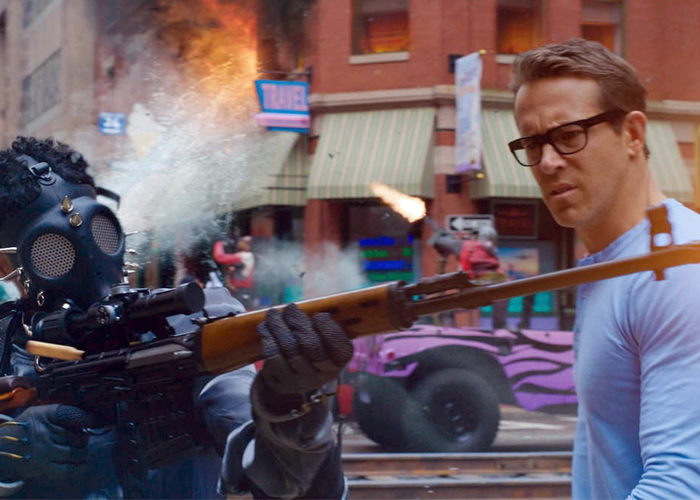 The second and more explosive trailer of the upcoming movie starring Ryan Reynolds "Free Guy" has dropped and boy! It looks like it's something that gamers, which many in the airsoft community are, will have to look forward to watching in December.
"Free Guy" is about a video game's Non-Playable Character (NPC) called "Guy" who works as a bank teller played by Ryan Reynold's of "Deadpool" fame who becomes self-aware after a code was introduced by the game developers into the game. The video game is called "Free City" and it is an open world game that looks to be a combination of "Grand Theft Auto" and a Battle Royale Game like "Fortnite".
As his character becomes self-aware, "Blue Shirt Guy" meets Milly who goes by the name of "Molotov Girl" in the game and is played by Jodie Comer ("Killing Eve") and becomes enamored by her. Milly is a real human gamer who works alongside "Antoine", "Keys" and "Mouser" who are played by Taika Waititi who is the publisher of the game, Joe Keery, and Utkarsh Ambudkar, respectively.
With becoming self-aware, Blue Shirt Guy starts making his video game world better by going against video game players destroying his world with his own AR glasses. Being a do-gooder non-NPC anymore character in the game eventually makes him famous and even had a question in "Jeopardy!". That makes Antoine mad and decides to make sure that an NPC does not destroy his game. Together with the other NPCs, the Blue Shirt Guy and the Molotov Girl try to save their video game world.
"Free Guy" is written by Matt Leiberman and is produced by Ryan Reynolds, Shawn Levy, Greg Berlanti, Sarah Schechter, and Adam Kolbrenner. Directed by Shawn Levy of the "Stranger Things" fame, the movie is probably one of the last films that are slated to be shown on the big screen for 2020. It is set to be released on 11 December, but given the Covid-19 pandemic, that date may not be even final, moreso if it's going to be shown in movie houses.
IMHO, I'll welcome a streaming release in December.