RS Wiki: Seburo
Gungho Cowboy
07 Apr 2008

This is not actually a Real Steel (RS) wiki of a real gun, but as airsoft replicas based on Anime shows from Japan are coming out, might as well dig up Wikipedia to find the entry on Seburo. While many will wonder why some airsoft manufacturers are coming out with these types of airsoft guns, there is a huge generation of airsoft players who are very much familiar with Anime shows, and sci-fi and fantasy conventions are filled up with attendees wearing their favourite anime character. These airsoft guns would very much be useful for skirmishes that have some anime theme in it, apart from those "Matrix Nights" or "Biohazard" events. It would be great to get some anime getup with these.
Photo in the thumbnail is from the Ghost in The Shell Stand Alone Complex.

Seburo is a fictional small arms manufacturer commonly found in many of the works of manga artist Masamune Shirow. He frequently attributes the Seburo name to advanced, high-velocity, small-caliber weapons, similar in concept to firearms using 5.7x28mm SS190 and 4.6x30mm bullets in that their primary role is to pierce armour. Recent documents seem to suggest that Seburo is the small arms branch of Poseidon Industrial -- another fictional Shirow company. In the Ghost in the Shell Stand Alone Complex PlayStation 2 game, the in-game "word list" describes Seburo as having been founded in 2024. The phrasing of the entry suggests that, in the Ghost in the Shell universe, the company is partly owned and controlled by Section 9. Many Seburo weapons feature a triple-circle motif, and some promotional materials for Ghost in the Shell suggest that this is a company logo.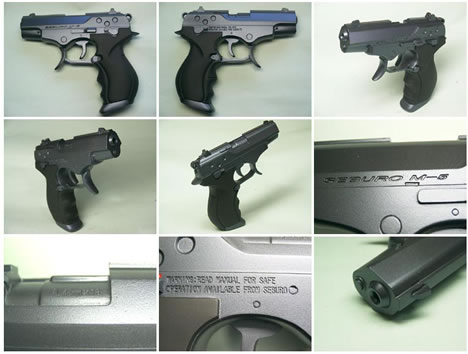 Seburo M-5

Notable Seburo weapons

Bobson- A small-framed, high-velocity handgun chambered in 4.2 mm, 5 mm, or 6 mm calibers. (Appleseed)
C-25A and C-26A- 6 mm x 25 mm submachineguns. Both are bullpup weapons, have 50-round magazines, and forward ejection (with a top-mounted brass catcher). The C-26A is smaller and could be more correctly said to be a machine pistol than a submachine gun. In Stand Alone Complex, C-26A, while retaining its basic shape, is a larger PDW/assault carbine chambered for a 5.45 x 45 mm rifle round. It has a built-in laser sight and can be equipped with a specially designed sound suppressor.(Ghost in the Shell)
C-30, a more militarized version of C-26A fitted with a grenade launcher, optical sight and a longer, jacketed barrel ending with a large muzzle brake with the same magazine capacity as the C-26A. Appears to be based on the FN F2000 assault rifle. (Ghost in the Shell: Stand Alone Complex)
Gover- A 10 mm semiautomatic handgun primarily based on a Browning designed M1911 frame. It features a ported compensator for recoil reduction and quick recovery time. Despite its centuries-old mechanism and its chambering in pistol ammunition, it is quite capable of neutralizing cyborgs and Landmates. (Appleseed)
M-5 - Seburo M5 is a medium-sized SA/DA handgun that fires a 5.45 x 18 mm 7N7 cartridge, as used in the Russian PSM and OTs-23 pistols. The M5 uses a rotating barrel action similar to the Beretta Cougar series, has an ambidextrous safety, and a magazine capacity of 20 rounds. The gun was redesigned slightly as the M-10 for Solid State Society, with a longer barrel and the removal of the characteristic spur on the trigger guard. Known official sidearm of Motoko, Saito, Boma and possibly Paz. A garage kit version is also available. (Stand Alone Complex)
MN-23- A 5.56 mm bullpup assault rifle. Shirow designed this as an airsoft gun, a fusion of the FN P90 submachinegun and FAMAS assault rifle, but would later incorporate the gun as a fictional weapon in his manga. A number of cast resin parts were attached to the mechanism of the Tokyo Marui's FAMAS airsoft rifle -- the first Tokyo Marui AEG in Japan. The original producer, Moon-Net, cast a thousand copies before ceasing production. Poseidon, another garage kit circle named after Shirow's other signature fictional industrial company, produced at least two versions, with the latest being reportedly of higher quality than the Moon-Net version. Any optical sight can be placed on its picatinny rails and a silencer can be attached to the muzzle. (Dominon: Conflict 1)
C-X - Compact eXploder is a small bullpup handgun that uses an ammo feed similar to the P90. Cartridges are loaded sideways in a magazine behind the users thumb. They are spun 90 degrees as the exit the top. The bullpup design allows the weapon to take advantage of a longer barrel. A limited edition garage kit version exists both in a black numbered resin from Poseidon and various conterfeiters usually in white resin, based on the frame of a Walther PPK/S replica airsoft pistol. (Appleseed)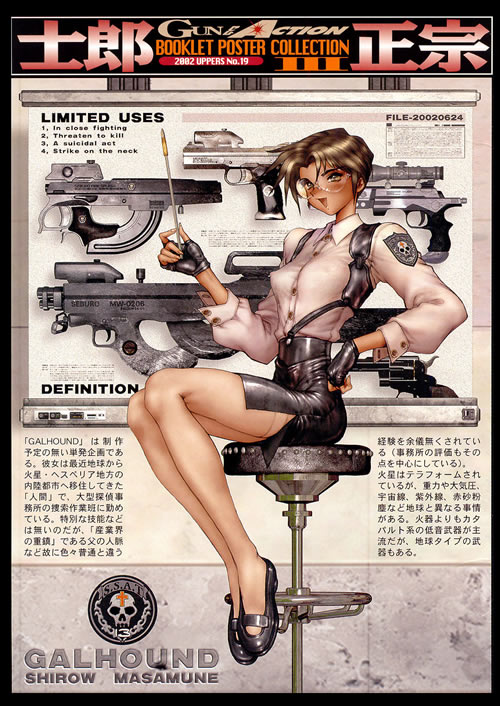 Use Outside of Shirow Universes
Seburo products -- especially the C-X and MN-23 -- have been adopted by the cyberpunk community. A C-X modeled by Francis Chung has become an icon of the Second Life community and economy. Seburo weapons are often cloned for use in gaming mods and deathmatches.
One of the most prominent examples of weapons designed along similar lines to Seburo weapons are found in the popular computer game Deus Ex, in which at least two of the weapons (the Stealth pistol and the Assault rifle) are clearly influenced by Seburo designs.
The C-26A and C-26B (The B model is fit with a silencer) also appear in a few of the mods for the online first person shooter game True Combat: Elite.
The conventional sidearms in the film Final Fantasy: The Spirits Within bear patterns that are extremely similar to Suburo light pistol designs, particularly the "Sonnet" pistol, which was a focal point in two scenes of the film.
Seburo products also appear in the MMORPG Anarchy Online. Seburo Bobsons, as well as fictional models (i.e. not designed by Masamune Shirow or associated with any of his creations) C-99a, C-19a, and M35 appear. However, they only borrow the name and the actual design of the gun is different.
The "submachine gun" from Project Origin, the sequal to FEAR, is reminiscient of Seburo design.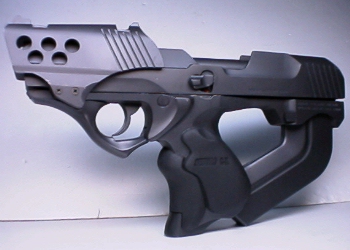 Seburo C-X