The Viper Tactical Titanium Range
Master Chief
21 Aug 2017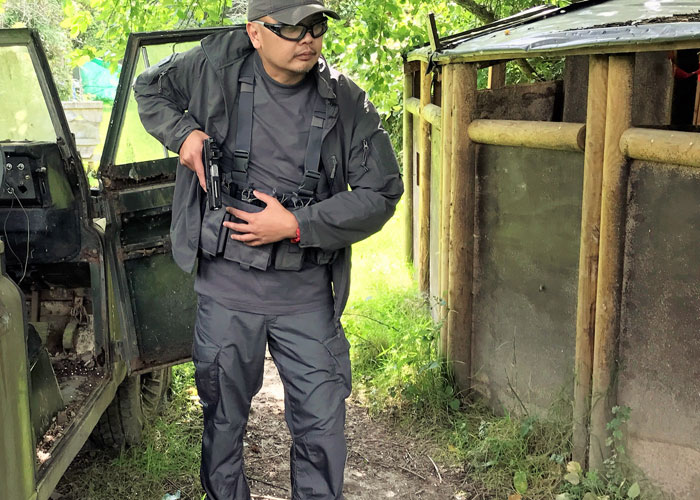 Last year, Viper Tactical sent me samples from their Titanium Range. Whils there have been many reviews of the products under the Titanium range, it took me almost a year to finally come out with a review giving you what I think about these products since I have to test them several times on the field to come out with my own conclusion(s) to these. Overall, this is a good line of products that Viper Tactical have released and I will highly recommend getting yourself kitted out. The Titanium Range, which has a nice right to it, also have their own colour swatch the makes this even more effective in urban and CQB settings.
If you say that Titanium is a darker shade of grey, then I won't blame you. Tactical gear makers are coming out with their own shades of grey to use on their products for urban gear. As far as OptimusPrime is concerned, he prefers using a darker shade of grey for night games rather than any camo patten.
So here it is, the Viper Tactical Titanium Range: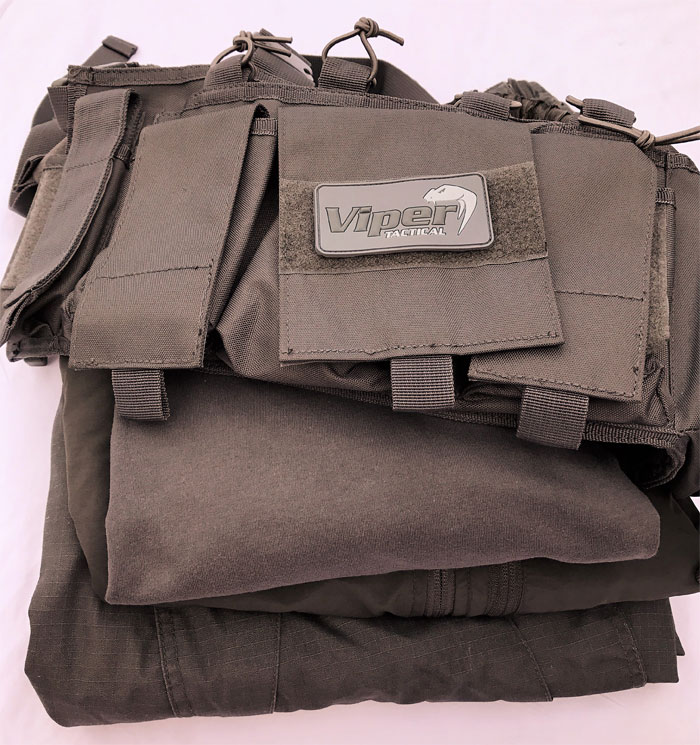 THE VIPER TACTICAL ELITE JACKET
The Viper Tactical Elite Jacket is made from water-resistant micro-shell material which offers maximum comfort even on wet weather activities. It also includes a hood with adjustable peak that is stashed away in the collar. The jacket has a total of 6 pockets: 3 on the body, 1 on the left sleeve and 2 on the right sleeve so there is plenty of room for stuff that you need to take with you. Both sleeves have Velcro where patches can be attached to, very useful for attaching those much loved team patches and event patches.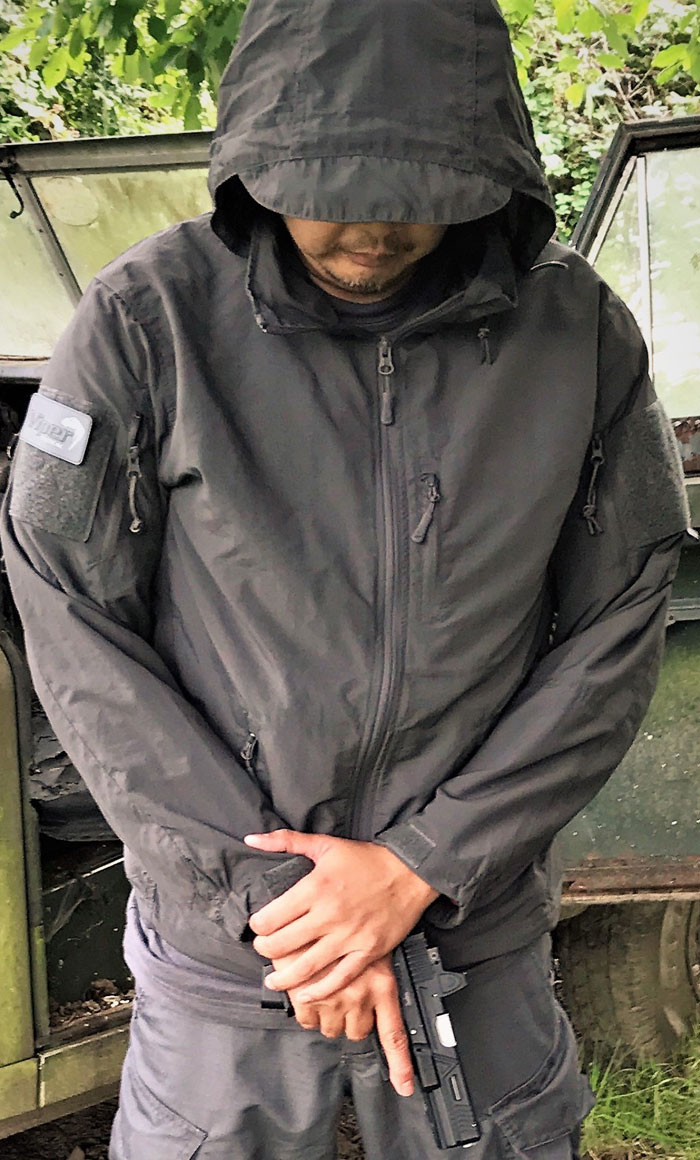 The main body zip is made of two way YKK zips for easy access to anything underneath. The cuffs are elastic with Velcro for easy adjustment. It also features a bungee adjustable waist and underarm zipped vents.
The micro-shell material used is very lightweight hence, it does not add any noticeable extra weight when worn. I find this very useful and the last thing I want is added weight to my Airsoft gear that I need to carry around with me. The material is also thin enough that when I want to take it off during a game, it can be folded small enough to easily fit my tactical backpack without adding too much bulk.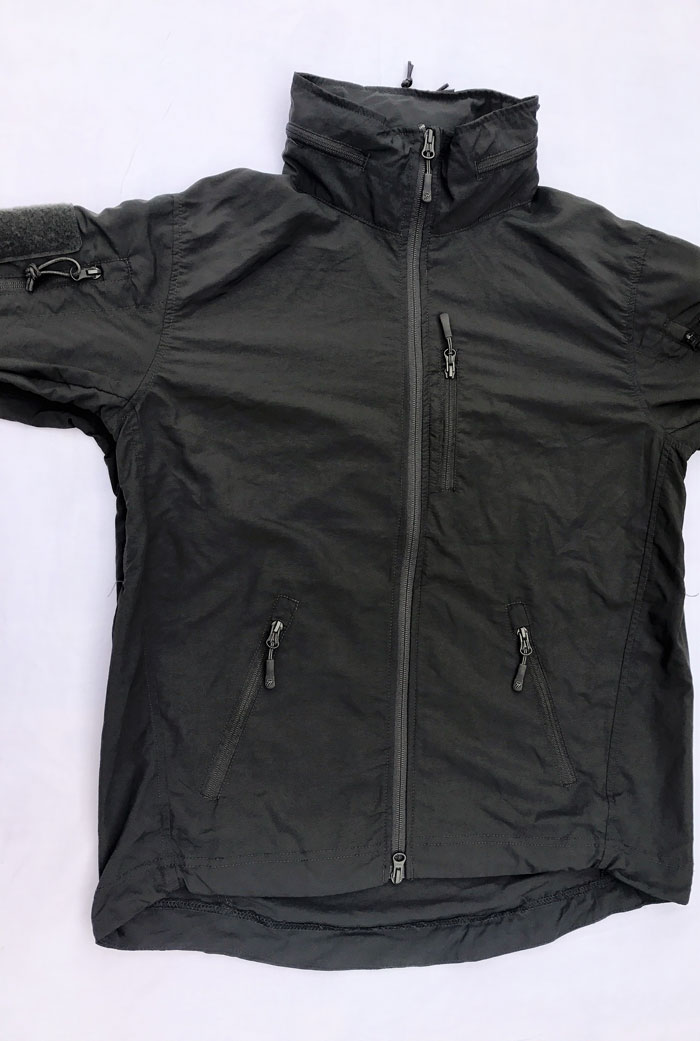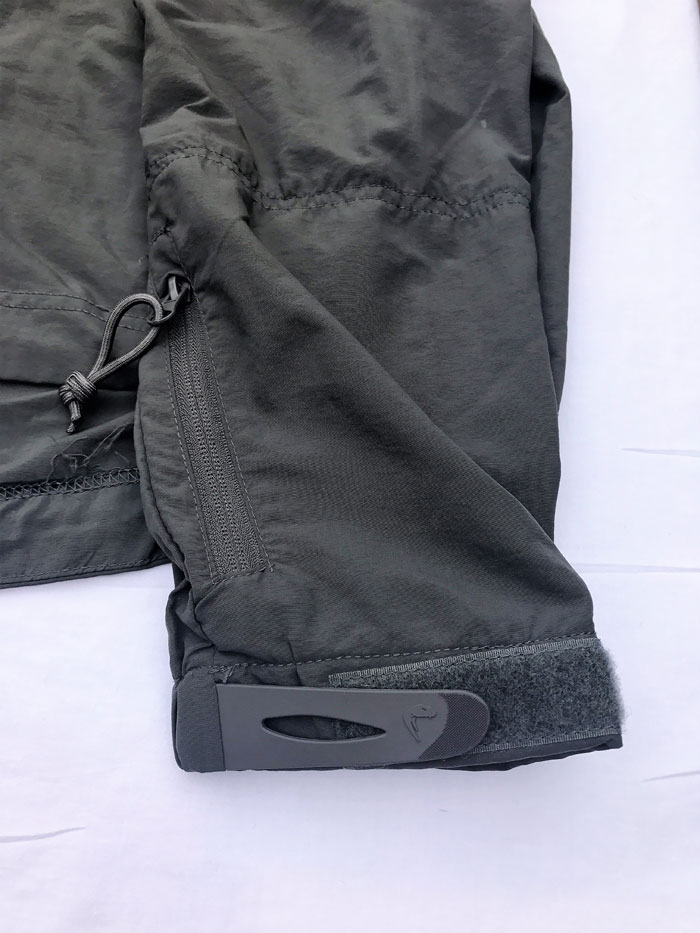 The jacket was great to wear as well and the material was light enough to prevent me from over heating on a very humid day. This is good news to players who prefer to wear tactical jackets all the time when playing to protect their arms from BB hits or scratches when going through bushes. The lightweight material also makes the jacket thin enough to wear a tactical MOLLE vest on top of it and not giving you a bulging feeling and also does not add any unnecessary weight. I would still have to try and use this jacket in cold weather and in wet weather conditions to see how it stands up to harsher weather conditions.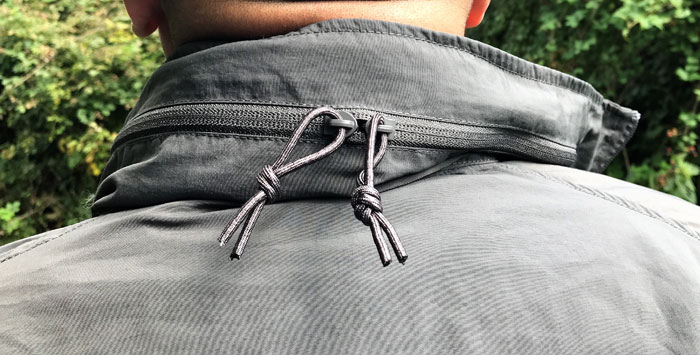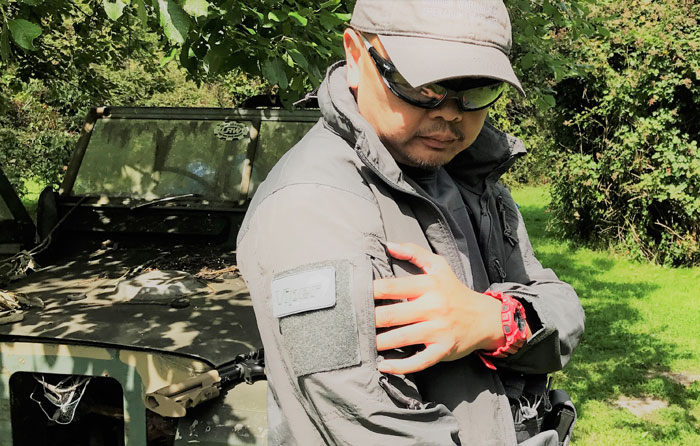 THE VIPER TACTICAL CONTRACTOR PANTS
The Viper Tactical Contractor Pants is made from rip-stop polycotton which gives it the strength and durability needed for rough use. It has 2 cargo pockets with inner utility compartments. It also has 2 rear pockets. The cargo and rear pockets have Velcro covers for keeping your belongings such as keys and wallet safe and prevent them from accidentally falling off during activities or games. The pockets are deep enough to prevent contents from accidentally falling out and the openings are wide enough even for large hands or even for gloved hands to enter.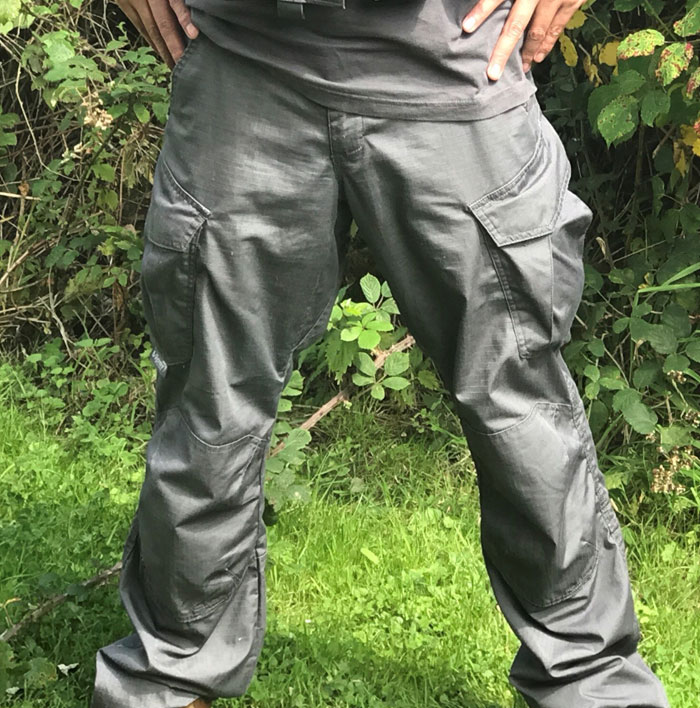 The waist is elasticated around the back and Velcro in the front plus a button for added security. Additional features include a gusseted crotch, drawstring-tie bottoms, and reinforced knee panel with compartment for knee pads. Please note that knee pads are not included.
The trousers were loose enough to allow full range of movement. I didn't feel any pulling or rubbing on any position I was on. Although they felt loose, the trousers held their shape and form when worn giving you comfort and at the same time keeping that shape that makes them look good. Only issue I had with this particular pair is a sharp edge along the waist that was rubbing on my skin. A quick fix was to pull my boxers up so that the trouser waist was not directly on my skin. I spoke to Gavin who sent these items to me and he said he will get quality control to look into this to make sure that this is avoided.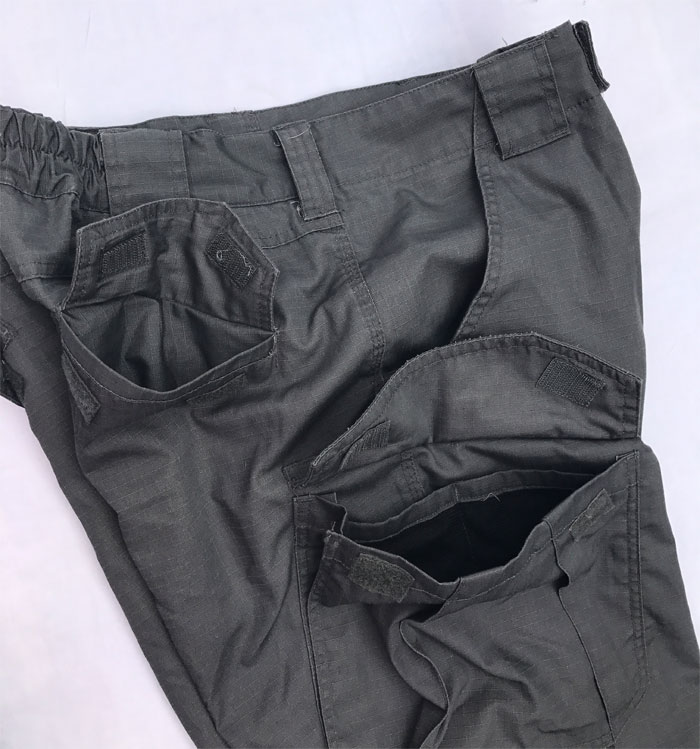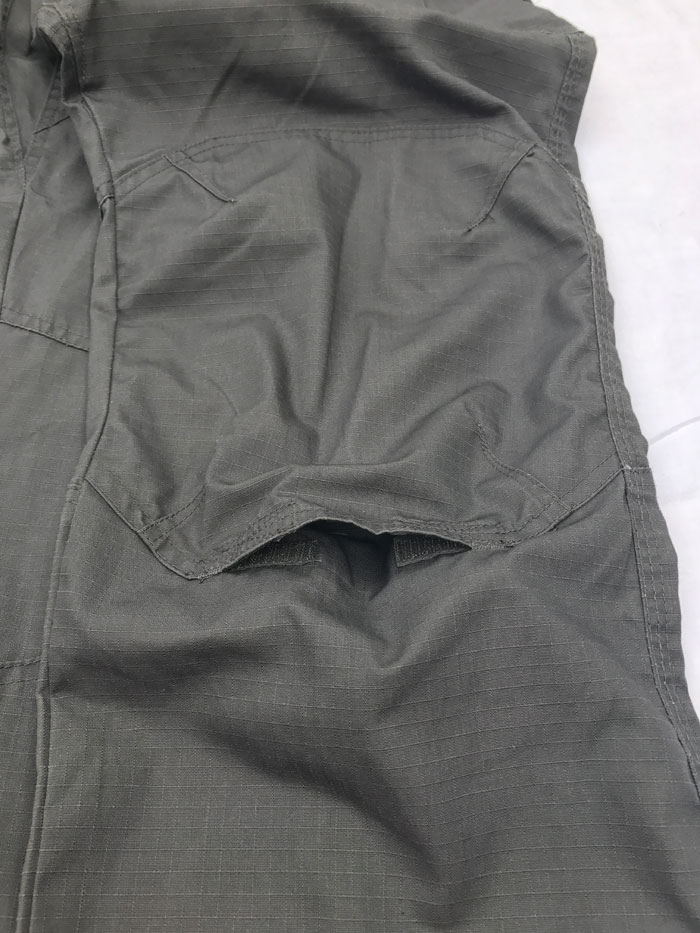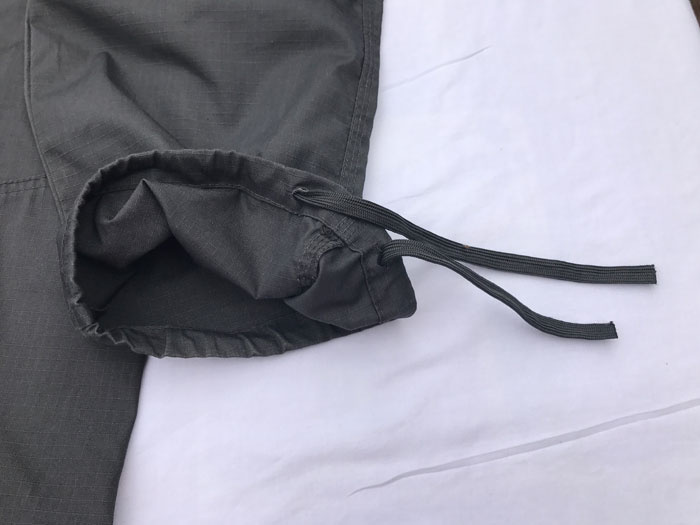 I had the chance to use the trousers and jacket in a game and they felt great. The trousers fit really well and the elasticated waist makes a tight but comfortable fit and ensures the you won't lose your trousers during a game. The rip-stop material makes the trousers pretty tough and quite resistant to wear and tear. I was kneeling on grass and sitting on wherever I can rest my bum on, there wear stains at the end of the day from the dirt and grass but these completely came off after on quick wash.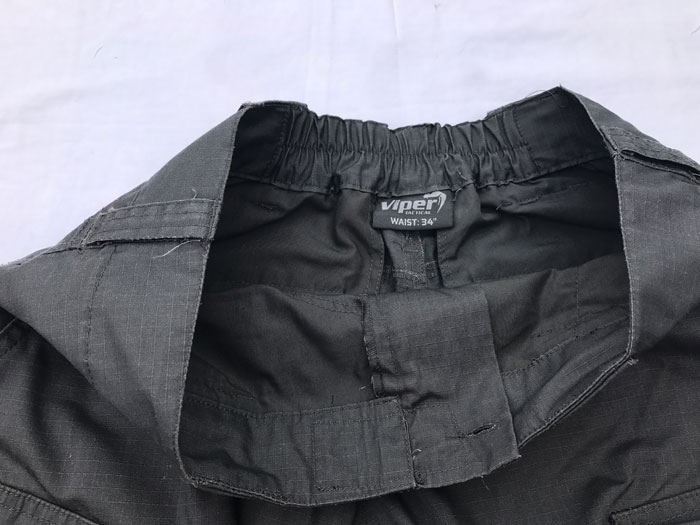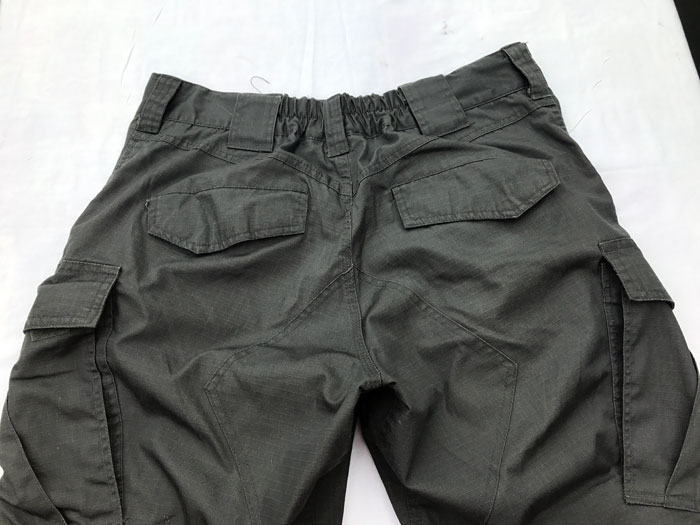 THE VIPER TACTICAL T-SHIRT
The Viper Tactical T-Shirts are the best thing to wear this summer. It is made from heavyweight cotton material and features a Velcro pocket on each sleeve. It may just be a t-shirt but you do not lose that tactical look and the Velcro pockets still makes it possible to attach team patches onto your get-up.
The shirt does absorb quite a bit of sweat and may tend to become a little bit wet and heavy especially if it's worn under a jacket. On the flip side, it is a big difference in comfort compared to the other tactical clothing particularly during hot and humid weather.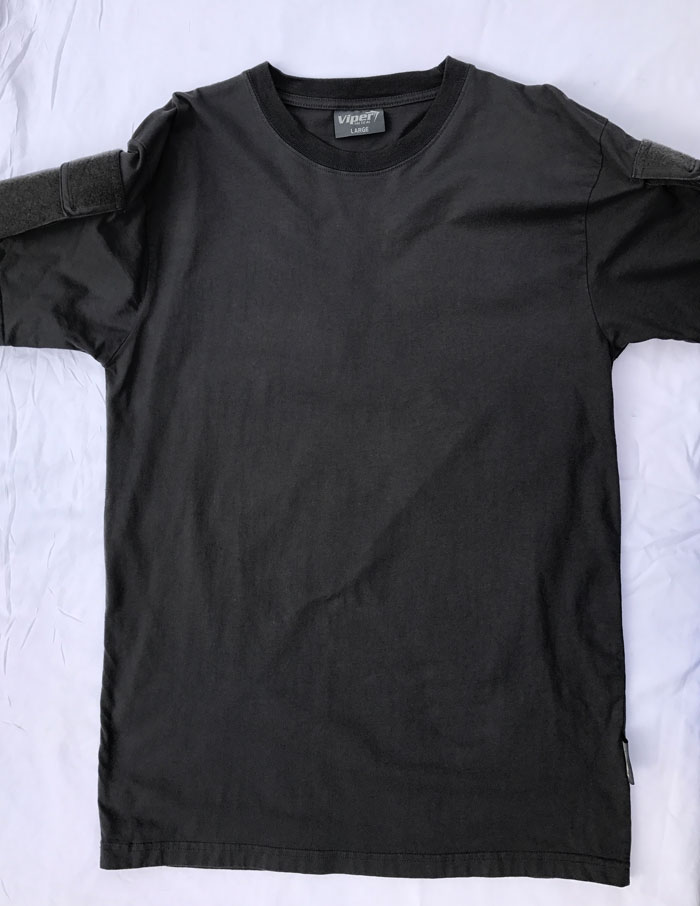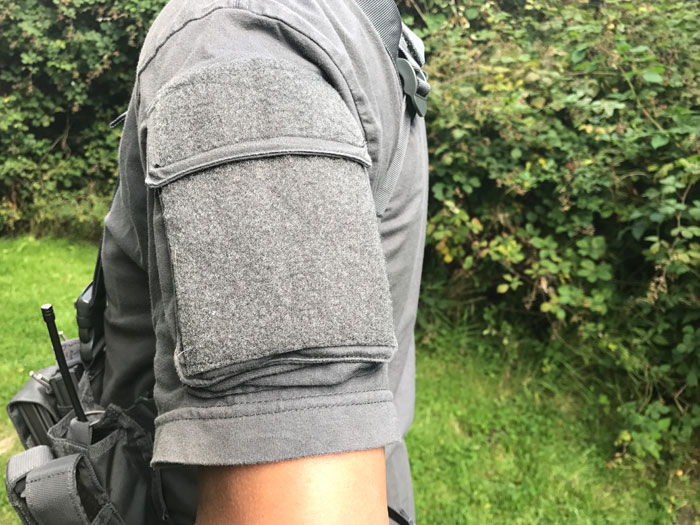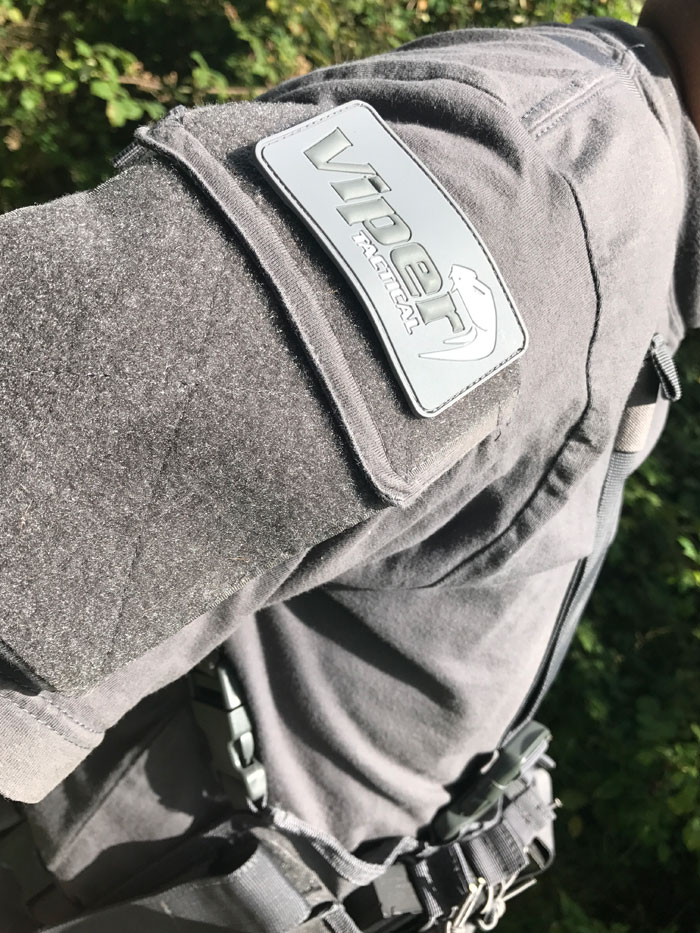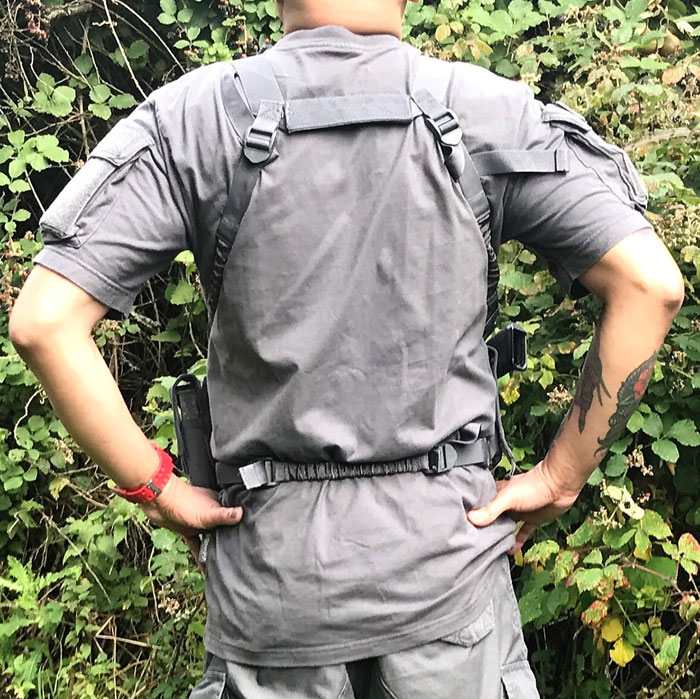 THE VIPER TACTICAL SNEAKER BOOTS
The Viper Tactical Sneaker Boots are not exactly a part of the Titanium range but since they were added to the package, I added the pair as part of my full review. These boots are made of nylon upper material with a suede-like front and rear section. I have worn these boots a few times in skirmishes and they are just getting to feel comfortable on the feet. They do need a bit of breaking in and this can only be done by wearing them. And I found out that you really need to use them rough to try and soften and stretch the material but once you have broken them in, they do feel comfortable and since they are sneaker boots, they are very light. They are better worn with thick boot socks as this helps them fit nice and snug on your feet. I have used them mostly for outdoor games but I think they will work best on indoor or solid ground due to their sneaker style soles but then again as I have said I have no issues or problems using them on rough outdoor terrain.
I would not advice them though to be used on heavy mud and wet terrain as I don't think the sole will provide you with enough grip. Plus, cleaning that suede material will be a bit difficult though you can always buy the spray protector for shoes with this material making them easier to clean.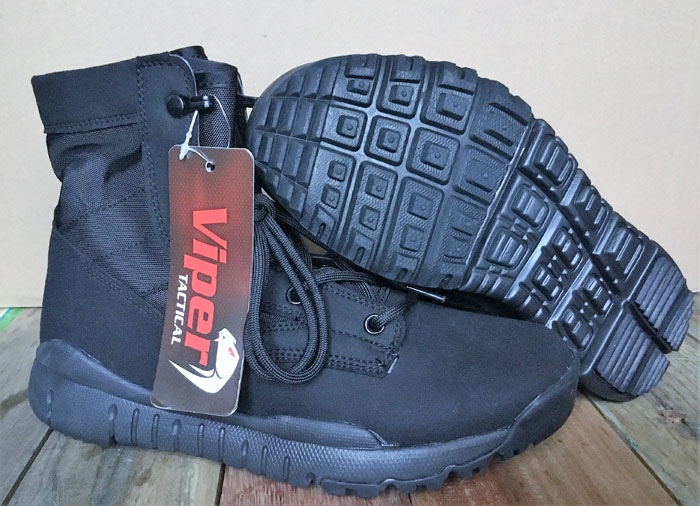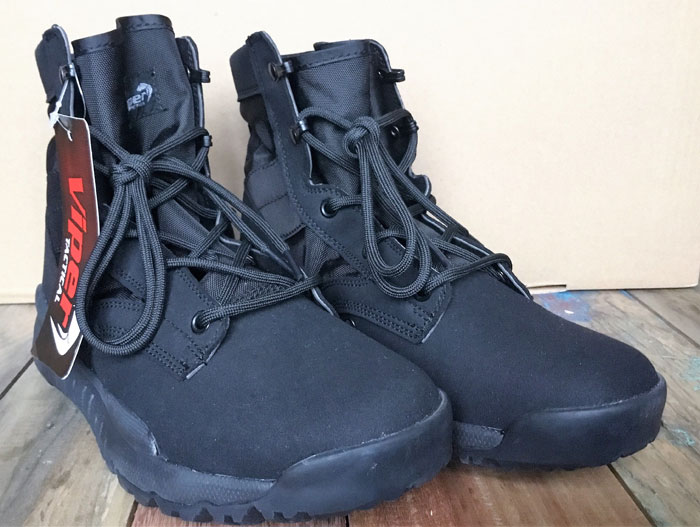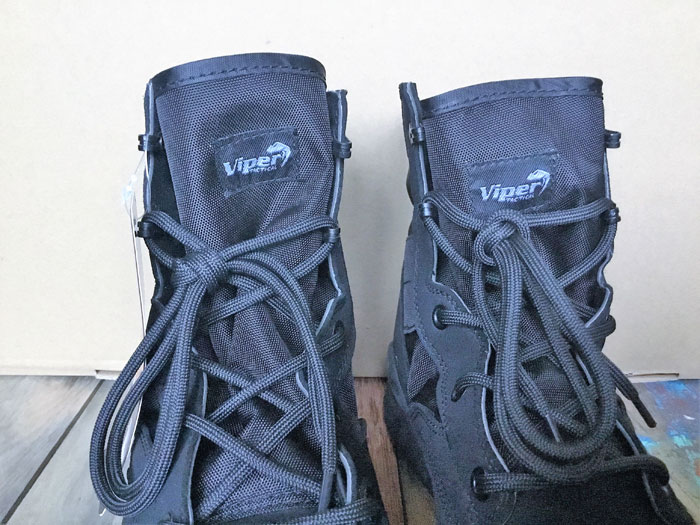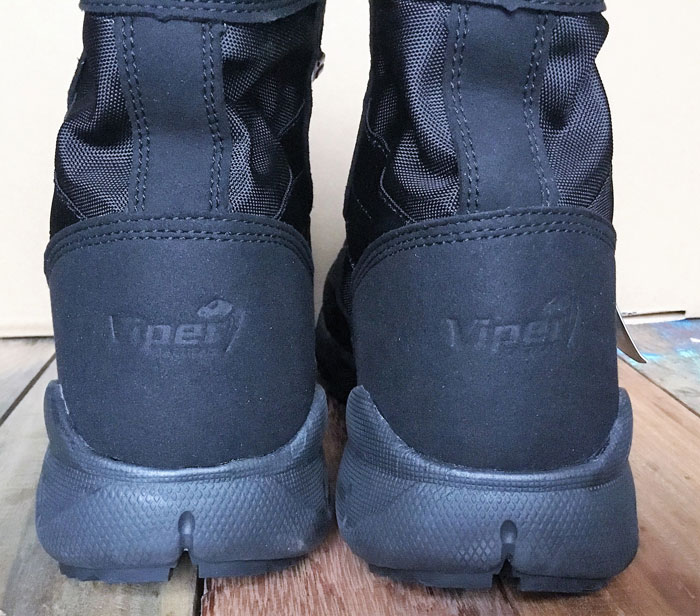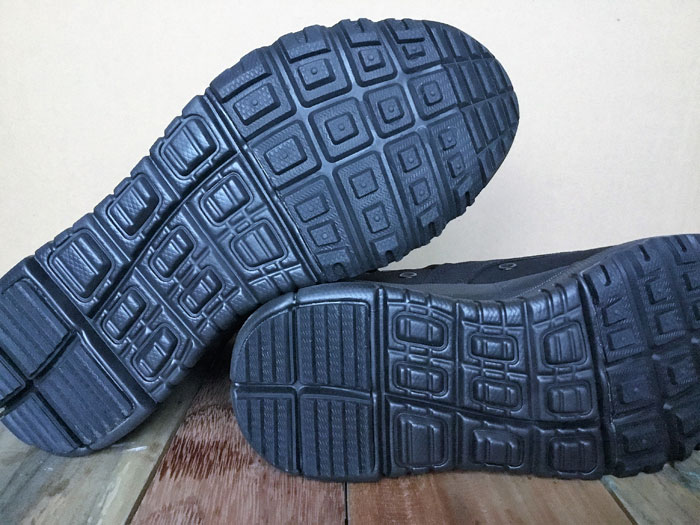 THE VIPER SPECIAL OPS CHEST RIG
If you are looking for a lightweight low profile load bearing chest rig or a backup lightweight chest rig for those long skirmish days then the Viper Special Ops Chest Rig could be the one you're looking for.
Made of 600D Cordura material, this chest rig features 4 open top magazine compartments with bungee cords to hold the magazines in place, 1 radio pouch also with a bungee retention chord, 2 small calibre pistol mag pouches, 1 utility pouch with Velcro patch, 2 extra pouches with flap covers, and a smaller pouch at the end that also has a flap cover.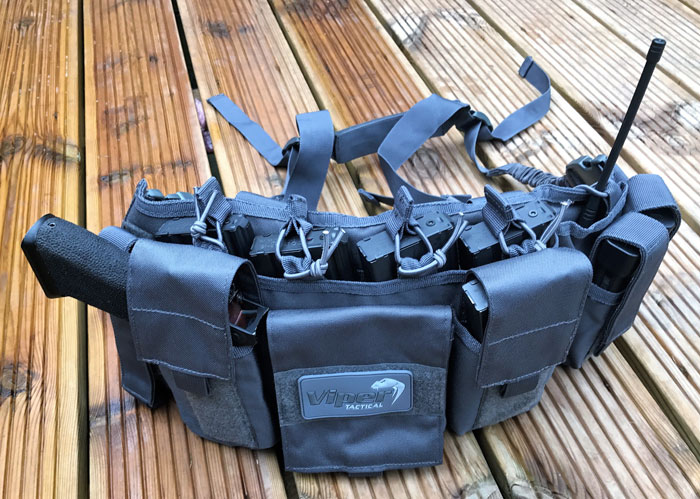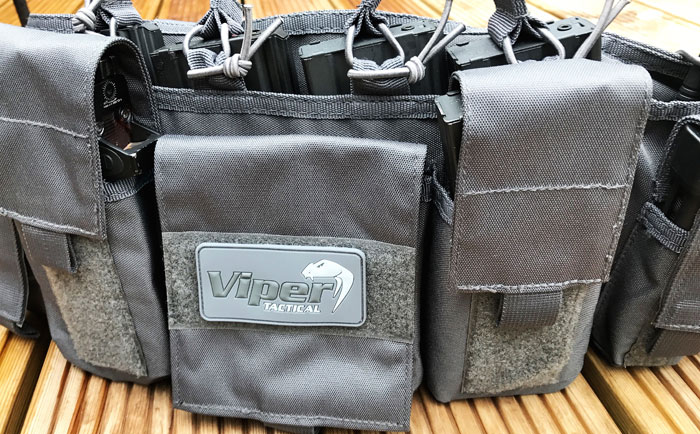 The chest rig is best used for optimum manoeuvrability and more unrestricted movement. It can be worn under outer layer clothing such as coats and jackets which is useful during the summer months where it is too warm to wear thick clothing but can just put a jacket on if ever a sudden gulch of rain occurs without the need to remove your rig. The retention straps are elasticated or bungee straps which reduces the impact of the rig against your body during movement. The rig is fully adjustable with quick release straps.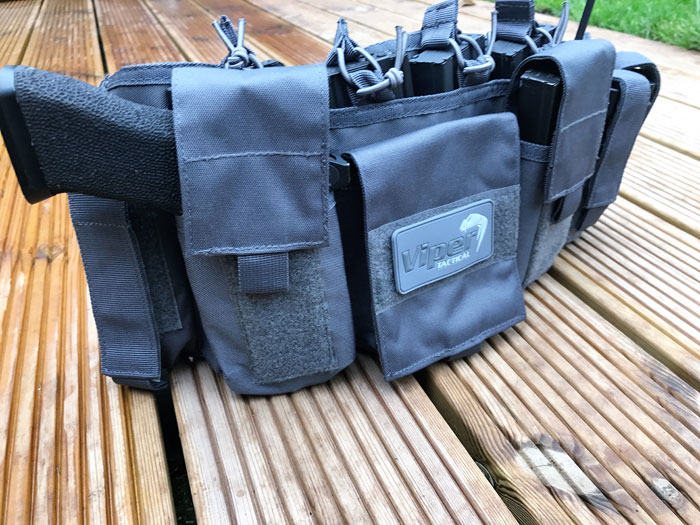 The two extra pouches on each side of the utility pouch are wide enough to hold 2 extra M4 magazines allowing you to carry 6 M4 magazines in total or can be used for other bits such as Airsoft grenades or BB loaders. The smaller pouch at the end can be used as a pistol holster.
This rig will be a great CQB rig because of its low profile setup making it snug and very close to your body. This makes it easier when manoeuvring in tight spaces and on situations where speed is needed.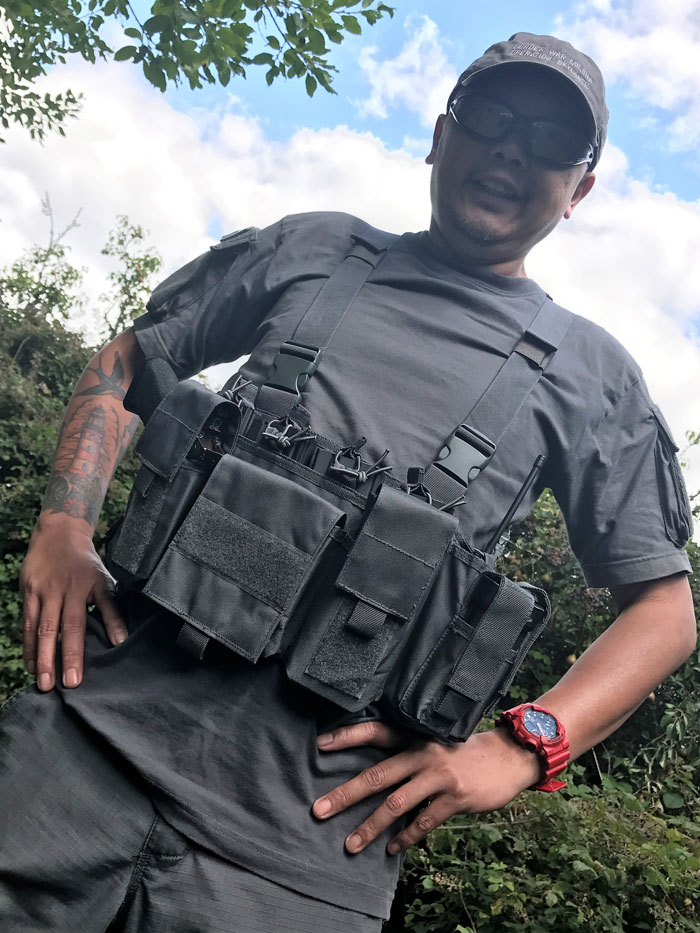 Grey is the new black now in Airsoft when it comes to urban/CQB Tactical clothing and gear. It has become more popular with the different government special forces now using this colour and has slowly made its way into the Airsoft market. We a now seeing more and more brands carrying this line not only on Tactical gear and clothing but also on Airsoft RIFs and external accessories.
Viper Tactical have made so much improvements to their tactical clothing range and their Titanium range are the best example. And the best thing about them is that you will get the look and quality of what the more expensive brands offer yet it won't break your budget. Airsoft is not a cheap hobby, so having the choice to have great quality but affordable tactical clothing is a great bonus to players who do not have deep pockets.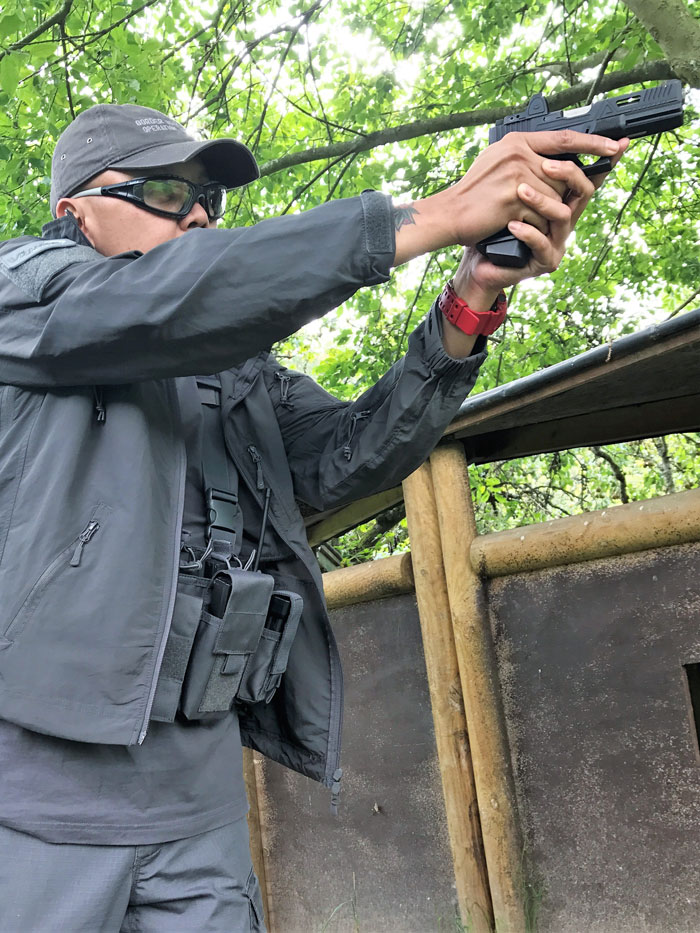 CONCLUSION
Viper Tactical have put a lot of effort in making a great tactical gear. It is easy to review brand new products simply because they are brand new. I have put these products to the test. I use this gear every Sunday at least 3 times a month for the past year and I am impressed on how well they held and still in very good condition. The trousers and the t-shirt have faded a bit but that is understandable considering the amount of times they have been through the washing machine and that they are the most abused among this lot
The jacket is great as it can be bundled up small that it won't take much space. It is great for overnight milsim events or, as it is waterproof, in places like here in the UK where the weather can turn unpredictably at any moment.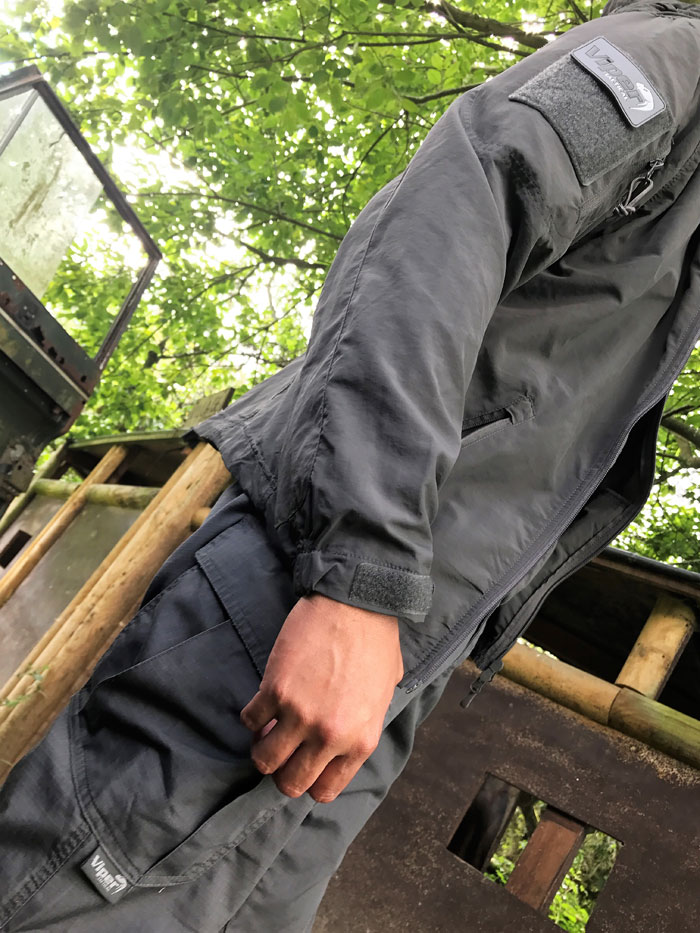 The sneaker boots need a bit of wearing in but they will settle overtime and are not too bad. I haven't tried them for long hours though so this is yet to be tried. It is important to note that they are not waterproof but they can probably be considered as a second pair for lengthy milsim weekenders where those hard leather boots become a bit uncomfortable.
And lastly, the Special-Ops Chest Rig. I am not a fan of those heavy plate carriers where it can cause you to slow down. Especially when playing on 1 day skirmishes where a heavy load out is not really necessary. This chest rig works well in these situations as it is easy to put on and take off. It is light but has all the necessary compartments to carry almost everything you need. This will also work well if you don't want your backpack attached to your plate carrier as it is slim enough to enable you to carry a backpack comfortably.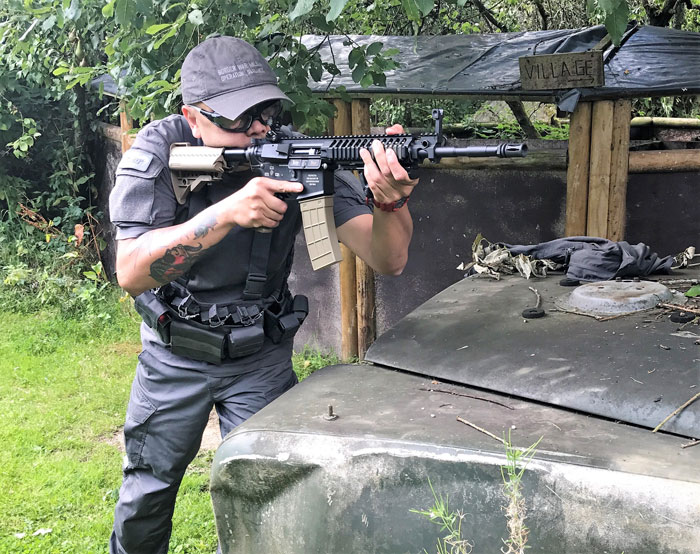 I have always been an advocate of affordable airsoft gaming. For me, Airsoft should never be expensive or should be affordable enough for anyone who wants to try it. But I am also into affordable but good quality gear and this is where, in my opinion, Viper Tactical has hit the nail in the head with this. I hope Viper would continue to work into providing good quality and affordable tactical gear to airsoft players and I look forward to their future releases
Big thanks to Gavin of Viper Tactical for providing me with all the above mentioned gear for this review.