Specna Arms SA-V04 KeyMod 9" Carbine
Operator7
29 Mar 2016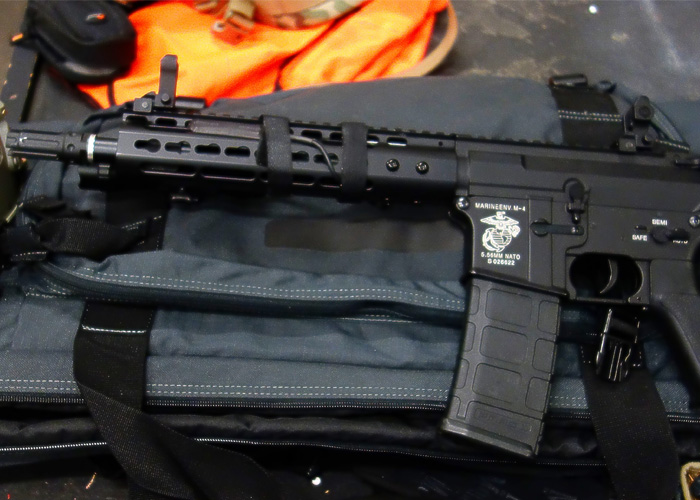 Specna Arms hasn't been in the market for long, but it's a brand that is quickly turning a lot of heads, especially when it comes to its quick spring change system to popular M4 AEGs. But apart from this I didn't know much more about this brand and the quality of their products.
When it comes to price, it's a surprise to see full metal M4s at the price point that Gunfire have them of around £186/€244. Especially when you throw in the quick spring change system, it provides good value.
It kind of makes me wonder: did Specna Arms cut any corners to be able to be this competitive? Is the quality of the replica out of the box any good? And performance wise, at that price I'm sure there needs some improvements.
So let's see how my experience with my first ever Specna Arms was!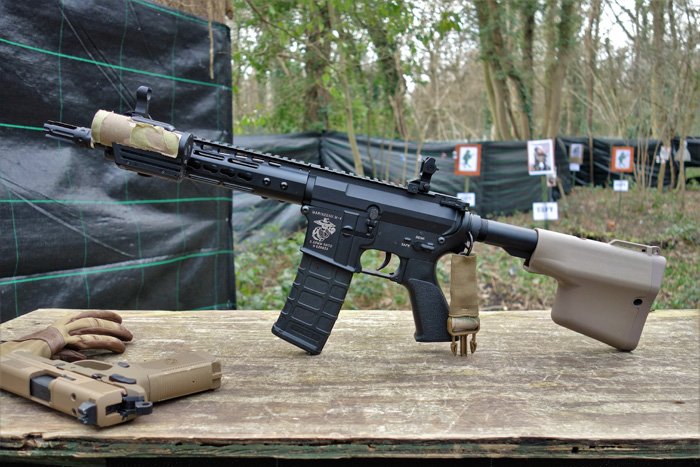 DESIGN AND BUILD QUALITY
When I got the box I noticed how small it is, and this has to do with the fact that this is a 9-inch version, which is shorter than a standard M4 and more suitable for CQB.
The gun has a nice feeling to it, a very good and durable black matte finish on the metal receiver with some very good looking MARINE laser engravings. I did notice that the NSR style free floating handguard (which is my favourite) had a slightly glossy finish as opposed to the matte finish on the receiver. But it's barely noticeable and it's also of very good quality with zero wobble.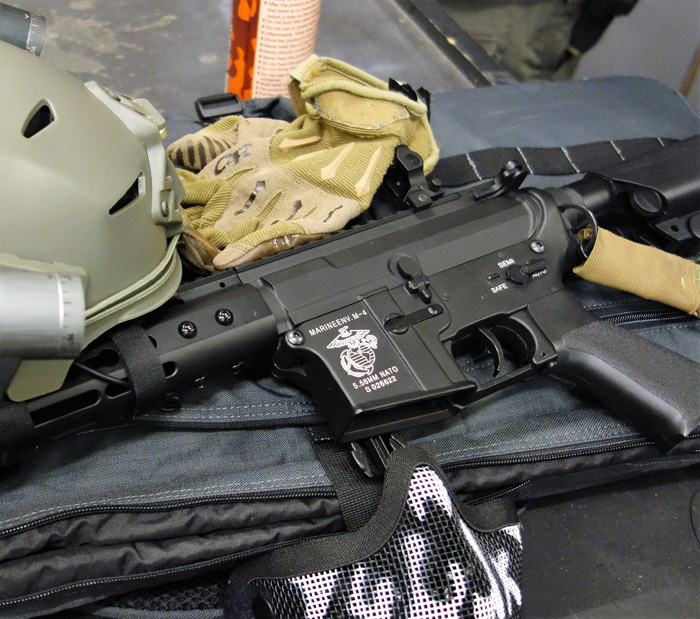 The same applies to the stock and receiver: no wobble, all nice and tight. Perhaps a bit too tight on the receiver as it has been a challenge to get the upper separate from the lower…
The upper is the highlight of this AEG, since it sports a different design with futuristic straight lines so much better than the traditional and dull classic M4 design. I just love it!
On the rear we have a 5-position stock and a hole in it to see the number of the stock position which is engraved on the buffer tube. This is quite useful when adjusting the stock on the fly and getting it right the first time.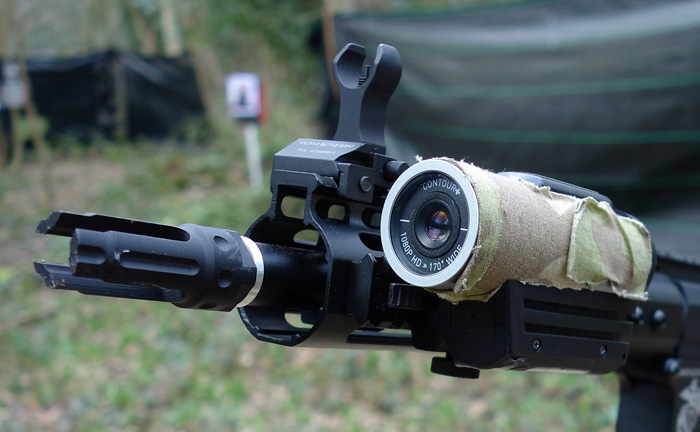 On the opposite side, we have a Surefire replica flash hider which has an aggressive and cool look to it and adds to the gun's personality, if it ever has one.
Moving on to the top, the metal sights caught my attention and I really like this design of metal sights. I usually prefer MBUS polymer sights to metal sights.
But if I had to choose a pair of good metal sights for Airsoft, these would be my pick as they are very easily adjustable flip-up sights that lock in place when we need them; and these get out of the way quick and easy when not needed. Plus, they are made of metal and a very nice build quality.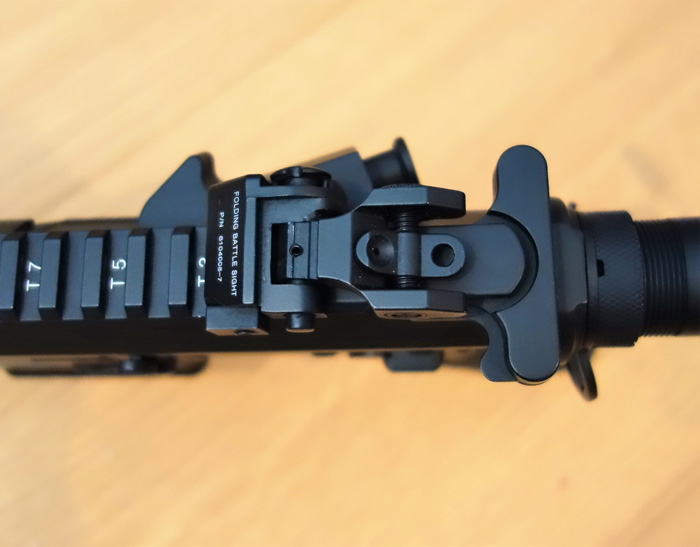 When it comes to sling points, there is one sling plate next to the buffer tube ring and of course two more sling points on the stock.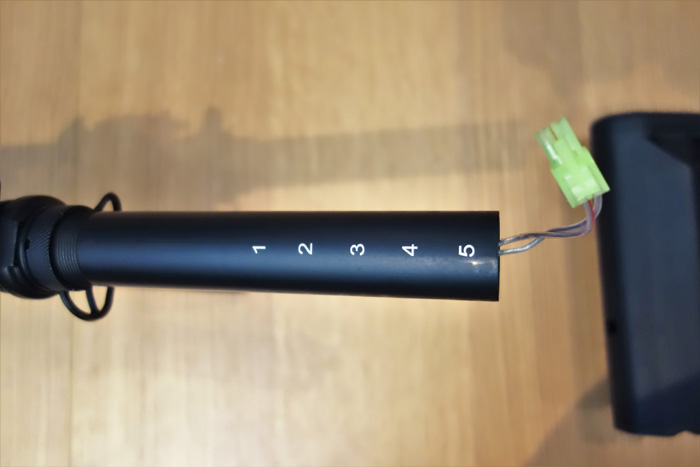 Finally, something else worth mentioning is the choice of pistol grip that I find much better than the traditional M4 one. It's a lot more ergonomic and a pleasure to use on any scenario. The texture is great as it helps in giving a good grip, but not too much that you would leave half of your glove on it!
The magazine included is a standard M4 metal hi-cap which does the job, and there's nothing extraordinary about it.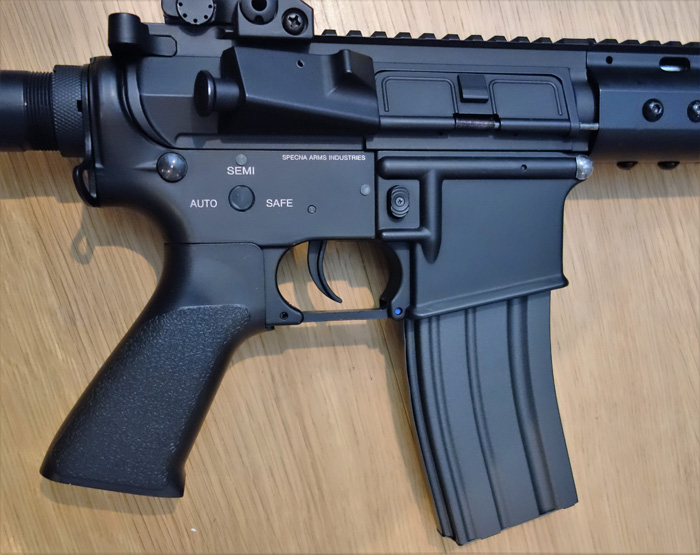 A final note is the easy to switch fire selector that its perhaps too easy to switch since I found myself in a CQB game going from single to full auto without realizing that the selector had moved.
ACCESSORIES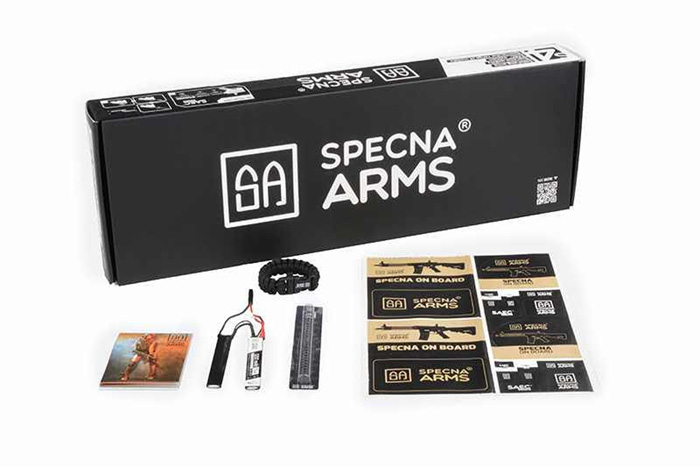 Here is where I think where Specna Arms scores some points as it's always great to open a box and find some nice surprises:
First, you get a brand new Specna Arms paracord bracelet, a second spring, some BBs, a catalog, a manual, and most importantly a 7.4v 1200 mAh 25c discharge Lipo battery. This is in fact the first time I've seen a battery included on a medium range AEG that is not a cheap NiHM battery.
The 7.4v lipo is a much better choice altogether than a NiMH battery to ship on an AEG, since it is lighter and better performing than most Airsoft NiMH batteries.
PERFORMANCE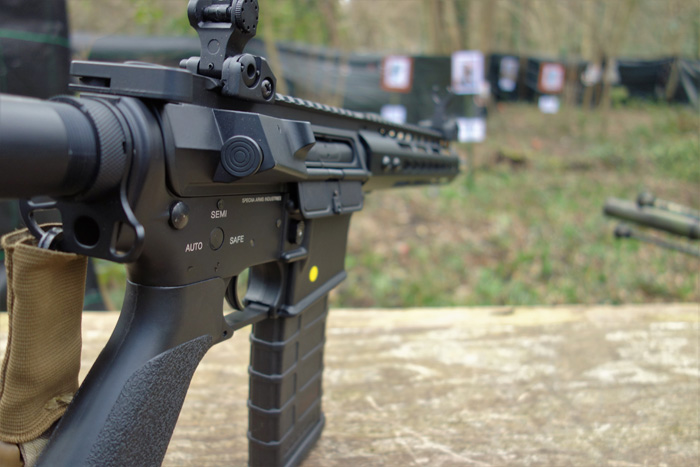 When it comes to performance, I was in for a surprise as I wasn't expecting much from this Specna Arms AEG. In fact I was just expecting a solid AEG with a nice construction, but much in need of many internal upgrades such as some other mid-range M4 AEGs I have tested before.
I couldn't be far from the truth, and this gun actually surprised me on the first game I played with it at Blitz CQB; and then the confirmation and second surprise at Red 1 Airsoft down in Chislehurst:
The gun shoots amazingly fast with an 11.1v, where the ROF goes up to 17 to almost 18 rounds per second and the trigger is fast and extremely crisp. I think is great for CQB games. Don't get me wrong it's not as crisp and fast as an AWG with a MOSFET, but it is almost there. It is as good as an out of the box AEG without a MOSFET can go.
When I used the included 7.4v Lipo, the performance is also quite good in terms of rounds per second since I was able to get around 10 rounds per second. The trigger response is quite fast and pleasant to use, but not as much as with the 11.v.
If you plan to use the gun more on full auto than on single shot that I would say just use the included 7.4v Lipo. Otherwise, if you are like me and you're planning on using this as an SBR (short barrel length) AEG in CQB games, then I highly recommend going for an 11.1v as you'll get the best trigger response. It is amazing believe me!
Specna Arms did not mention if the motor is a high torque motor, and neither do Gunfire, on the product page. But I'm sure it is one very strong motor which really excels in a single shot with an 11.1.v lipo.
FPS are around 344 feet per second with the weaker spring and around 380 with the second spring that's included, with a variation of around 8-10 rounds per second.
But the surprises did not end there and a couple of weekends later I was using this AEG at Red 1 in Chislehurst which is an outdoors game site with some nice close quarter areas in the village the organization has setup there.
But outside the village, it is pretty much woodlands and I was afraid that the short barrel would come as a handicap against other opponents with longer rifles.
Again, I couldn't be more wrong and the Specna Arms was shooting far and precise thanks to the 290mm inner barrel and very good hop up unit. I'm not a fan of the wheel system, but the hop-up unit does the job very well.
I was able to have the same range and even outrange people with AEGs with longer barrels without losing much precision. So I was getting great kills farther than I could ever expect since the beginning of the game and I was positively surprised as you can see on the video below:
SAEC SYSTEM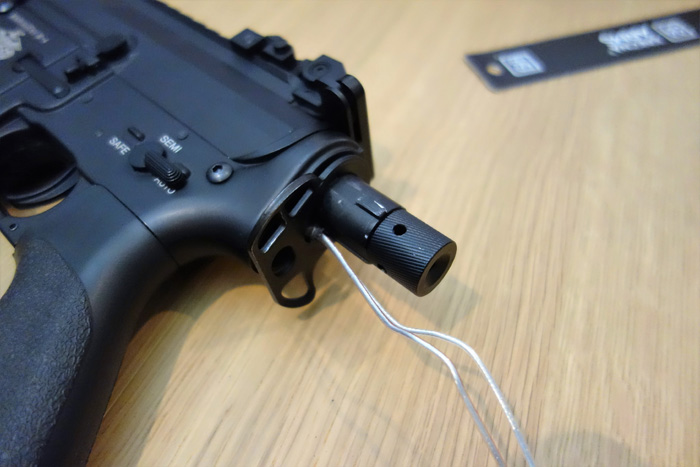 I left the best for last as this system needs to be highlighted as one of the best, if not THE best quick spring change system in Airsoft. This is the fastest, less complicated, and only tool less system in the market today where you can swap your springs on the fly.
It is so easy to do, that in fact, anyone without any technical skills could do it and accomplish a spring change in less than 4 minutes!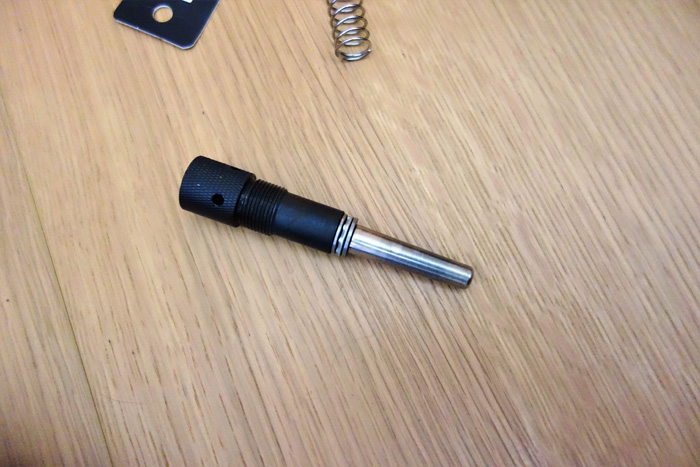 I'm now officially a fan of the SAEC system by Specna Arms, and yes I did convert to their system!
The operation is really simple and all you have to do is remove the stock, then unscrew the buffer nut which is quite easy to do with my bare hands thanks to the grooves and cuts on the nut.
The next step is to just twist the buffer tube and pull it out. This then reveals the back end of the spring guide which a solid, heavyweight screw that also has those same grooves that help to unthread the spring guide easily from the gearbox.
Once this is done, access to the spring couldn't be easier and it is now a breeze to replace with another spring suitable for the gameplay and site you are about to go into!
There are increasingly a greater number of AEGs with "Quick" spring change features, but this is the only one that is really quick and it is tool free.
CONCLUSION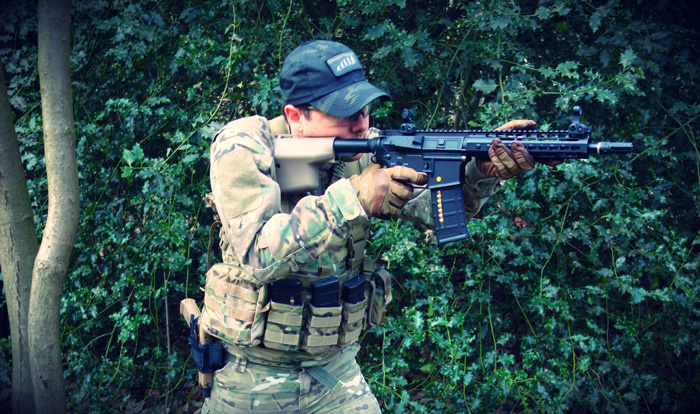 Finally Airsoft is moving on past the original TM gearboxes and we're seeing more and more innovations coming our way. Some more exciting and some more useful such as the SAEC system on the Specna Arms.
The SA-V04 9 inch Keymod Specna Arms is for me my first contact with the brand which made a lasting impression on me.
Price wise, it is a bargain for what you're getting as for only €245, or around £186, will get you the most advanced quick spring change system in the market and very high quality replica that is more high range than it is mid-range.
Specna Arms is now on the top of my list of preferred manufacturers and the SA-V04 will go with me to CQB games from now on!
Pros
SAEC System is the best quick spring change in the market
Super accurate and great range for the barrel length
Powerful motor
Included Lipo
Very good build and materials,
Love the NSR style KeyMod rail and the upper receiver
Cons
Easy to switch fire selector
Would be great to have a KeyMod rail section included in the box