The SA-C06 CORE AEG By Specna Arms
Master Chief
03 Oct 2017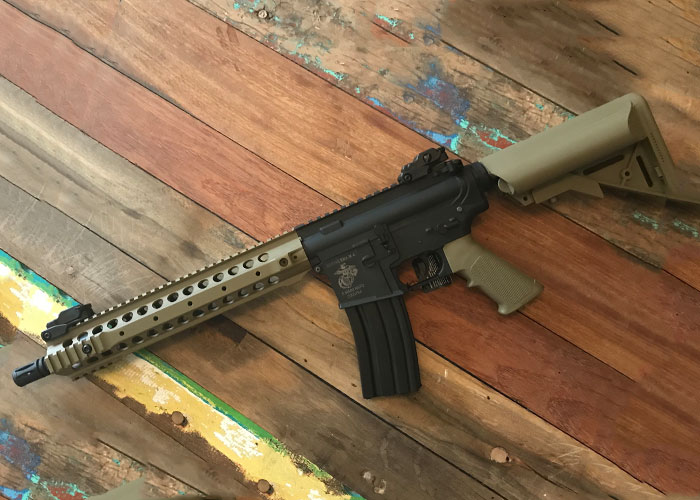 The M4 carbine and similar design assault rifle is still to this day the most popular and most sought after airsoft replica in the market today. And this is the main reason why airsoft manufacturers make more of this variant and even go to the extent of making their own designs. There is literally a huge number of M4 variants out in the airsoft market ranging from sniper DMRs to short barreled CQB rifles.
Players have different preferences when choosing an airsoft replica to buy. More serious players normally go for quality and more realism both in look and function. New players or newbies would initially go for a starter replica sometimes opting for the more affordable replica. Over a decade ago, we all saw the rise of the cheap ACMs or All China Made airsoft replicas. But unfortunately, their low cost was reflected on their low quality. But they still became very popular to budget airsofters and most of these replicas came complete with batteries and chargers, and sometimes even eye protection. Also they came with stiffer and stronger springs which meant that their muzzle velocity is higher than the high end ones. Eventually, the high end makers saw this market and they started making cheaper replicas which they called the sportline version. The cost cutting came from the use of cheaper materials such as ABS or polymer receivers but most of the time, the internal quality is still excellent.
Specna Arms is an airsoft manufacturer from Asia and on their website they describe their products with the S4 which translates into: Satisfying Price, Supreme Quality, Spring Quick Change, and Spectacular Range of Models.
The latest replica range to come out of the Specna Arms family is the Specna Arms CORE and our friends from Gunfire in Poland have sent us a sample to try.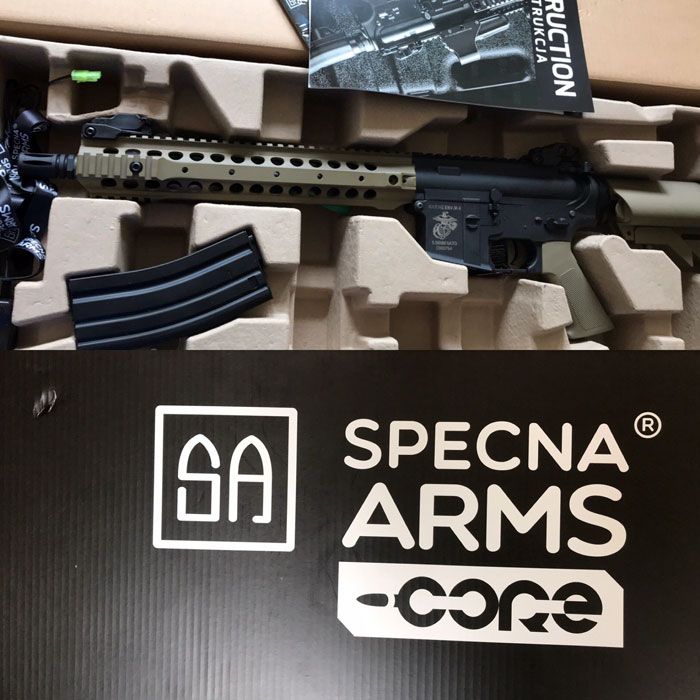 THE SA-C06 CORE
The Specna Arms Core variant that was sent to us is the SA-C06 AEG. Just like most of the Specna Arms AEGs that are available at Gunfire, the replica is an M4 variant and is mostly made of Nylon Fibre. Both upper and lower receivers including the buffer tube is plastic. The good thing that Specna Arms did is give the plastic a very dull finish. There is no shine on this at all making it look like metal from a distance. It has markings on the left side of the receiver and even that has a faded finish. Whether that was intentional or not, it gave it a really nice look. The front handguard is made of metal and has a good finish. This review sample I got has a tan finish.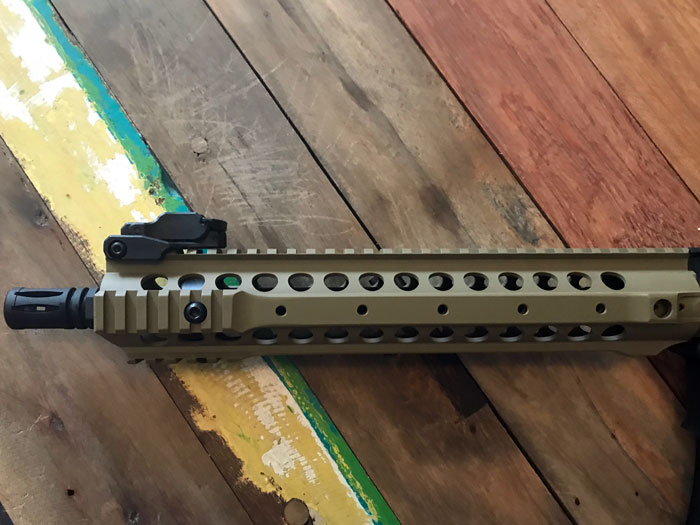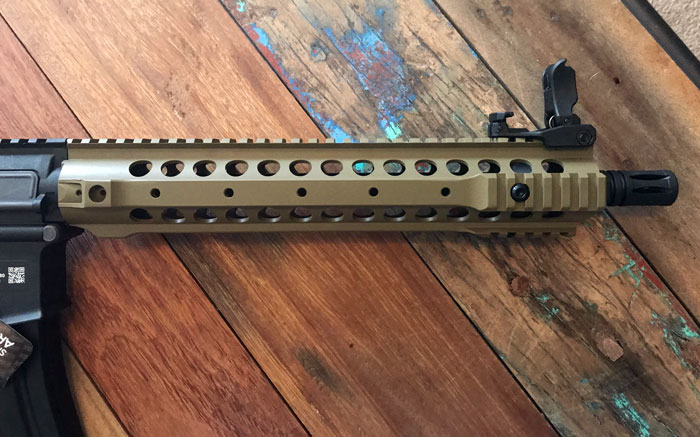 It also has a top rail which is flushed with the top rail of the receiver. There are shorter rails on the sides and at the bottom of the handguard, in short it is a quad rail.
The fire selector switch cycles smoothly from safe the semi to full auto and back. The folding front and folding rear sights are plastic but are spring loaded and can be deployed as a push of a lever behind the sight assembly. The pistol grip is the standard M4 style grip.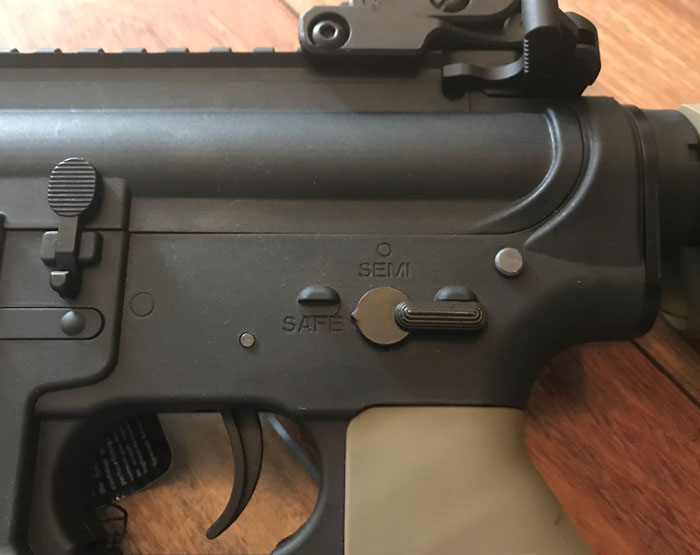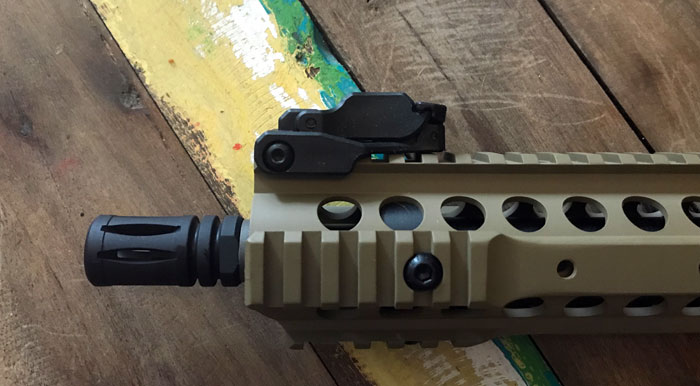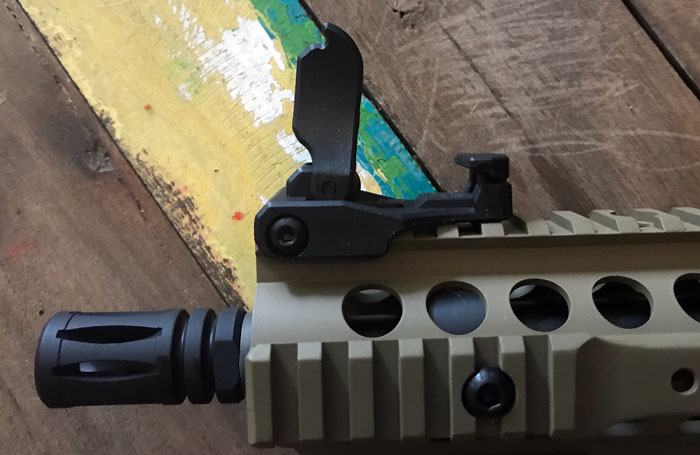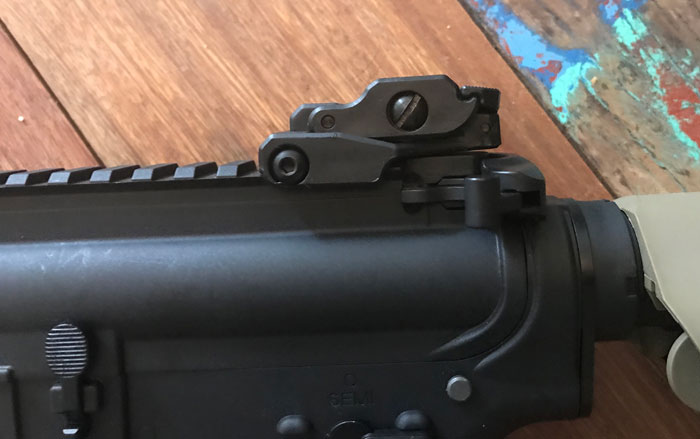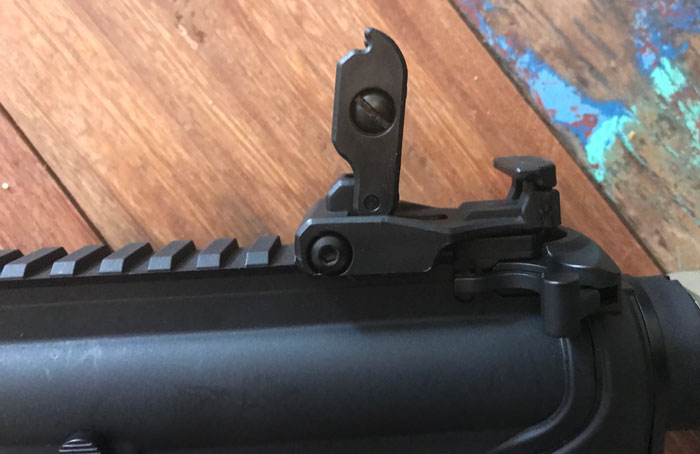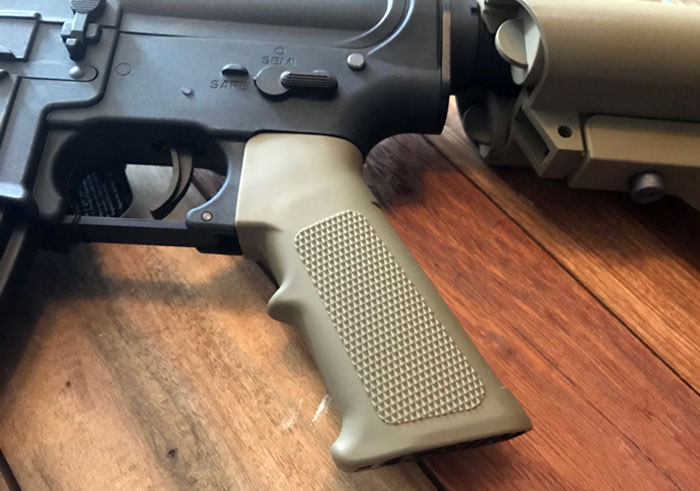 As I mentioned, the buffer tube is plastic and does not have an external lock nut. It is held by a screw that goes into the gearbox and this used for the quick spring change feature. It has a 6 position stock which also acts as the battery housing.
The package comes with all the usual bits and bobs such as user manual, 1x hicap metal magazine and Specna Arms added a 9.6v nunchuck battery and charger.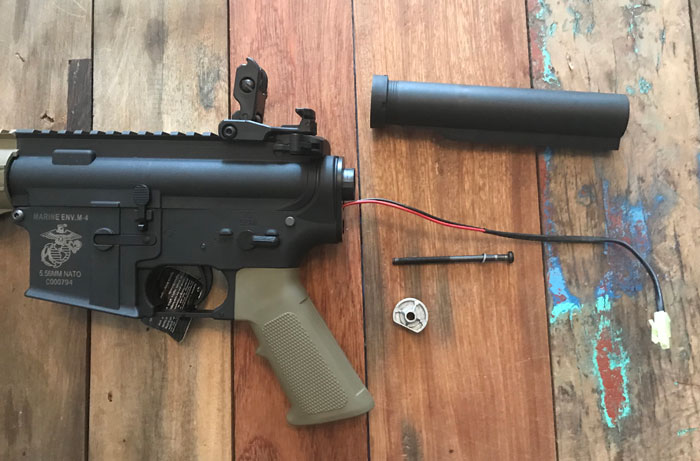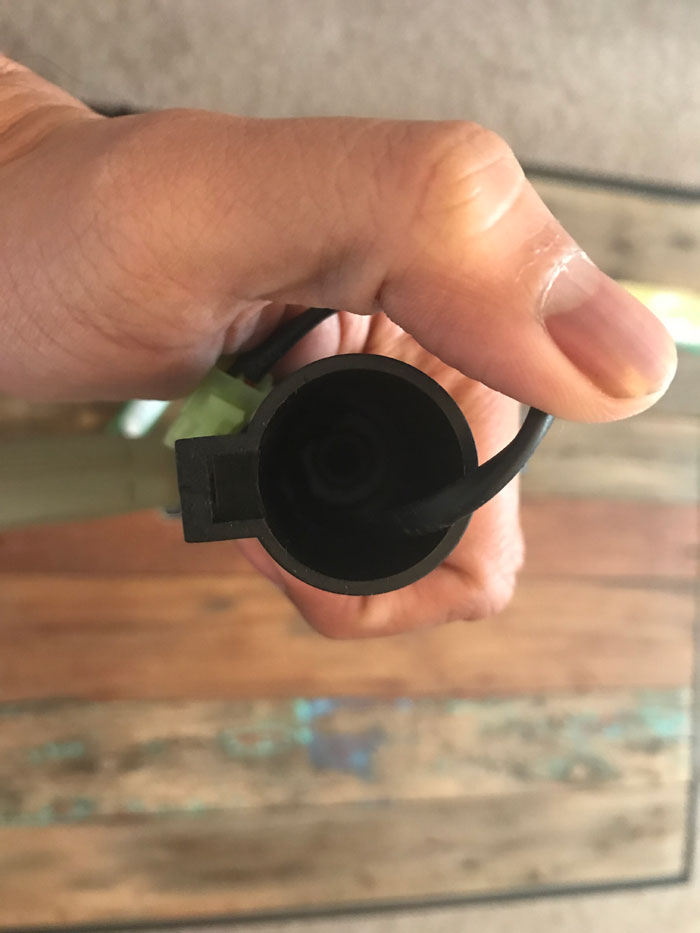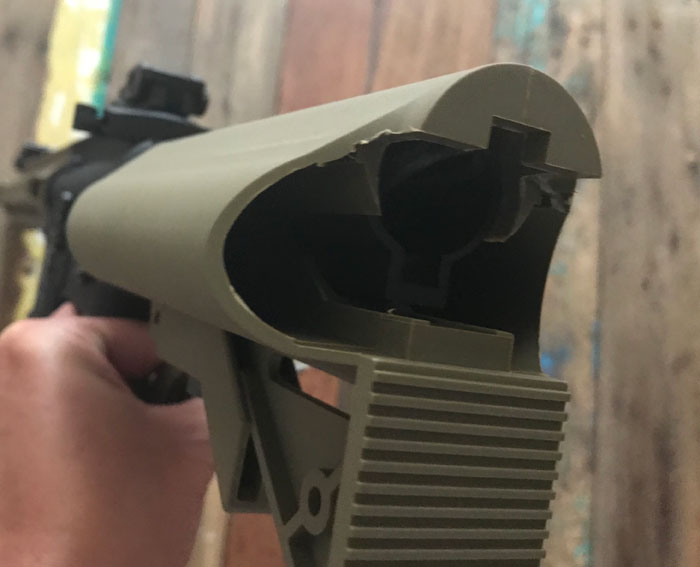 INTERNALS
The Takedown is the usual M4 style replica takedown. As this replica has a quick change spring feature, it is easier to take the spring out first before opening the gearbox. Inside, it features metal gears which are nicely shimmed, Specna Arms added a sector chip to make feeding more efficient. It has a metal toothed piston with an aluminium cylinder and the gears are well greased. The hop-up chamber is plastic, with the adjustment dial easy to rotate making hop-up adjustment an easy chore.
The replica comes with a M130 long type motor with Specna Arms branding. I had to adjust the motor height a tiny bit to get rid of a whining noise but other that that the rate of fire and responses is very good.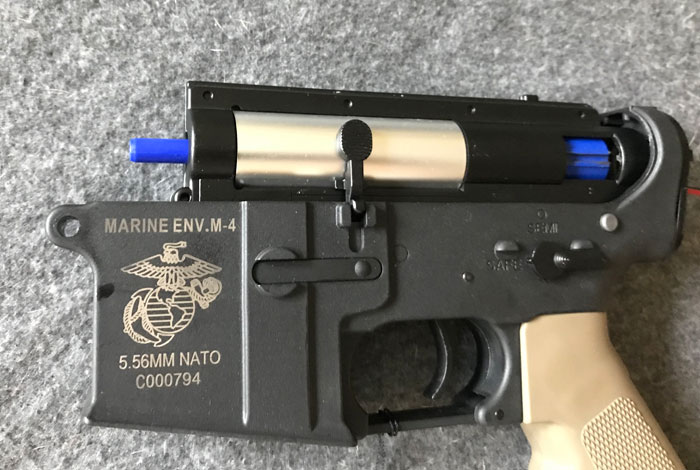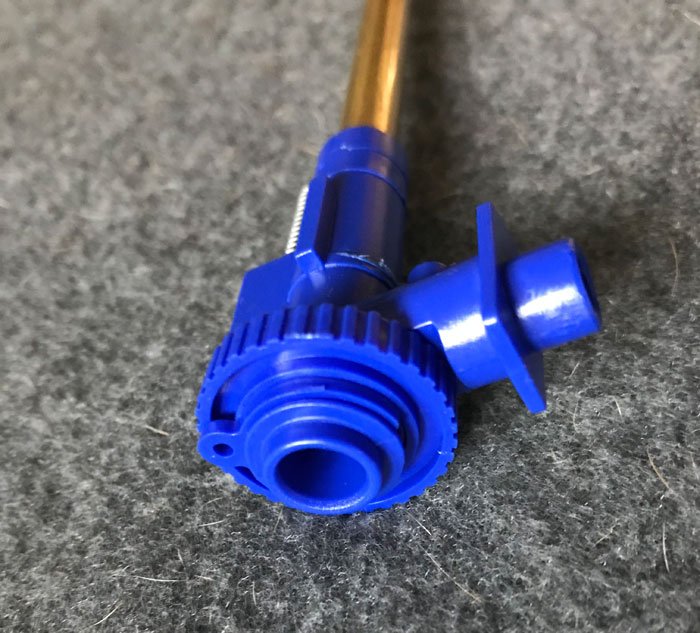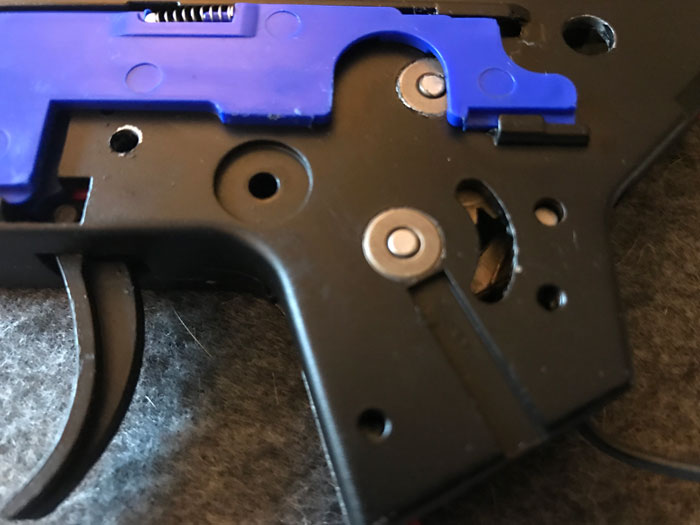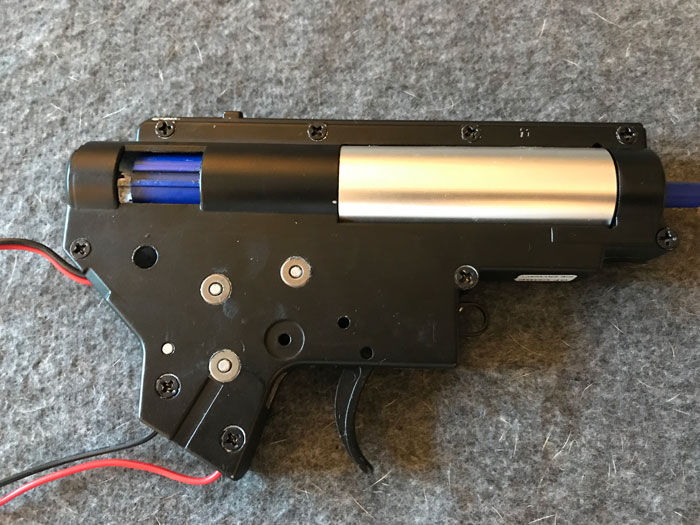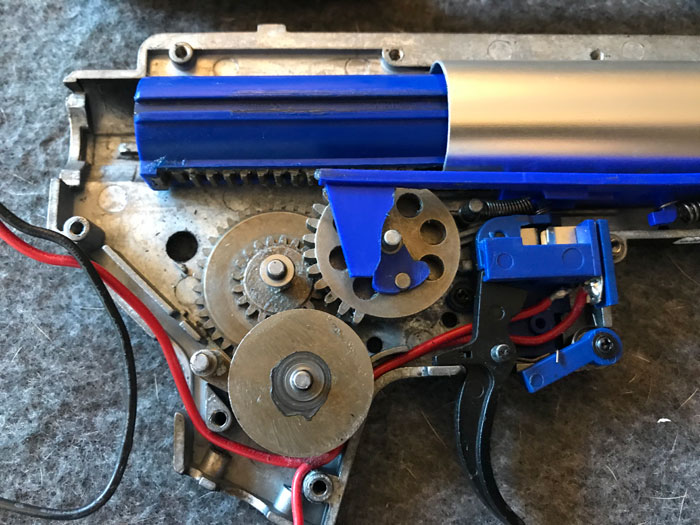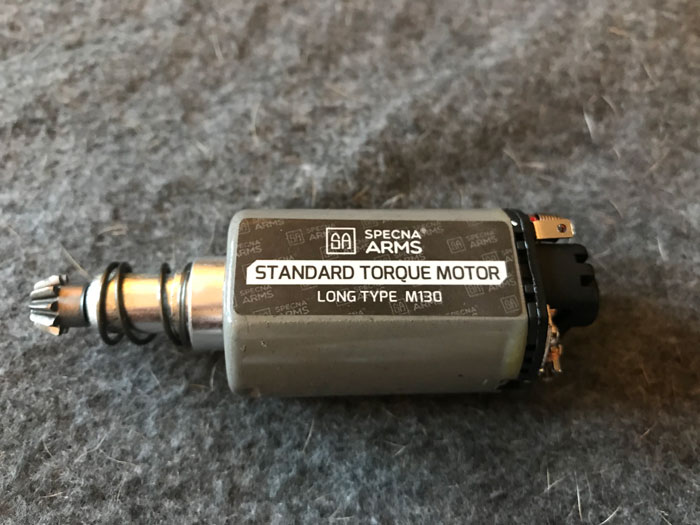 SHOOTING
I was impressed with the performance of this replica. The trigger is reasonably responsive. I didn't feel any lag or delay when shooting it as semi auto and the rate of fire with the M90 spring using the 9.6V nimh battery is pretty decent.
Accuracy is good as well and BBs were flying in a straight line. I was able to test it up to around 20 metres and I had no flyers on 1 full high capacity magazine.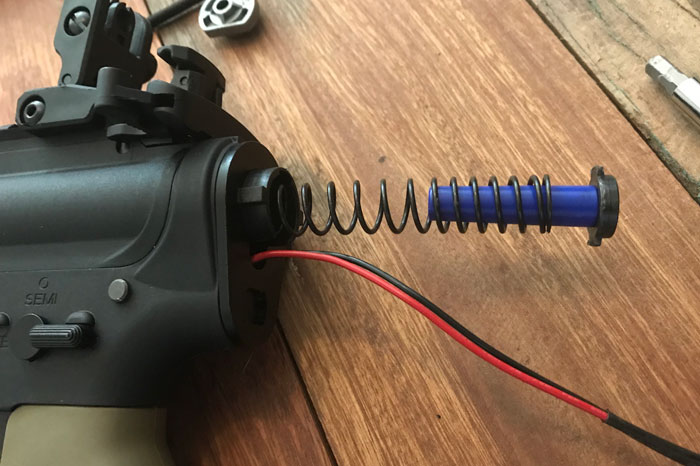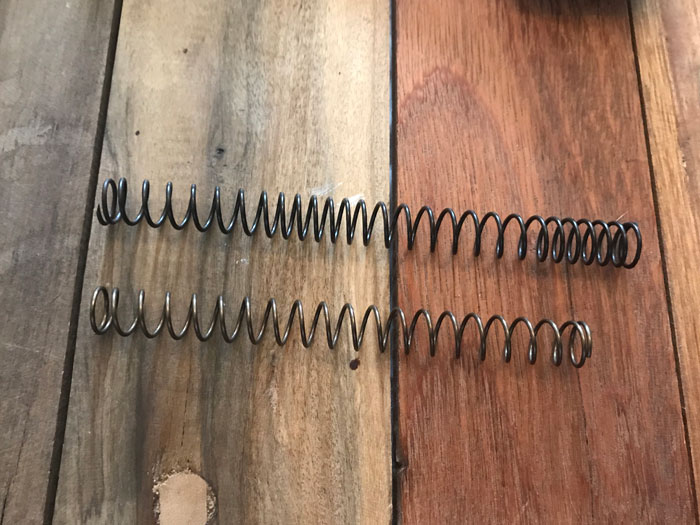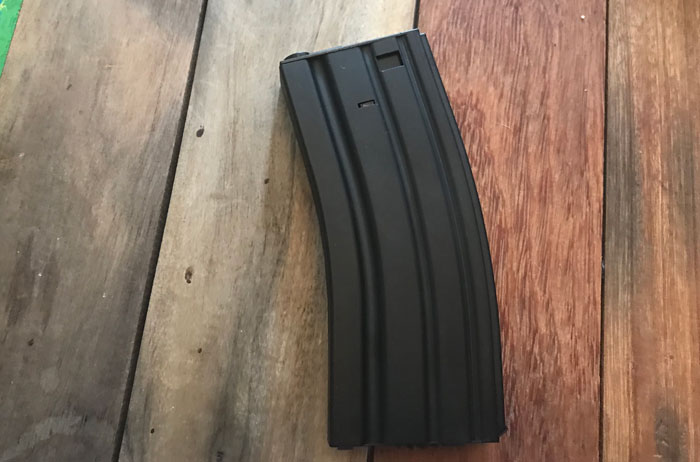 CONCLUSION
This Specna Arms Core is a pretty decent piece of airsoft replica. It is very well built and looks good in the eyes. Yes, most of it is made of plastic but from a distance it doesn't look like it. The rifle is very tactical looking and shoots very well.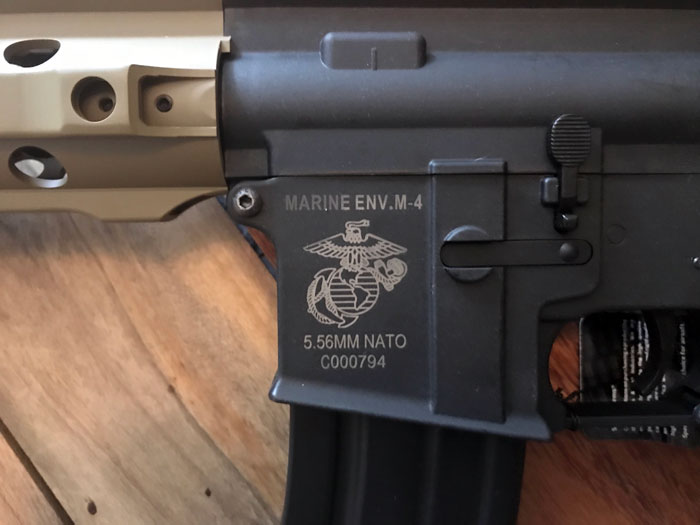 There is enough rail space to attach all the "tacticool" gears and accessories that you want. Both sights fold down to give way to a scope and both can be deployed easily if needed. There is a large battery housing within the stock and easily fits a 9.6 Nimh battery.
The replica also feels solid despite the plastic parts it has a good weight where it's not heavy but it's not too light. This airsoft replica will be great as a starter rifle or as a spare rifle in the event that your primary weapon breaks.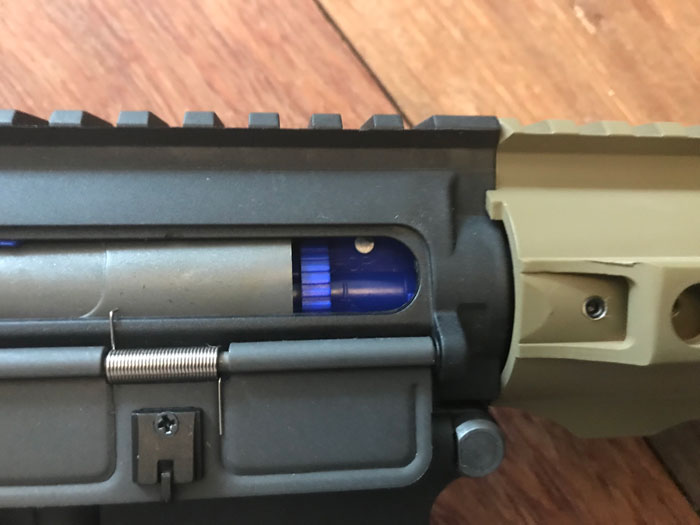 The best thing about this replica is its price, this variant costs under £140 on the Gunfire website which is the most expensive variant among the Core range with the cheapest currently costing under £100. Please be reminded that Gunfire is located in Poland and prices are dependent on the exchange rate between the GBP and the Euro. For UK-based players, Gunfire are now accepting payments in Pounds Sterling.
The only concern I have with this replica is there could be a possible weak spot where the buffer tube attaches to the receiver. The plastic buffer tube is only attached to the rifle via screw that goes into the rear of the gearbox. The buffer tube does not screw into the receiver and there is no lock nut. I have seen players fall on top of their rifles and have seen metal rifles break so this is a big concern.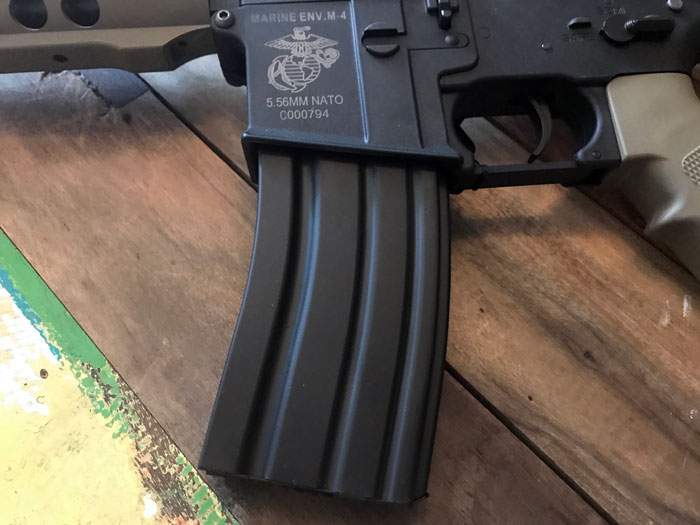 The Good Bits:
Feels solidly built
Nylon Fibre material has a nice dull finish
Comes with 9.6v battery and charger
Includes 1x hi-cap magazine
Quick spring change feature
Spring loaded folding front and rear sights
Metal railed handguard
Large battery space
Cheap
Comes with a 12-month warranty according to the Gunfire website
And The Not So Good Bits:
Plastic receiver
Plastic buffer tube
Possible weak spot between receiver and buffer tube
Our big thanks to Gunfire for sending us this sample.