RWA Nighthawk Custom COVERT OPS
Master Chief
17 Dec 2017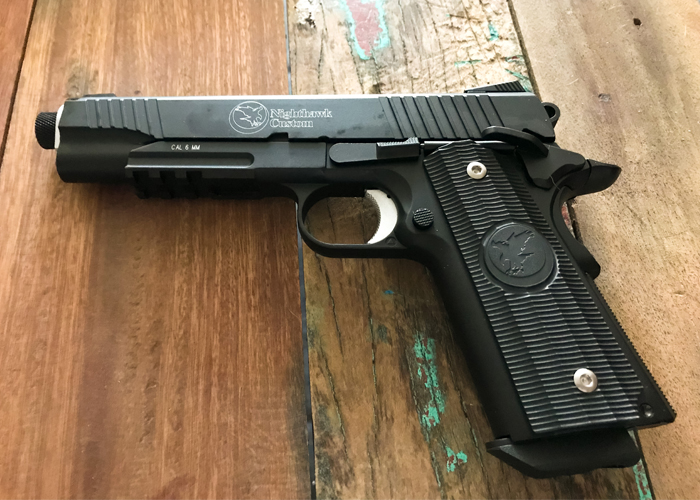 Winter is Coming... and in airsoft we all know what that means, unusable gas powered pistols. I love using my sidearm pistol during games. Since I use midcap magazines for my primary weapon, I always end up going for my sidearm when I run out of ammo or when I get a gun hit during a game. A pistol also gives me extra manoeuvrability in tight areas and also enables me to be extra stealthy when I need to be. But as I normally always play outdoor skirmishes due to the lack of indoor play areas in my area, I end up unable to use my gas pistols during the winter hence my sidearm becomes more of a decoration rather than a backup weapon.
Some players have resorted to powering their gas pistols with HPA by "tapping" their magazines. HPA is great as it is not affected by cold weather but I am just not keen on having a hose attached to my pistol which is meant to give me better freedom of movement. So the next best thing... Co2 power.
I reviewed a Co2 powered pistol a few months ago. It was great to use but unfortunately it broke due to wear and tear with just a few times of use which was very unfortunate. Now it's winter and I need a pistol that I can use on cold weather. Looking around I stumbled upon the RWA Nighthawk Custom range and noticed the Covert Ops model. This is a fully licensed Nighthawk Custom 1911 pistol that would be within the price range of most airsofters. So I got in touch with our friends from RWA or Redwolf Airsoft in Hong Kong and they were more than happy to send me a sample to review.
The pistol came to me here in the UK in just a few days from being shipped from Hong Kong. Inside the box you will get the pistol, the suppressor, single stack Co2 magazine, a tool to aid in loading the Co2 capsule, and a small bag of BBs.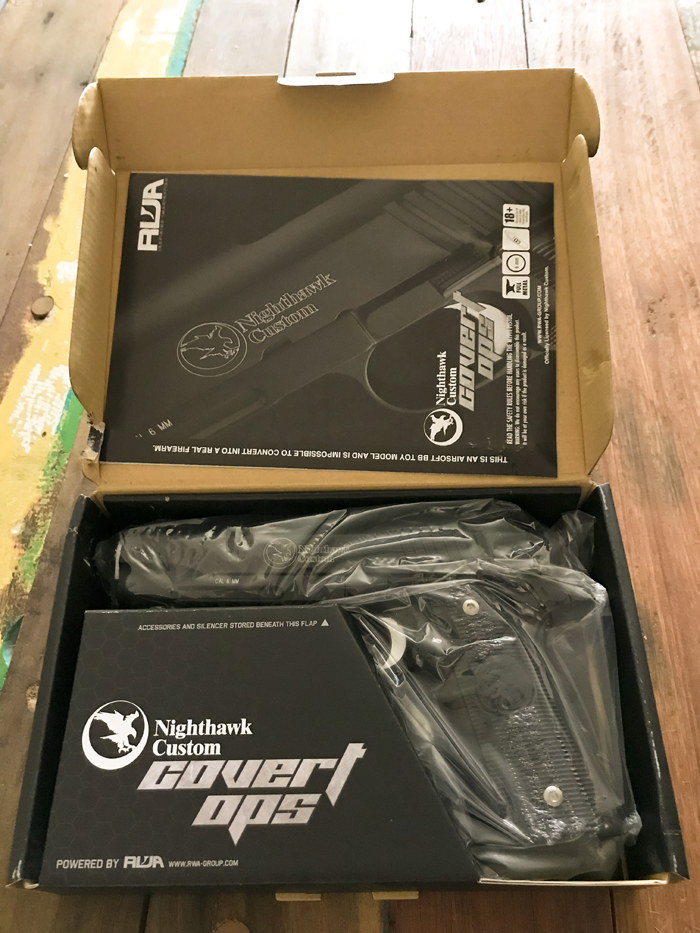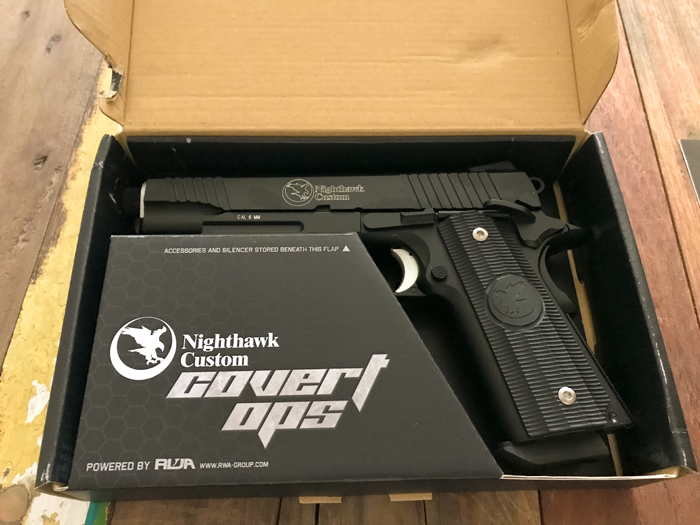 I expected this pistol to look good as it is fully licensed by Nighthawk Custom and I was not disappointed. The pistol looks very good. The entire gun has a very nice matte black finish with the stock screws, trigger and barrel bushing finished in chrome. It features the Nighthawk Custom Gator Grips which are actually quite comfortable to hold.
As the pistol is fully licensed by Nighthawk Custom, it bears all the markings of its real steel counterpart. On the left side of the slide is the Nighthawk Custom logo. On the frame on the same side are the markings "CAL 6 MM". On the other side of the frame you will find the markings "NIGHTHAWK CUSTOM" "BERRYVILLE AR USA" and a serial number "17200189". Also on this side is the RWA logo and the words "MADE IN TAIWAN".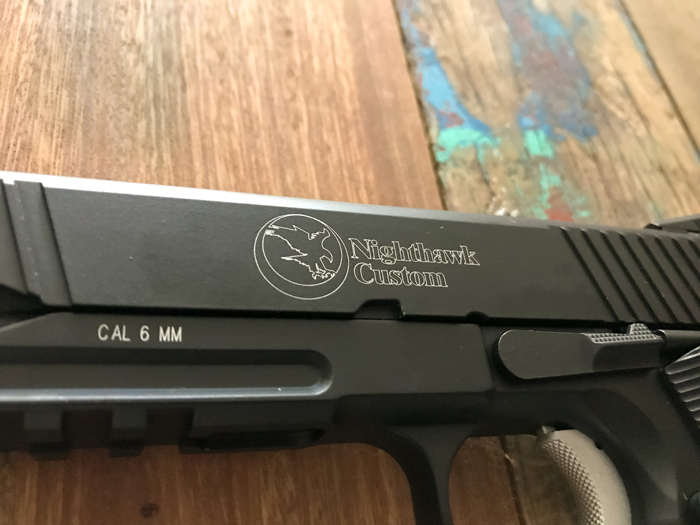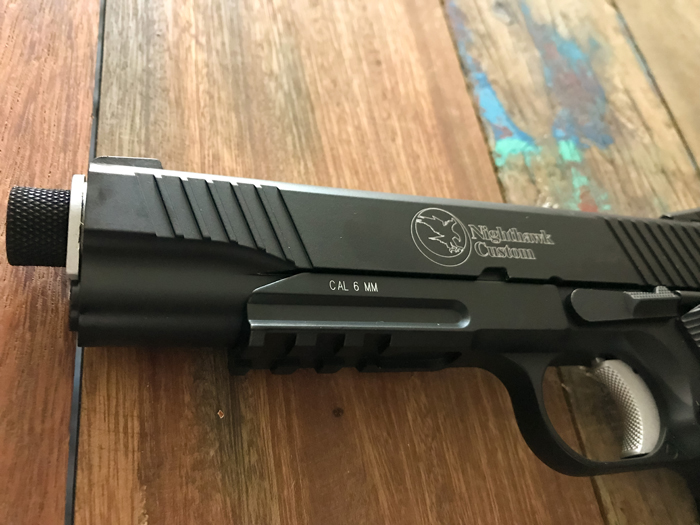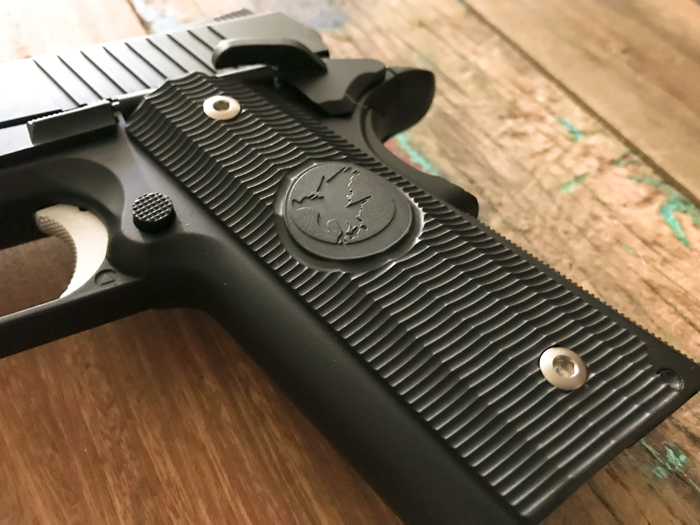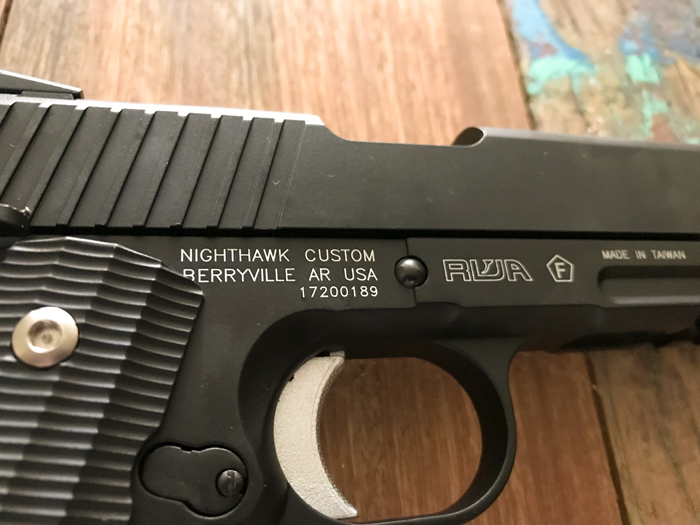 The frame has a rail on the underneath for accessory attachments. The pistol also has an extended threaded outer barrel for the attachment of the suppressor. It is good to note though that the suppressor is for aesthetics only and does not do any function at all. If you choose not to use the suppressor, the package comes with a barrel thread cover which directly screws into the threaded part and lays flushed with the outer barrel.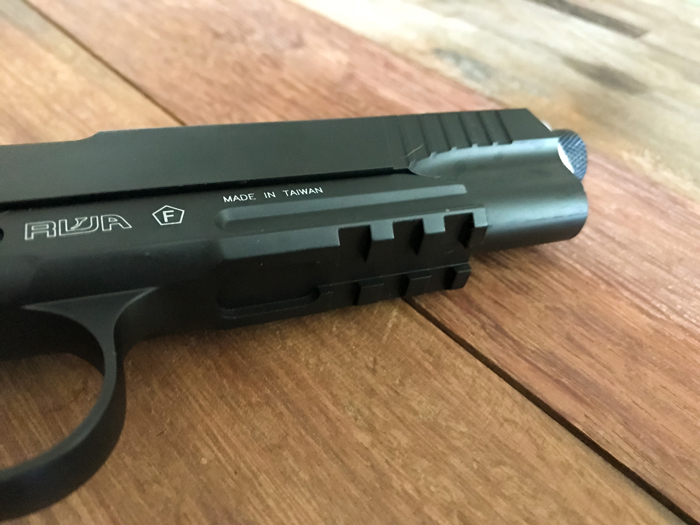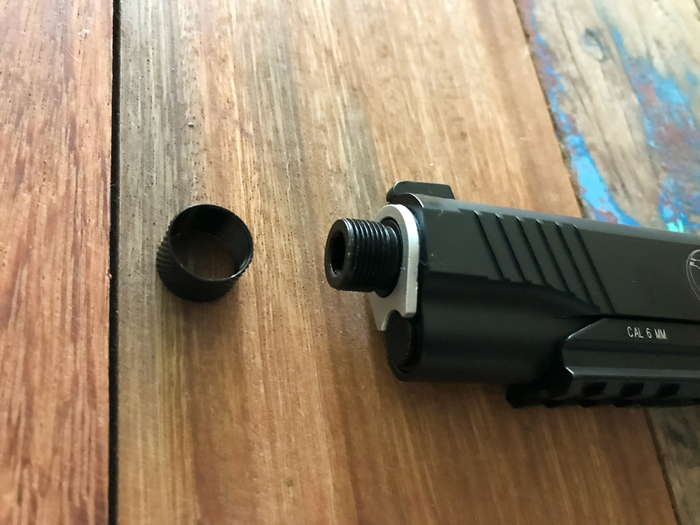 The suppressor although non functional is still a good addition and creates all that Covert Ops feel. The suppressor is made of light weight aluminium so it will not make the pistol front heavy when attached. It also has a small outer diameter which gives it a low profile and still makes the sights usable. The only downside of this suppressor is that it has no foam lining inside which firstly, prevents it from muffling the sound of the gun when fired; and secondly and probably the most noticeable thing is that it makes a hollow tube sound when the slide slams back in place. It actually sounds like hitting an empty plastic bottle.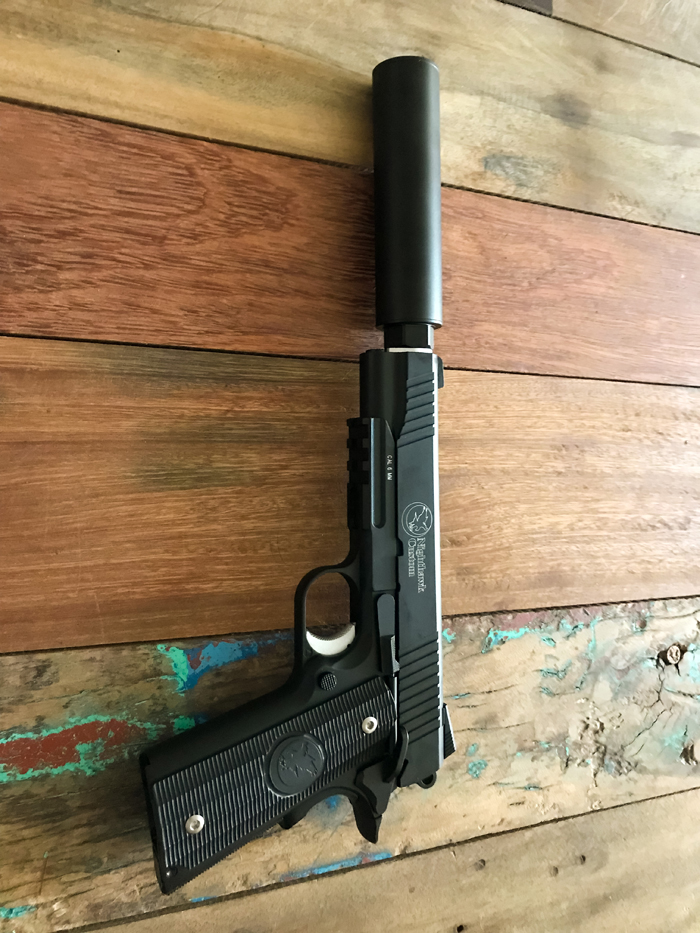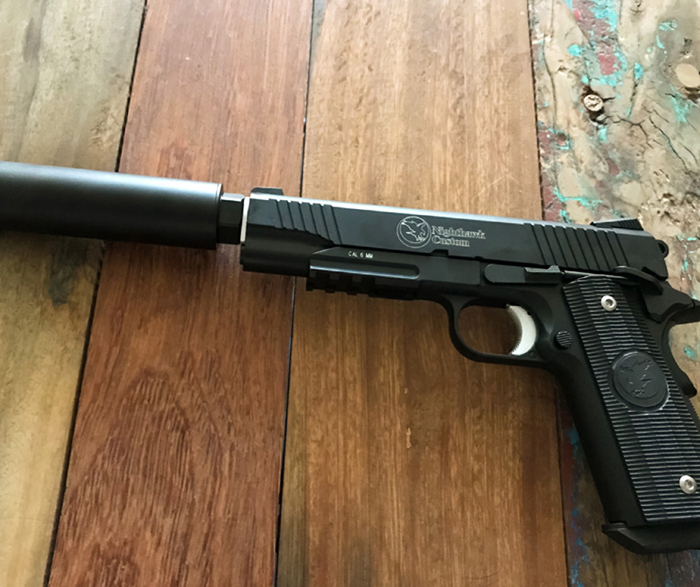 PERFORMANCE
Okay...I would like to let all my readers know that this review is not about accuracy. My aim in doing this review is to find out if the RWA Nighthawk Custom Covert Ops can be a good cold weather blowback sidearm.
First, this all Covert Ops thing with the fake suppressor... I have to be honest, it does not work. The suppressor that comes with the pistol doesn't do any performance enhancement effect and in fact it makes the pistol sound weird with a clunking sound produced when the slide slams back in place. But if you can go past that and wants to get the spy or hitman look then honestly, the suppressor does make the pistol look bad ass. Who ever came up with this suppressor design thought about usability rather than function. From what I can see, if the suppressor was designed to muffle some of the sound coming from firing the pistol like most airsoft suppressors with foam inner lining does then they would have needed to make it a bit bigger in diameter. So why didn't they do it like this? Well if they did, the pistol sights will become useless. The suppressor that comes with the Covert Ops is thin and low profile. When attached the the pistol, it doesn't come over the sights so looking down them and aiming is still possible.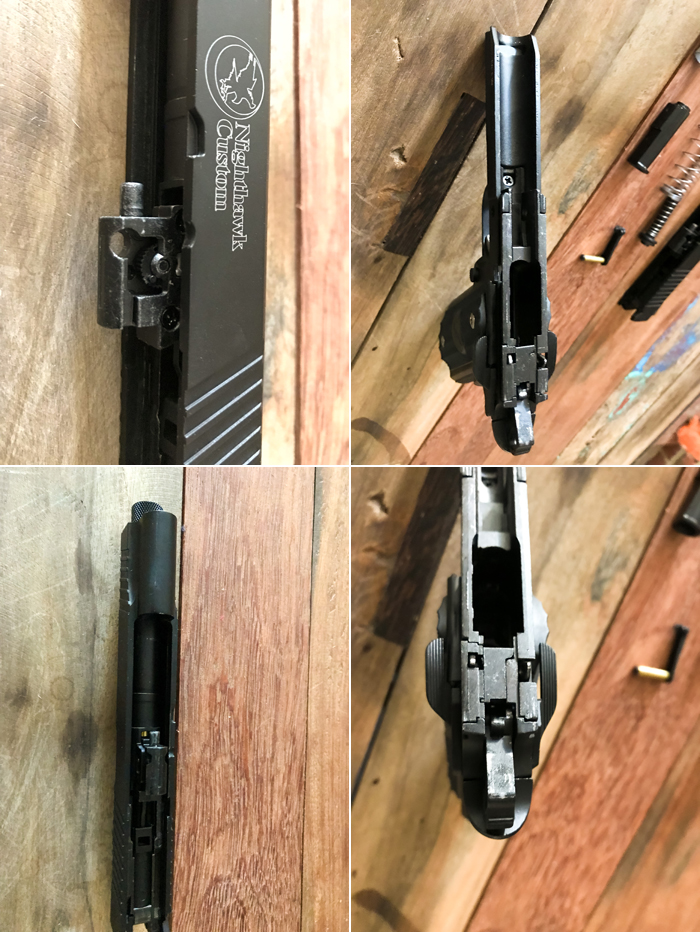 Shooting the Covert Ops is quite satisfying. Like most Co2 powered pistols, the Covert Ops produces a hard blowback kick giving it a close to realistic recoil. I tested the pistol outdoors with a temperature of below 10°C. Using a normal 12g Co2 capsule, the pistol shot perfectly and surprisingly quite economical. I was able to shoot and reload the 17bb capacity magazine 3 times and still have some Co2 gas left in it.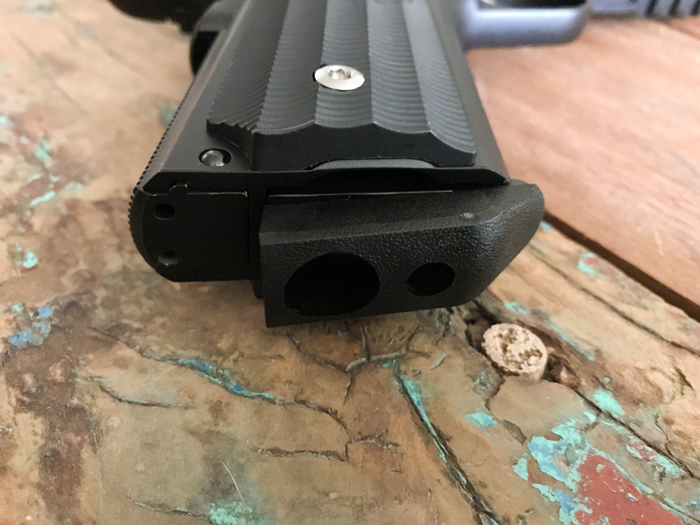 Accuracy, although I am not after this, is pretty good with me hitting a human head sized target constantly at a distance of about 20feet. The hard kick of the blowback does affect the accuracy.
Some condensation did develop on along the slide but this did not seem to affect the performance of the pistol.
CONCLUSION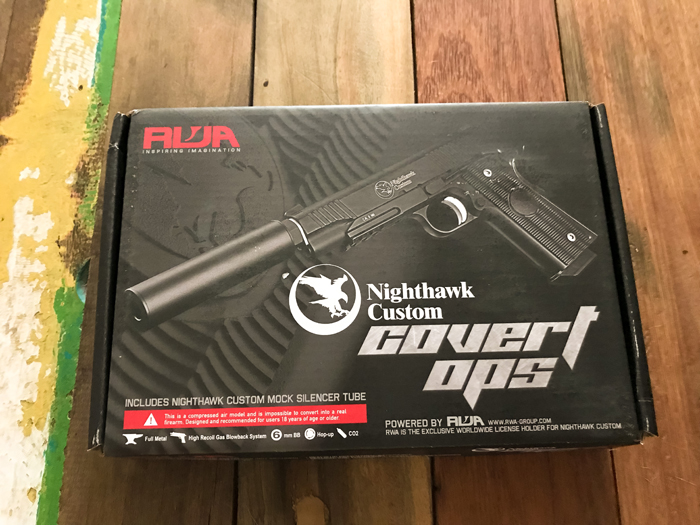 Yes winter has come here in the U.K. and airsofters are still in full swing and playing every weekend. And problems with gas blowback pistol will surely hit a lot of them.
I would not say that the RWA Nighthawk Custom Covert Ops Co2 pistol is the best pistol for winter weather because we all know it's not. But it is a perfect sidearm for both indoor and/or outdoor airsoft games. It is accurate, produces a hard blowback kick and most importantly, works in cold weather where most gas guns will struggle.
Good Bits
Fully licensed Nighthawk Custom markings
Beautiful finish
Hard kick
Suppressor does not block the sights
Fairly economical with Co2 consumption
Works in the cold
Bad Bits
Suppressor is purely for looks and makes a weird clunking noise
Many thanks to RedWolf Airsoft for providing this sample for review.