MadBull PWS 15-Inch KeyMod Handguard
Operator7
22 Apr 2015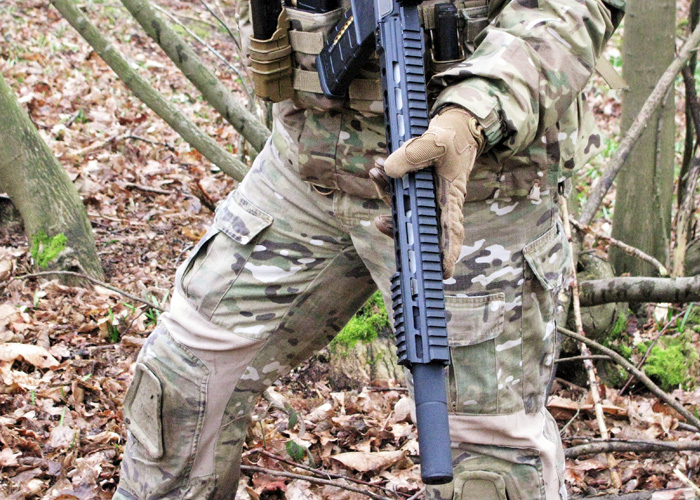 Most weapons and weapon accessories manufacturers are joining the KeyMod bandwagon and rightfully so as this is probably one of the biggest modern innovations when it comes to rail systems. By having a KeyMod handguard, manufacturers are able to keep the weight down and make a more ergonomic and easy to grip handguard.
PWS, or Primary Weapon Systems is the real steel maker that licensed this handguard to MadBull Airsoft and the airsoft version is pretty much bang on!
DESIGN, BUILD QUALITY AND ERGONOMICS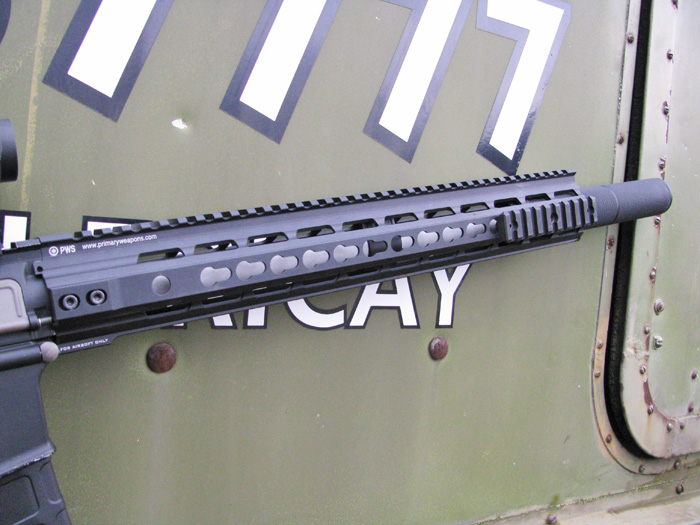 Here's why this handguard is a winner and I can see myself replacing the handguard of any gun I get in the future with KeyMod handguards, just because of two simple but very important reasons: weight and ergonomics.
By shaving away those unnecessary lumps of rails you'll never use on the a traditional handguard, keeping only the top rail section which is known to be used more frequently and allowing the attachment of small sections of rail through a simple yet effective method called KeyMod, not only are you getting a much lighter handguard; the resulting design is flatter and slimmer, making it much easier to grip.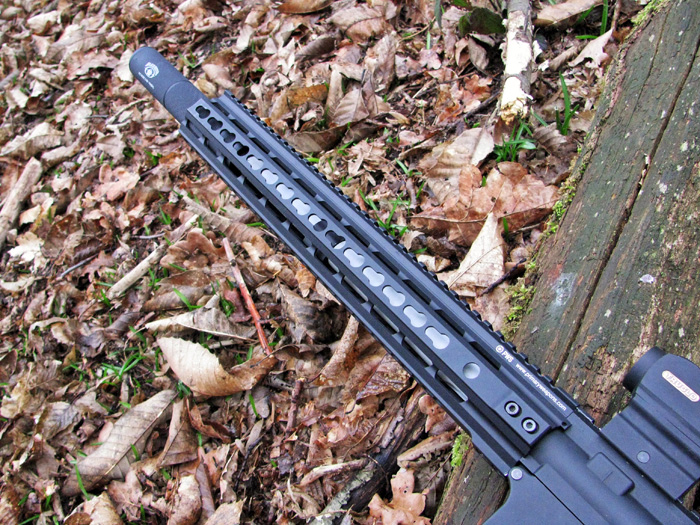 Even though we are talking about a 15-inch handguard that could easily weigh over half a kilo, it is down to slightly more than 370 grams including all screws and the very lightweight barrel nut.
Thanks to its compact star like shape, gripping this handguard is effortless and actually helps when engaging rather being on the way since I am able to use its length to grab hold of how I see fit depending on the scenario around me and type of engagement. And believe me, it's great to have the choice.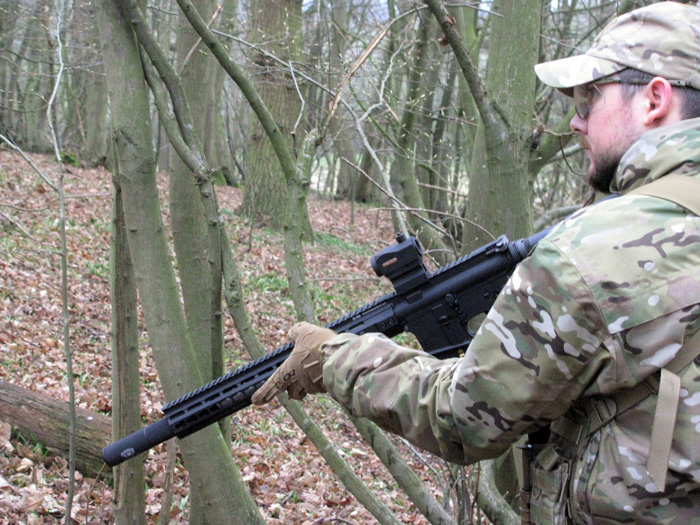 It's also great to be able to use this as the perfect excuse to upgrade your inner barrel and thus gain even more range and accuracy. If you think this will get in your way in close quarter engagements, think again as it's really easy to maneouvre thanks to its weight and ergonomics.
Of course, quality is never an afterthought when it comes to Madbull and in order to get the best compromise between weight and quality, the materials used are very solid and durable, which has been a recurrent note by this brand which simply just doesn't disappoint me.
In my case, I slapped this on my WE Katana system with a Crusader barrel, and where the outer barrel was missing I just used a D30x190mm CCW Blackwater suppressor that fits into the handguard perfectly!
The trademarks are also very realistic and look really cool!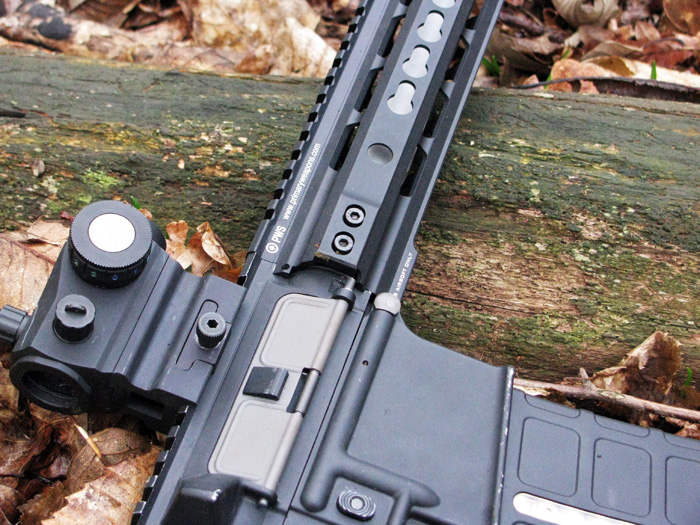 When running this setup, it's really easy for me to grip the gun making it smooth to transition my hand from the front (when engaging targets at a longer distance) to the back when in closer quarters combat.
INSTALLATION AND FEATURES
Installing this handguard is really easy as you can clearly see in the following video below: just slide in the barrel nut and screw it tight; slide in the handguard; and tighten the 6 screws that lock the free floating handguard to the locking nut. Once this is done it will remain solidly in place and it won't budge or grudge!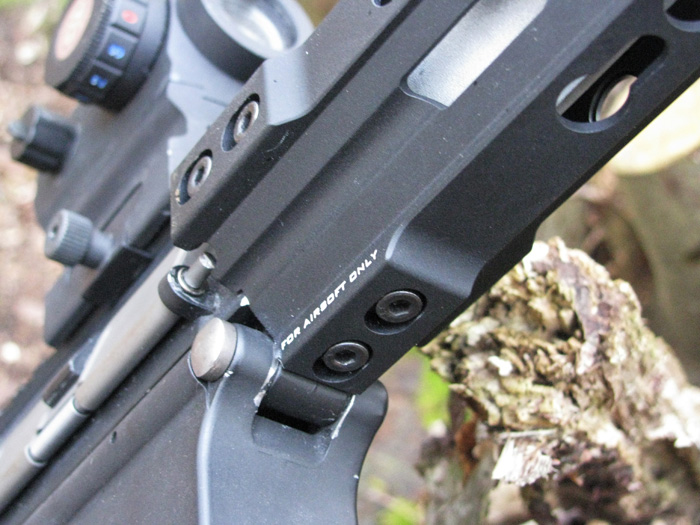 Apart from the KeyMod holes which are present on the sides and on the bottom section of the handguard, you'll also find a couple of very useful QD mounts next to the barrel nut, which is the best structural point to have these on such a long rail.
Madbull also sells separately the rail sections that you can easily add to the handguard. This is perhaps the negative point I would have to say about this product, as being an expensive licensed Airsoft product, it would be nice to have out of the box at least one rail section to play around.
CONCLUSION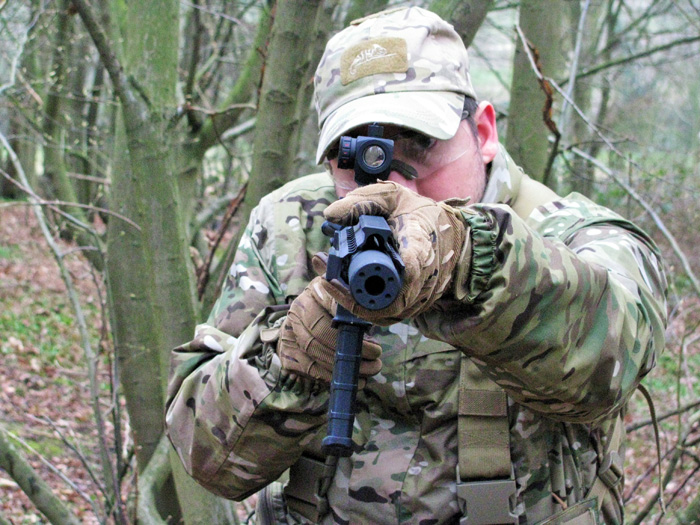 This is definitely a great handguard if you're looking to cut down the overall weight of your AEG and improve the grip. This in turn improves stability and your stance. But it allows you to upgrade your inner barrel to a longer precision inner barrel and get that range and accuracy you've been looking for. At the same time it has great looks without adding on to the weight and helping you manoeuvre your gun and easily grip it. All these without losing attachment possibilities thanks to KeyMod!
For more information on the PWS KeyMod 15 inch handguard visit Madbull Airsoft.
One final word to thank Airsoft Billericay, a great skirmish site where I play regularly and where I took these great photos!
Pros
Super easy to grip
Not heavy at all for the length
KeyMod
Build and finish are great
Durable
Long top rail
Easy to install
Cons
Could come with at least one rail section