Jing Gong Steyr AUG
admin
02 Aug 2007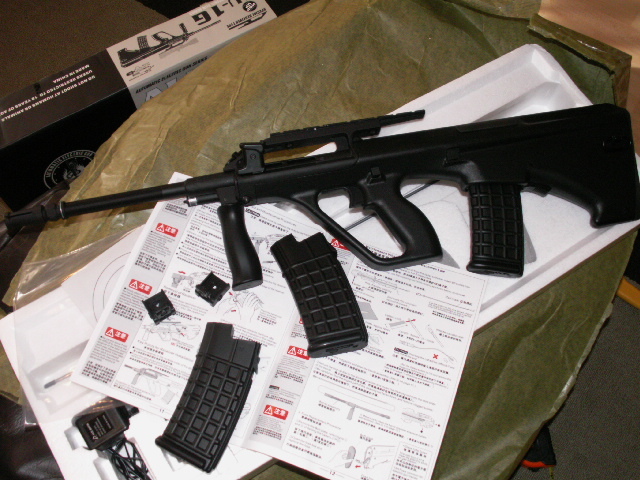 Here it is, my long awaited STEYR AUG by JG (JING GONG of China). After a long delay due to my order's coincidence with the Chinese New Year, it has finally arrived. I still have to field test this in the warzone so meanwhile here's a visual review.
Out Of The Box
First the packaging. Keith of rsov.com made sure it's well packed and indicated that this baby's a MODEL TOY not a real gun (though I really wish it is the real steel). Opening through the bottom of the box revealed my two extra hi-cap mags, a good idea ordering it with the rifle because I saved in postage. The JG box has this weird term: E.H.N.- Emulational High-powered Nicety, though I do not know what they mean by that.
Turning the box right side up reveals the AUG in its full awesomeness! Its got all the stuff you need to get started: an 8.4v NiMH 1200maH battery and charger (I have serious doubts about the quality of this one. It is generic but no I have no complaints), a cleaning rod, a pack of BBs, a high cap mag, a pair of plastic open sights, (JG why plastic?), and the manual (in english, yes!) .
Holding the AUG out of the box, it has a very nice feel. The metal front end - and the gear box and the battery on the rear end makes this rifle well balanced. I just hope the ABS parts of this rifle is sturdy enough (NO. I don't want to do a drop test!). This rifle can be easily be disassembled into 3 parts. Shown here is the rifle taken down into the first two parts: the upper and the lower receiver by a touch of a button. It's cool as it means easy easy field stripping. It has a long barrel (55 cm) and it looks tight bore too that might indicate that it's also good for quick sniping.
I did some test firing, and here are my observations:
The plastic sights are definitely a DOWNSIDE. This gun needs a proper optical sight to make most of its sniping capability.
The acoustics of this gun is sweet! It sounds like a high end AEG (what a shame i posted this under the low-end thread) I can say it just provokes you to keep on firing.
The 2 stage trigger- pull the trigger halfway you get single fire... pull it fully then you get FULL AUTO BABY!!! HoooHAH!
I have doubts about the ABS parts of this gun especially the built-in foregrip.
I have said this already and I'll say it again, the battery is generic therefore I should get a reliable pack before i put this gun into skirmish action. The 8.4v yields a slower ROF to my taste, but it could just be the battery.
And accuracy? I better re-evaluate once I get a better optics.
The Post Skirmish Review
Maneuverability: The JG AUG is bloody heavy man! The total weight of metal parts plus the big scope I installed just slowed me down (yes, that plus the extra weight I gained during my vacation). This is a BIG man's gun. As far as maneuverability is concerned I must say uh-oh… not the one I need if I wanna go fast.
Accuracy: I did not doubt the accuracy of this rifle. However, I think it would be best if I use a slightly heavier BB, maybe a .23 or a .25 that way I can set the hop-up to 0 and zero the scope, then I THINK it would ALMOST be flawless. An assault rifle with a sniper rifle's accuracy. By the way, I found the hop-up difficult to adjust--- you need at least one finger nail with a good edge to do it.
Range: It has probably the same range as my CA M15 A1, maybe just a little bit further reach.
Reliability: With just two games during that day, I find this AUG to be reliable. It did not miss feed at all. My only concern is, the battery compartment is not easy to work on. If you are in the middle of a skirmish and you need to change battery packs--- do it while praying you won't get shot whilst changing batts coz it takes FOREVER to fit back the rubber battery cover/buttpad.
Durability: The dubious foregrip did not break. I also thought the rear sling connector will break due to the gun's weight but it did not. The mech box is screaming loud, maybe because it is a bullpup therefore the mechbox is right next to you ear when you aim. I haven't got a clue if this is a good sign or not. I find this gun NOISY as hell, but I like noisy rifles sometimes.
Other Observations: The ROF of this rifle is not that high. I guess that should be expected from an 8.4v power source but you'll be surprised how much BBs you'll be unloading at your opposing force. I felt there is a need for more mags as I have been shot several times whilst reloading. Also, reloading mags feels weird if you are used to rifles with magazines in front of the trigger.
Final Words


Still an Alpha Whisly Echo Sierra Oscar Mike Echo (AWESOME) gun if you don't mind the weight. This is HIGHLY RECOMMENDED.