Helikon-Tex ACU in Camogrom
Operator7
14 Mar 2013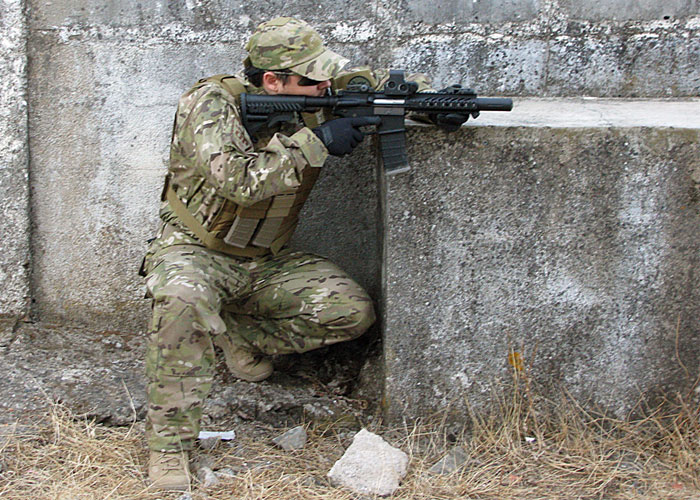 Helikon-Tex have grown to be one of the most well-known and respected brands on the Airsoft scene. They've been introducing some very high level partnerships and popular camouflage patterns recently such as those from Hyde Definition PenCott and A-TACS.
They've also developed a consistent and varied catalog of tactical clothing and accessories that cover most of our tactical needs as Airsofters, being that the ACU Uniform is just one of the six lines of different uniforms that they offer, going from the CPU, SFU, PCS, TCU to the USMC.
You might have seen me wearing this uniform on previous reviews, this is because I have been wearing it during the past months and I had the opportunity to use it through three different seasons: summer, fall and winter. Therefore, and I wanted to let you know how this ACU lived up to the challenge of being an all-year uniform solution to me.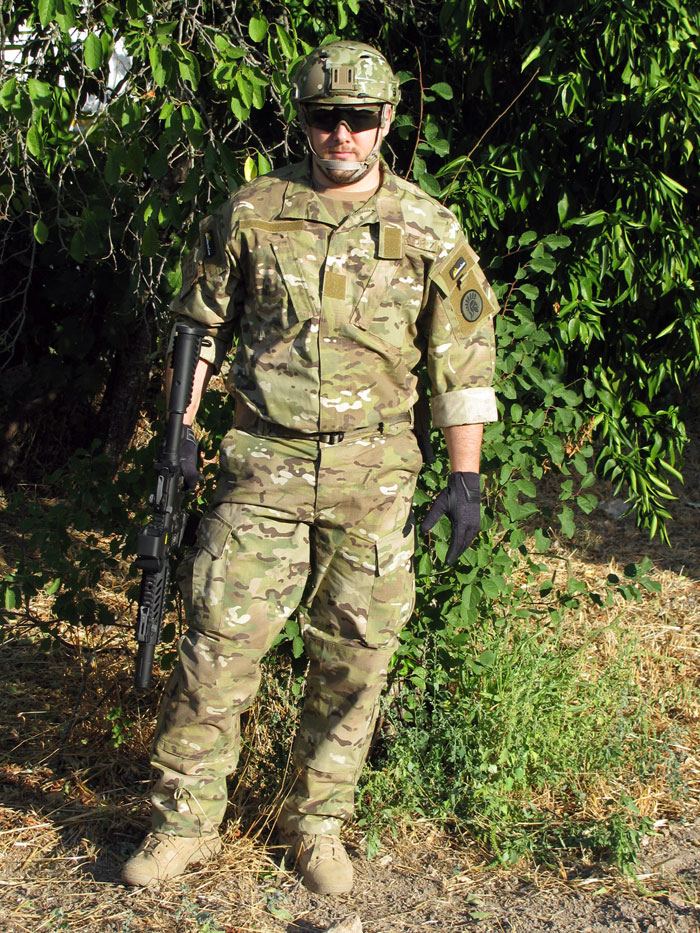 MATERIALS AND DESIGN
The ACU, or Army Combat Uniform from Helikon-Tex is made according to U.S. Army's specifications, which translates to a mix of cotton and polyester fabric. The design is also very standardized so Helikon-Tex followed the rules and created an ACU which you'll be very familiar with, in case you're used to wearing these.
It features four pockets on the shirt: two slanted pockets on the chest and two more pockets on the sleeves, both with hook and loop closures. Additionally on the left sleeve you'll find three pen compartments and on both sleeves there is a very useful compartment for elbow pad inserts.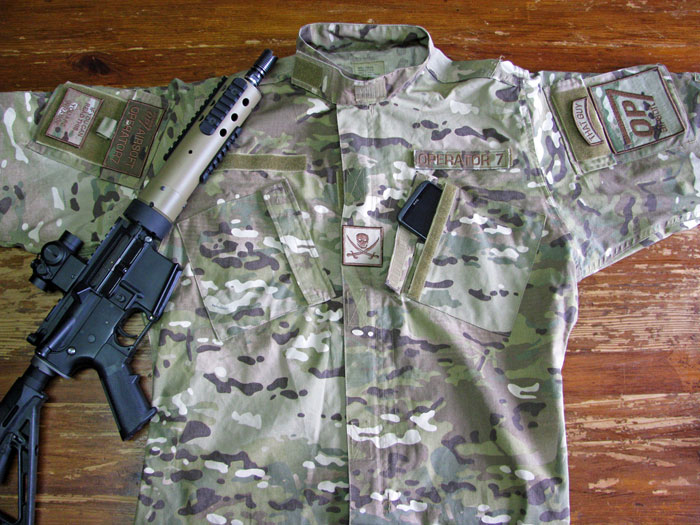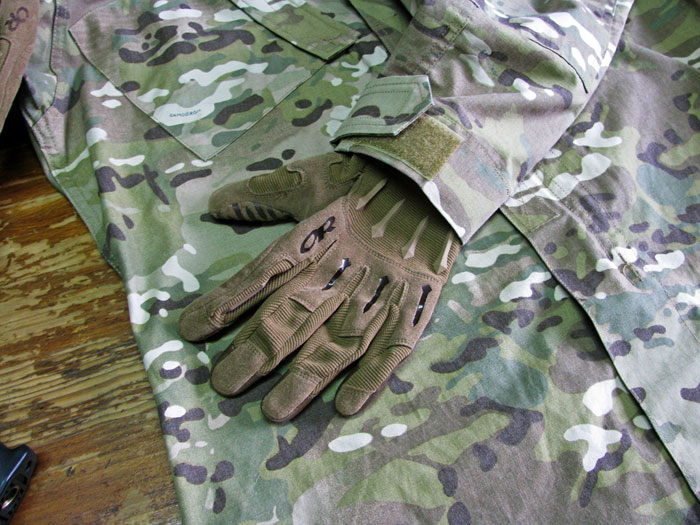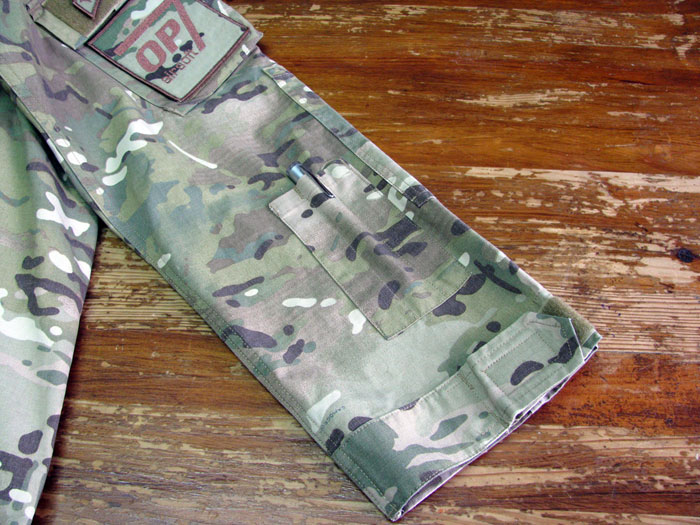 The shirt also has dual zippers which can be very handy say for higher ventilation or to provide faster access to your side weapon in case you don't tuck the shirt in your pants. The upper zipper has a nice strap which is really useful when you are wearing gloves.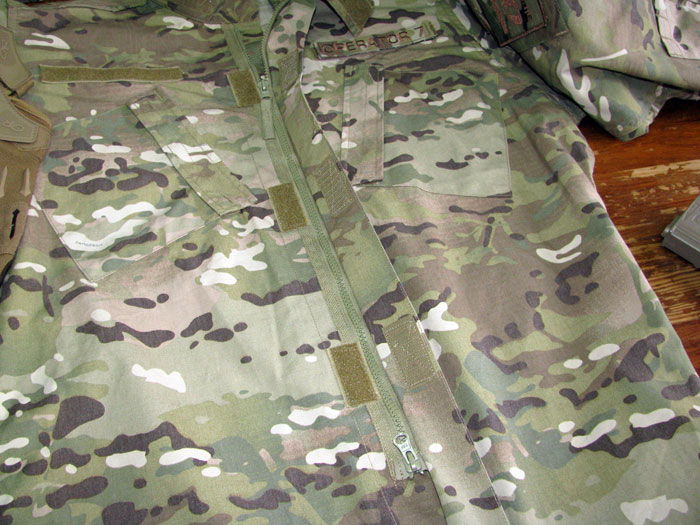 There are also several Velcro panels on the shirt for your patches, which I have abused with some patches kindly offered by OML Patches.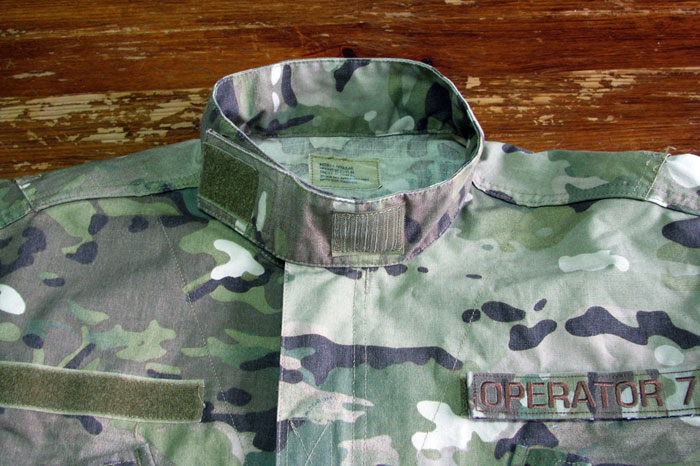 As for the pants, these feature a total of eight pockets: two front pockets, two rear pockets with buttons, two cargo pockets with Velcro and drawstrings, and two calf pockets with Velcro too. So there are a lot of options for carrying accessories and extra gear such as gloves, shemaghs, extra magazines, maps, etc.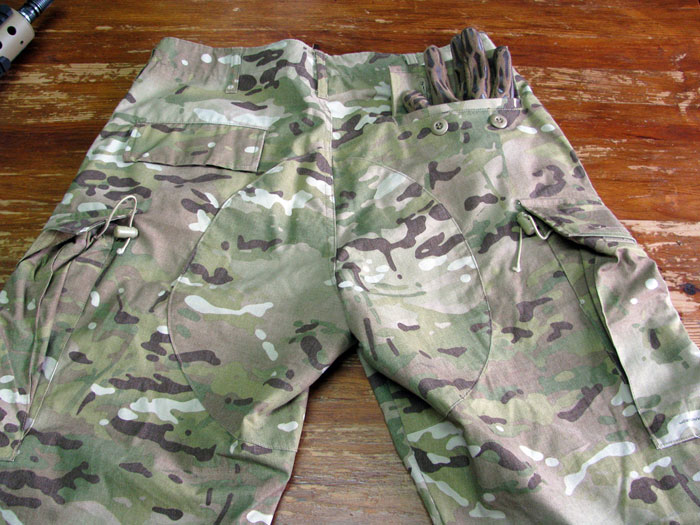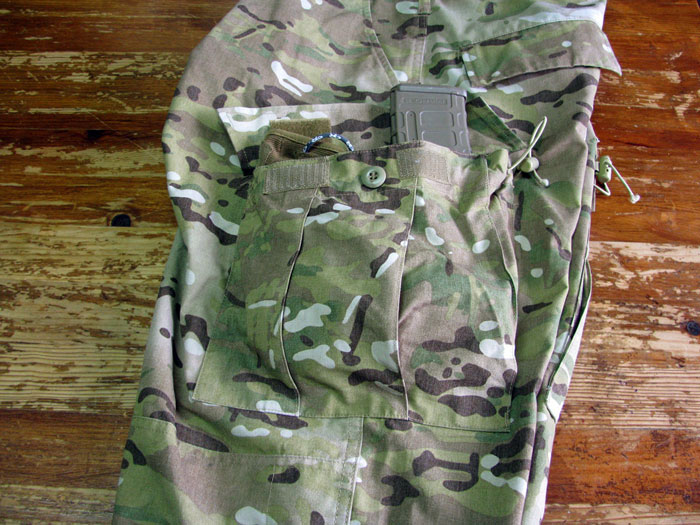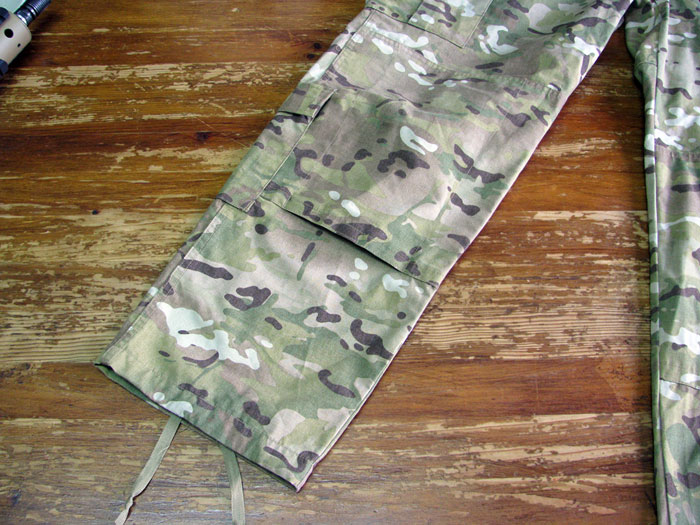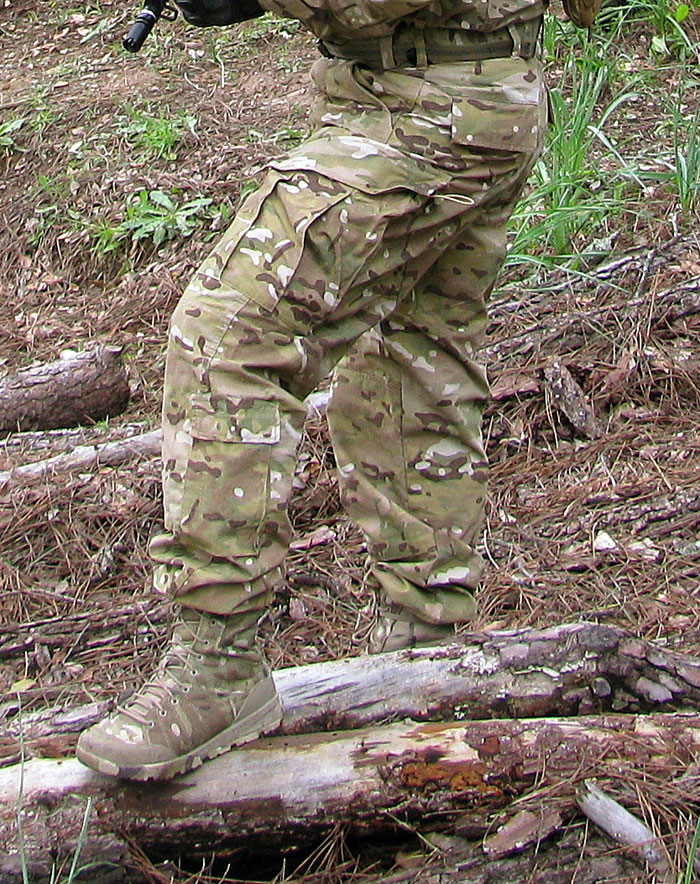 QUALITY AND COMFORT
One of the things I first noticed when I picked up the shirt and the pants was the weight and thickness of the material: lightweight and very thin it proved to be perfect during the end of the summer while it was still very hot .The fabric proved to be very breathable and being lightweight it was a breeze to pass a great day at the field. But I was curious about how would this ACU behave in colder conditions and when winter finally arrived I was a bit suspicious that it would help me cope with the cold out on the field being that the fabric is so thin.
I guess I couldn't have been more wrong and looks do deceive since the fabric managed to keep my body warm pretty well, even during some very cold days on the past few weeks, where all I had to do was to add a t-shirt beneath! Off course you don't want to use just this uniform in negative temperatures, but it proved to be more than enough in temperatures spanning from 10 to 35 Degrees Celsius.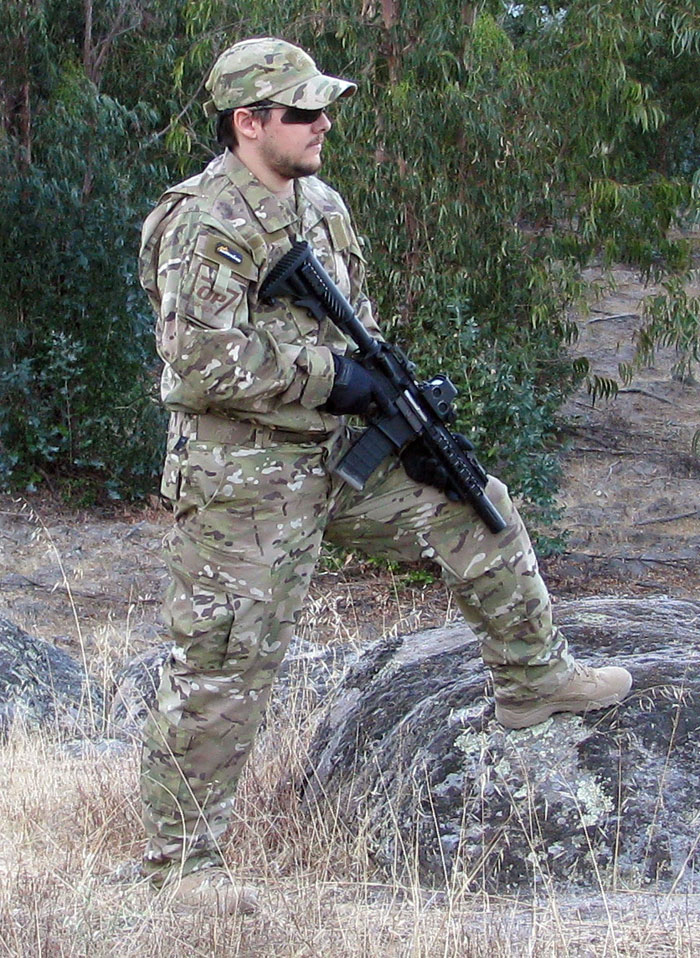 Comfortable fitting is made easier via the compression straps on the cuffs, the internal waist adjustment cord and internal drawstring tie bottoms.
Double layer reinforced knees, elbow and seat areas plus the Rip-Stop fabric do a lot to increase the uniform durability and the operator's comfort since it will provide some extra protection for our body from the terrain elements such as small rocks, wild bushes, and abrasion too. I guess Helikon-Tex could also sell these uniforms with foam pads already included, this would be a very nice addition, don't you think?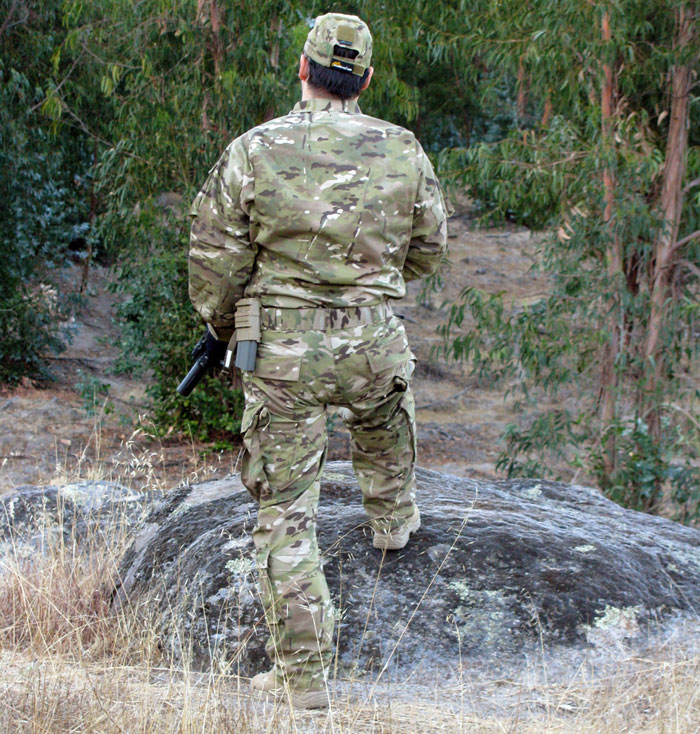 CONCEALMENT
Helikon-Tex have come up with their own multi environment pattern called Camogrom, which according to Helinkon-Tex, is compatible with Multicam, but in fact it's a completely different camouflage.
Desgined back in 2008 by Helikon-Tex, Camogron soon became a hit over the years near the Airsoft community, mainly thanks to the cost of most gear being a fraction of the price of their counterpart in Crye Multicam, and offering similar concealment properties.
Both the word Camogrom and the pattern have been registered and copyright protected in the Office of Harmonization for the Internal Market (OHIM).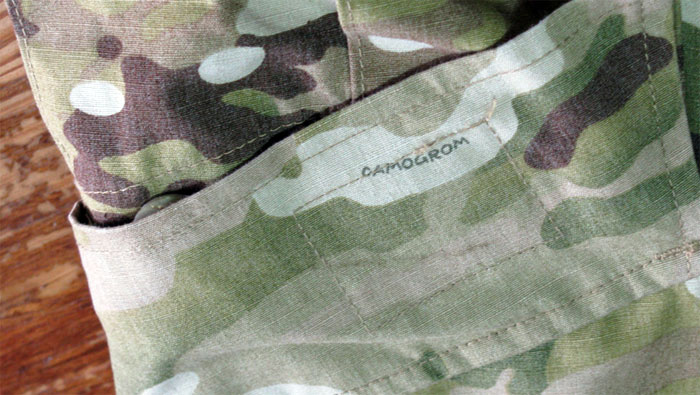 Camogrom is not only used in Airsoft, and according to Helikon-Tex it has also been serving in Afghanistan where several troopers have battle-proved their products and it's also used by the Special Tax Group in the Czech Republic.
I really liked Camogrom, because I have some gear in Multicam such as the Arc'Teryx Riggers Belt, the Emerson Fast BJ Helmet and more recently I've been using the Danner Melee in Multicam, and they all agree pretty well with the uniform. So Instead of having to go out and buy new gear specifically in Camogrom, I can use my current Multicam gear without any problems.
As you can see from the next images, it's a great camouflage for both desert/arid terrains as well as terrains with lots of vegetation and trees.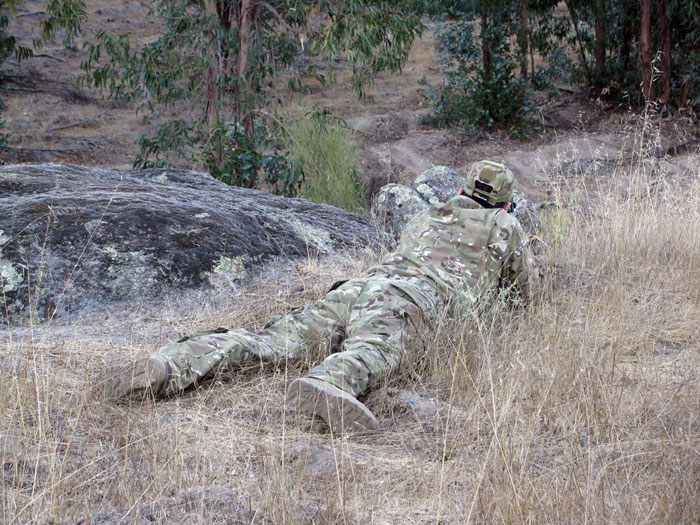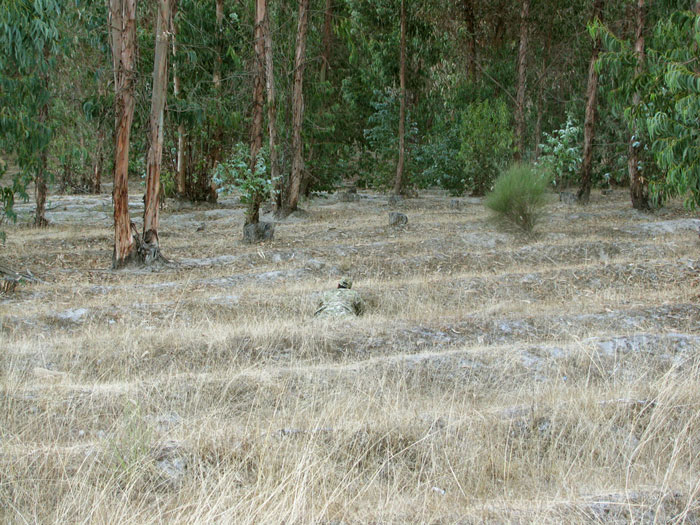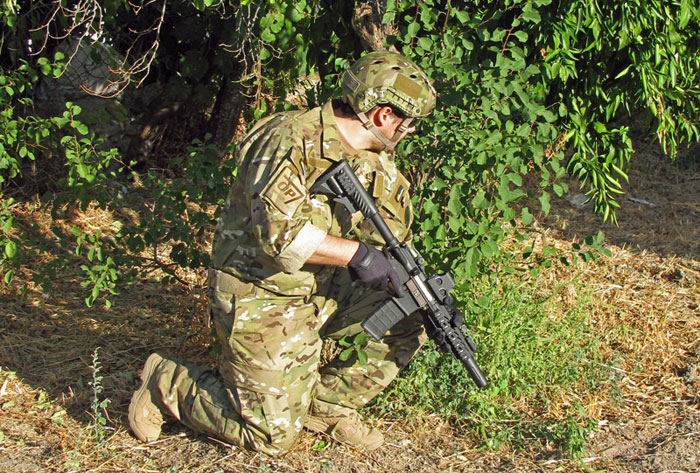 CONCLUSION
This is by far the most lightweight ACU I've ever worn, and I really liked it because I was able to use it under hot and cold weather conditions; remaining comfortable and protecting my body from the elements thanks to the quality of the fabrics which are quite rugged.
This is a very lasting product which comes complete with a very nice Camogrom pattern that not only works in various scenarios, but it's also compatible with my current Multicam gear, which is great!
This great piece of gear also has a very nice price, being that it's available from our friends at Military1st, with the pants and the shirt both cost £36.99 each.
I would like to thank Jedrzej from Helikon-Tex for his help and patience and for making this review possible!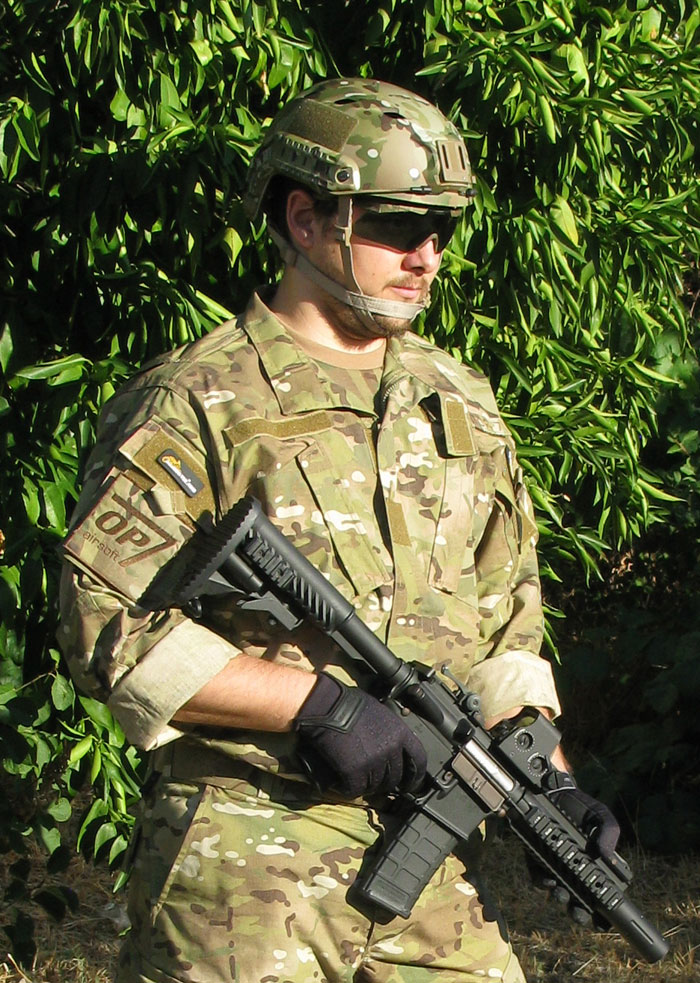 Pros
Very lightweight
Breathable but warm when you need to conserver body heat
Camogrom is cool, affordable and compatible with Multicam
Cons
I would have liked to see zippered pockets instead of buttons.