ForceCore AKS74UN Tactical AEG (by E&L)
Matt Furey-King
30 Oct 2015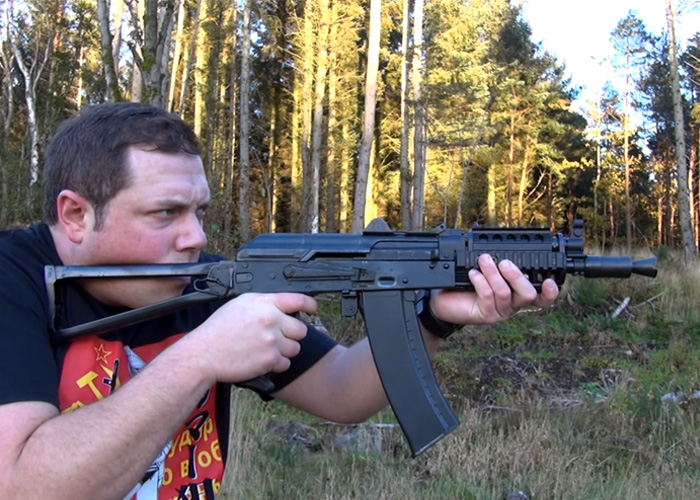 ForceCore are a new brand on the airsoft market, and have introduced themselves by releasing a number of AKs, and some other items such as M4s. What I'm interested in, is ForceCore AK replicas, and what they can bring to, let's be honest, an already crowded market. At this time you can only get ForceCore through Gunfire, who have sent this replica to me for review.
ForceCore, from what I can gather, are not a manufacturer. What they seem to be doing is commissioning good quality guns from existing manufacturers at a decent price. This replica is made by, E&L Airsoft which they are rightly proud of, as E&L Airsoft make the best airsoft Kalashnikovs in the world today. Russian players tell me that E&L is regarded as the pinnacle of Kalashnikov replica manufacturers, and they'd know, right? E&L are a department of Chinese gun manufacturers Norinco, and are using some real firearms manufacturing techniques, finishing and materials. Hence the nice results.
So apparently this replica is an E&L, with a few corners cut, such as the labour intensive hand finishing. This has brought the price right down to about €240, about £175 or $270 US. So that's getting on towards half the price of a regular E&L. it's the sort of price you might pay for something lower price like a CYMA or APS. It's pretty similar to the E&L Meister arms range in price.
The designation, if you were wondering, means AK (automatic Kalashnikov), S (folding stock), 74 (a child of the 5.45mm series created in 1974), U (carbine), N (side rail capable of taking optics).
So without waffling any further, let's open the box and look at the gun.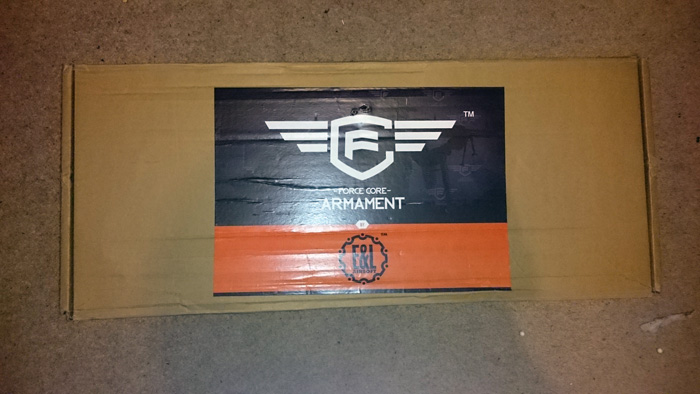 The box is pretty awful, just a cheap cardboard box. This gun is more than tough enough to take the abuse it might receive in the postal system though. You also get a magazine, a ForceCore sticker, and a manual. Some BBs too, but .20s, too light for this gun, I recommend you run it on .25s. Don't skimp on BB quality, they make a huge difference to any airsoft replica.
No BB loader, though it's fair to assume you own one already, and no NiCad battery or rubbish charger, but those would go in the bin anyway so no loss. I'm assuming you will run lithium batteries.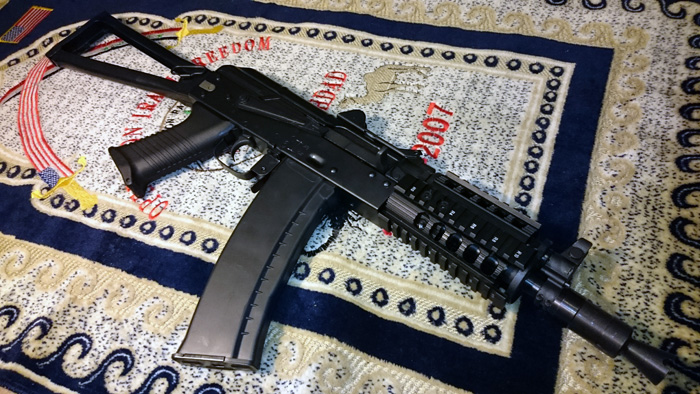 First impressions; wow this thing is heavy. The second thing I noticed is the lovely smell. Smells like hot metal and gun oil. You can tell this has come from a real gun factory. This SU is solid as hell, no wobbles, stunning finish, on the outside it's nigh on identical to a real gun. Impressive. The stock is often a weak point but this one feels super solid.
Actually it weighs in at 3.2kg, which is the same as a full size LCT AKM with wood stocks, and is about 1kg heavier than a Marui AKS-74U.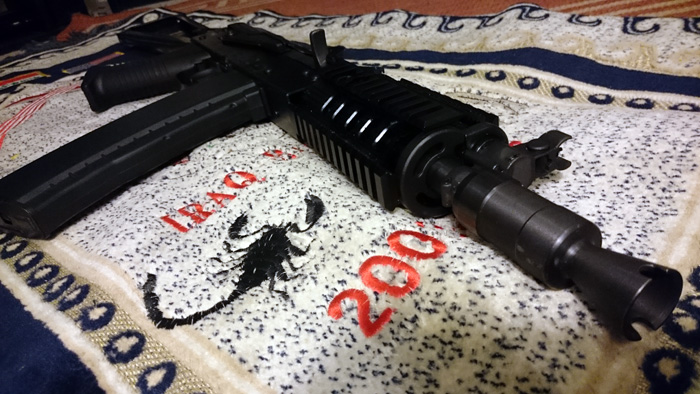 If you've not used an AKSU before, they are a really great airsoft gun, very ergonomic, very manoeuvrable, stubby, good all round, and pack up small for transport. Larger guys will find the stock a bit short, but you fit a rubber butt pad to help with that.
So working our way along the gun it's got the standard 24mm clockwise thread, which is well cut and will take normal aftermarket ak74 suppressors like PBS-4. Everything on this gun that should be steel is steel, foresight included. Foresight alignment is good.
They make the same 3 custom variant AKSUs that E&L make, namely the Zenitco foregrip replica, the Surefire-M83 type, and this one which is a replica of the Samson K-Rail. Pretty impressive options for a stock gun, really. The Samson rail system is attached to the barrel, seems extremely rigid. It is made of aluminium, which is correct to the original (steel would be too heavy), nice quality casting and decent paint finish. Standard 20mm of course.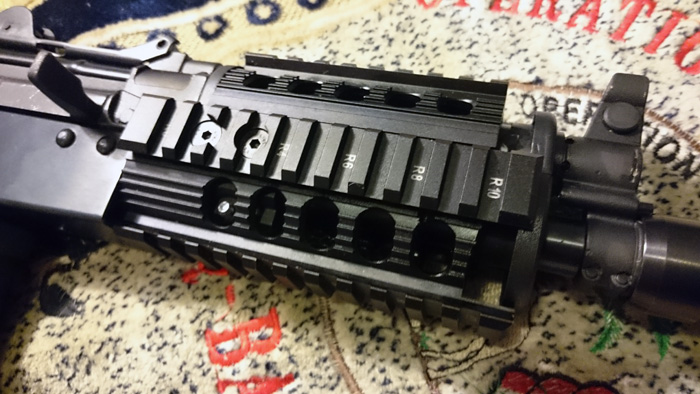 Front receiver, bolt and fire selector are painted, and the top cover and lower receiver are blued, possibly black oxide but it's pretty similar in appearance, which is very nice indeed, and would look fantastic if you decided to weather it. Receiver is thick folded steel, welded, pinned and riveted where the real one would be, and this receiver gives the gun its stable core and weight. Top cover is hinged, which is handy. Standard AKSU rear sights.
Trigger guard is pinned and riveted steel, just like the real thing. No corner cutting with Allen head screws and cast metal like most airsoft manufacturers do. Pistol grip is an M249 type, fibre reinforced, feels good quality. Actually pretty comfortable, unlike some aftermarket grips I've used.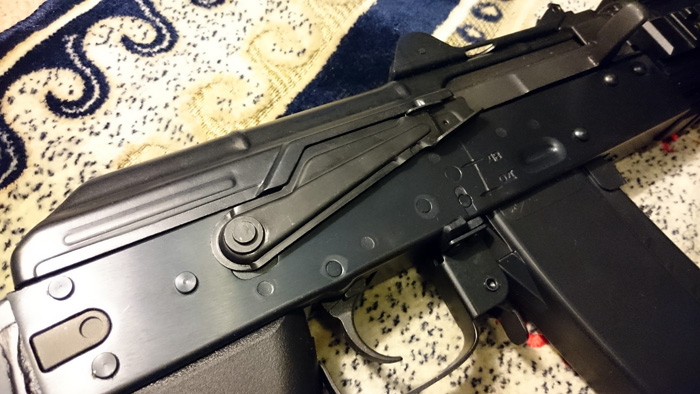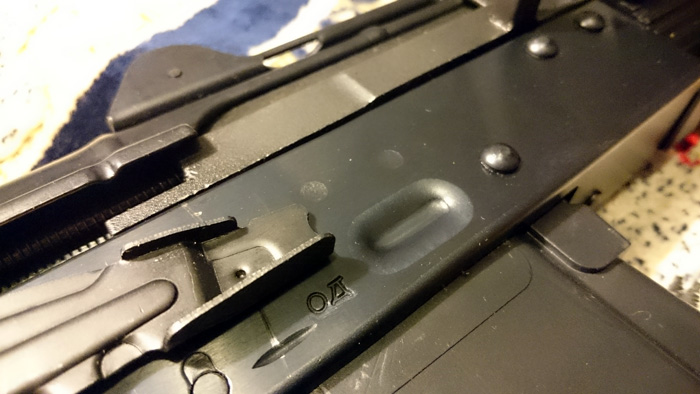 Stock is the best I've ever seen, locks back with zero wobble, which is extremely important for accuracy and feel. Again folded steel, again spot welded and not held together with screws. I tend to beat up guns with hard play but this gun should last forever, I can't imagine it could ever get broken or bent from skirmish use. Forward locking catch is steel, these tend to get broken when made of monkey metal.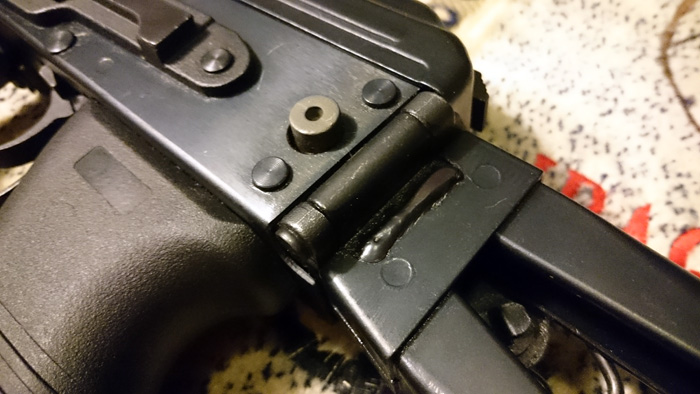 It's got a standard side rail which is definitely the superior way to run optics on an AK, because it's attached to the receiver, certainly better than sticking it on a top cover. The rail seems like standard size, I've tried airsoft and real steel optics and they slid on OK. Bear in mind that the only optics an SU can take on a side rail are cobra red dots, due to the rearsight getting in the way of most other options. You can always stick a red dot sight on the front rail if you want.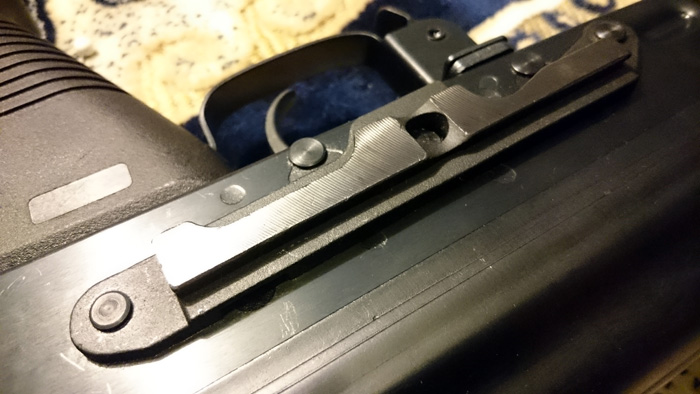 In the mag well you can see a metal hop unit. Gen 2 E&L Kalashnikovs come with a plate which blanks off the big void underneath the hop, without it you can easily screw up mag changes, but you can get hold of these plates if you want to fit one later. Shame it doesn't have one standard. The magwell takes all my other brand AK mags no problem. Fire selector is very positive and has nice resistance. Bolt runs forward and back well, and moves the full realistic distance, again it is made of steel. Hop up is a bit of a pig to get set right, it is a little sensitive.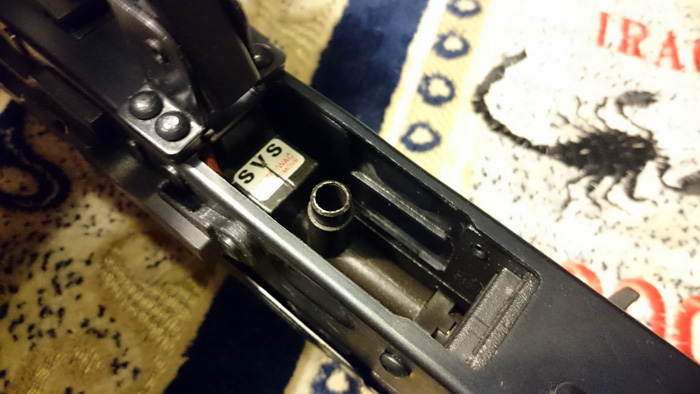 Battery wise, you've only 1 realistic option, which is a 2 cell AK type Li-Po. It's similar to a stock tube Li-Po but thinner. Certainly plenty of room for it, you don't have to fight to get the battery in, and the gun runs well on 7.4. I changed out the mini Tamiya connecter for my field test, which I'm assuming you'll do as well when you receive it.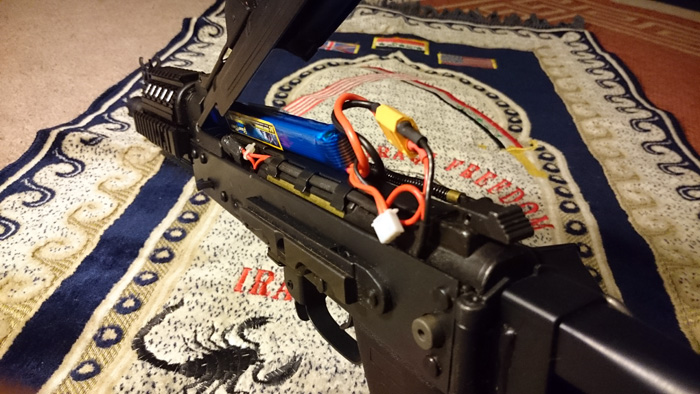 Mag is pretty normal plastic mag, metal base plate. Takes 120 rounds which is great, seems to feed really well.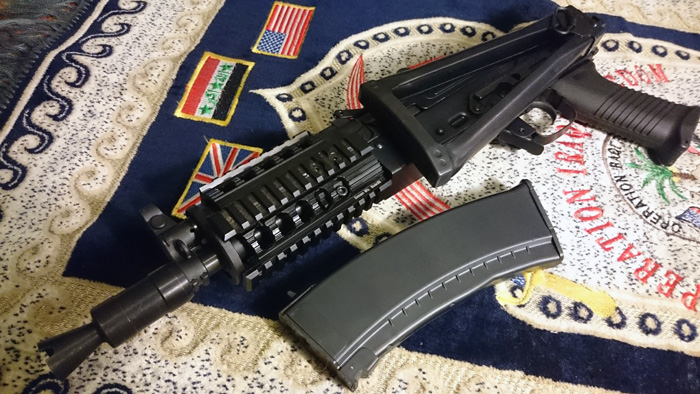 So it looks excellent feels excellent, smells excellent, but how does it shoot?
Running it through the chrono it clocks at an extremely consistent 348fps, which couldn't be more perfect for UK power limits. Rate of fire is 15 rounds per second on the 1300mah 15c 7.4 Li-Po, which is about what you want in a gun running standard mags.
The whole point of an airsoft gun is putting rounds on target, no good testing it in the house, so I took it down to a local skirmish to see how it performs.
Really well, is the answer. I was getting solid hits on target at the real tip of 350fps AEG range. Trigger response is snappy, indicating the motor is quite torquey.
The ForceCore works really well with a vertical front RIS grip, which helps offset the weight a bit. With the rail system it will be great for taking low light equipment, such as torches and IR lasers.
The rate of fire, range and accuracy were very good for skirmish use, the gun was a real asset all day. Testing the grouping and spread afterwards, I found it had quite allot of spread, probably the same consistency as a typical Chinese built clone gun. So could be better.
Taking a look inside the gun I found the gearbox is screwed to the nozzle which is good for alignment and achieving consistent air seal on assembly. I cracked open the gearbox and here are the things I noticed inside:
Screws and gearbox casing are good quality
Not much lubrication
Bearing spring guide
Progressively wound spring
Interesting piston with single guide rail and second tooth removed. Some metal teeth.
Silent piston head
Cylinder head was leaking air a little
Sector gear tappet clip (for holding nozzle open a little longer)
Steel gears, good quality. Perfectly shimmed! Never seen that before in a factory gun.
All in all, the gearbox is surprisingly good quality actually. Certainly lots of parts to work with for later upgrades.
As I say you can only get ForceCore replicas from Gunfire, the link to this particular model is http://bit.ly/1jaX95D.
Gunfire are based in Poland but because UK and Poland are part of the EU there are no import fees and I've never had any hassle with customs when an item comes from inside Europe. Currently priced at about €240 which is about £175.
In conclusion, I like the way it shoots, I like the finish, I like the gearbox, and I even like the smell. I love the build quality, and the price is fantastic for what you get. If you are looking for an AK in the 100-200-pound price range then this is absolutely the one to invest in, nothing except the high end LCT and E&L brands compare to this. Controversially, I would wonder whether they are worth the extra money over the ForceCore. As an AK fanatic I give the ForceCore AKS-74UN my seal of approval.
Thanks to Popular Airsoft and to Gunfire for hooking me up with this review item. If you liked the review please have a look at my video channel as well www.youtube.com/claymoreairsofttv.
About the Reviewer:
Matt, widely known as Furey, is an airsoft player hailing from Bristol, England. Furey started playing regularly around 1997 and soon joined Spectre, a local team that went on to run a couple of playing sites. He has served in the British Army for 7 years, doing op tours in Iraq and Afghanistan, and is now a civilian aircraft engineer. Matt has had technical and review articles published in several airsoft magazines, is hooked on Kalashnikovs and Russian kit and was active in the Hong Kong airsoft scene for a time. Being an airsoft activist has led him to found, and often lead, UK Airsoft Players Union and also has been President of the European Airsoft Association for 4 years. Along with his long suffering team, Furey is a milsim fanatic and often participates in large games overseas, which are documented on his YouTube channel, Claymore Airsoft TV.