Entry Level G36C AEG From Jing Gong
TipToe Airsoft
10 Jul 2018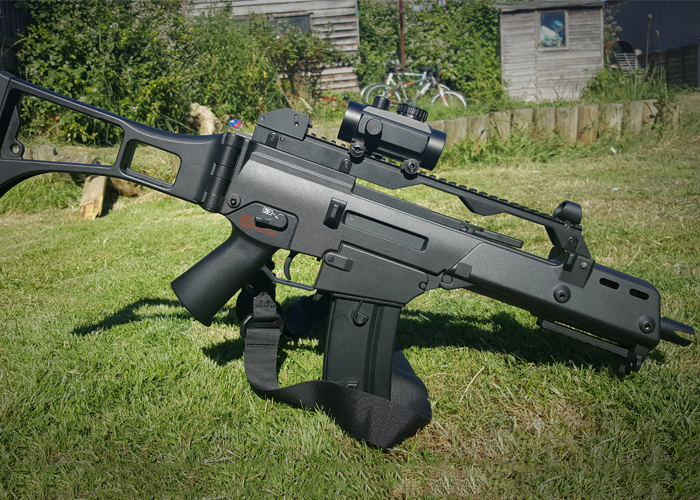 Jing Gong are known for their low to mid-priced airsoft guns, they're affordable and are good entry level guns for new players and casual players alike.  The China-based airsoft  manufacturer has a good line-up of airsoft guns, from AEGs to Gas blowbacks, from M4s to Heckler & Koch-style airsoft guns such as the G36 series and I got one of the latter, the G36C.
So how does this G36C sent to us by Gunfire hold up?
SPECIFICATIONS
Type: AEG
Gearbox: JG V3 Gearbox
Velocity: 340-350FPS
Length: 750mm-500mm
Inner barrel length: 250mm
Weight: 2.6kg
APPEARANCE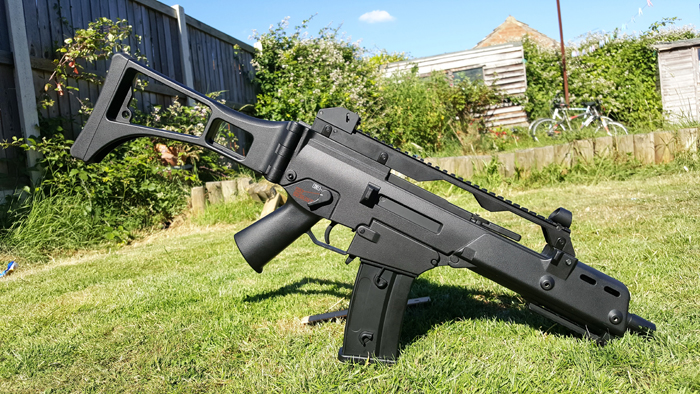 Upon opening the box we see the gun itself,  a hi-cap magazine, a cleaning rod and an  8.4 Ni-MH battery with a mini-Tamiya connector. Inspecting the gun itself, it is made of ABS polymer with a steel rail under the handguard, other metal parts are the trigger and rear iron sights. The seams that run along the length of the gun are fairly decent although slightly rough.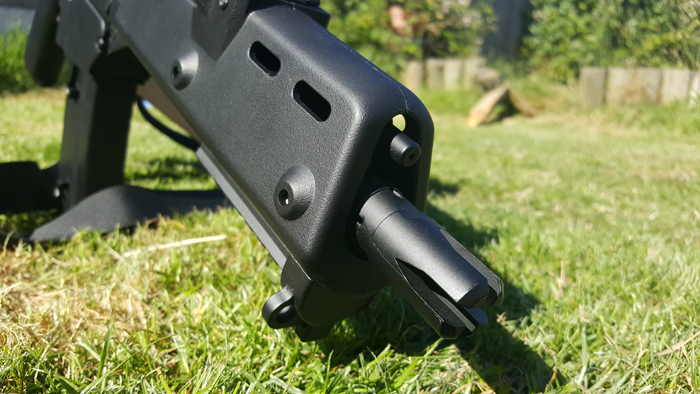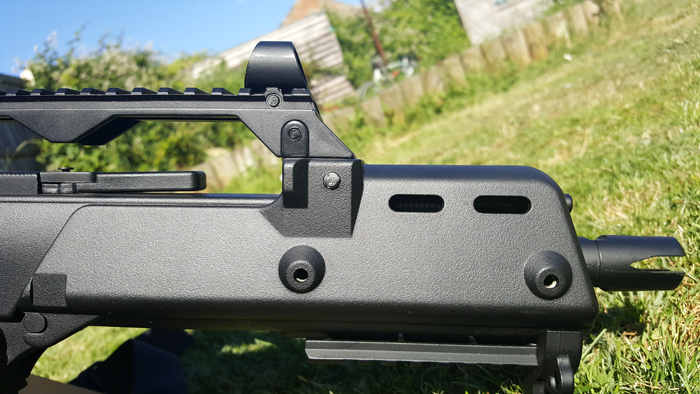 The gun has the standard folding skeletal stock just like the real steel version. The stock itself is very sturdy and has little to no give when extended; it feels rigid and stable when pulled to the shoulder for firing. It folds away via the press of a button and clips to the side of the gun. When folded it doesn't rattle or feel like it could become loose during a game.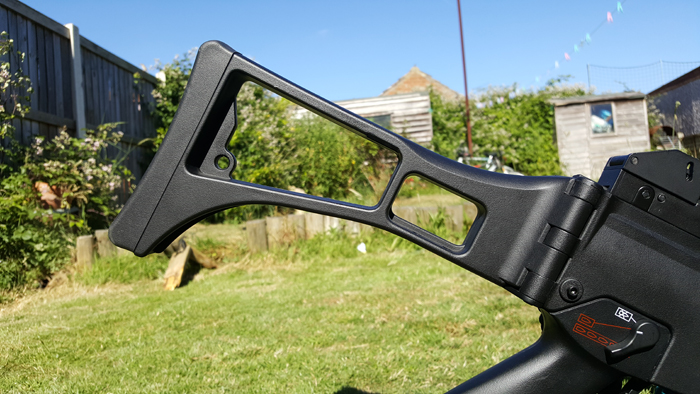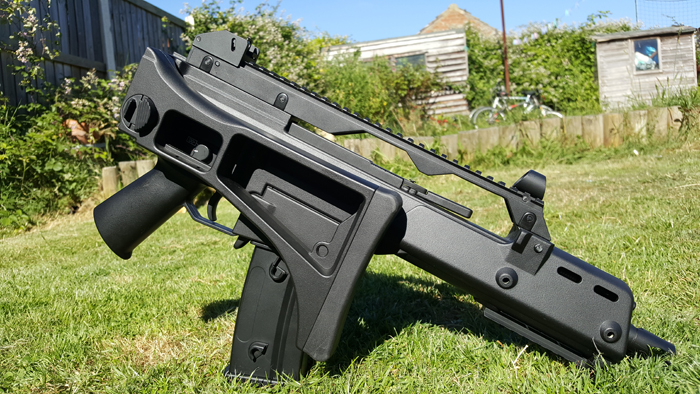 Like the real steel G36C it has a rail (the top rail is constructed out of ABS) along the top of the receiver which doubles as a carry handle that sits above the ambidextrous charging handle. The rail itself has non-removable iron sights, the front of which is ABS.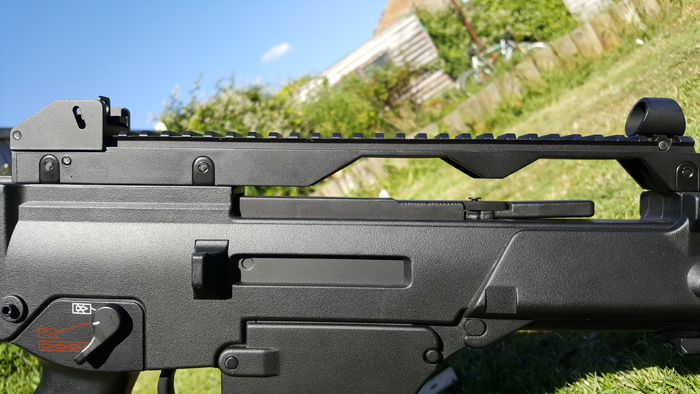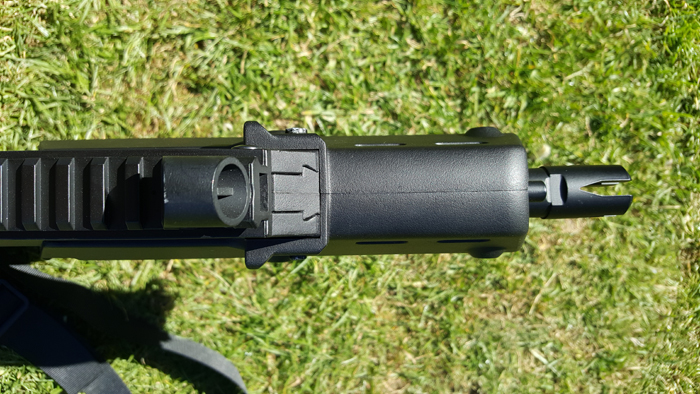 Under the handguard you have a secondary rail big enough for a laser sight or torch and on either side of the hanguard there are pre-installed positions for you to add two more accessories on either side giving you the opportunity to have both a torch and laser sight as well as a foregrip.
FUNCTIONALITY
The battery compartment is located in the handguard and is accessible through removing a push pin and pulling off the whole handguard. It's a good size compartment and will fit a 7.4 LiPo battery which is what I will stick with for this review.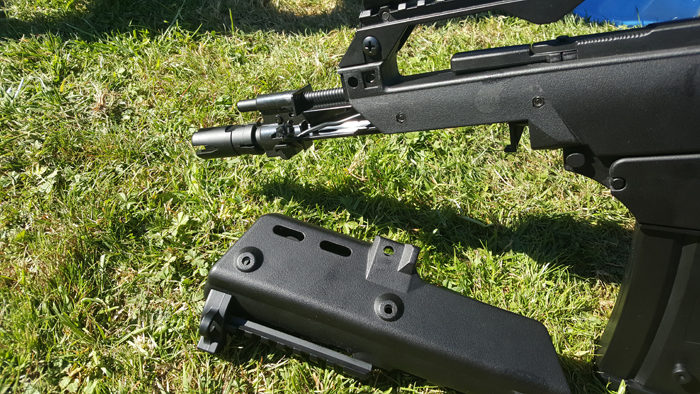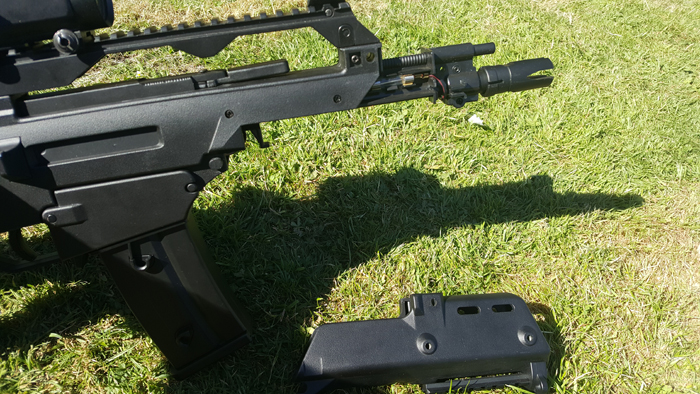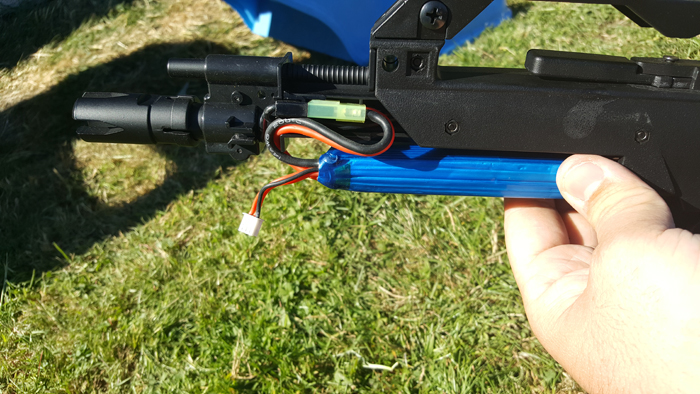 The charging handle is used to gain access to the rotary hop-up, although you are unable to keep the bolt open for easy access. You have to hold the charging handle with one hand and use your other hand to adjust the hop-up.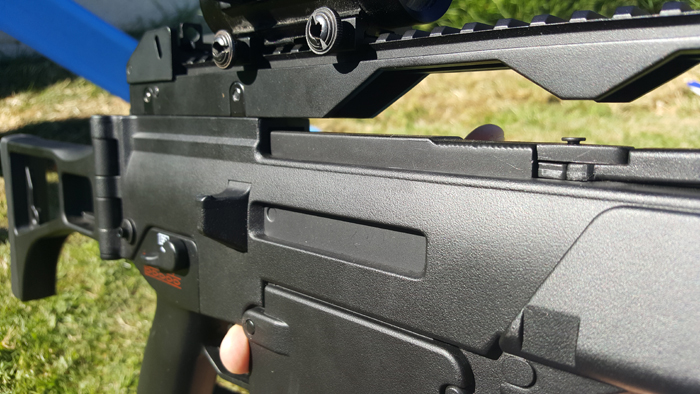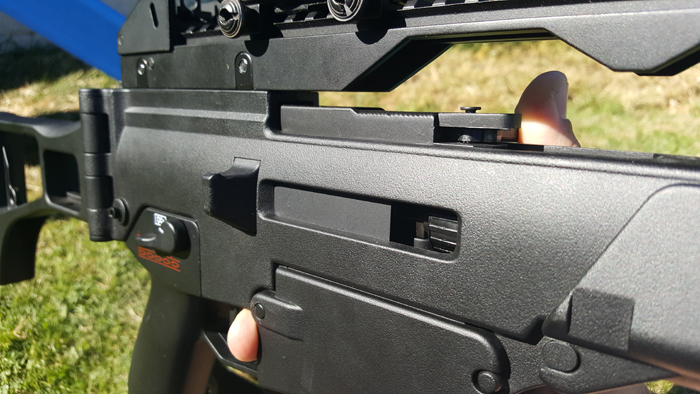 This variant of the G36 is the short-barrelled version at 72cm which is ideal for CQB and with the folding stock you can get into real small spaces during a CQB engagement. It also has a 3-stage firing selector switch which is safe, semi-auto and full auto. One issue with the switch is it's positioning which is a little far forward so selecting full auto can be a bit cumbersome but it is not too much of a hindrance. Like the charging handle this is also ambidextrous.
As stated above, this AEG comes with a 470-round hi-cap magazine. It slots into the magwell with a satisfying click and does not rattle or jiggle when in place.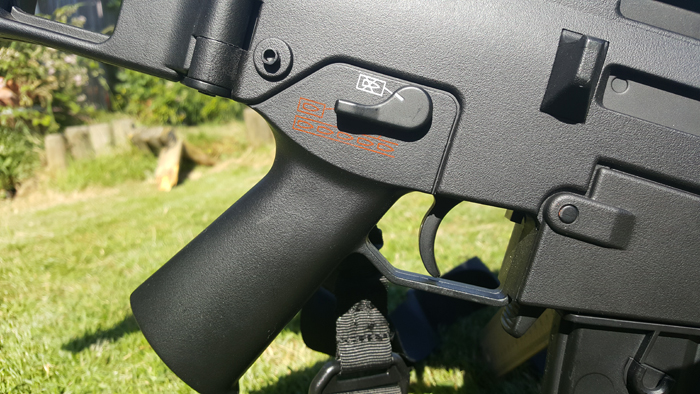 There are 4 sling attachment points, one on either side of the front of the handguard; one at the end of the stock and one at the base of the stock, giving you many options for sling positioning depending on your preference, all whilst upholding the ambidextrousness of the gun.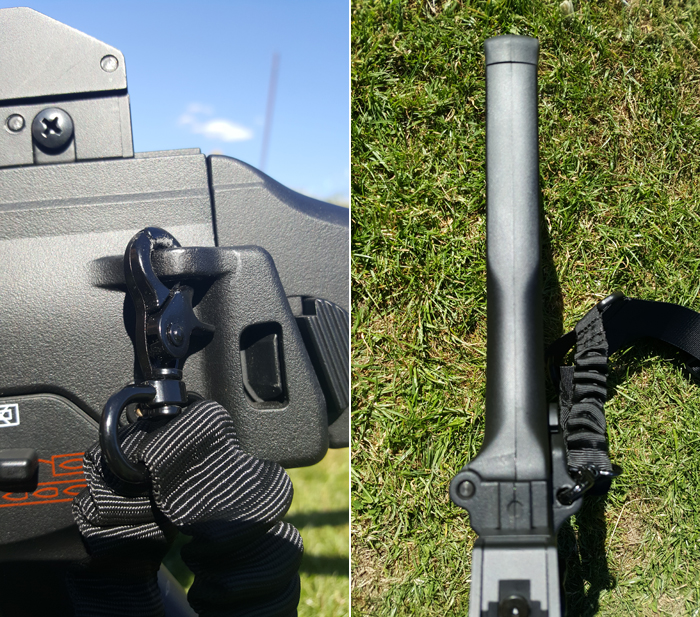 In Chrono testing it performed well. Achieving between 347 and 352 fps using 0.2g BBs.
FEEL
Whilst holding it, it has a nice solid weight at 2.6kg giving you a fairly immersive feel to the gun.
With the battery in place (7.4 LiPo) I commenced a firing test. The cycle of the gear box and piston is very snappy. In semi-auto it has a very satisfying crack to it whilst being very responsive, the trigger pull is neither too long nor short. It feels just right for this type of weapon. In full auto it's the same story,  the cyclic rate of the gun is surprisingly high with that same satisfying crack each time the gun fires.
Its range was surprising too due in part to the 250mm inner barrel.
SUMMARY
As a whole, the gun performs well although it does feel a little cheap but this gun is cheap with a retail price of £68 on Gunfire's website at the time of this review. It has a few blemishes here and there such as the seams which are not perfect and the slightly misplaced fire selector switch. There are some oversights of the gun that also bring it down such as the charging handle's inability to be locked in the rear position.
But as an entry level gun it excels. For its price it is a good, reliable and fun gun to take in a loadout. Its high cap magazine will assist new players to get more out of their first lot of games. Its high rate of fire and impressive range (impressive because of its low price) make it an exciting gun to take out.
Although its appearance can appear to be cheap when inspected closely, it still looks the part.  I enjoyed using this gun as I'm sure any new player will but they will, like all of us, eventually seek out something more. But that's what an entry level gun is for, right?
You can buy this gun for yourselves at Gunfire's webstore.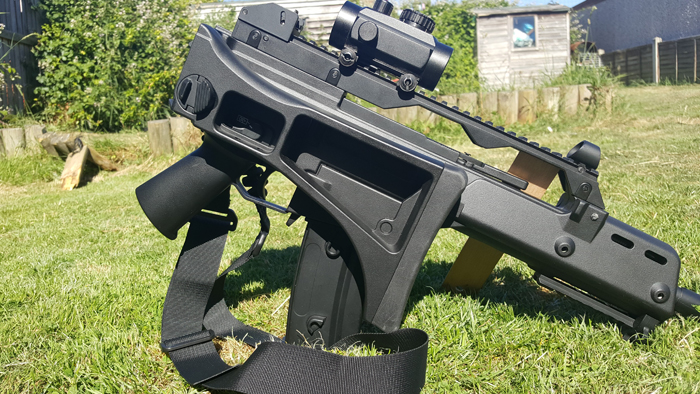 RATING
I would happily rate this gun a 4 out of 5 for an entry level gun but its rating would dwindle when compared to higher end replicas.