Emerson Fast BJ Multicam Helmet
Operator7
26 Nov 2012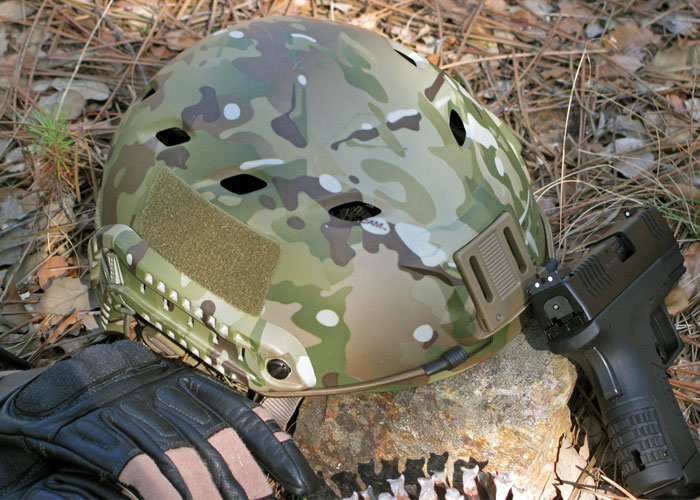 Helmets in Airsoft can do a lot more than just make you look good on the field or completing your loadout to copy some military force to perfection. Security in Airsoft is sometimes downplayed to just a pair of safety glasses and that's it. Usually problems arise when you least expect them, especially when you are playing at a venue or field you are not familiar with.
Perhaps one of the most viewed Airsoft accidents on Youtube is the one where a Spanish player falls from the ceiling of a one story house during a game. Luckily he walked away with no serious injuries, but you can imagine several ways how this could have gone wrong.
So protection is not only cool but it's also a must, to prevent injuries while playing on the field.
With this in mind, let's see how does the Emerson Fast BJ Helmet, kindly provided for this review by Emperion Store, stacks up to needs of most Airsofters out there.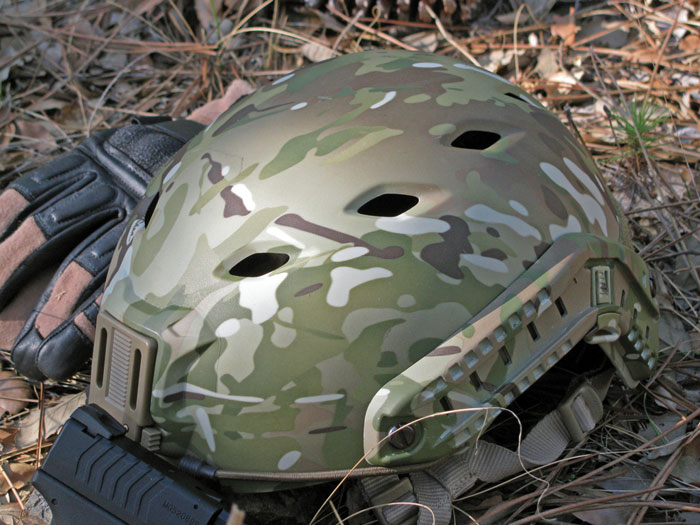 DESIGN, QUALITY AND PROTECTION
In terms of design, the Emerson Fast BJ Helmet is a very close replica (in fact it's the spitting image) of the renowned Ops Core Fast Base Jump Military Helmet, but costs only a fraction of the price.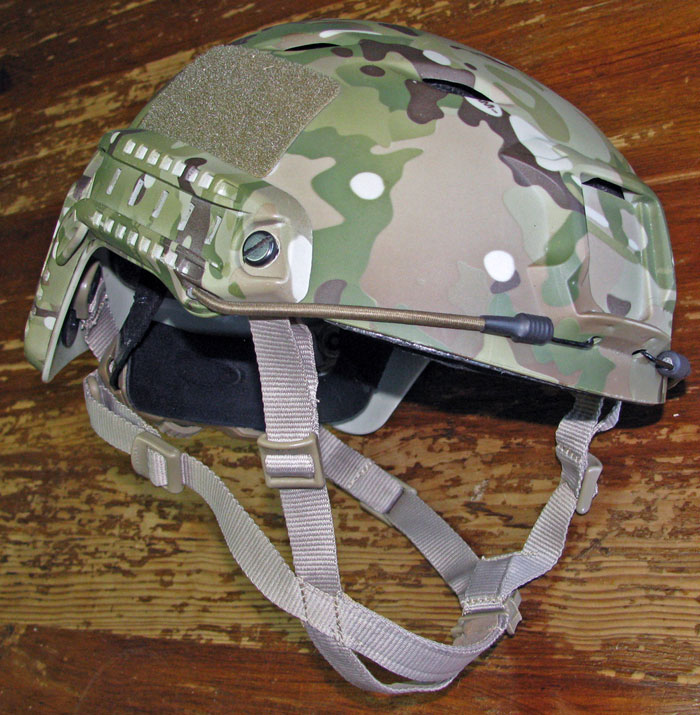 Most of the features of the Ops Core have been included on the Fast BJ, starting with the shell design, the chinstrap system, pads, the rails and molded NVG mount system, and many other features.
One of the coolest features is the OCC Dial that allows you to tighten the helmet for a best fit with the simple dial of a knob. Once you are satisfied, just tighten the screws and you are ready to go.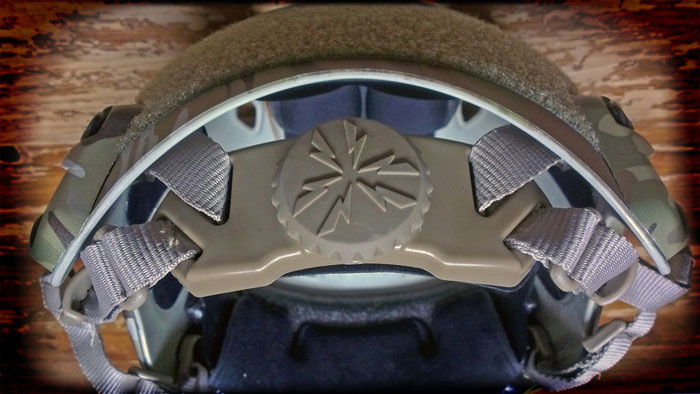 This feature, copied from the Ops-core helmet, also allows you to use a headset with headband in the interior of the helmet just by detaching the front pad and passing the headband to the interior of the helmet right between the top pads and on top of the headband.
The chinstrap system is also very easy to adjust and thanks to its design, it will help to fit more snug and comfortable in the chin and in the head.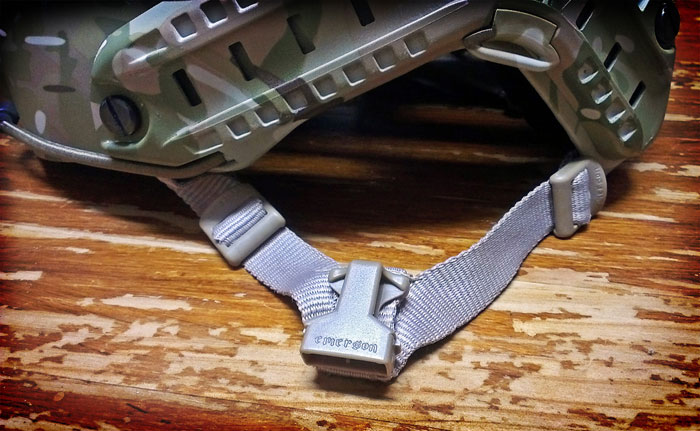 The helmet also features eight vents on top which make this a very fresh and breathable helmet, plus it also helps reducing the weight to something anyone can withstand for a whole day of Airsoft.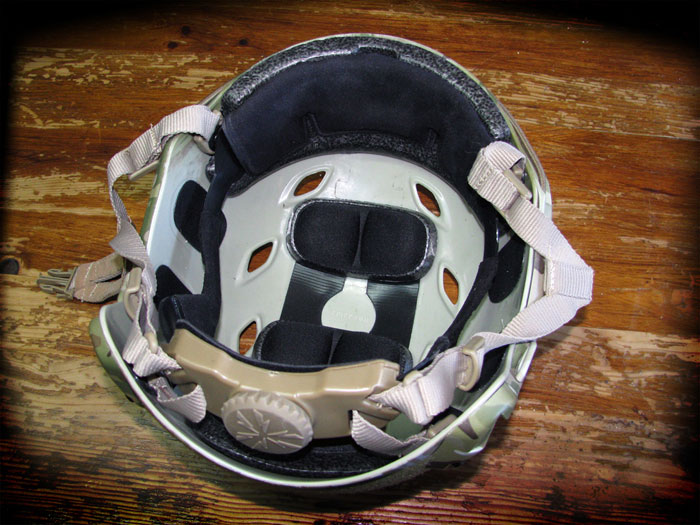 If you're used to your old MICH 2000 replica like me, you'll be happy to find that the Emerson helmet weighs almost half of most MICH 2000 replicas. Around 400 grams for the Fast BJ, and 910 grams the MICH 2000 replica. So this will surely produce less fatigue or strain on the neck after a day's game.
The main difference is in the materials used to build this replica. While on the Ops-Core helmet you will find a polycarbonate shell that is certified, on the Emerson version, the shell is announced to be made out of ABS.
Since the Emerson helmets do not have any impact certification it's always a long shot to know how it will behave on a bad fall or heavy impact. Nevertheless, the rigidity and protection provided by the shell of this helmet should be more than enough for our Airsoft needs, and in case it suffers a strong impact to the shell, you might as well just replace it with a new one, just to be on the safe side.
Sometimes I find myself jumping over boulders, or going down a cliff without really assessing the risk I'm taking, so I feel more secure if I am wearing a helmet, certified or not, than not wear one at all.
Apart from this, this helmet also offers protection from BBs, which is great, and plenty of space to attach a helmet camera to film your games, lights, and many other tactical accessories. Plus, some nice Velcro panels are on the sides and on the back for badges and strobes.
On a side note, most Fast BJ helmets will come with one Velcro panel on each side, but mine seems to have it only on one side.
COMFORT AND ACCESSORIES
Thanks to the low weight, the OCC Dial, the pad system and the headband, this helmet is extremely comfortable and easy going, simple as that.
Accessory quality isn't however the strongest point on this helmet. For starters when I tried to fit the rail accessory, it would get stuck and would not travel through the FAST-ARCs. So I had to sand it down on the edges so it would fit on the FAST-ARCs. Apart from this, it will be able to support most helmet cameras and head-mounted light systems out there..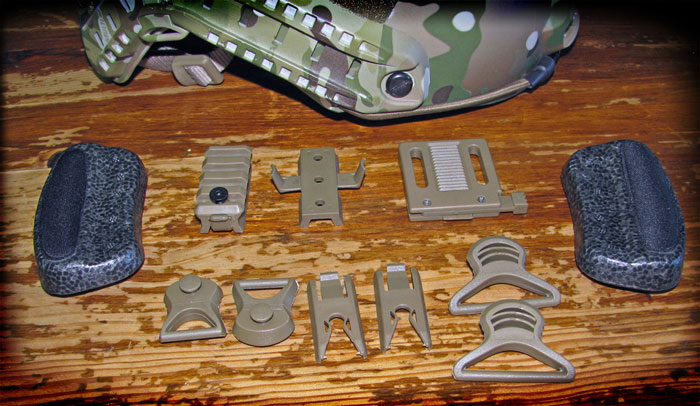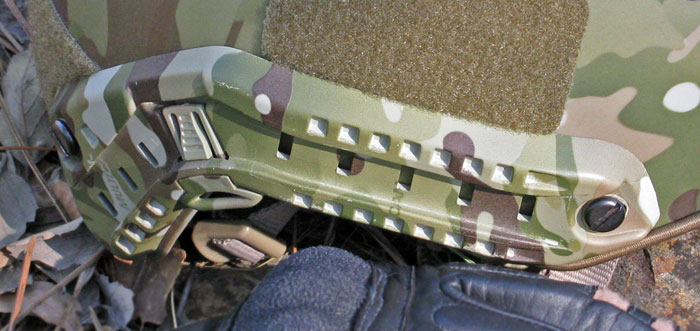 The NVG mount adapter is also somewhat flimsy and the plastic used in it doesn't inspire any confidence that it will handle the weight of real night vision systems. So I would only use dummy NVGs with it.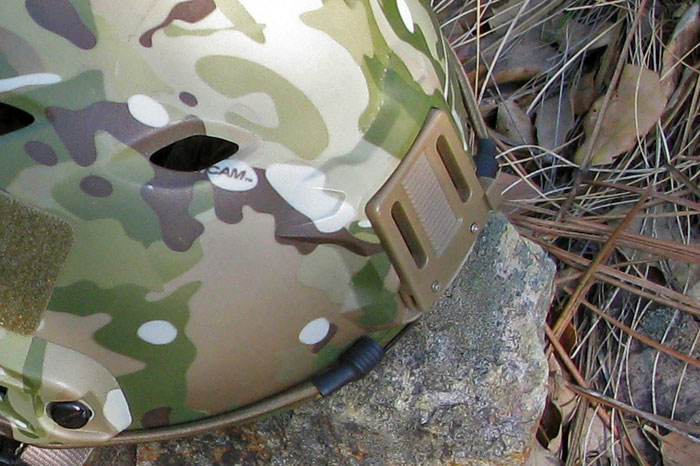 As for the six goggle swivel clips, they appear to be strong enough to attach most goggle straps, so no worries here.
CONCEALMENT
The helmet I am reviewing is in Multicam, but Emerson also make it in A-TACS, Black, Dark Earth, Desert Digital, and Foliage Green. This is quite nice since it will provide me greater concealment and it will match my current Multicam loadout.
I also liked the fact that the rails were also painted, unlike the Ops Core where the rails come in Dark Earth, thus providing full concealment.
Unfortunately I also found that the paint will come off easily just by scraping it on the floor or on some high branches.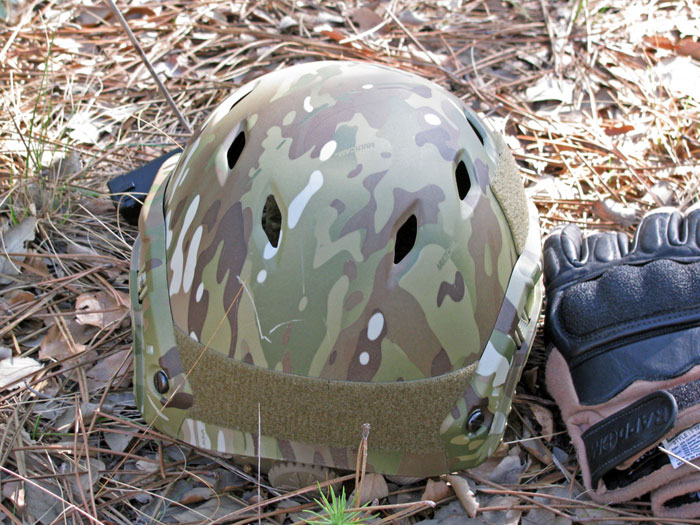 To avoid this I would advise you to invest on a First Spear helmet cover, which although pricey will protect your helmet and make it look cool. This will also help you to change the camo of your helmet since they have several colors and camos available.
CONCLUSION
The Emerson Fast BJ Helmet offers great value for money --- with very nice features; a strong built quality; great design; and comfortable wear. These overcome some of the issues I found, such as the quality of the accessories and the easy-to-scratch-off Multicam paint.
Overall, I am very satisfied with this helmet, and wearing it on the field for the past weeks has been decisive to learn how nice it is to wear. I highly recommend you get one of these, since it's surely worth the money you'll spending on it.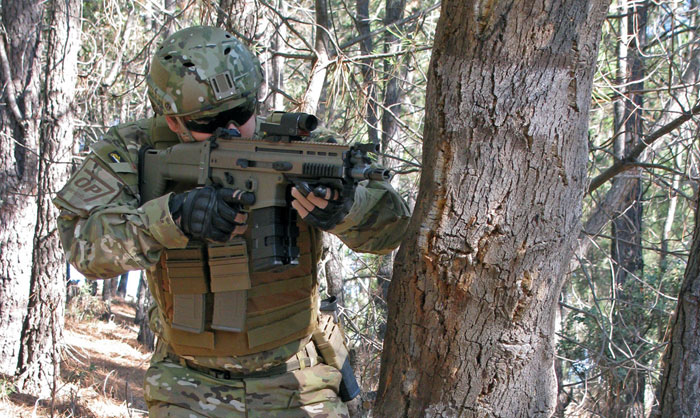 Pros
Price
Very easy and quick to setup
Great looking, just like the real one
Very comfortable and lightweight
Lots of attachment options
Headset friendly
Cons
Camo paint comes off easily
Accessories quality
No impact certification