daVinci Dynamics WiFi Airsoft Precision Target
Justin C. WPPC
20 Oct 2015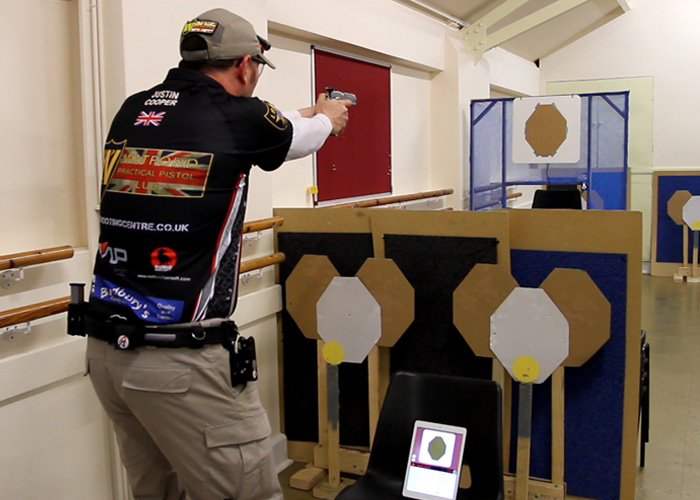 These days, you can do a lot with your smartphone or your tablet. From the basic functions of making calls and texting your mates and family to checking your emails, play games, browse the web, and do much, much more. Even in airsoft, there are apps that you can use to coordinate team play during skirmishes and record scores for airsoft practical shooting.
Now, a company from the Netherlands makes it even more high tech for airsoft practical shooting with the WiFi Airsoft Precision Target. daVinci Dynamics designs, develops and manufactures wireless electronic targets for dynamic and airsoft shooting disciplines. Their targets are reactive, durable and endlessly combined for a variety of shooting modes.
So when we received the new daVinci Dynamics Wifi Airsoft Precision Target review unit from Popular Airsoft last month, our first impressions before we even opened it was quality. It's beautifully packaged and everything inside was well protected. Instructions came in various languages and within 5 minutes we had it up and running.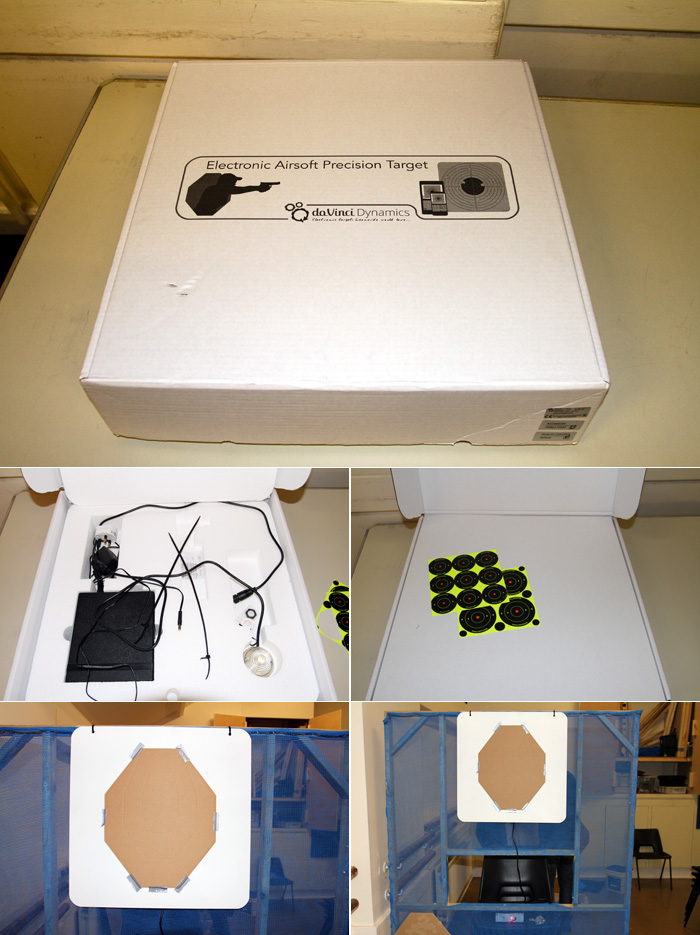 Inside the box you get the target itself , the (optional) start light, power supply and all cables required. Also, some cable ties and various stick on targets.
Now, one of the main selling points of this bit of kit is its ability to connect via WiFi to either a iPhone or an iPad (a Mac will also work with it) for those who use iOS or MacOS which you can download here . If you use Android devices, there is a version that you can download here. The target has integrated sensors that can detect hits and the software in the micro-electronics calculates the position of the hit and sends that information to the smartphone, tablet, laptop, or PC, where the information gets displayed.
With the app, you need to be able to do this to control the target and configure which type of shooting you are going to do and the type of target being used. As a PP (practical pistol) club we used the IPSC Classic target and for the trial purposes the "quick draw" shooting mode which sounds an audible beep like a timer would and a light also comes on to make sure you know when to start.
The target works well, registering the hits on the target and relaying the info back to the iPad in real time. It will give you every bit of info you'll ever need --- time between shots, groupings, distance between the shots, and record this until you hit stop so you can review the data.
Aside from the wayward shooting in the video this would be a great tool for practising your draw and those first two shots on target and with all the data available to you so that improvements can be made to your technique.
You can also set it up for free practise in order to be able to use it as a sighting tool. It can also be configured for a rifle set up without the need to either go down range to see the results or use of a set of binos.
In terms of real world use in our club I think the biggest problem to integrating it would be the cost, at €450 per target it's just not feasible to buy 10 and daisy chain them into a COF. For those who can afford it, they can buy one for their personal use with which they can train on their shooting techniques, accuracy and speed.
As a product, the WiFi Airsoft Precision Target is brilliant , well-made and could be a valuable tool in your training arsenal. For the promo period, the product is priced at €399, shipping costs not included.
Many thanks to daVinci Dynamics for furnishing us a review unit.
About the reviewer:
Hi! My name is Justin Cooper and I shoot and run the Watford Practical Pistol Club (WPPC) in the United Kingdom along with Paul Courtney.
We are both graduates from the Malcolm Dowding school of shooting at East Barnet and have been shooting PP as a discipline for just over 3 years.
Having started out a newbie have shot at every Level in this country (Level 1, 2, 3), we have competed in many matches over the last 3 years. We regularly shoot up and down the country and the various clubs and attended all RedWolf Airsoft/Airsoft Surgeon Euro matches.
Heading over to the Dutch masters next month and hopefully 2016 will be a great year for PP in this country as we make preparations for the very first Action Air World Shoot in Hungary in 2017.