BOLT M16A4 BRSS Heavy Recoil AEG
Operator7
15 Jan 2016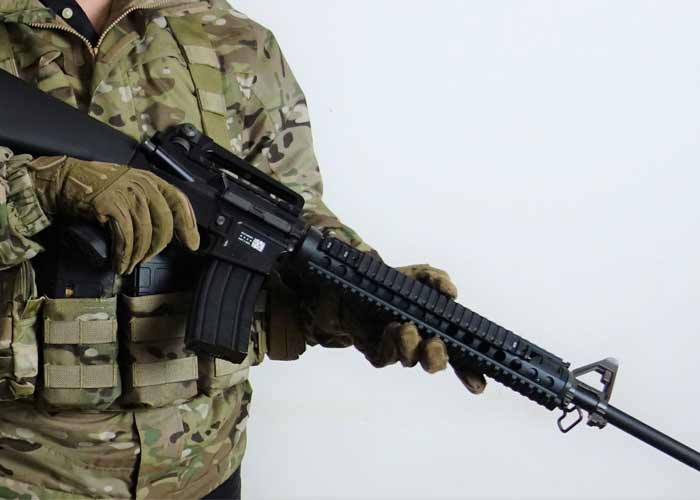 Technology keeps on improving and Airsoft also keeps on moving forward thanks to innovative and bold manufacturers such as Bolt Airsoft. Of course that Bolt is not the only brand in the market  when it comes to electric recoil. And I've heard many say that the likes of Magpul and Tokyo Marui have a slightly better recoil experience.
However, having tried myself the latter I was sure that wasn't the case, and now with the new BRSS it would be interesting to see if Bolt Airsoft were actually able to improve on what was already quite good, and make it the uncontested market leader in this segment.
So without further ado let's start going through the new Bolt BRSS Heavy Recoil.
DESIGN AND BUILD QUALITY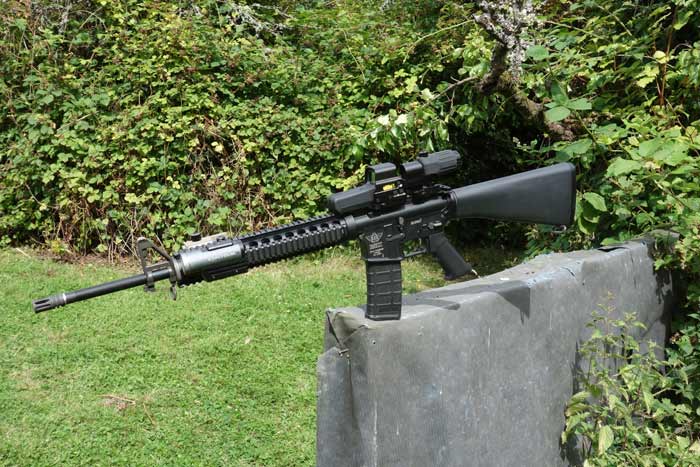 Design wise it's a very fine specimen of an M16A4, with a fixed stock, a long quad rail,  a carry handle that doubles as rear sight, and the famous A like front post sight. It's undeniably a very good looking AEG out of the box!
The choice might not be obvious at first, but the M16 platform uses a fixed stock, which allows for a larger buffer tube to sit in it and thus, houses a larger recoil system as you will see next.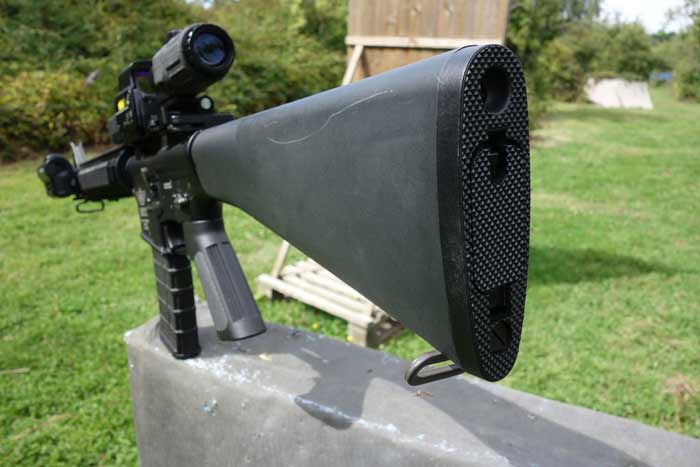 The construction quality is one of the best in Airsoft, being that all parts have a good fit and finish, so that there's no wobble play on the various components, making the whole system sturdy and solid. The fixed stock is just rock solid and is built with a very high density polymer that has a texture that is great to touch. I wasn't a fan of fixed stock guns before, but I can tell you that the shape and build quality of this stock has made my opinion do a 360 degree turn!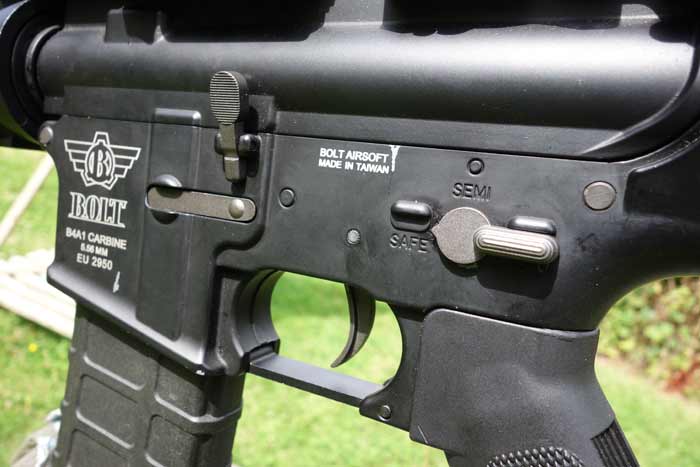 When it comes to the receiver I just love the laser engravings, even if it's Bolt and not the real trademarks. It is better than not having anything there and these trademarks look great.
However, there are two or three little things about the receiver that I would like to see Bolt Airsoft improve, and that is the bolt catch that is non-working and it is just hanging. This makes some unnecessary noise when in contact with the receiver, not making it possible for the fake bolt cover to lock so I can adjust the hop-up at will with just one hand, and not having to hold the charging handle.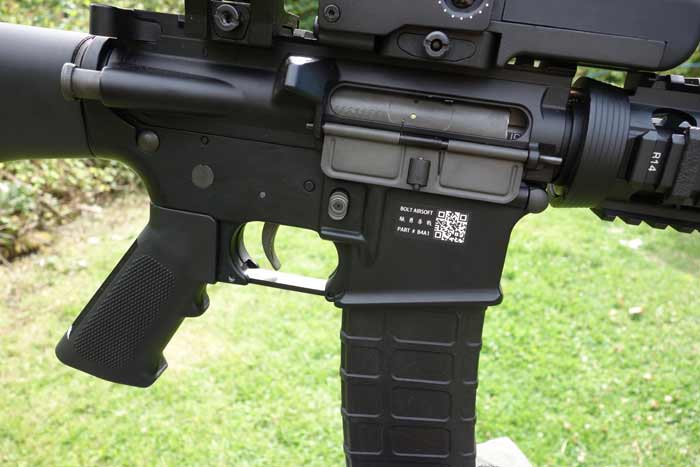 The paint on the lower receiver is the other point that I have seen that is a small issue: it came off easily during my first games with it. It is only the lower, and perhaps it's only my unit but it was a fact as you can see in the image. I say a tiny issue since for me it's no big deal, the more battle worn look I can get from my AEG, the better. For me the focus is not the look, it's how efficient it is, and this brings us to the next part: the internals and performance.
As a final note on the build quality, I can say that I love the fire selector, which is crisp and smooth.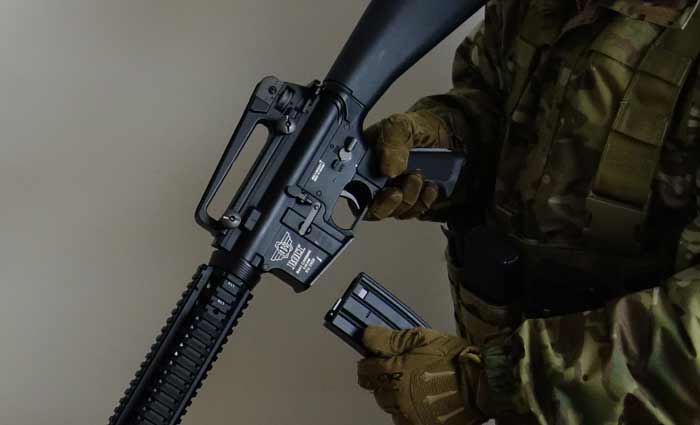 PERFORMANCE AND INTERNALS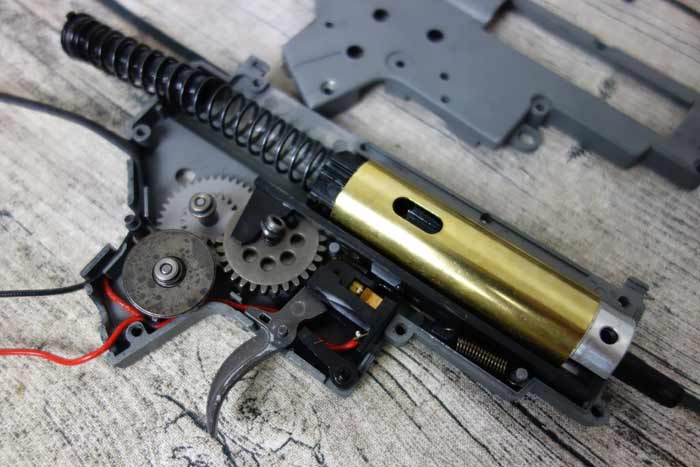 Here is where this AEG is a world apart from anything with electric recoil out there in the market today, and I won't stop saying this until I find another recoil AEG that really convinces me otherwise.
First, Bolt Airsoft have included top notch internals, such as a very good high torque motor, fast gear ratio, 6.0mm precision inner barrel, the works! Making this is an already upgraded out-of-box AEG.
The only thing I would say that it's missing is the MOSFET so you could program it for three-round burst and get an even snappier trigger response. Apart from this, it's almost perfect.
When I cracked the gearbox open I saw precision milled gears, working with a very unique piston that is lighter and made of aluminium with metal steel teeth. An aluminium head and one O-Ring guarantee the compression, and boy it is good since the spring isn't that powerful!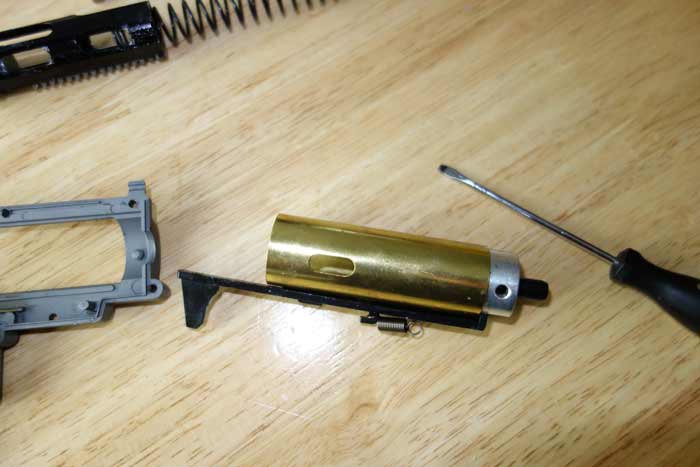 And since it's not that powerful, the 6.0 mm precision inner barrel really makes a difference when sending out those shots in the right direction at a great range. This where you can see that the choice of good internals can do the whole difference: you don't need diabolic PFS, all you need is a nicely tuned up system that works! And that's exactly what Bolt Airsoft have done. They've come up with the ultimate out-of-the-box, stock upgraded system that works.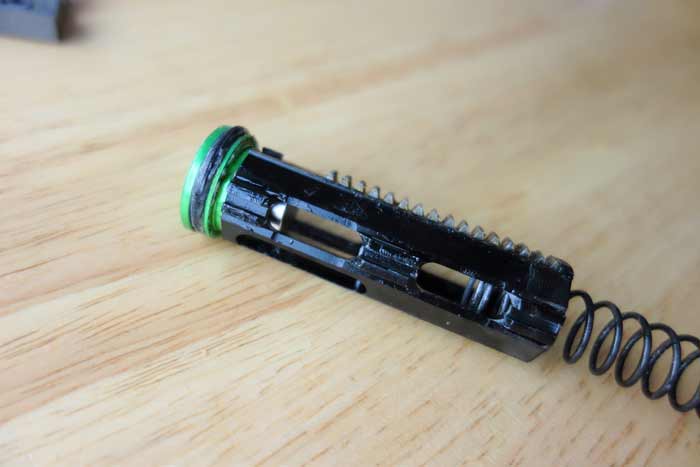 Everything else is pretty much standard, but if there's something that you need to keep in mind, especially if you're the type (like me) that doesn't read the manuals: this gun should only be using batteries under or at 20C. Do not use 25C discharge batteries or you're in the route to ruin a perfect gun.
Just keep this in mind and all will be great since the gun had a nice ROF of around 11 rounds per second with a 9.9v Life battery, which when you have in account the heavy recoil this AEG has it is not that bad!
When it comes to FPS you'll be getting a modest 314FPS. Now that doesn't actually translate in any way the range of this AEG. Let alone the precision, making me believe more and more that the precision and range is not so dependent on the FPS you get out of the barrel. So here it is also where I think that the 6.0mm inner barrel also plays an important role in getting the range and accuracy.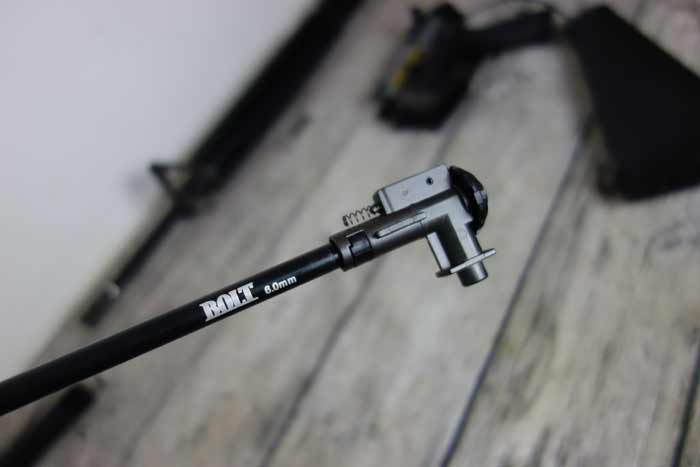 Curiously I've heard many people using very tight bore barrels complaining about BBs getting stuck, but I can say that I had no issues using MadBull and Rocketfire 0.25 gram BBs.
I was actually able to get consistent and accurate shots on human targets at around 60 yards, around 54 meters using 0.25 gram BBs!!
And this is important, that you use 0.25gram BBs instead of the normal 0.2grams. The effective range will still be very good thanks to the tight bore, and the accuracy will be just amazing.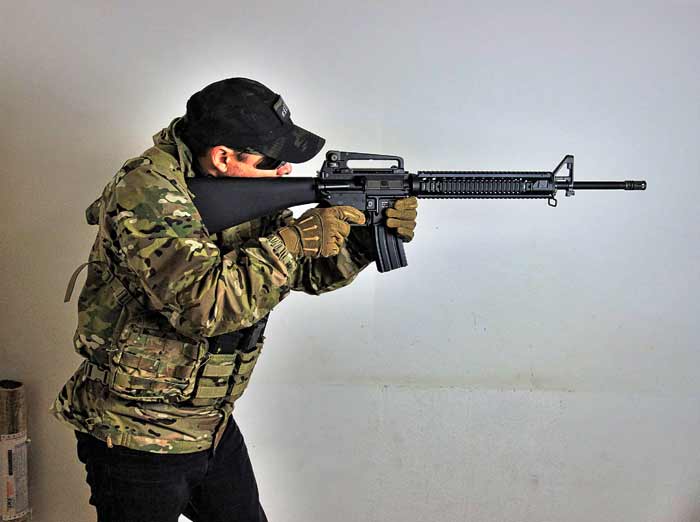 THE RECOIL SYSTEM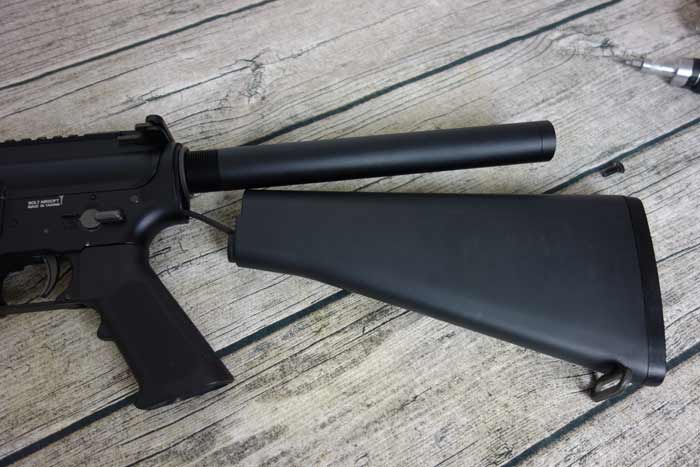 Now let's get into the nitty gritty of the science behind Bolt's recoil system.
This has been beefed up from the previous version, since not only the cylinder length has increased, the piston is significantly heavier, thus generating a much more felt recoil.
Also, the system seems simpler and there's less to fiddle with the electronics in order to get to the recoil system, unlike previous models.
The recoil system consists of a lightweight piston that includes a metal plate, which pushes a heavy piston stored in the stock using a small telescopic rod and a couple of springs. This system transfers the natural gearbox kinetic energy to the buffer tube and pushes it against the shoulder of the operator, thus producing the recoil effect.

Simple once you see it, but hugely effective. And if you use an app called Vibe View from the app store to measure vibration levels. So if you have a recoil AEG, do post your results and let us know on the Popular Airsoft Facebook!!
We did reach 88 in single fire, and 123 in full auto.
But more importantly is the actual felt recoil which is just amazing!, I even went through a hard time getting the barrel to align with the chrono on the chrono review, so imagine how nice the recoil is. :)
It's just something that makes you feel great and offers even more fun to the whole Airsoft experience, most importantly without losing performance or accuracy and range. Which is great.
I do have to leave an important notice which is the fact that you should not ever use 25C discharge Lipos with this AEG. If you do, you'll run the very real risk of damaging the gearbox. I did go though this and it was my own fault as I didn't read the instructions carefully enough.
But once you use the correct battery, you'll avoid damaging the gearbox and have great fun with this AEG. Bolt Airsoft do recommend 7.4V22C(Li-Po) or 11.1V15C(Li-Po) or 9.6V(Ni-mh or Ni-Cd).
I was using 9.9v lipos with 20C discharge and they worked great, and they're very safe and long lasting. Much more stable than other Lipos.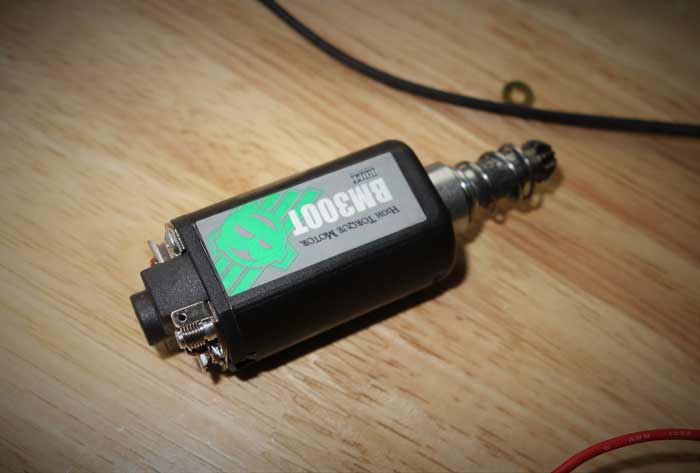 The high torque motor plays a huge role in this and it really needs to be a powerful motor to pull that cylinder. Interestingly, the pistol grip has a metal plate on the screws which provide a better support between the grip and the lower receiver.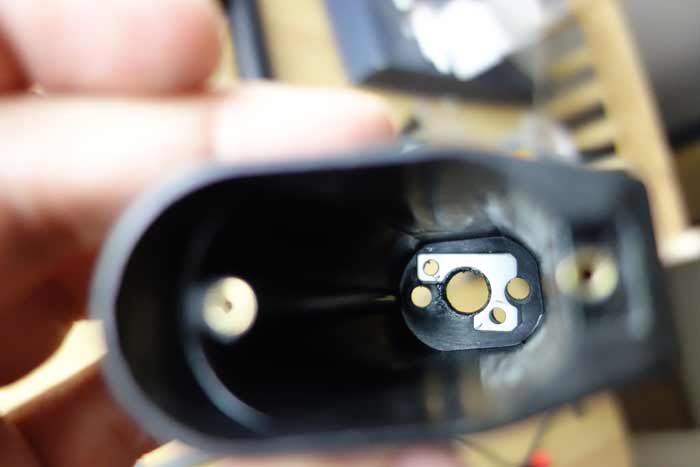 ACCESSORIES AND FEATURES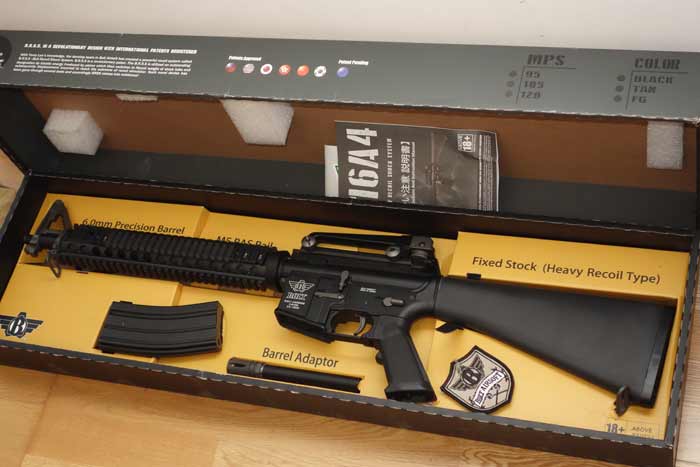 This is a chapter I would like to add to more reviews as I would love to see more airsoft manufacturers stepping up their game by offering more and better features and accessories out of the box.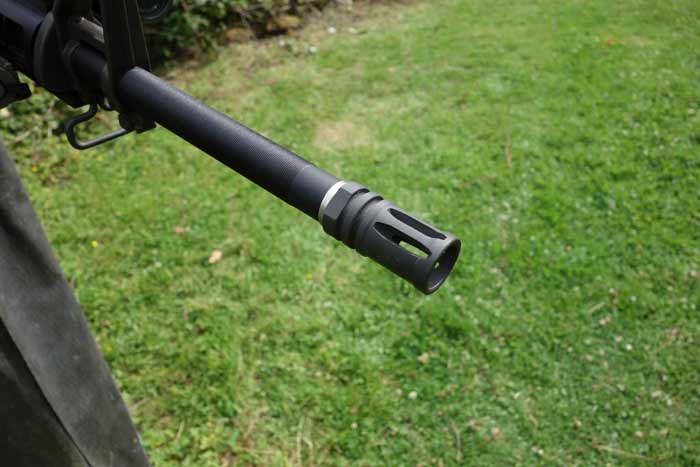 What the barrel extension allows is to get a longer or a shorter configuration, depending on what you prefer. Since you have the extra length you can also choose to run a longer precision inner barrel and gain some more FPS and accuracy.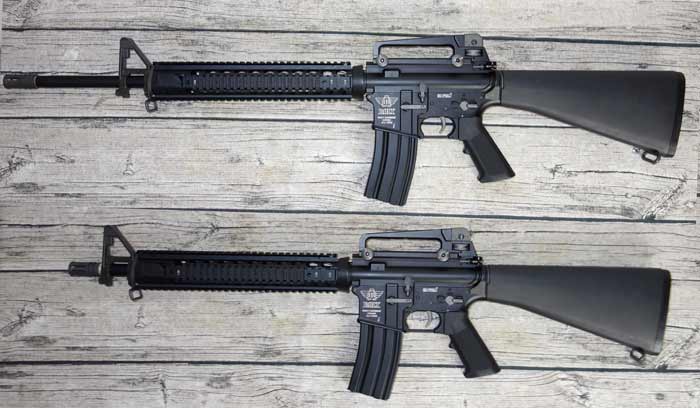 Unfortunately, not many do and Bolt is one of the exceptions, since they already do the most common AEG upgrades from the factory for you. But they are also kind enough to include some goodies such as some Bolt Airsoft stickers, a Bolt patch, a barrel extension and a couple of rubber rail guards which are really nice to the touch and significantly improve the grip and the looks!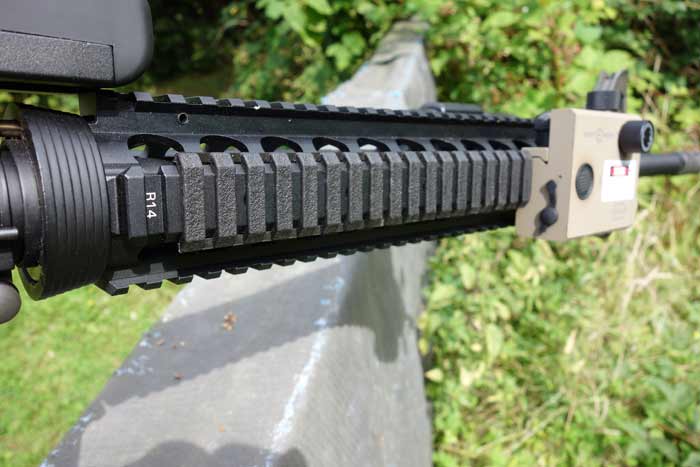 CONCLUSION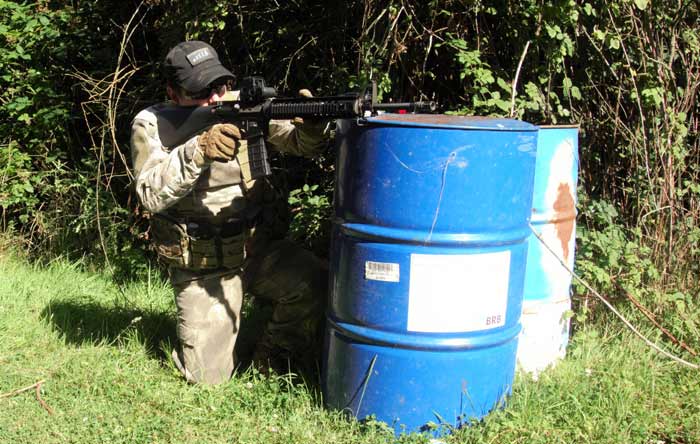 This time Bolt Airsoft only had to improve on its own products since their electric recoil technology, is one of the best, if not the best in the market.
And if there were still doubts before, the new BRSS Heavy recoil seems to dissipate all questions as critics that claimed other brands as having a better recoil will now have to check again.
With an eye for detail, upgrades out of the box, great construction and materials, the Bolt M16A4 BRSS is almost the perfect AEG, and definitely the best recoil AEG I've ever tried!
The M16A4 goes for around £330 (€440) and its worth every penny/cent! More info on this AEG at the Bolt Airsoft Website.
Pros:
Internals already come upgraded
Very accurate and nice range
Brilliant recoil!
Good construction and materials
Cons:
Paint comes off easily
Would be perfect with a MOSFET