BOLT Airsoft BR-47 KeyMod BRSS
Operator7
04 May 2015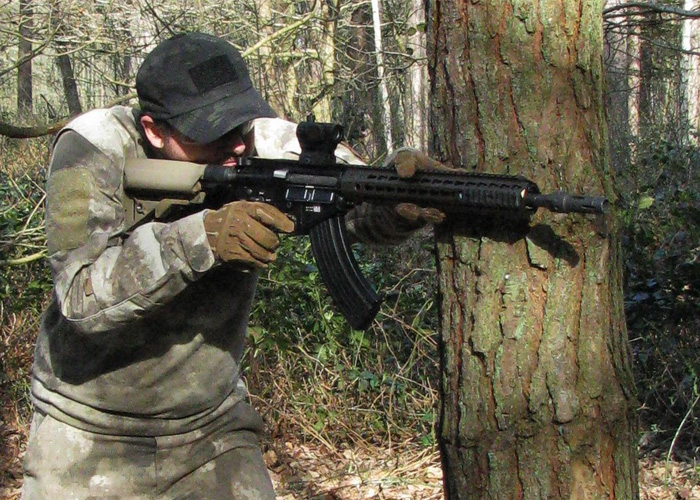 This is my first Bolt Airsoft AEG so I was going pretty much into uncharted territory as I never owned one of these. However, this is my second EBB (Electric Blow Back) and I've had the opportunity to try, during skirmishes the notorious Tokyo Marui Recoils. Also, this gun features a unique design that is not very common, since it brings together two worlds that are often apart: the AK47 and AR-15 platforms. In fact, the BR-47 is based on one of the world's rarest fire-arms: the KAC SR-47.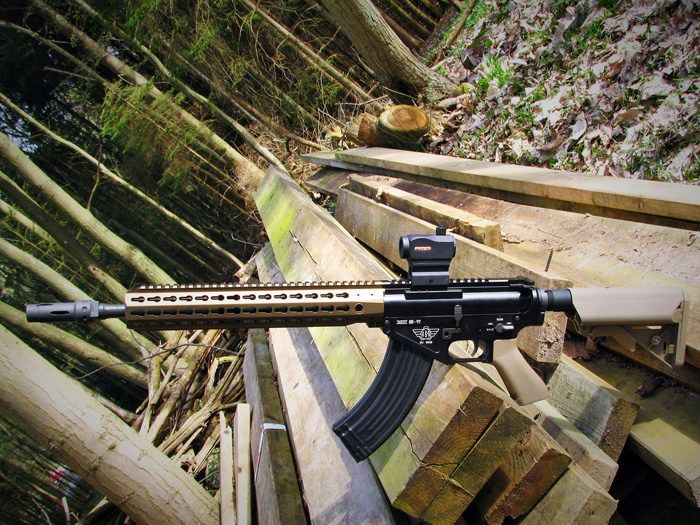 This AEG, oops! EBB, is already quite unique in its design and history, so I guess the question that is in all airsofters' minds must be answered: exactly how does the Bolt BR-47 stack up against the new breed of EBBs and how good is it?
So I was very curious about this gun, as I'm sure you are too, so, if you want to find out all about it just keep reading below.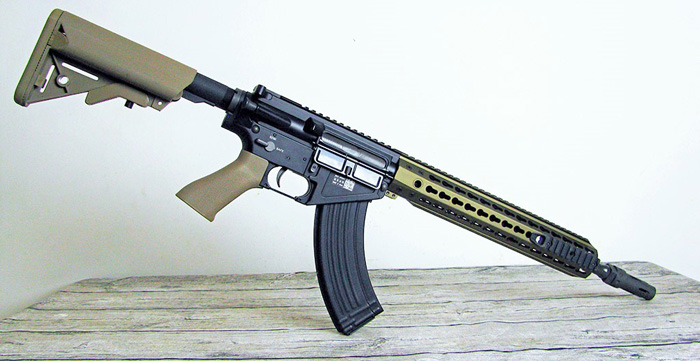 BUILD QUALITY AND DESIGN
As soon as I pulled this gun out of the box, I immediately noticed it was very heavy and consistent gun, with a precision crafted body and handguard that are a joy to look at and hold.
This AEG, as I mentioned before, stands out especially because of the lower receiver which accommodates an AK style magwell. Though the gun might look like any ordinary M4 without a mag, as soon as you slap an AK mag into that receiver, it totally transforms the gun into something that many would say heresy, but I say outstanding and positively different!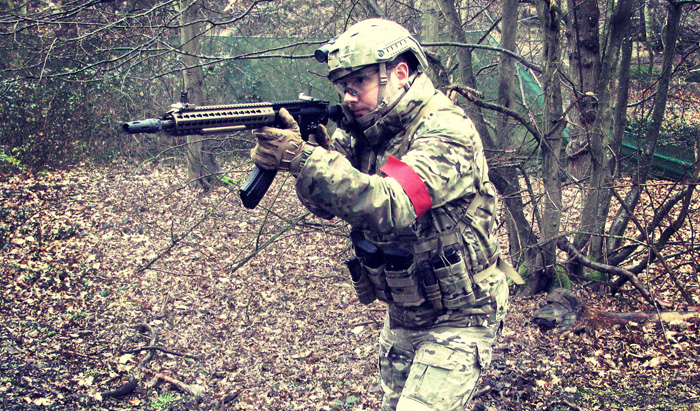 "Frankengun" or not, it's a head turner. And most important of all it has some military history in it, since the gun didn't come out of someone's imagination straight into the Airsoft world.
In fact, this gun was developed at the request of the USSOCOM and originally brought to life by the Knights Armament Company as the SR-47. The reason behind this gun is simply because when deployed deep into the enemy's territory it would be easier to come across with AK variant's ammo, the 7.62x39 round/magazines rather than the 5.56 NATO round. This way, it would be, theoretically, easier to use the ammo that was found and recovered during the operations.
These requirements where then taken in account by Knights Armament to develop the SR-47 which unfortunately never saw action due to several impracticalities such as lack of compatibility with the M4 platform.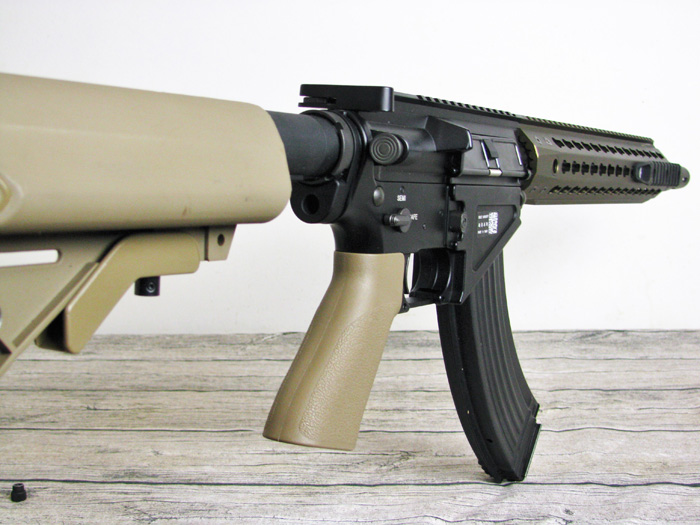 BOLT Airsoft not only just tapped into this piece of military history and create an AEG, but rather made a gun that leaves some good and lasting impressions as the construction is not only very similar to the real steel version, it's build quality is also high. With no imperfections and no wobble whatsoever this EBB has a very solid assembly.
Most components are made out of aluminium, such as the receiver, handguard and outer barrel; and some parts are steel, such as the very heavy AK style compensator which feels like it could be deadly if you were to throw it at someone's head! So imagine the weight it has!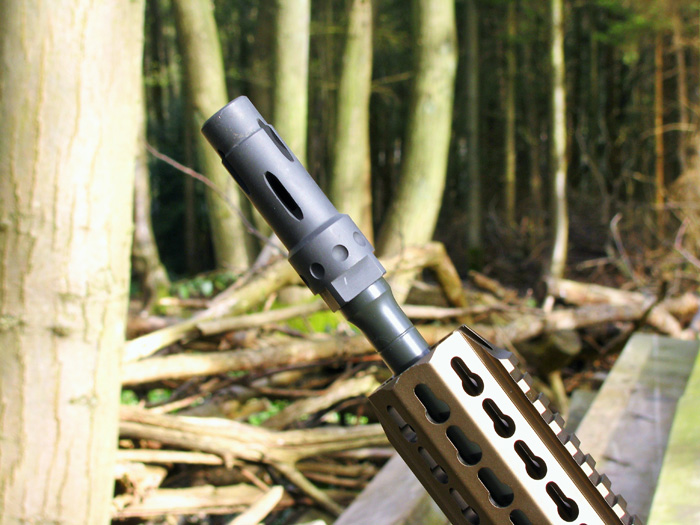 The receiver is, of course, elongated in comparison to a regular M4 receiver so you can forget about using this lower with another M4 upper your might have just lying around. On the positive side, you do get two mag releases: the standard M4 one, which I found slightly hard to operate, and the best one for me: the AK style release! And it works brilliantly! The mags come off easily and painlessly.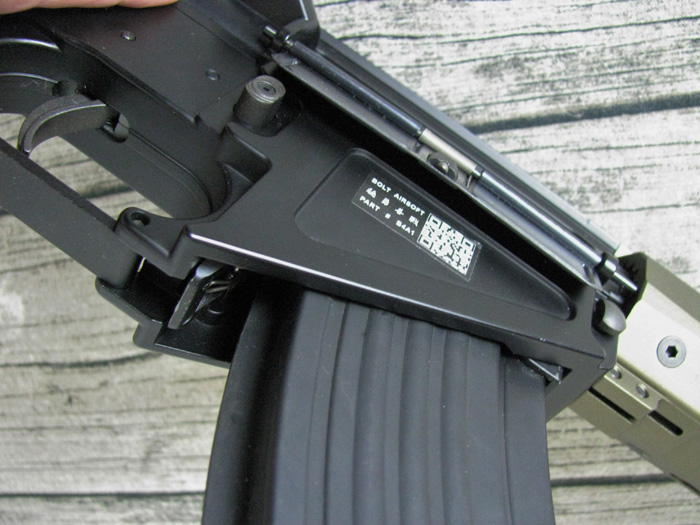 Inserting the mag is also easy, just like in any AK.
The metal magazine that came with the Bolt BR-47 is of very good quality. However it was slightly wobbly, and sometimes would miss-feed. However, all this goes away with other metal magazines such as the ICS metal AK magazine.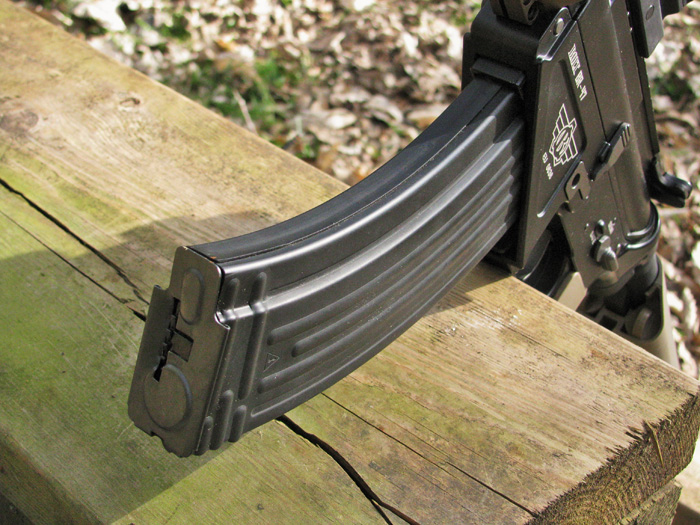 In terms of magazine compatibility I have tried mostly metal mags and the majority work great. However, some plastic ones will have issues and appear not to seat properly in the magwell, especially the one from the Spartac AK47 I reviewed last month. That's probably because we are talking about two guns with different price points.
ACCESSORIES AND FEATURES
Another very positive side of this AEG that gave me a smile was how much thought was put into the accessories and how these open up your options when using the airsoft gun.
I'm really happy that Bolt decided to have this approach since it's giving me a good value for my money and giving me more options too.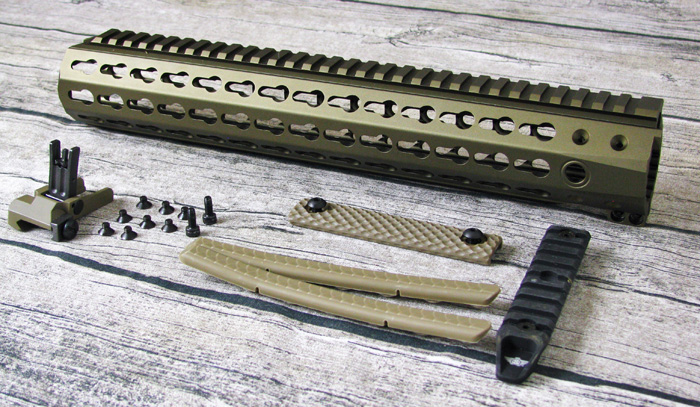 As an example, you have 3 handguard protections: 2 rubber protections that easily snap on the KeyMod handguard and stay in place; and one rigid protection that can be screwed at the bottom of the handguard which helps protect the beautiful 12-inch (I believe that is the correct length) handguard when you rest it on walls and rocks. Also, these protections help you grip the gun and you can place them were it suits you better.
For me, I love the handguard so I prefer to run it without these. But this is where I think Bolt is catering to the many, since many Airsofters aren't like me and they will most certainly use these.
Fortunately Bolt was kind enough to include a rail section that you can attach onto the keymod handguard. Thanks to the handguard, you can even have any attachment with a 45 degree offset, which is great in case you want to run say a Docter Red Dot Sight and an ACOG.
Now something I surely used was the included compensator, which is a huge, heavy piece of steel that comes with the gun and helps giving it a different look that stands out of the crowd. This compensator, although heavy, balances very well the weight of the gun since it's quite heavy on the stock thanks to the recoil.
And of course, it also comes with one Keymod rail section bearing the Bolt Airsoft logo, which is a really a nice touch and will allow me to attach a torch or a PEQ box.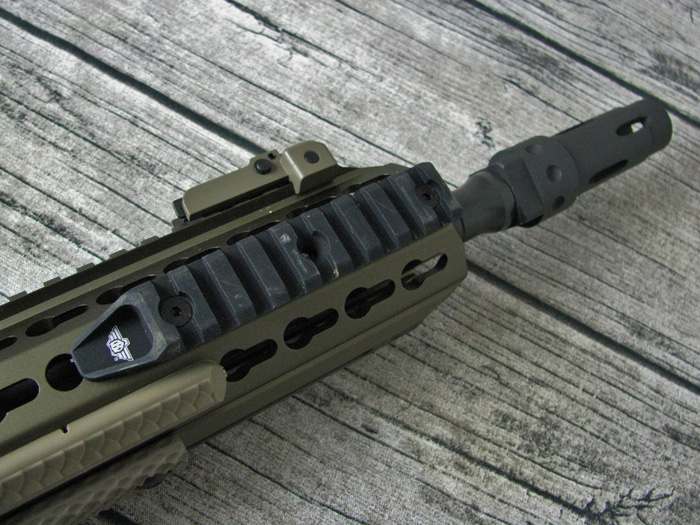 Also, the outer barrel is made out of two sections, which gives me the freedom to slap on one of those sleek suppressors that come out of the handguard and will make this gun look even cooler!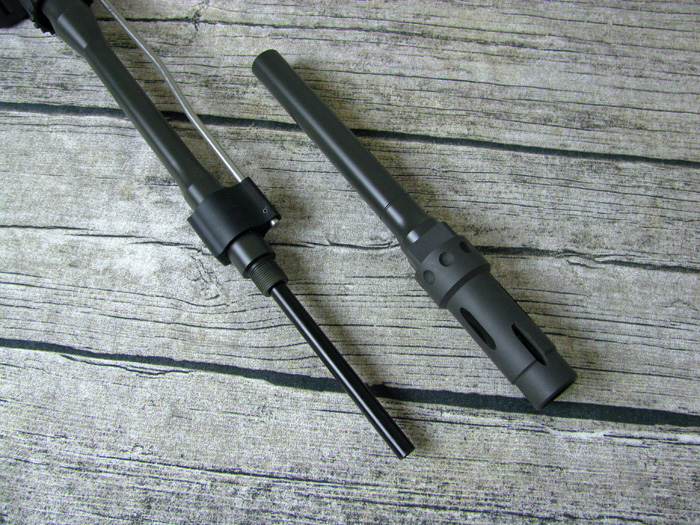 The Bolt BR-47 also includes a set of very sturdy and well manufactured metal sights that are perfect as backup sights and can easily be removed.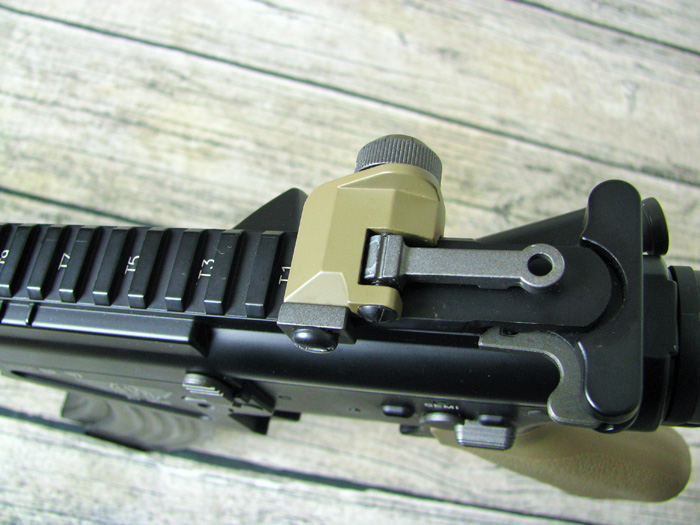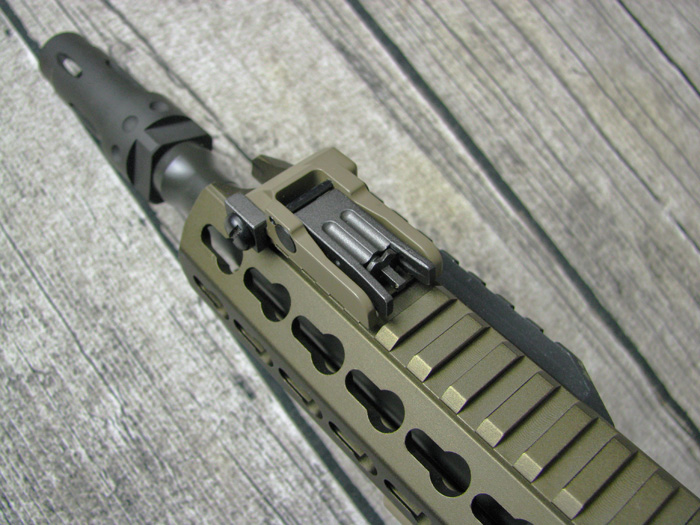 This gun has an M4 style fire selector switch that is easy to use, works great, and even features an ambidextrous design with a second fire selector on the right hand side of the receiver. The latter, however, is non-functional, which is indeed a shame. Hopefully Bolt will change this in the future as it is something that not only add a bit more of realism as it's useful for most of us, lefties or not.
Also, the stock is a SOPMOD style stock, which is rock solid and presents no wobble. However, the butt easily comes off during the games and I almost lost it twice.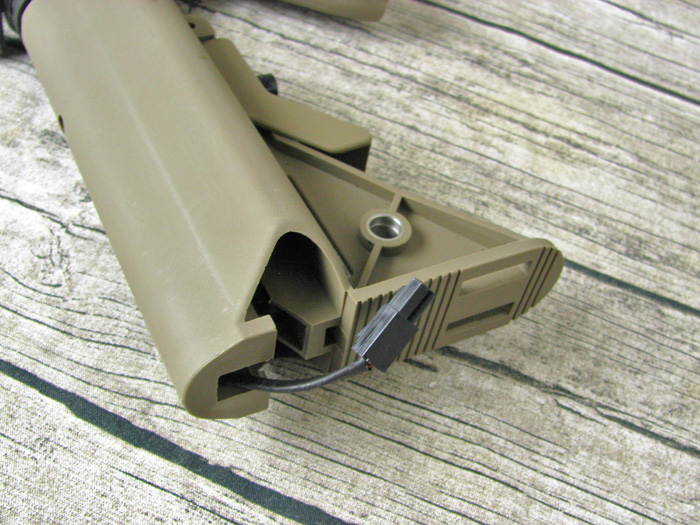 A nice touch is the Tango Down style grip, which is very comfortable and ergonomic.
PERFORMANCE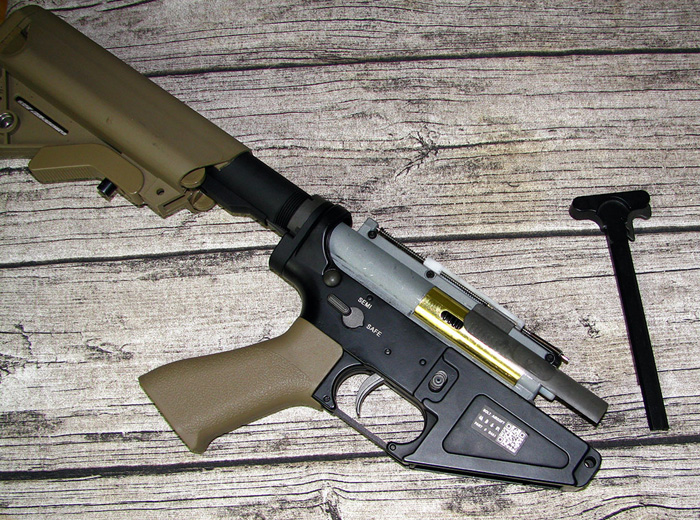 Not only are the externals very high quality, but the internals are also very well thought out. And one of the things I most appreciate about this gun is how BOLT took into their own hands upgrading most of the internals so that I wouldn't need to do this.
Finally, there is an Airsoft brand that out of the box makes it harder for you to improve the gun as it already comes with pretty much the most common upgrades most Airsofters do: a precision 6.0mm inner barrel and a high torque motor.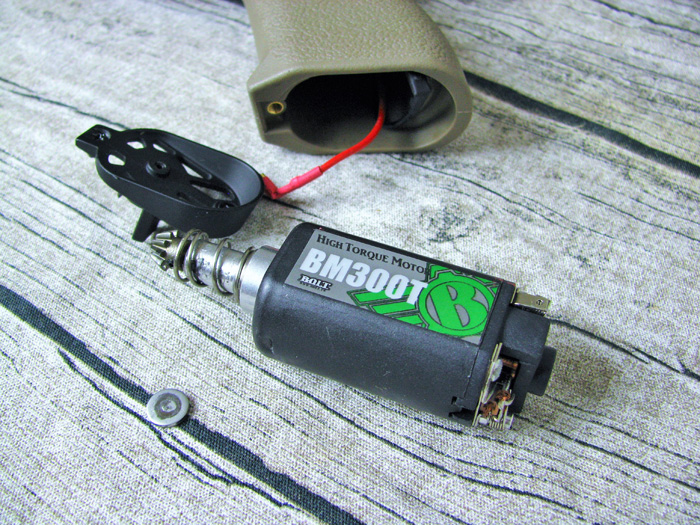 Honestly, I'm tired of seeing so called "top of the line" Airsoft guns that don't come with these basic enhancements.
When I first skirmished with this gun, at the site they told me how many MPS (metres per second) the gun was doing. I was so impressed with the range and accuracy that I somehow thought it was doing around 345fps as it was a great experience to be able to, even with the added variable that the recoil throws into your gameplay, get those really distant targets and with a short burst get a few BBs on target. It's just genius!
At my second game with the BR-47 I decided to move from .20s to .25s since I figured that with 345 FPS I would get more range and accuracy than with the .20s I was using. In fact it happened! As soon as I started to use the .25s the range not only didn't drop, but the accuracy and grouping improved a lot! This is thanks to the stock tight bore barrel.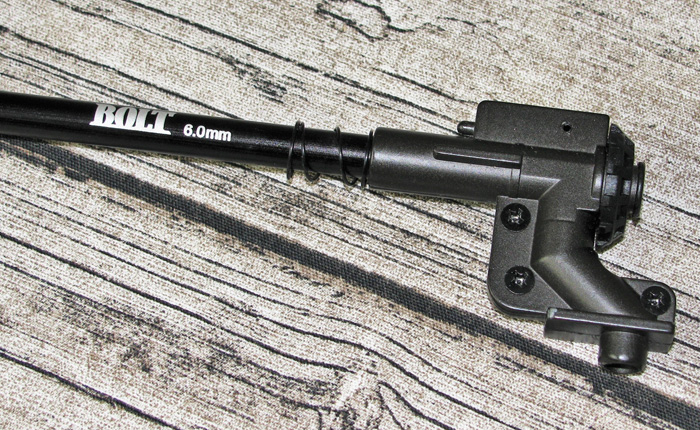 After the game when doing the video review, I finally noticed how wrong I was and the BOLT BR-47 was only outputting 315 FPS with .20s! It was a surprise to me. But again FPS not always translates into range and accuracy in Airsoft. And a good balance between the inner barrel, BBs and hop-up unit makes all the difference!
That day I had discovered the BR-47's sweet spot, I had a dream day, leading my team most of the way and having the accuracy and range that gave me confidence to push on more and more.
Also the ROF on this gun, with an 11.1v Battery, is unbelievable. Just a squeeze of the trigger pointed to the right direction will hit most targets as the 17-18 rounds that come out of that barrel per second are insanely accurate and will deter most non-hit takers!
The Bolt brings all this and much more since the BRSS recoil system is indeed the highlight of the BR-47.
The recoil is mostly generated inside the buffer tube where a strong spring emulates the kick of a real steel gung. But you can also see the imitation bolt cycle, which provided an added layer of realism and fun.
And as I stated on the beginning of this interview I am strongly convinced that this is the best EBB in the market so far.
I have been able to try some very nice EBB guns such as the APS ASR, the DBOYS EBB G36, and the well know Tokyo Marui Recoil such as the SCAR and the HK416. The latter had at that date the best electric recoil I had ever come across with, at least until I tried the Bolt BR-47. The fact that the gun is very heavy and the perhaps the way that the recoil is built, makes it the stronger EBB recoil I've ever had the opportunity to try.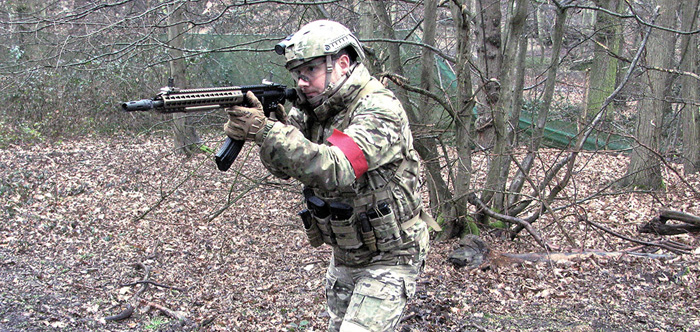 The recoil is however not as strong as GBB rifles. However it's getting very, very close!
Of course, this comes at a price. And at the very beginning, I saw how much the recoil affects how accurate I was. Since it's not hard to deviate a .20 gram BB from its path.
However, I've learned to compensate this: firstly, I started using heavier BBs; and secondly, I started to compensate for the predicted deviation the recoil would have. And not long after my mindset and the BBs had been changed, I was consistently hitting my targets.
To help with the accuracy part, the included hop-up unit with the large adjustment wheel is definitely to my liking since it's easy to use, even with gloves!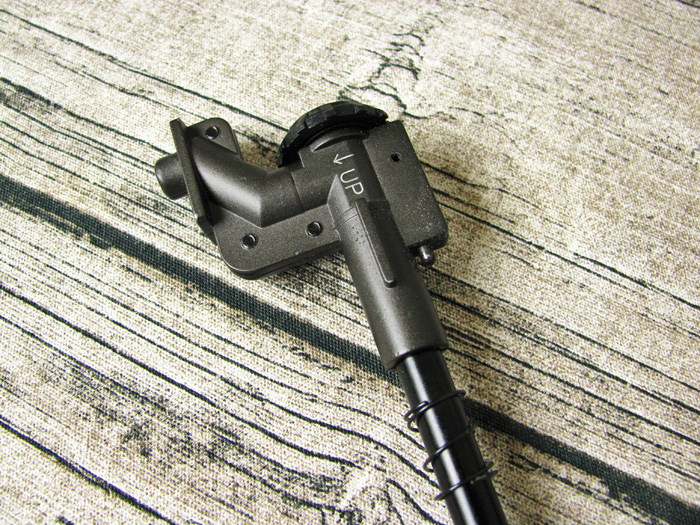 When it comes to the internals, although we are talking about V2 internals, I'm not yet familiar with recoil gearboxes so I will leave cracking open the gearbox and the buffer tube where most of the BRSS secrets are to another opportunity.
So far I can say I had no issues using and abusing the gun with an 11.1v battery that I had reviewed earlier here.
A final word to the trigger response which is very good and snappy and extremely fun to use with the great recoil feedback. Also be ready to invest on a LiPoly Battery with higher capacity than 100mAh since mine did last a whole day of heavy shooting and a lot of action.
But just to be safe I will try using a higher capacity battery.
CONCLUSION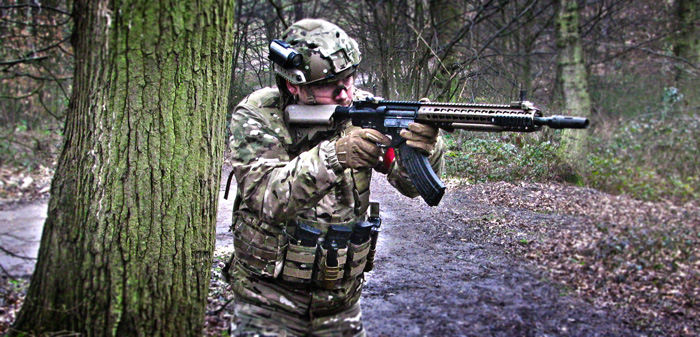 This is my first Bolt AEG and I'm already a fan of the brand.
It is really nice to see an AEG that already has several important upgrades out of the box, which makes the gameplay experience great without the need to upgrade anything. At least in the short term.
Not everything is perfect, such as the non-functional fire selector and other smaller details.
However, Bolt have proved to be listening to their customers since the release of their first models, making the present one a step closer to perfection.
With a stellar performance and best electric blowback in the market, the BR-47 is undoubtedly an AEG that will deliver
Pros
Best blow back in its class
Awesome KeyMod rail
Great range and very accurate
Materials and build quality
Accessories included
Already quite upgraded from factory
Great hop-up unit
Cons
Non-working ambidextrous fire selector
Slightly wobbly magazine causes miss-feed
Stock butt falls off easily
For more information on the Bolt BR-47 BRSS please visit the BOLT Airsoft website.
I would also like say a big thank you to my teammate Harry that helped me with the photos!