Arma Tech Li-Poly Battery Packs
Operator7
23 Feb 2015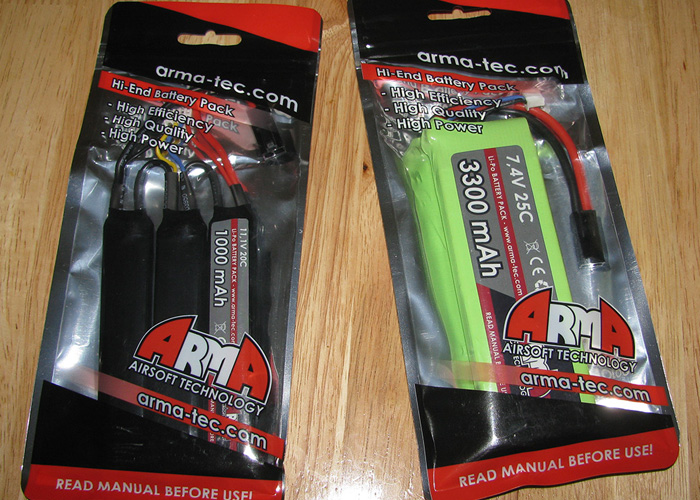 I was given the opportunity to review a couple of Li-poly batteries from Arma Tech by Specshop, the 11.1v 20c 1000mAh and the 7.4v 25c 3300mAh. It was really great timing as I was looking for another battery for my Scorpion EVO and a battery for an AK47 that I have now as a lender/backup weapon.
MY GOALS
What I want to achieve for the EVO are basically 4 goals: 1) get another battery pack since I only have one that works with this gun (having only one is quite short at a full day game); 2) increase the rate of fire; 3) have a battery that will last a bit longer than the battery I have at the moment, since the LiFe battery I have only has 750mAh capacity; and 4) and finally use the battery voltage recommended by ASG.
As for the AK I just want a battery pack I could fit into the gun and leave it there throughout the game and not worry about it. At least until the game ends! And whether I will lend it or use it, I do not want to have to swap it, no matter how much I shoot.
THE 11.1 LIPO
It is very interesting how the size of the 3 cells that compose the Arma Tech is almost the same size as the LiFe battery, only a hair thicker. Nevertheless it fits the ASG Scorpion EVO perfectly and snugly, and since it has a black wrapping it will not show through as much as the LiFe.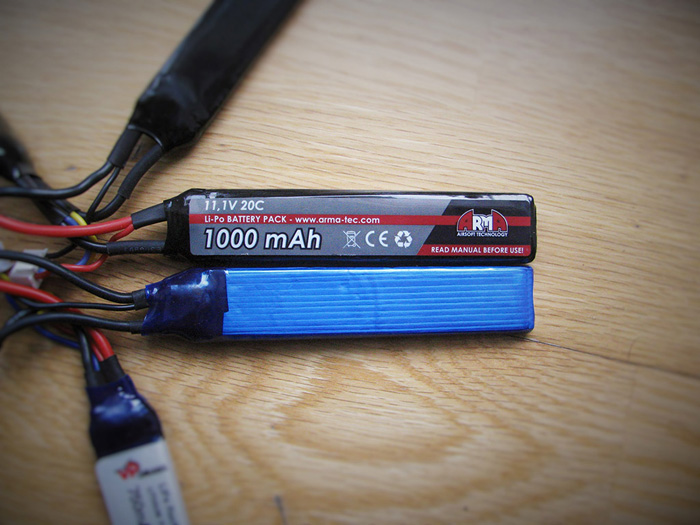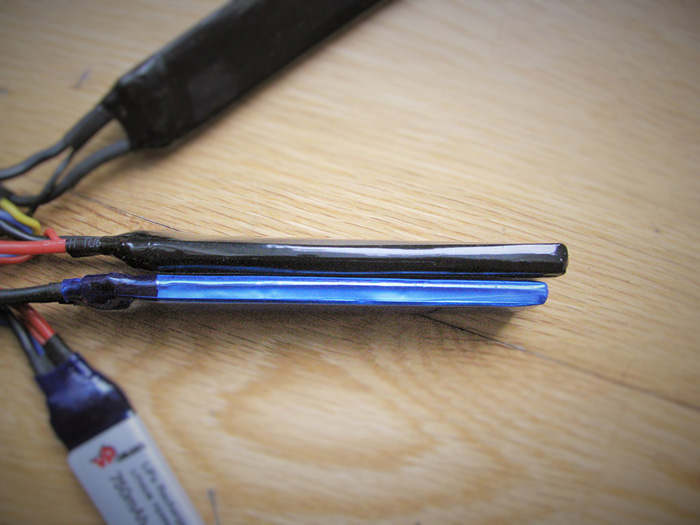 Having an 11.1v on my EVO was like a must since ASG really recommends this voltage and I was running at first a 7.4v Lipo, then the 9.9v and now finally the 11.1v. When I first chrono'ed the EVO in my review using the 9.9v LiFe I got around 13 rounds per second with .20 gram BBs, which wasn't much.
So I was quite curious to find out how many RPS more would an 11.1v add to my EVO, and as soon as I inserted the battery and fired the first shots I noticed immediately that the trigger response was even snappier and according to the chrono, this translates into a gain of 3 rounds per second almost 4, since it's now doing 16.90rps.
Now I'm getting almost 17 RPS and I can tell that this is really how this gun is supposed to work as it's a pleasure to listen to the motor working fast and using that trigger is even more rewarding now!
Plus, during games the battery does last longer and I found myself not even having to replace during the last time I played. So now the LiFe will be my backup battery, at least until I get another one of these Arma Tech 11.1v Li-Poly batteries.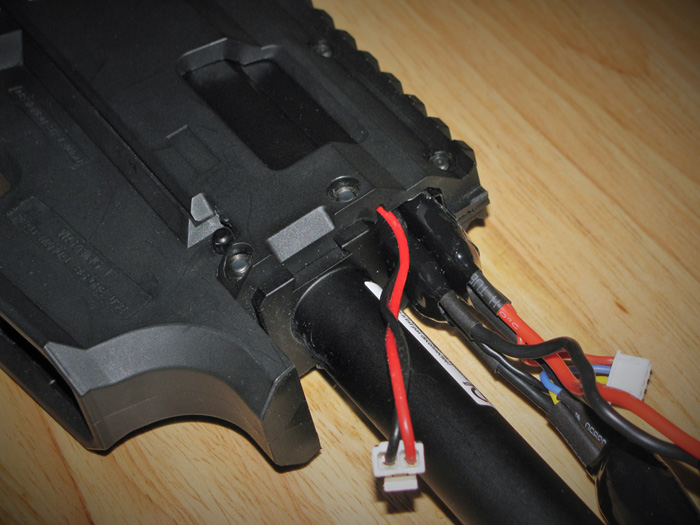 THE 7.4 LIPO
As for the AK, my main concern was that I didn't want to replace the battery during a game. It's just the worst experience to replace a fixed stock AK battery: you have a plate with two screws then you have this clip like plate underneath that you have to slide out then you can access the battery. Last time I lost a screw for the plate.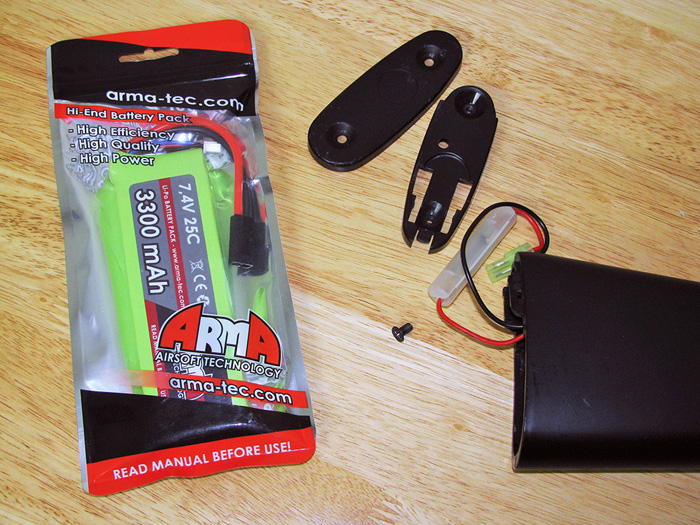 I really wanted to avoid this, and since this gun will be used with Hi-caps, allowing anyone and myself to be more trigger happy, I really don't want to worry running out of battery, only BBs!
So that's the reason behind this huge 3300mAh pack. And the big question was, will it last? And would it fit inside the well-size stock compartment of the AK?
It did fit very well, and not much padding needs to be added because it's almost a snug fit.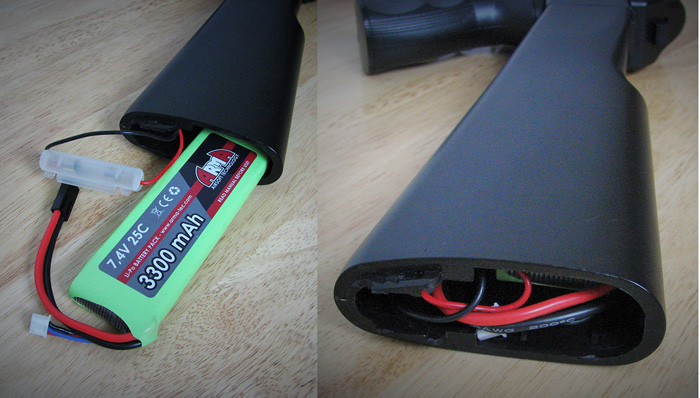 As for the battery lasting a whole day, it achieved this easily, even when spraying hundreds of BBs out of my AK mags. Sheer happiness there!
However, what I was most concerned about was the loss of a lot of RPS. I mean this is not a high end gun ready for an 11.1v Lipo that will allow a huge RPS rate, but I really didn't want it to drop from the double digit psychological barrier.
So when using it with the 9.9v LiFe I was getting around 12 RPS which was okay for a gearbox from an entry level stock AEG.
But I didn't want to lose a lot of RPS or else I would just lose all the fun of using this gun. Fortunately the Arma Tech Lipo still has enough strength to do 11.90, almost 12 rounds per second! Hence we only lost 1 RPS. Not bad at all, because I won in terms of battery life.
Now I can take the AK into the field, stick the battery in it and I won't need to replace it anymore until the end of the day! Plus, since the battery is so big, 136 x 44 x 13,5 mm, it fits snugly inside the stock and there's no rattle, compared to when I had the LiFe in there.
CONCLUSION
At €14.75, only £10.92 the 11.1v Lipo is an excellent choice for my EVO since it's now using the recommended voltage and also it's shooting awesome with a spectacular rate of fire!
The huge 3300mAh power pack meets my needs so I don't have to worry about replacing batteries in my AK during an airsoft day out in the field. In terms of weight I can barely feel the difference between running this and the 750mAh battery I had in there before. However, I CANNOT hear the difference since there's no more rattle inside the stock!
So overall I'm really very satisfied with the Arma Tech Lipos, both their performance and costs.
If you want to get a Lipo pack then I suggest you to pay a visit to SpecShop.pl since they have a whole array of these at very inviting prices.
Pros:
Price
Great performance for both packs
RPS on the 11.1v, and even on the 7.4v when compared with 9.9v
Huge pack with lots of shots on the 7.4v
Cons:
Li-Poly batteries need more attention than LiFes