A&K M249 MK2 Review from Action Hobbys
Gungho Cowboy
25 Aug 2007
Editor's Note: This is published here with kind permission from ActionHobbys, which as of this posting, is accepting pre-orders for the A&K M249 MK1, MK2, and Para variants.  All pictures taken here are taken from the ActionHobby's web site. We believe it is Paul of ActionHobbys who wrote this review so all full-credits of this review belong to him and ActionHobbys.
This AEG support gun has been a long time in the making, and it was well worth the wait, we have recently with Airsoft world secured a deal with the factory for a large quantity of these new support guns, with have 3 versions available for PRE-ORDER, The MK1, MK2 and Para versions, we are taking orders now with a due shipping date to us around the 20th of September (to arrive end of September), of course any delay will be notified of, we are also doing the guns at a one off special price for the first 100 units only, we may need to review this after that.
OK now for the review...
When I first opened the box I was surprised at the weight of the gun at 6.5kg, I own a G&P ranger and that is a real beast to use all day and well due to the cleaver use of alloys though the gun, in fact nearly all the gun is made of alloy its make the AEG very easy to use and handle and easy to shoulder.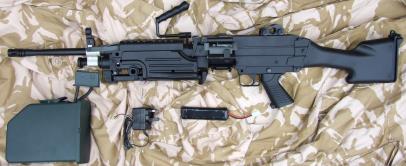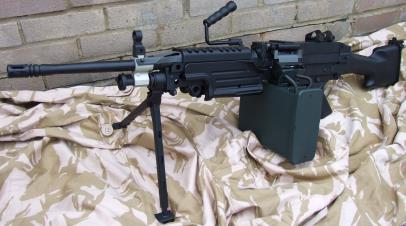 To be honest I found I could use it as a standard AEG, upon testing we found the gun had an impressive FPS of 395, but we realise that this is too "HOT" for most sites so we will down grade them F.O.C to customers who want the FPS reduced.
At 1050mm for the MK2 version it is not a small gun, what we did find was that standard M4 mags can be used if you do not want to use the box mag and also on the MK2 we think a large battery will fit in the stock if you have a custom battery made as it comes with a 9.6v mini as standard, the use of a metal hop unit and PGC style gearbox makes spring swops easy (not covered under warranty if springs are changed from those fitted).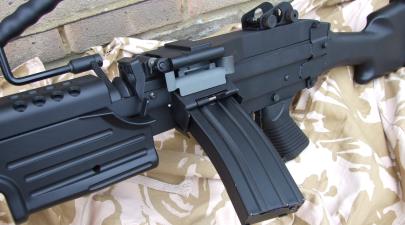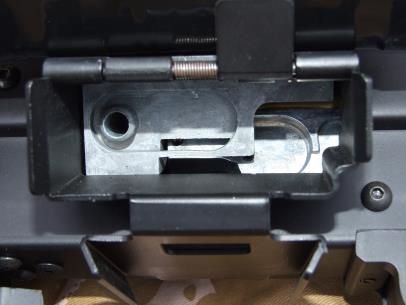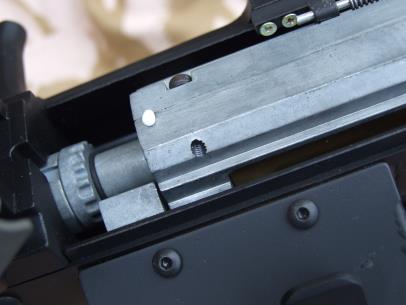 The sights we also liked as they are fully adjustable for windage and elevation and the box mag is nice and cleaver with 3 switch positions for "Off, Fully Auto and Sound operated" the down side we found on the mag is that is could do with some foam in the bottom of the mag to protect the box mag electrics and some foam on the side plate, but thats easy done for the average user, also we did find the Bi-pod a little on the loose side and the ABS fore grip and had some small movement as dose the carry handle, but hey for the price, and in my opinion certainly is one of the best examples of a mid range support gun I have seen and far exceeds the Star and Top version.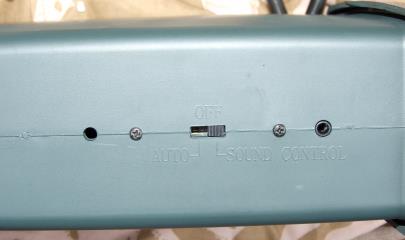 I had chance to use the MK2 weekend, performs well but really needs a downgrade as .2 bb's are a no good in stock form with the power and also i would recomend cleaning the barrel and maybe a change of hop rubber.

To sum it up, if you want a support gun thats medium in weight but strong, give a good ROF and power, very well finished but prepared to accept the small quirks then this gun is for you.


Tested ROF of approx 800 rpm
Tested at 395 FPS with .2g BB's (Down grade available)
Full metal body and bi-pod with ABS stock and fore grip
Fully auto and safety
9.6v Mini type battery and charger included
Ability to use standard M4 mags (not included)
2500 approx box mag included
Hop-up adjustable