5.11 Tactical Reactor Full Zip Hoodie
Operator7
10 Jan 2016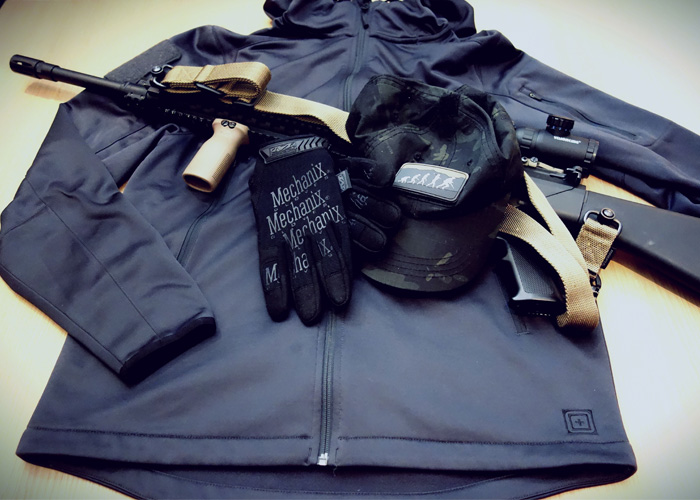 Now that winter is coming and we need to wear more layers in order to get keep warm, it's important to choose the right gear. The thinking behind me wanting to get the 5.11 Reactor Hoodie was that I was looking more at how could I keep the tacticoolness not just during the game, but also outside the venues and sites I play.
So I was looking to get a piece of garment that I could use inconspicuously even when walking around London without being stopped or flagged because I was using some a uniform or something that is far from normal "civilian" clothes.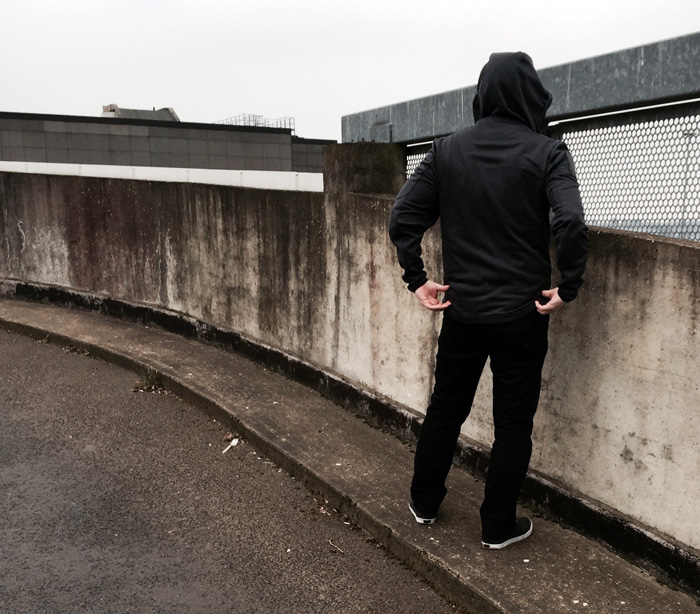 The 5.11 Reactor Hoodie is just that --- a covert jacket with a hoodie that allows you to blend in to the normal "urban fauna" and still carry some of that tacticoolness with you!
So it's great for those contractor loadouts and urban CQB scenarios where woodland camos are useless.
DESIGN FEATURES AND MATERIALS
Design wise I really like this hoodie as it has a very urban look and I can use casually as an everyday piece of garment. The low profile look of this jacket is perfect for urban use but it's still very stylish and well made.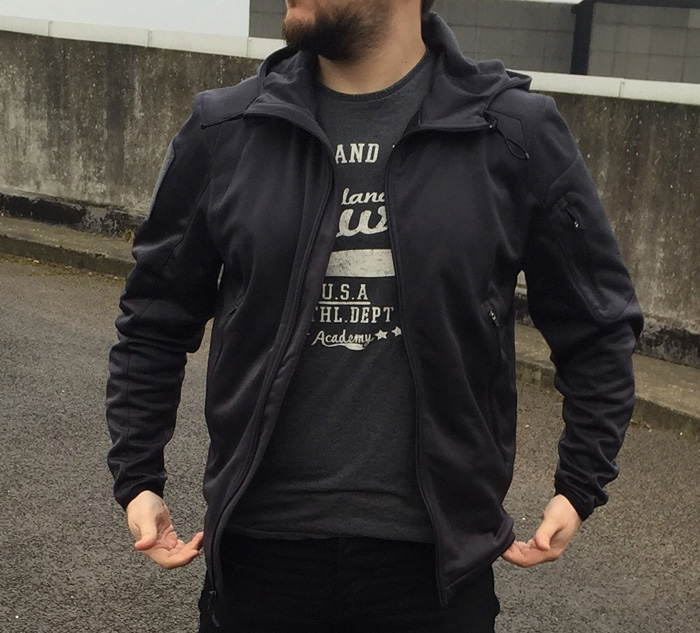 The main material used is polyester, being that on the outside the predominant colour is grey. And this is probably the most debatable point of this hoodie, mainly due to its glossy look, especially when under direct sunlight as it gets a bit shiny.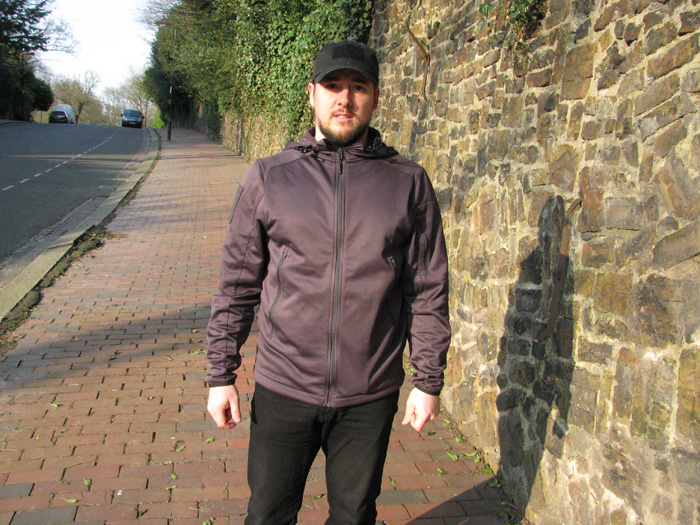 But again since it's supposed to be a casual stylish urban garment this is quite nice and looks quite good. When looking inside, the lining is almost fleece like, and really helps you keep warm, but still keeping the weight down.
The Reactor hoodie has a couple of large front pockets which allow access to a holster by a second zipper inside the pocket.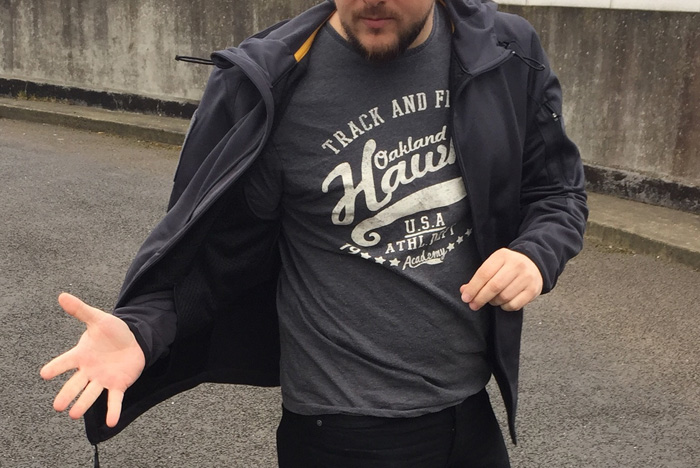 All zippers are YKK made and work flawlessly. I thoroughly enjoy the front YKK since it has a large rubber tab that is really easy to pull.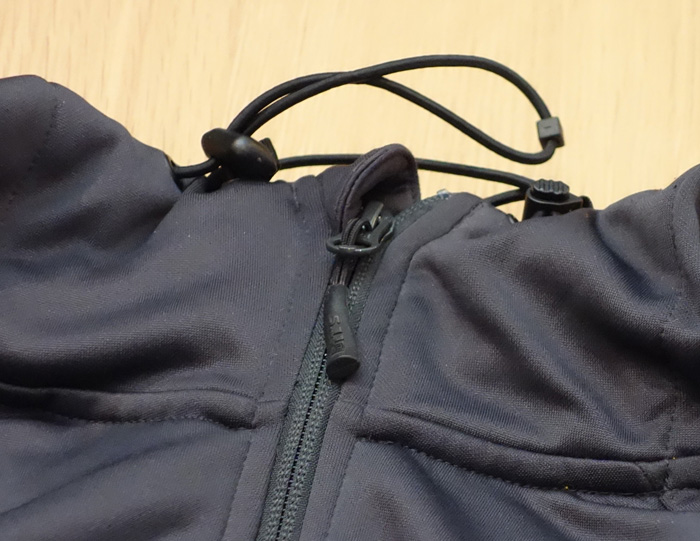 I also value the hoodie, since it's very useful here in London where it rains quite often at any given time of the day, so it gets really handy quite often! And can be easily adjusted with the two adjustment draw strings.
On the left arm there a very useful pocket which I use to carry my smartphone and on the right sleeve there is a Velcro panel that allows me to use my teams Velcro patch!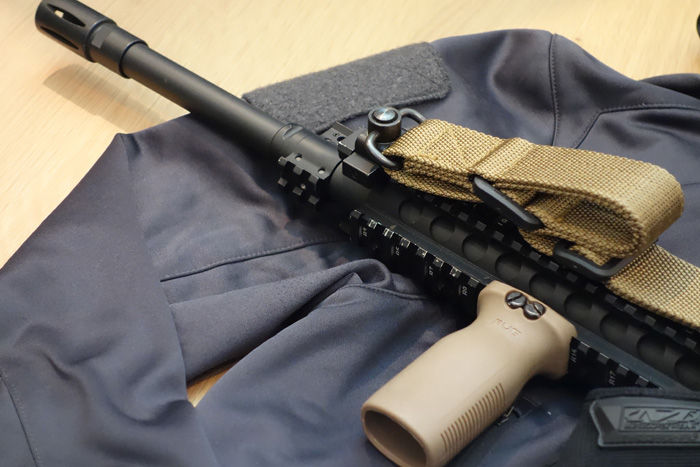 The hoodie reminds of a track suit jacket, but a very cool one. So if you want to go jogging or running it's great for that too!
CONCLUSION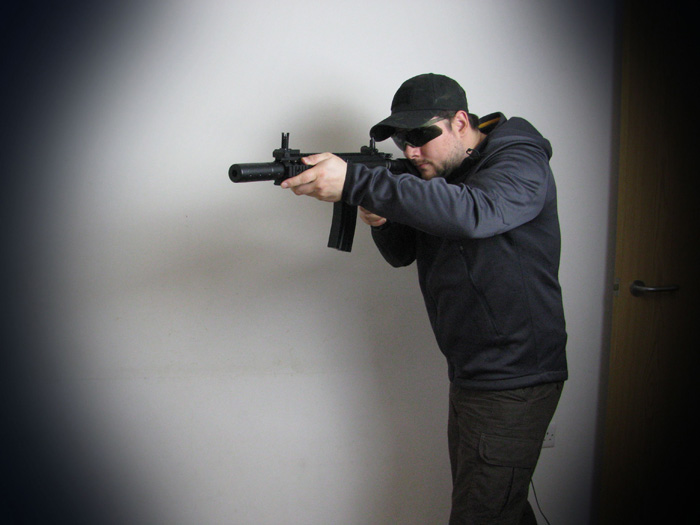 As I've mentioned thanks to the materials used, this hoodie is very lightweight and warm, which adds to the comfort when wearing it, even in colder conditions. Plus, its weather resistant, which is great for those occasional showers you're not expecting, and has a very nice and warm lining which is warm enough for temperatures of around 8-10 degree Celsius.
But if you want something for colder temperatures then I definitely recommend you check out 5.11's 3 in 1 Parka.
I also like the elastic hems that provide a good seal from the elements and together with the hoodie it's a very nice package with tactical features.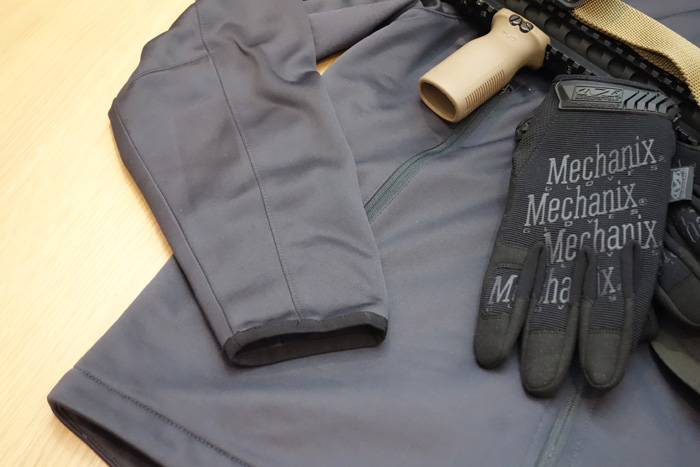 So overall this is a really great choice whether you're looking for a jacket to get to the airsoft venue or to use on a daily basis without everyone staring at you and still have that tactical edge and coolness!
The 5.11 Hoodie is available from Military1st in Charcoal, Fatigue and Cobalt Blue and costs £58.50.